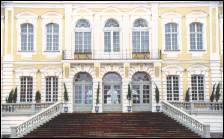 Rundale Palace is an architectural pearl of Latvia created by an outstanding architect Francesco Bartolomeo Rastrelli, designer of the Winter Palace in St.Petersburg.
Rastrelli was invited to design the palace by Birzov, the favourite of empress Anna, in 1735 when the Duke of Kurzeme was just preparing to take the throne. For building the palace Biron invited the best masters in Russia, dreaming about luxurious residence. Sudden death of empress in 1740 broke off Biron's career and he was exiled for 22 years. Construction of the palace was completed only in 1768 and now it is a magnificent sample of baroque style with elements of classicism. The building changed hands twice. Empress Yekaterina the Great gave it as a gift to count Zubov. His successor count Shuvalov owned the palace till 1920.
In 1972 complex restoration of Rundale Palace ensemble and beautiful surrounding park began.
On the ground floor of Rundale Palace the exhibition of new acquisitions from the museum funds and donations and Historical exhibition in photos are opened.
Nowadays this museum became a centre of tourist attraction. Crystal chandeliers, rich stucco moulding, silk wallpaper, collection of paintings, frescos by Italian artists. This is the place where leaders of the state, wishing to receive high guests with really regal honours, hosted the royal couple from Denmark when they visited in Latvia.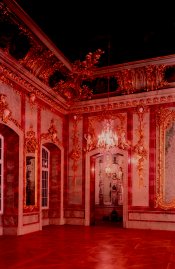 The summer residence of the Ernst Johann Biron, the Duke of Courland, was built from 1736 to 1740 by Italian architect Francesco Rastrelli. Yet most of the palace interior decor was only completed in the years from 1764 to 1767, when Johann Michael Graff, a sculptor from Berlin, and Francesco Martini and Carlo Zucci, two Italian painters from St.Petersburg worked in the Palace.
The Reception Halls, a part of the Duke's apartments and the exhibition "Newly collected works of Art" are open to visitors all year round.
The Museum is open from 10 a.m. to 6 p.m. (from May to October), from 10 a.m. to 5 p.m. (from November to April).
The Museum is closed on Mondays and Tuesdays.
You can go round the museum with a guide. Announce your visit beforehand (tel 62197) and the Palace museum will guarantee you a guide in following languages: Latvian, English, German and Russian.
On Saturdays and Sundays guides in foreign languages-by mutual agreement.
Management tel 239-62197 Bauska
Secretary tel 371-39-62274, Bauska
Fax 371-39-22274, Bauska
The Palace is situated 79 km from the capital city of Riga (Riga to Bauska 67 km; Bauska to Pilsrundale 12 km) and 34 km from Jelgava. During the season there is a restaurant (tel 62116) and cafe in the Palace stables.