Risunki G. Val'ka IZDATELXSTVO "DETSKAYA LITERATURA", 1975 g OCR, korrekciya: NVE ---------------------------------------------------------------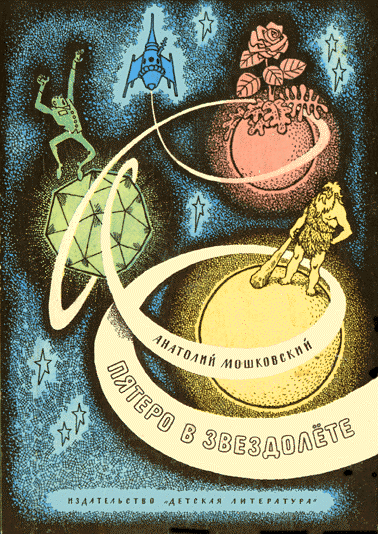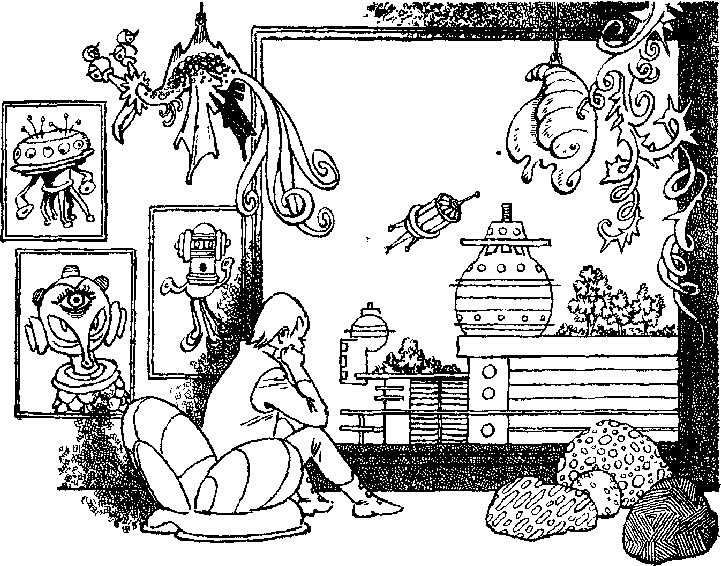 Tolya stoyal nahmuriv lob. Vse bylo naprasno... Vse-vse! Otcu i dela ne bylo, chto on celyj mesyac gotovilsya k etomu razgovoru. V etot den' pered prihodom otca Tolya sidel v svoej komnate i v poslednij raz obdumyval, s chego luchshe nachat' razgovor. So sten na nego smotreli raznocvetnye lica zhitelej drugih planet, narisovannye ego drugom Al'koj: dlinnye, shirokie, kruglye, s odnim, dvumya i dazhe desyat'yu glazami; s potolka spisali fioletovye liany, privyazannye k provolochkam ognenno-krasnye rakoviny i chuchela nevidannyh ptic s raspravlennymi kryl'yami; u sten lezhali golubye, zolotistye i chernye inoplanetnye kamni, bol'shie, no takie legkie, chto ih zaprosto mozhno bylo otbrosit' cherez vsyu komnatu shchelchkom; na polkah stoyali knigi s ochen' tonkoj bumagoj - tysyacha i bol'she stranic v kazhdoj! - i s malen'koj strelochkoj na pereplete: poverni - i stranicy sami listayutsya s nuzhnoj tebe skorost'yu. Vse eto privez otec iz kosmicheskih komandirovok i podaril Tole, kotoryj s teh nor, kak nauchilsya hodit', bredil inymi mirami, oslepitel'nymi, nevedomymi, dikovinnymi... I vot Tolya stoyal v ogromnom kabinete, i otec povtoryal: - Nel'zya, synok... Razve ty ne znaesh', chto detyam do semnadcati let strogo-nastrogo zapreshcheno vyletat' za predely Solnechnoj sistemy? - No pochemu, pap? Ty mozhesh' skazat' pochemu? - Kak budto sam ne znaesh', ne chitaesh' gazet, ne slushaesh' radio, ne uchish'sya v shkole, gde... - Slushayu! Ponimayu! Uchus'! I poetomu znayu, chto etot zapret ustarel... Mozhet, eshche raz pokazat' tebe knigu "Nauchnye otkrytiya, sdelannye det'mi za poslednie tri goda"? - Ne nado... Tolin otec byl znamenityj uchenyj, avtor mnogih knig, vice-prezident Akademii cheshuekrylyh. On s detstva byl tak uvlechen svoimi babochkami, chto nikogda ne rasstavalsya so skladnym sachkom i dazhe doma izuchal ih. Samye redkie babochki, izvestnye na Zemle vsego v dvuh-treh ekzemplyarah, krasovalis' v prozrachnyh korobochkah, visevshih na stenah otcovskogo kabineta. Oni byli prichudlivo razrisovany prirodoj, i otec vsegda s gordost'yu pokazyval ih gostyam. V shkafah i na polkah ego kabineta hranilis' korobochki s desyatkami tysyach babochek Zemli i raznyh planet, gde pobyvali zemlyane; zdes' zhe stoyali sotni knig na raznyh yazykah Vselennoj, posvyashchennyh vse tem zhe babochkam. I dnya, kazalos', i chasa ne mog prozhit' otec bez nih! Vot i sejchas on otvechal Tole i odnovremenno poglyadyval v okulyar malen'kogo elektronnogo mikroskopa, chtob poluchshe rassmotret' zubchatoe krylo babochki neobyknovenno yarkoj fioletovoj raskraski. A Tolya, blednyj, tihij, bol'sheuhij, s blestyashchimi glazami, stoyal u stola i smotrel na otca. - Tolya, - skazal otec, - nel'zya tak! Nu hochesh', ya posazhu tebya v zvezdolet, kotoryj zavtra v sem' pyatnadcat' letit na Lunu? - Ne hochu ya na Lunu! Desyat' raz byl tam! Kazhdyj kamen' i cirk znayu naizust'! Skoro tam detskie sady otkryvat' budut i pridumayut skafandry dlya grudnyh... Tam dazhe nash ZHora byl... - Nado bylo otpravit'sya s Serezhej Dubovym i ego otcom na Mars, oni ved' zvali tebya. - Ne hochu ya na Mars! YA hochu na sverhdal'nie... - YA tebe uzhe otvetil. Kak budto na Marse skuchno ili dazhe zdes'... Oh, synok, synok! - Papa... - YA sejchas konchu, synok... Vsemu svoe vremya, ne toropis', nichego ot tebya ne ujdet. I na nashej Zemle eshche mnogo neotkrytogo i zagadochnogo... Uveren, chto tvoj Andryusha Uvarov ne sidit sejchas slozha ruki v lagere arheologov; sam znaesh', oni uzhe napolovinu raskopali gorod inkov; govoryat, on pochti celikom sohranilsya. I ty by mog poehat' s Andryushej i ego bratom. I gorod Hrustal'nyj tebya ne zainteresoval, a ved' on v samom centre Antarktidy... Nu priznajsya, skol'ko poluchil radiogramm ot Peti Kol'cova s priglasheniem priletet' k nemu hotya by na nedelyu? - Desyat', - ugryumo uronil Tolya. - Nu vot vidish'! Vse tvoi druz'ya raz容halis' na kanikuly to kuda, a ty... Tolya, nu polovi mne babochek. Polovi! |to ved' tak vazhno... - YA pojmayu tebe milliard babochek, no ne zdes', a tam, tol'ko... - Nel'zya, synok, - povtoril otec i vzdohnul. - I ne prosis', ne nastaivaj, uchis' byt' terpelivym... Proshu tebya. - No ty ved' dazhe za svoimi nasekomymi letaesh' na samye dalekie planety... - Verno, menya tuda komandiruyut, i eshche ya letayu tuda po pros'be etih planet v kachestve konsul'tanta. No i dlya menya sushchestvuyut zakony Vysshej Discipliny, Vysshej Sovesti i Vysshego Terpeniya, i est' planety, na kotorye po raznym zavisyashchim i ne zavisyashchim ot menya prichinam ya ne imeyu prava letat'. A ved' ya vzroslyj. I ya ne mogu narushit' paragrafa o detyah "Instrukcii mezhzvezdnyh poletov". Ona napisana dobrymi i mudrymi lyud'mi... - No pochemu oni zabyvayut, chto deti... - Tolya!.. - Otec v iznemozhenii otkinulsya na spinku kresla. - Nu chto u tebya za harakter! Ty dazhe ne predstavlyaesh', chto eto takoe - polet tuda... - Predstavlyayu! YA nichego ne boyus'! Papa, prosti menya, no ty... Ty sverhostorozhnyj! Sverh... - A ty v takom sluchae sverhhrabryj, sverh-strannyj, sverhmal'chik! - Otec vstal iz-za stola, zasmeyalsya i dernul ego za uho. - Rvesh'sya na sverh dal'nie, a nauchilsya nyryat' na dvadcat' metrov? A prochital vse pyat' tysyach stranic "Knigi okeanov"? A vesnushki na svoem sobstvennom nosu sumeesh' soschitat'? Tolya vybezhal iz kabineta. Opyat' eti vesnushki! |ti nasmeshki naschet glubiny ego poznanij... Tolya brosilsya k mame - ona uzhe vernulas' iz svoej Akademii oblakov, gde zanimalas' problemami ih buksirovki v zasushlivye rajony Zemli... No tut zhe on otskochil ot dveri: mama ved' tozhe byla protiv ego poleta na sverh... - ah opyat' eto proklyatoe "sverh"! - ... dal'nie planety. I brat ego, tozhe uchenyj, posvyativshij svoyu zhizn' zhizni krabov, ne podderzhival Tolyu. I sestra, pisavshaya stihi... Tolya vyletel iz kvartiry, nazhal na zelenuyu, svetyashchuyusya na chernoj doshchechke knopku, i k nemu totchas besshumno primchalsya lift. Tolya voshel v kabinu. CHto zh eto poluchaetsya? On, Tolya, rvetsya k neobychnomu, k zagadochnomu i vysokomu, a im eto... Tolya shmygnul nosom, sderzhal slezy i shagnul iz lifta. I vyshel na shirokij solnechnyj dvor. Zdes' rosli platany i cveli rozy - alye, belye, zheltye. U odnogo dereva stoyal ZHora, prozvannyj za svoj neslyhannyj, za svoj pryamo-taki uzhasayushchij appetit Obzhoroj. K tomu zhe on byl vesel'chak i ot座avlennyj bezdel'nik. Vtorogo takogo mal'chishki ne bylo vo vsem Sapfirnom, i, kak uveryal pervyj Tolin drug Serezha Dubov, nahodivshijsya sejchas na Marse, skoro v ih dvor budut vodit' bol'shie ekskursii: pust' vse znayut, chto eshche vstrechayutsya rebyata, kotorye chasami mogut sidet' razvalyas' na skamejke i nichego ne delat' i tak mnogo est'. Odnako sejchas ZHora ne bezdel'nichal i ne el. On nyuhal rozu i odnovremenno glyadel v okno, za kotorym... Konechno zhe, ni v kakoe drugoe okno smotret' on ne mog! On mog smotret' tol'ko v okno, za kotorym zhila Lenochka... Zdes' by Tole pribavit' shagu, chtob ego ne zametil Obzhora, no Tolya shel medlenno, i u zheltoj budki s dvumya robotami-dvornikami, kotorye po utram podmetali i polivali dvor, ego nastig hohochushchij golos Obzhory: - Tol', ty chego kislyj? Plakal? Iz okon ih bol'shogo doma stali vysovyvat'sya rebyach'i golovy, i eto eshche sil'nej razzadorilo ZHoru-Obzhoru, i on hotel chto-to dobavit', kak vdrug poslyshalos': - Obzhora, hochesh' banan? |to skazal Al'ka Goryachev, syn izvestnogo hudozhnika i sam nemnozhko hudozhnik, Tolin drug, ne samyj pervyj, no tozhe ochen' horoshij. Huden'kij, bystryj, lovkij, on vyskochil iz pod容zda so svyazkoj zhelto-zelenyh, krivyh, kak bumerangi, bananov. - Hochu! - kriknul ZHora-Obzhora, i Al'ka, otorvav ot svyazki, kinul odin banan. ZHora pojmal ego, tremya poloskami sodral shkuru, sunul v rot vlazhno-belyj, muchnistyj plod i snova glyanul na okna svoimi kroshechnymi, lenivo-veselymi glazkami, utonuvshimi v polnom, shchekastom lice, i s bol'shim appetitom prinyalsya zhevat', potom shvyrnul za platan kozhuru i poprosil u Al'ki eshche odin. - Esh'! ZHuj! Naslazhdajsya! - Al'ka s chuvstvom provel rukoj po ZHorinoj golove protiv shersti i dal emu eshche odin banan. I opyat' poletela za platan kozhura... Vseh vyruchal Al'ka: chego ni poprosi u nego - pomozhet, sdelaet, otdast. - Skazhi otcu, chtob poluchshe smazal dvornikov, - napomnil on ZHore, - im posle tebya vsegda mnogo raboty... ZHorin otec byl mehanikom, sledivshim za robotami, kotorye ubirali pyl' i gryaz' na ih ulice. Odnako ZHora propustil Al'kiny slova mimo ushej.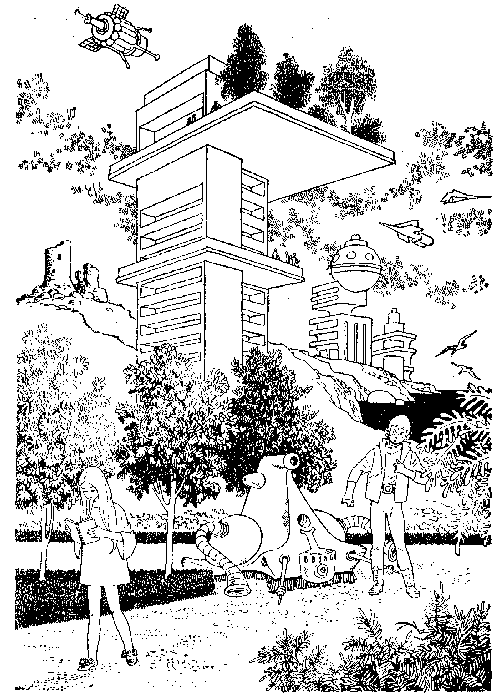 Znachit, ona ne doma, i ZHora naprasno vel nablyudenie za ee oknami... Tole hotelos' brosit'sya k nej, sprosit', kak dela v baletnoj shkole, gde ona uchilas', rasskazat' ej chto-nibud' smeshnoe, pozvat' k prichalu, zabitomu belo-golubymi progulochnymi podvodnymi i nadvodnymi raketoplavami, ili shodit' k Steklyannoj bashne rybnoj fermy "Serebryanaya kefal'", kotoroj zaveduet ee mama... No brosit'sya k Lenochke i kuda-nibud' pozvat' ee bylo nevozmozhno. Nevozmozhno potomu, chto nos i bol'shie Toliny ushi byli otvratitel'no useyany melkimi ryzhimi vesnushkami, i bylo ih stol'ko - otec prav - ne soschitat'! Oni byli tol'ko na nosu i ushah, i bol'she nigde, i eto bylo uzhasno. Nos i ushi poetomu rezko vydelyalis', i, konechno, eto videli vse, i osobenno devchonki... Lenochka proshla mimo, a Tolya poplelsya dal'she. On ne uslyshal, kak ryadom s nim ostanovilsya malen'kij, sverkayushchij sinim lakom avtolet. I lish' kogda Tolyu okliknula iz kabiny, on pryamo-takn podprygnul ot neozhidannosti. - Ty chego odin? - Kolesnikov podnyal na lob zelenovatye ochki. Tolya shel dal'she. On ne hotel ob座asnyat', chto luchshie druz'ya ego raz容halis' v raznye tochki Zemli, a Serezha - za ee predely. - A nos pochemu povesil? Smotri, pocarapaesh' ob asfal't! Tolya dazhe ne ulybnulsya. - Znachit, ne skazhesh'? Tolya promolchal. On ne hotel govorit' s Kolesnikovym eshche i potomu, chto tot byl rezok, grubovat i derzhalsya nadmenno. CHto po sravneniyu s nim dobrodushnyj i veselyj ZHora-Obzhora! I bylo nepostizhimo, pochemu Kolesnikov takoj... CHego emu ne hvatalo? Vo dvore ego zvali tol'ko po familii ili, kogda on chem-to dosazhdal rebyatam, obzyvali Kolesom. On byl na dva goda starshe Toliki ego priyatelej, no chrezvychajno mal rostom, i, naverno, iz-za etogo on nedolyublival vseh, kto vyshe ego hot' na santimetr. A vyshe ego byli pochti vse rebyata, dazhe devchonki. Odnako on zdorovo razbiralsya v tehnike - zaprosto remontiroval lyubye domashnie mashiny i robotov i dazhe peredelyval ih, zastavlyaya rabotat' po svoej programme: odin hodil i chistil dvor i pri etom hriplo i strashno rugalsya: "Najdu i sozhru ya lenivca Obzhoru, ostavlyu ot ZHory ya kostochek goru! "; drugoj robot, v obyazannost' kotorogo vhodila polivka dvora i cvetov, nezametno podkradyvalsya k sidevshim vo dvore na skamejkah i pochti v upor puskal v nih tuguyu struyu holodnoj vody. Kolesnikovu sil'no vletalo za eto, i ZHorin otec bral rasshalivshihsya robotov v svoyu masterskuyu, gaechnym klyuchom, otvertkami i payal'nikom "vybival iz nih dur'" i zanovo uchil zanimat'sya poleznoj deyatel'nost'yu. Krome vsego, Kolesnikov byl otmennym avtoletogonshchikom, trizhdy zavoevyval kubok Otvagi i Skorosti na detskih avtoletnyh gonkah v Sapfirnom. U neskol'kih rebyat iz ih doma byli svoi malen'kie avtolety, no lish' u Kolesnikova byl osobyj - sverhskorostnoj - i prava na vozhdenie ego... Kolesnikov vylez iz mashiny. Korenastyj, v kozhanyh shtanah s "molniyami" na karmanah, v bezrukavke iz plotnoj seroj tkani, on podvigal zatekshimi nogami, tochno ne odin chas uzhe nosilsya po ulicam goroda, i sprosil: - Lenku ne vstrechal? Tak vot pochemu Kolesnikov ryskal po vsemu gorodu! Tolya ne zahotel pomoch' emu, no i sovrat' ne mog. I poetomu on ugryumo molchal. - Znachit, ne videl? YA vchera obeshchal ej... Tolya otvernulsya ot nego i bystro poshel po trotuaru. - Mogu podvezti... Sadis'! - Kolesnikov, prihramyvaya, poshel za nim. SHel on neuklyuzhe, potomu chto redko hodil peshkom, no serye glaza ego byli hitrye i lihie. - Spasibo. Kak-nibud' sam... - Tolya poshel eshche bystrej. On. kak i vse rebyata iz ih doma, storonilsya Kolesnikova, no polgoda nazad tot prosto porazil ego... Net, ne pobedami v gonkah - k nim Tolya byl ravnodushen. Sluchilos' vot chto: Kolesnikov tajkom probralsya v zvezdolet, uhodivshij za predely Solnechnoj sistemy, v skladskoj otsek, i, naverno, edinstvennyj iz vseh mal'chishek Zemli - a o devchonkah i govorit' ne prihoditsya - zajcem posetil srazu pyat' otdalennyh planet i privez ottuda mnogo suvenirov! Pravda, za etot polet on po pribytii na Zemlyu byl sil'no nakazan: emu zapretili god byvat' dazhe na blizhnih planetah. No Tolya gotov byl prinyat' v sto raz bolee strogoe nakazanie, lish' by pobyvat' tam... No razve mog on osmelit'sya na takoe?.. U Toli dazhe ne bylo svoego avtoleta, potomu chto on byl rasseyan i nikak ne mog zauchit' vseh pravil vozhdeniya, naznacheniya vseh ciferblatov i klavishej na pribornom shchitke, i emu poetomu ne vydavali prava... Kolesnikov vernulsya k mashine, sel v nee, dognal Tolyu i poehal u kraya trotuara, operezhaya Tolyu na kakih-nibud' polmetra. Ego malen'kie krepkie ruki so sledami smazochnogo masla i staryh porezov legko i nebrezhno szhimali shturval. - Ty chto, obidelsya? - myagko, pochti laskovo sprosil Kolesnikov. - Net. - Nu tak sadis'. S容zdim iskupaemsya... ZHarishcha-to kakaya! Tolya kinul na nego vzglyad: glaza u Kolesnikova, sidevshego za shturvalom, smotreli eshche bolee laskovo. CHto s nim? Podobrel? No iz-za chego? Ved' Tolya za noch' ne stal nizhe rostom i po-prezhnemu ne byl silen v tehnike... - YA ne hochu kupat'sya, - skazal Tolya. - Kak znaesh'... Vchera, mezhdu prochim, my s otcom byli u dyadi Artema, i on rasskazyval nam o planete P-471... Tolya srazu zabyl obo vsem na svete. I poshel sovsem tiho. I dazhe nezametno priblizilsya k krayu trotuara, chtob luchshe slyshat' vse, chto Kolesnikov skazhet dal'she.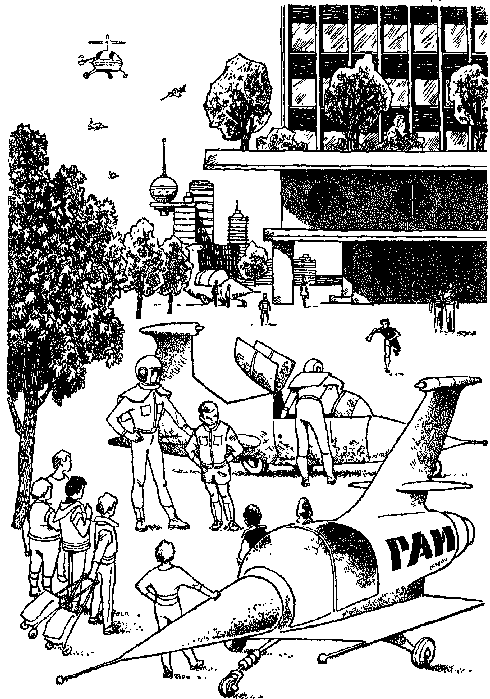 Tolya dazhe zazhmurilsya, boyas' togo slova, kotoroe vot-vot sorvetsya s gub Kolesnikova-syna. - Uspokojte mal'chika, - skazal pervyj sluzhashchij, - odno delo sportivnye gonki, a drugoe - narushenie "Instrukcii ezdy po gorodu". - YA - chempion, i dlya menya ne sushchestvuet etih pravil! - Ty gluboko oshibaesh'sya, - skazal sluzhashchij, - instrukciya sushchestvuet dlya vseh... CHerez mesyac priezzhaj za starymi pravami, a vot - novye, na sto kilometrov v chas. (Kolesnikov-syn otdernul ruku i ne vzyal seruyu knizhechku. ) Tvoe delo... - Sluzhashchij kivnul otcu i rebyatam, sel vsled za vtorym sluzhashchim v zheltyj avtolet, i oni uneslis' so dvora. - Idi domoj. - Otec hotel pojmat' ruku syna, no tot otskochil ot nego. - Ne pojdu! Ne hochu! Oni nepravy! - Lico Kolesnikova-syna slegka polilovelo. - Prav, kak vsegda, odin ty... Tak? Odnako syn ne udostoil ego otvetom. Kolesnikov-otec mahnul rukoj i poshel k golubomu avtovertoletu. I kogda tot podnyalsya nad dvorom i uletel, ZHora uvidel, kak k Kolesnikovu-synu podbezhal Tolya.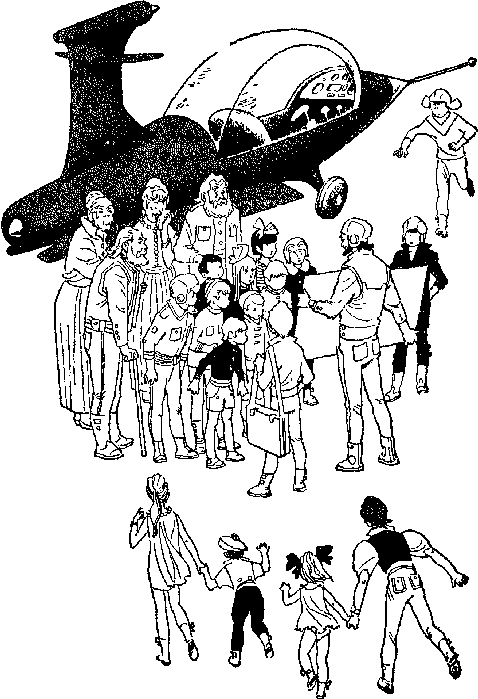 Andrej Mihajlovich skazal: - Pozhalujsta, tol'ko, umolyayu vas: s poslednej kartinoj bud'te ostorozhnej - ne prosohla.... Alik, rasstav' listy na skamejkah i u derev'ev... Spasibo, konechno, za takuyu vstrechu, no nichego osobennogo, uveryayu vas... - I, smushchennyj takim neozhidannym interesom sosedej k svoej rabote, hudozhnik bystro skrylsya v pod容zde. "Kakoj molodec,... - podumal Tolya, - takoj i Al'ku pustil by, esli by tot horoshen'ko poprosil, ne tol'ko v glubinu morya, no i v lyubuyu tochku Vselennoj... Odnako nado pomoch' Al'ke... " Tolya vzyal iz ego ruk neskol'ko listov, skreplennyh special'nymi uzkimi poloskami, i poshel cherez tolpu k skamejkam; Al'ka zhe nyrnul v mashinu i - s siyayushchim licom, ostorozhno derzha ladonyami za kraya, - pones k derev'yam bol'shoj list, sverkayushchij eshche ne vysohshimi, gusto nalozhennymi kraskami. Tolya rasstavil kartiny na skamejkah, i Al'ka prislonil list k stvolu platana. Lyudi othlynuli ot kartin, chtob poluchshe rassmotret' ih na nekotorom rasstoyanii, i pochti totchas poslyshalis' vozglasy udivleniya. I chem dol'she smotreli lyudi na kartiny, tem gromche ahali, tem glubzhe i sosredotochennej molchali. A koe-kakie starushki, kotorym davno perevalilo za sto, vytirali glaza kraeshkami platkov. Byl tut i ZHora, on tozhe smotrel na kartiny, i na tolstyh, dobrodushnyh gubah ego bluzhdala ulybka, i otnosilas' ona, vidno, k publike, s takim vnimaniem razglyadyvavshej kartiny... Neuzheli emu ne nravyatsya? Otojdya ot ZHory, Tolya vstal okolo Al'ki i stal smotret' na kartiny. On smotrel i ne mog otorvat'sya ot nih, slovno oni vtyagivali ego, kak omut, vbirali v sebya, i nichego nel'zya, bylo podelat', chtob ne poddat'sya im, ne pogruzit'sya v nih, ne smotret' na nih... Osobenno porazhala poslednyaya, bol'shaya segodnya zakonchennaya. Skvoz' mercayushchuyu zelen' vody prostupal zavalivshijsya nabok ogromnyj esminec, v slizi i vodoroslyah, svisavshih s orudij, kotorye torchali iz proklepannyh bashen, - iz etih orudij kogda-to vypuskali osobye shtuki iz stali, nazyvaemye snaryadami, nachinennye vzryvchatym veshchestvom. Sejchas po etoj brone v koleblyushchemsya sumrake polzali, podgibaya luchi, morskie zvezdy, kraby, i grustno smotrela podvodnaya mgla, a iz uzkih shchelej v nadstrojkah vverh uhodili dlinnye polosy sveta.., Net, eto byli ne polosy - vglyadis' poluchshe! - eto byli iskazhennye bol'yu i stradaniem chelovecheskie lica, lica pogibshih moryakov, i stol'ko v nih bylo blagorodstva i muzhestva, toski po neprozhitoj zhizni, zhalosti k materyam i brat'yam... Lica pogibshih moryakov chudilis' i v nizkih, priplyusnutyh nadstrojkah, i v dulah orudij, i v stranno izognutyh morskih zvezdah i vodoroslyah, i dazhe v samoj mgle tyazheloj vody, pronzennoj tusklymi blikami; i ona, eta voda, vsya tak i kolyhalas', tak i svetilas', tak i krichala etimi licami, etoj tyazheloj zelen'yu glubin, etoj massivnoj drevnej bronej, etim ostrym nosom korablya, iz otverstiya kotorogo torchal trehlapyj, pohozhij na spruta yakor', etoj vechnoj bezzvuchnoj tishinoj... Tolya s trudom otorval glaza ot etoj kartiny i perevel ih na druguyu, stoyavshuyu ryadom, - na nej prekrasnymi serebryanymi molniyami plyli del'finy, na tret'yu - na nej sverkali v chudesnom iskrometnom tance legkie, izyashchnye stavridki, na chetvertuyu... I opyat' Tolya vernulsya glazami k kartine s potoplennym esmincem. Vozle nee sobralis' pochti vse zhil'cy, i kazhdyj hotel podojti poblizhe, chtob poluchshe rassmotret'. Podoshel i ZHora. Rabotaya loktyami, on stal neuklyuzhe, no dovol'no nastojchivo protiskivat'sya k nej: vidno, i ego v konce koncov razobralo lyubopytstvo. A Tolya vse smotrel na kartinu, smotrel... I vdrug on ponyal - i ego pryamo-taki obozhglo ottogo, chto on neozhidanno ponyal: moryaki byli takie hrabrye, srazhalis' do poslednego, a on dazhe rot raskryt' boitsya, boitsya pryamo skazat' obo vsem Al'ke. Tolya vytyanul ego za ruku nz tolpy, otvel v storonku i, reshiv nichego bol'she ne skryvat' ot nego, v upor, nemnozhko dazhe svirepo posmotrel v yasnye, dobrye Al'kiny glaza i negromko skazal: - Al'ka, poletim s nami... YA proshu tebya... Ty nam ochen', ochen' nuzhen... - Tuda? - Al'ka podnyal vverh glaza i ulybnulsya svoim huden'kim treugol'nym lichikom. - Tuda. - I est' na chem? - Glaza ego ponyatlivo i sochuvstvenno svetilis'. Tolya kivnul i chut' ne kriknul ot radosti i blagodarnosti: - Ty ne pozhaleesh', Al'ka! |to budet prekrasnyj polet! Nu, idi k otcu. O podrobnostyah chut' popozzhe...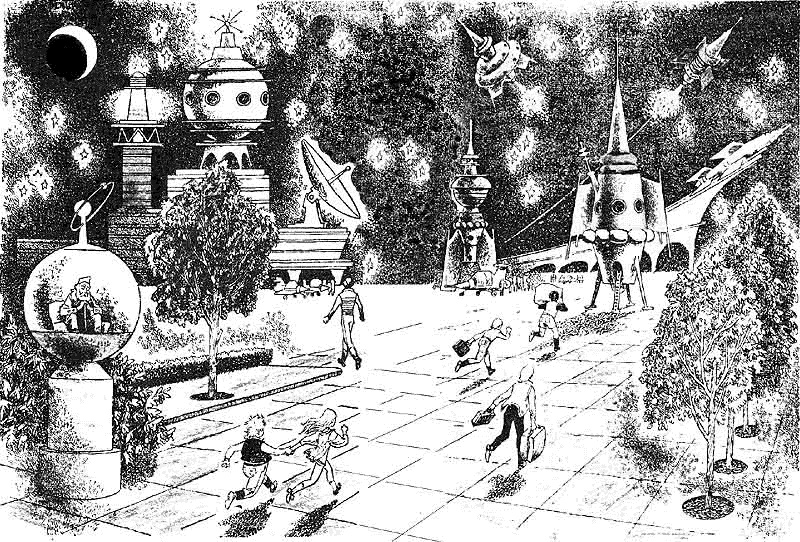 Kolesnikov opustil meshok, brosilsya navstrechu priblizhayushchimsya golosam - ottuda doessya shum vozni - i vynyrnul iz temnoty: v odnoj ruke on legko nes gromadnyj chemodan, drugoj - vel Lenochku. - Bystro! - skazal on. - Bystro! A szadi s krikom bezhal ZHora: - Lenochka, kuda ty? Rebyata, i ya s vami! Ogromnymi shagami, mozhno skazat' begom, mchalis' rebyata po Marsovoj ulice, a za nimi katilsya ego krik. Prohozhie to i, delo ostanavlivalis' i udivlenno glyadeli na begushchih s chemodanami. Kolesnikov tashchil na odnom pleche meshok i po-prezhnemu vel za ruku Lenochku, Tolya, oblivayas' potom, nes ee i svoj chemodany, a ryadom bezhal Al'ka i, kak zavedennyj, prosil dat' i emu ponesti Lenochkin chemodan. A za nimi gnalsya ZHora-Obzhora i uprashival vzyat' ego s soboj. - CHto zh nam delat'? Kak my syadem nezametno v zvezdolet? - sprosil Al'ka. - A kto vinovat? - sovsem rasserdilsya Kolesnikov. - Est' odin sposob izbavit'sya ot nego... Lenka, skazhi emu chto-nibud' krepkoe. - CHto? - morgnula resnicami Lenochka. - CHto-nibud' takoe, chtob on ne shumel, ne gnalsya za toboj, ne vydaval nas, ne... - A chto skazat'? YA uzhe mnogoe govorila emu... - Nu, esli ty ne znaesh', - otvetil Kolesnikov, - ostaetsya samoe plohoe... - CHto, ne poletim? - pryamo-taki vspoloshilsya Tolya. - Net-net, eto nevozmozhno! - Schitajte, chto svoj ballast vy vzyali naprasno, - skazal Kolesnikov uzhe u samogo kosmoporta, vidya, chto ZHora ne otstaet. - Sejchas uslyshat ego i... Kolesnikov poprosil Lenochku privesti k nim ZHoru pri uslovii, chto on nemedlenno zamolchit. - Skazhi, chto my voz'mem ego s soboj. - Kolesnikov pokrutil na dlinnoj cepochke uzkij serebristyj klyuch, sdelannyj v vide rybki, - dlinnoj on sdelal cepochku dlya togo, chtob nosit' klyuch na shee, inache ego legko poteryat'. Lenochka brosilas' nazad i privela ZHoru, tihogo i dovol'nogo, gotovogo slushat'sya i podchinyat'sya. Legko i bystro proshli oni vozle Al'kinogo dedushki, dezhurivshego v etot den' na kosmodrome. On kivnul im. Nikto iz drugih sluzhashchih ne obratil vnimaniya na rebyat, i oni bystro zashagali po betonirovannomu polyu. Poka oni shli, vverh vzletelo neskol'ko korablej, ostavlyaya za soboj ognennye hvosty - to krasnye, to golubye, to fioletovye... - A kuda vy, rebyata? - sprosil ZHora, kogda oni podoshli k temno-sinemu ostronosomu korablyu. - Tuda. - Kolesnikov kivnul na nebo, shagnul na trapik, vstavil kuda-to v dvercu lyuka klyuch, otkryl, propustil v korabl' ZHoru-Obzhoru, i tot, prostuchav nogami po trapu, ischez vnutri zvezdoleta. I ottuda donessya ego golos: - A zachem vy letite, rebyata? - Nekogda sejchas ob座asnyat', v polete uznaesh'! - otvetil Kolesnikov i posmotrel na treh chlenov ekipazha. - A teper' vytryahivajte iz chemodanov lishnij ballast, u nas teper' zhivoj ballast est'!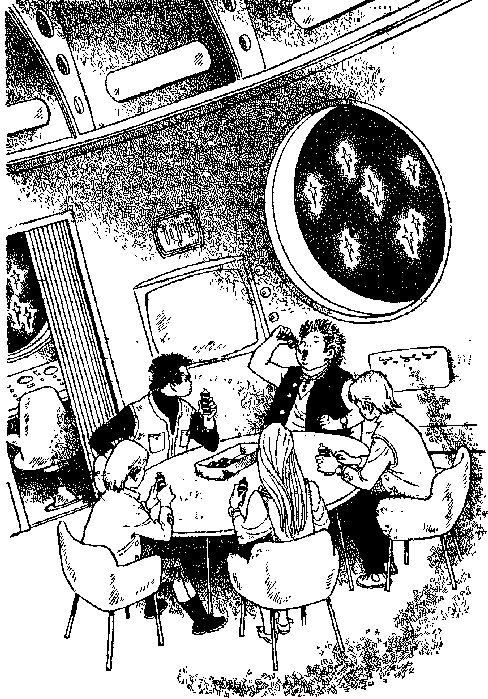 - Ne goryuj, ZHora, - skazala Lenochka. - Vot priletim na pervuyu planetu i tak tam naedimsya... Vdostal'! Verno, rebyata? - Net, ne verno! - vspylil ZHora: do nego vdrug doshlo - nel'zya tak bol'she, nel'zya! Oni ved' smeyutsya nad nim! Nel'zya dazhe dumat' o pishche, potomu chto stoit tol'ko podumat' o nej, rebyata kakim-to neponyatnym obryvom srazu dogadyvayutsya; naverno, ego mysli otrazhayutsya na lice. - Sami mozhete naedat'sya! Mozhete hot' lopat'sya! A mne chto? Plevat' mne na edu! - I davno eto? - polyubopytstvoval Al'ka. - |to zhe velichajshaya novost': nash ZHora, chelovek grandioznogo, astronomicheskogo, a tochnee, kosmicheskogo appetita stal ravnodushen k ede!.. Ty ne shutish'? Ne ogovorilsya? ZHora pokachal golovoj, nadulsya i opustil glaza. Rebyata mgnovenno osushili svoi kuvshinchiki, i Kolesnikov ob座asnil, chto etot chaj, vernee, eta zhidkost', zamenyayushchaya chaj, prekrasno utolyaet zhazhdu i no svoemu dejstviyu ravna chut' li ne celomu samovaru, iz kotoryh v drevnosti pili chaj, i chto nad izobreteniem sostava etoj zhidkosti, bodryashchej i pitatel'noj, neskol'ko let rabotala bol'shaya gruppa uchenyh Akademii pitaniya... - A teper', - skazal Kolesnikov, - slushajte prikaz po zvezdoletu: teleekrany v salone i v otsekah ne vklyuchat'! - Pochemu? - sprosil Al'ka. - Potomu, - otvetil Kolesnikov. - YA ne mogu kazhdomu vse ob座asnyat'... Davajte uslovimsya, rebyata: ne budem zadavat' lishnih voprosov. - |to pochemu zhe? - sprosil Tolya. - Opyat' "pochemu"? Slushajte menya, ya vse znayu i ne zhelayu vam plohogo... S Kolesnikovym vy ne propadete! - Ty v etom tak uveren? - opyat' sprosil Tolya. - Aga! - Kolesnikov podmignul Lenochke. - Vam rebyatki, sil'no podvezlo so mnoj... - A po-moemu, niskol'ko! - ne unimalsya Tolya. - Skazhi, ty znaesh', chto takoe tumbler? - Kolesnikov ulybnulsya, a Tolya slegka nahmuril lob. - Net... A chto eto? Kolesnikov rashohotalsya: - Nu vot, ne znaesh' elementarnyh veshchej, a nabrasyvaesh'sya na menya! - Byt' by mne glavnoj u vas! - vmeshalas' v razgovor Lenochka. - Uzh ya rasporyadilas' by, zamuchila by vas prikazami: Kolesnikov, nemedlenno polit' cvety! Zvezdnn, prochitat' lekciyu ob umstvennoj deyatel'nosti komarov i sorokonozhek! Goryachev, proteret' illyuminatory i napisat' maslom portret neustrashimogo Kolesnikova v pilotskom kresle! ZHora, poka drugie vyzhimayut svoi obedennye tyubiki, stancevat' chispet' chto-nibud' veseloe!.. Nichego? Soglasny? V salone razdalsya hohot. - A teper', rebyata, vser'ez, - skazal Kolesnikov. - Nado eshche dogovorit'sya o grafike vaht v rubke upravleniya. Lena osvobozhdaetsya i mozhet idti otdyhat', a muzhchiny ostanutsya... - Oj, ya i pravda ustala..: - Lenochka zevnula. - Segodnya stol'ko bylo vsego! Tol'ko ne ssor'tes'. Nu poka, mal'chiki... Ona vskochila s kresla, mahnula im rukoj i skrylas' v otseke No 3. Tolya ispodlob'ya posmotrel v malen'koe delovoe lico Kolesnikova; tot kratko raz座asnil, chto s zavtrashnego dnya on otkroet kratkie "Kursy po obsluzhivaniyu i vozhdeniyu zvezdoleta", chto, hotya korabl' idet k lyuboj namechennoj imi planete avtomaticheski i sam uklonyaetsya ot vstrechnyh meteoritov ili kakih-nibud' drugih popadayushchihsya po puti nebesnyh tel, po pri ruchnom upravlenii nado mnogoe znat': razbirat'sya v knopkah, klavishah, v signalah i, pri neobhodimosti, utochnyat' ili dazhe rezko menyat' kurs... - A ya? YA tozhe budu stoyat' na vahte? - vnezapno sprosil ZHora. - A pochemu zh net? - posmotrel na nego Kolesnikov. - Ili hochesh' uvil'nut'? - Nichego ya ne hochu, no ved' ya... - Tochka, - prerval ego Kolesnikov. - Po otsekam, spat'! Segodnya moya vahta do utra...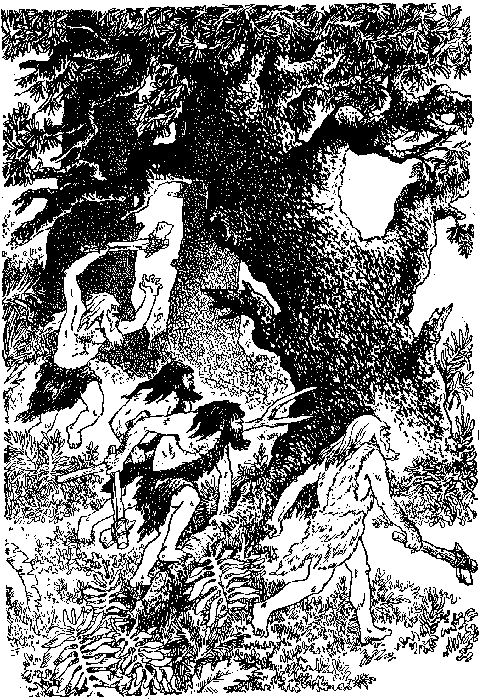 Tri vystrela oglushitel'no udarili navstrechu im, i nad golovami vzorvalis' i vspyhnuli rakety. Sushchestva, kak odin popadali na travu, prizhalis' k vypirayushchim iz pochvy kornyam. Kolesnikov spryatal v karman chernyj raketnyj pistolet. - A nu k korablyu! Bystro, poka oni ne ochuhalis'! - prikazal on. - I bez paniki! Rebyata opomnilis' i, carapaya lica o zhestkij kustarnik i svisayushchie sverhu liany, kinulis' nazad. Za nimi bystrym shagom shel Kolesnikov.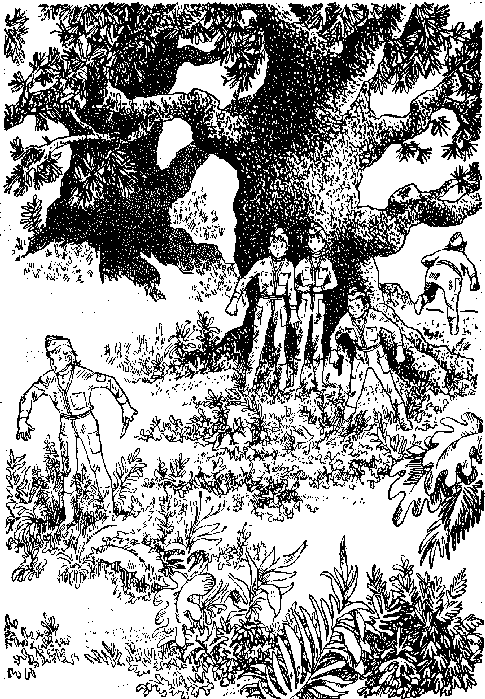 "A ved' i pravda, chto b my delali bez nego? " - podumal Tolya. Vdrug Lenochka spotknulas' o koren' i chut' ne upala. Tolya podhvatil ee i postavil na nogi. Lenochka sil'no hromala, i Tolya podderzhival ee za ruku, poka oni bezhali k zvezdoletu. Szadi razdalis' kriki: dikari ochnulis' ot straha i snova nachali presledovat' ih. Vdrug na zvezdolete zarevela sirena. Ona revela, zavyvaya, i tak pronzitel'no, chto presledovateli opyat' popadali v travu. |kipazh blagopoluchno nyrnul v dver'. Kolesnikov vstavil v skvazhinu klyuch i povernul na pyat' oborotov. Rastalkivaya poluzhivyh ot straha i ustalosti chlenov ekipazha, on kriknul: "Ni s mesta, derzhat'sya za poruchni! Sohranyat' hladnokrovie! ", vletel v rubku upravleniya i nazhal puskovuyu knopku. Vzreveli dvigateli, i zvezdolet plavno i stremitel'no, slegka zadev listvu derev'ev, vzmyl v sinee nebo. Sirena srazu zamolkla. "Kto zhe ee vklyuchil? - podumal Tolya. - Ved' v korable nikogo ne bylo".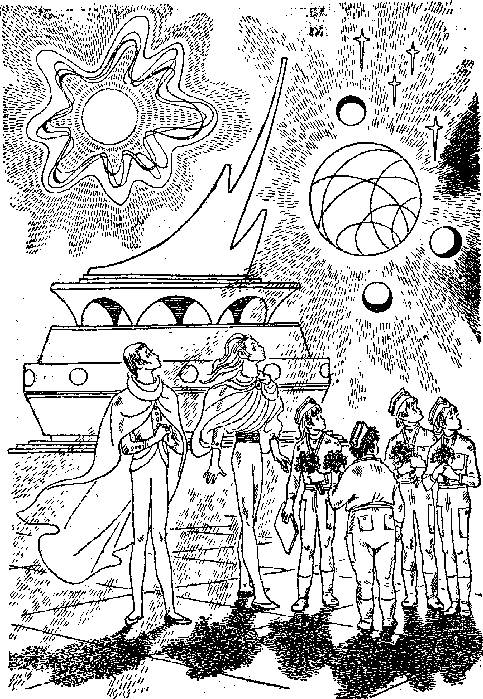 - CHto vy, my zdorovy! Daj bog vsem byt' takimi! - ZHora provel ladonyami po svoim kruglym shchekam, i oni zaskripeli, kak yabloki. - Ne stoskovalis' po svoej planete? - sprosil chelovek s krasnymi volosami. - Vot eto est'... - skazal ZHora. - V kosmose, kak govoritsya, horosho, a doma luchshe. - Da ne slushajte vy ego! - ne vyterpela Lenochka. - Ni kapel'ki nam ne grustno.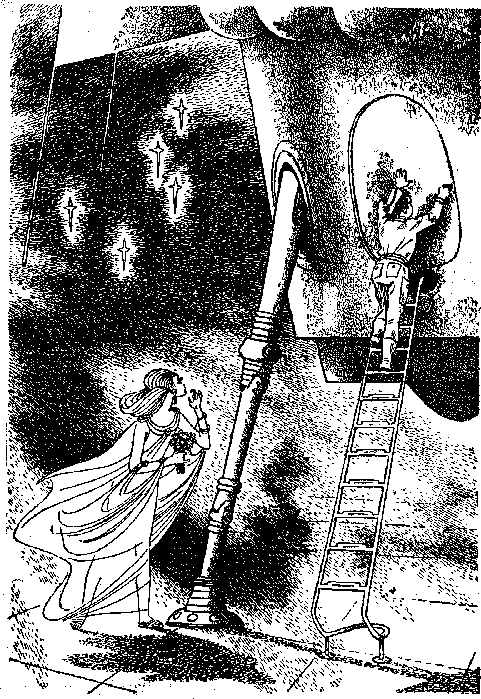 Ona vo vse glaza rassmatrivala planetyan, ih lica, ih glaza, takie vnimatel'nye, doverchivye, otkrytye, ih udivitel'nye nezemnye polosy. I konechno zhe, s osobym vnimaniem smotrela Lenochka na devushku, na ee legkoe, iskryashcheesya plat'e. - Vy, naverno, hotite otdohnut' posle poleta? - sprosila devushka. - Net, chto vy! - skazal Tolya. - My sovsem ne ustali. My by ochen' hoteli poznakomit'sya s vashej planetoj. - Pozhalujsta... CHto vas interesuet v pervuyu ochered'? Naverno, posle dlitel'nogo poleta vy hoteli by poest'? Tolya s uzhasom posmotrel na ZHoru: vot-vot lyapnet chto-nibud'! No lico togo zastylo, napryaglos', pokrasnelo; oh, kak, vidno, hotelos' emu sejchas podzapravit'sya, no ZHora geroicheski borolsya s soboj. Odnovremenno s Tolej brosil na nego vzglyad Al'ka i skazal: - Prostite nas, no horosho by... Stoskovalis' my v polete po zharenoj kartoshke i klubnike so slivkami... ZHora blagodarno blesnul v Al'knnu storonu glazami, i Tolya vzdohnul: Al'ka okazalsya dobrej ego... - Prosim... Skol'ko ugodno! - veselo, v odin golos otvetili planetyane. - My, priznat'sya, tozhe ne proch' chto-nibud' poest'... - Prishlite, pozhalujsta, mashinu na vosem' mest, - negromko skazal kuda-to v storonu muzhchina s krasnymi volosami, i cherez neskol'ko sekund v nebe chto-to myagko prozhuzhzhalo, vozle nih opustilsya vertolet - legkij, otkrytyj, prozrachnyj, iz neizvestnogo materiala, s dvumya takimi zhe prozrachnymi vintami sverhu. U Kolesnikova pryamo-taki glaza polezli na lob. - Kak vy ego vyzvali? - Ochen' prosto, - otvetil muzhchina. - Pozval ego, i on priletel... Zajmite, pozhalujsta, svoe mesto. Vse uzhe sideli, krome Kolesnikova; on stoyal ryadom s mashinoj i pytlivo trogal rukami prozrachnuyu obshivku bol'shoj udobnoj kabiny. - A gde zhe pilot? - nedoumeval on. - A gde pomeshchaetsya dvigatel'? V etoj malen'koj korobochke? - Razumeetsya, - skazal muzhchina. - Zdes' on eshche bol'shoj... Vy sadites', a to vse progolodalis'... No Kolesnikov uzhe ni o chem ne mog dumat', ni o chem, krome etogo prozrachnogo chudo-vertoleta. I kogda on nakonec vlez v nego, on ne prisel, a vse oshchupyval, oglyadyval, prikidyval chto-to v ume. I kogda oni prileteli k bol'shomu prozrachnomu zdaniyu, Kolesnikov skazal: - Vot eto ya ponimayu! Kak u nih vse udobno i prosto... Oni doveli svoyu tehniku do sovershenstva. Vse tak produmano i uproshcheno, chto i tehniki nikakoj ne vidno... Dazhe neprivychno kak-to! Smotryu na nee, dumayu - i nichego ne mogu ponyat'. A mne kazalos', my vseh obognali... - Vy s kakoj planety, rebyata? - sprosila devushka. - My s planety Zemlya! - ne bez gordosti skazal Al'ka. - A kak nazyvaetsya vasha? - My ee nazyvaem Planetoj Dobryh Stremlenij, - otvetil krasnovolosyj, - a sosednie s nami planety nazyvayut ee Planetoj Sovershenstva, no eto ne tak: nam eshche daleko do sovershenstva, da k tomu zhe polnogo sovershenstva nevozmozhno dostich', k etomu mozhno tol'ko stremit'sya, chto my i delaem... I Tolya srazu ponyal: vot ona, ta planeta, pobyvat' na kotoroj on mechtal! Bol'she vsego mechtal! Skoro oni vyshli iz vertoleta. Odezhda planetyan, kak zametil Tolya, pri dvizhenii ne tol'ko legko i priyatno iskrilas', no i nepostizhimo kakim obrazom rozhdala tihuyu, myagkuyu, dobruyu muzyku. Planetyane i prishel'cy voshli v dom, uselis' za legkie stoliki, i na nih v tu zhe minutu neizvestno otkuda poyavilis' chetyrehugol'nye prozrachnye tarelochki s raznymi salatami i takie zhe prozrachnye tarelochki s supom. Planetyane, chtob ne meshat' im, uselis' v storonke i prinyalis' est' to zhe samoe. - Vot gde my pozhivem, pravda? - shepotom sprosil Tolya u Kolesnikova. - Pozhivem, a tam budet vidno... Komandir, naverno, ne prinyal eshche tverdogo resheniya, potomu chto pozhal plechami i poter krepkim kulakom lob. - Vozmozhno. Pri uslovii, chto oni ne budut takimi mudrenymi i strannymi. I eshche: esli ya pojmu, kak u nih vse eto ustroeno. - Pojmem, - skazal Tolya. - Postaraemsya ponyat'... - A kakie oni krasivye! - progovorila Lenochka. - A kakaya u nih muzyka! YA nigde ne slyshala takoj. Tak i hochetsya tancevat' pod nee, da nelovko... I gde oni, muzykal'nye instrumenty, rozhdayushchie ee? - Vyyasnim, - uverenno skazal Tolya. - A kak oni odety! - ne umolkala Lenochka. - Ih odezhda tak myagko iskritsya, izdaet etu nezhnuyu muzyku... Nichego pohozhego ne videla i ne slyshala... - Eshche ne to uvidish' i uslyshish' vo Vselennoj, - zametil Tolya. - No znaj, - vmeshalsya v razgovor Al'ka, - i my dostignem takogo sovershenstva i, mozhet, dazhe obgonim ih, i oni priletyat k nam uchit'sya... - Horosho by... - vzdohnula Lenochka. - Mal'chiki, ne podnimajte menya na smeh, no mne by hotelos' imet' plat'e, v kakih zdes' hodyat... - Poprosim, avos' dadut, - skazal Tolya. Oni voshishchalis' etoj planetoj i ne zabyvali ob ede. S容v svoj sup, ZHora skazal: "Eshche hochu", i pered nim poyavilas' novaya tarelka, potom eshche... - Ostanovis', - poprosila Lenochka, - ostav' mesto na vtoroe i tret'e... - Na vse hvatit, ya chelovek bol'shih vozmozhnostej, - zayavil ZHora, prodolzhaya est'. - No chto oni podumayut o tebe i o nas? - Pust' dumayut chto hotyat... Kakie my est', Lenochka, takie i est', i nechego puskat' pyl' v glaza. Ne nado dumat', chto podumayut o nas, a nado dumat', kak ostat'sya soboj, nikogo ne obizhat' i ne obmanyvat'... Tolya s izumleniem slushal ego: nu i ZHora! Mudrec! Filosof! ZHora mezhdu tem el myagkoe, nezhnoe, pryamo tayushchee vo rtu zharenoe myaso s lomtikami kakih-to nevedomyh ovoshchej, pil kakie-to neobyknovenno vkusnye soki v uzen'kih nevesomyh stakanchikah - odin takoj stakanchik on na vsyakij sluchaj prihvatil s soboj; plotnoe, krugloe lico ego luchilos' radost'yu i udovol'stviem.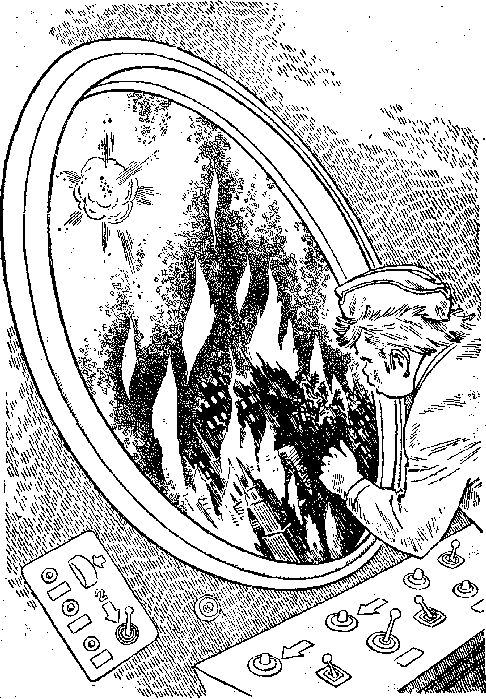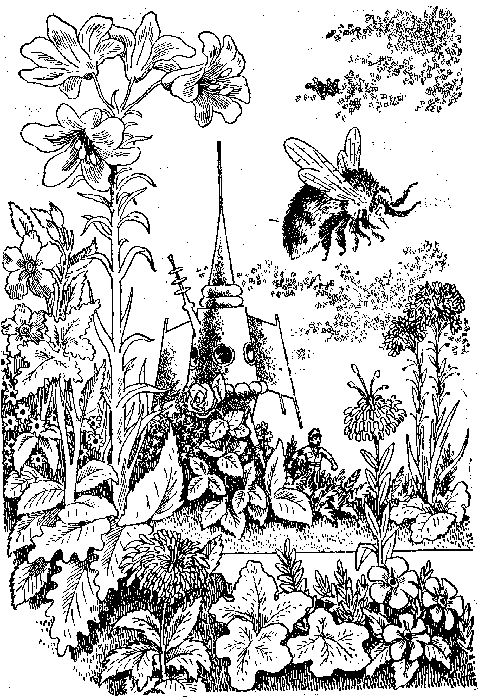 Ona otkliknulas', pozvala ih. Rebyata stashchili s sebya kombinezony i ostorozhno, kak zimoj na neprochnuyu l'dinku, stupili na malen'kij kruglyj zelenyj plotik - list kuvshinki; Tolya ne bez truda perepilil skladnym nozhom tolstyj, uhodyashchij ko dnu stebel' lista, i oni otplyli ot berega. Tolya s Al'koj - huden'kie, zagorelye, v odnih trusikah - lezhali na gladkom blestyashchem liste i grebli rukami, a Lenochka stoyala poseredke i gromko smeyalas'. Vnezapno na beregu poyavilas' malen'kaya figurka Kolesnikova. Dazhe izdali bylo vidno, chto lico u nego sonnoe, nedovol'noe. On podoshel k vode, proter glaza i zevnul.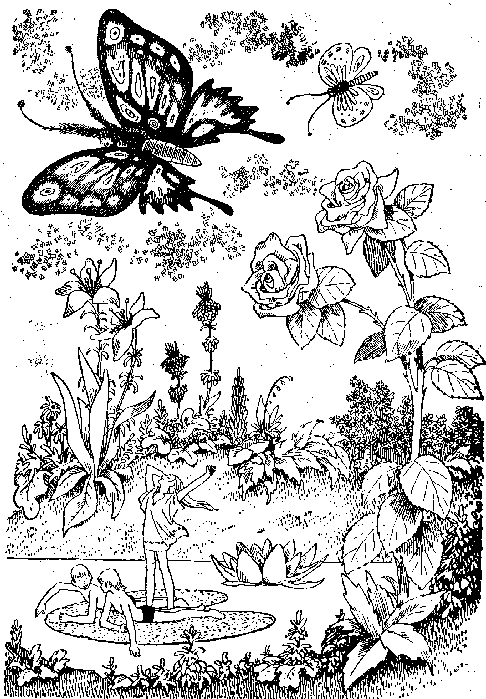 - Kto posadil syuda zvezdolet? - YA. A chto, tebe zdes' ne nravitsya? - sprosila Lenochka. - razdevajsya i plyvi k nam! - A chto ya tebe govoril? - skazal Kolesnikov. - Ili vse vyletelo iz golovy? Nikto ne imeet prava po svoej vole sadit'sya na neznakomye planety! - A ty? - nashlas' Lenochka. - CHto - chto ya? - nedovol'no shevel'nul brovyami Kolesnikov. - Ty imeesh' pravo sadit'sya, ni s kem ne posovetovavshis'? - Nu kak tebe skazat', ya... - zameshkalsya Kolesnikov, i Lenochka ne stala ozhidat', poka on vyputaetsya iz trudnogo polozheniya. - Tak vot ya i vzyala primer s tebya! - zasmeyalas' ona. - Razve plohaya planeta? - A chem ona horosha? - hmuro sprosil Kolesnikov: vidno byl ochen' nedovolen soboj. - Nemedlenno plyvite k beregu! My sejchas zhe uletaem otsyuda! -- My nikuda ne poletim! - spokojno skazal Tolya, uzhe ne glyadya na nego, a prodolzhaya lezhat' na gladkom uprugom liste i zagrebaya prohladnuyu vodu rukami. Tak oni plavali, naverno, celyj chas, lyubuyas' golubiznoj neba, bleskom dvuh svetil - yarkih malen'kih mestnyh solnc, davshih etoj planete teplo i zhizn', otrazheniem v vode gromadnyh raskryvshihsya kuvshinok... Kolesnikov chto-to krichal s berega, prikazyval, razmahival rukami, no rebyata daleko otplyli ot nego i nichego ne mogli rasslyshat'. Da i ne hoteli. Potom Tolya prinyalsya gresti rukami k beregu, skazav so vzdohom: - Kak by on golosovye svyazki ne povredil... Skoro rebyata stali razbirat' ego slova, frazy, a potom ih gromadnyj list utknulsya v bereg. - Nechego zdes' teryat' vremya! - razoryalsya Kolesnikov. - My ne dlya etogo poleteli v mirovoe prostranstvo! Pravda, Tolya? On iskal u nego podderzhki, i Tolya otvetil: - Pravda... No civilizaciya cvetov - razve eto ploho?.. My reshili otdohnut' i pozhit' zdes'... Razdevajsya, Kolesnikov, iskupajsya s nami i pozagoraj! - YA nenavizhu kupaniya i zagoraniya vo vremya poletov! - zakrichal Kolesnikov. - Zdes' vam ne Zemlya! My - lyudi dela... K korablyu! - On mahnul im rukoj i dvinulsya k zvezdoletu svoim medlennym neuklyuzhim shagom, uverennyj, chto i oni sleduyut za nim. No kogda shagov cherez dvadcat' Kolesnikov obernulsya, on uvidel, chto oni i ne dumayut sledovat' za nim. Oni plavali i nyryali vozle svoego zelenogo plotika, bryzgalis', i Lenochka s radostnym ispugom vizzhala. I togda Kolesnikov prosto vyshel iz sebya: - YA vam prikazyvayu! CHtob cherez pyat' minut vse byli v svoih otsekah!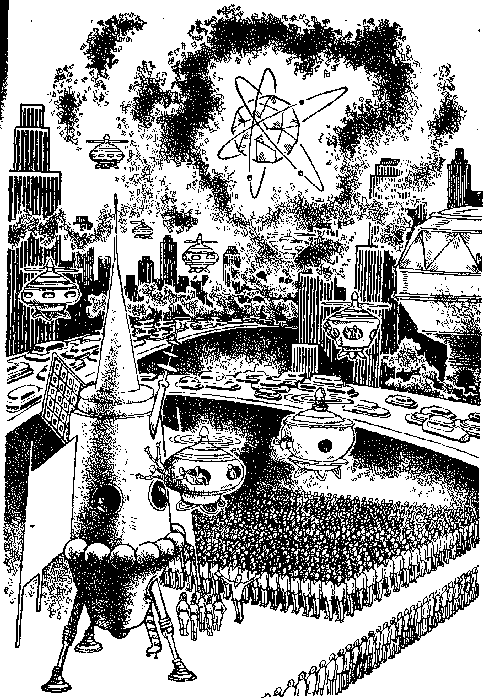 Kolesnikov govoril dolgo, podrobno; Tolyu udivili ego slovoohotlivost', otkrovennost' i zhar. I poka Kolesnikov govoril, ni odin iz tysyachi vstrechavshih ih lyudej ne perestupil s nogi na nogu, ne shevel'nul brov'yu. Potom eti vostorzhennye, dobrye lyudi, kak-to bystro i mudreno perestroivshis' i sostaviv novyj, eshche bolee izumitel'nyj stroj, chetyr'mya pravil'nymi treugol'nikami okruzhili zvezdolet i rebyat, stoyavshih vozle nego. I stali s pristal'nym voshishcheniem rassmatrivat' korabl'. Vertolety, nepodvizhno visevshie v vozduhe, priblizilis' k zvezdoletu, i s nih tozhe voshishchenno smotreli planetyane. Oni rassmatrivali korabl' dolgo i v polnom molchanii, kak kakoe-to chudo, nevidal', verh sovershenstva. I Kolesnikov shepnul na uho Tole: - Vot kto umeet cenit' tehniku!.. Tolya promolchal: videl eto i bez ego slov, i, priznat'sya, takoe poklonenie ih zvezdoletu, pust' dazhe ochen' krasivomu i sovershennomu, udivilo ego. Vnezapno, narushiv stroj, na tri shaga vpered vyshel vse tot zhe chelovek v bezukoriznennom sinem kostyume i gromko proiznes: - Hvala civilizacii, sumevshej postroit' takoe chudo! I opyat' progremelo soglasnoe "ura" s kosmodroma i s neba - s mashin, nepodvizhno zastyvshih v vozduhe. - Slyhali? - Kolesnikov obernulsya k rebyatam. - Vot kak oni otzyvayutsya o nashej Zemle! - CHego zh vy togda uleteli s nee? - sprosil ZHora. - Nu, chego? - Molchi! - gromko shiknul na nego Tolya. - Ty vse ravno ne pojmesh'... - U nas na planete dostizheniya bolee skromnye, - prodolzhal chelovek v sinem, - no i my koe-chego dostigli i hotim prodemonstrirovat' vam...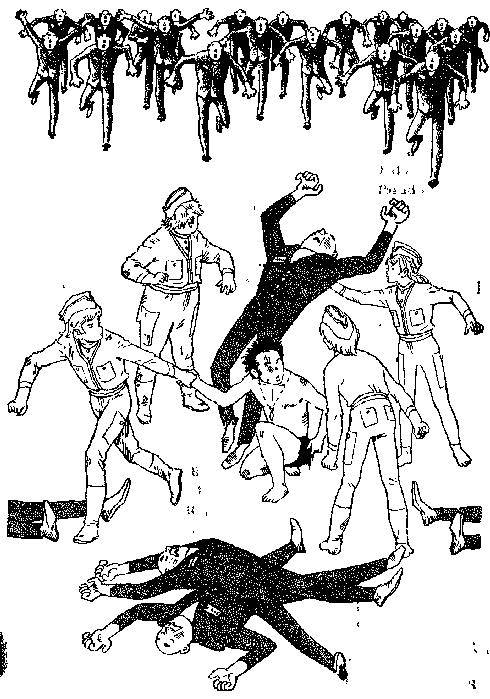 No rebyata znali sekret ih uyazvimosti - prikosnovenie k spine, i robot s grohotom letit na beton kosmodroma. Uzhe shtuk dvadcat' valyayutsya v nepodvizhnosti, i rebyach'i nogi to i delo spotykayutsya o nih. - Lez' vnutr', poka ne podospeli! - Al'ka podtolknul Lenochku k dveri, za nej prygnul Kolesnikov, - razodrannye trusy kakim-to chudom derzhalis' na nem i razvevalis' szadi, kak flag poterpevshego porazhenie. Bosye nogi ego bystren'ko proshlepali po trapu vverh. - Vklyuchaj energosistemu! - velel emu Al'ka. - Gotov' korabl' k otletu! V eto vremya vnutri zvezdoleta razdalsya dusherazdirayushchij vizg Lenochki. - ZHora, na pomoshch' nashim! - otdal komandu Tolya. - Bystro! I ne zhalej muskulov!
---

Last-modified: Sat, 29 Apr 2000 16:20:51 GMT