© Petr Vorob'ev Email: kalmoth@rt66.com WWW: http://www.rt66.com/~kalmoth/n2.html Date: 6 Aug 1998 --------------------------------------------------------------- ______ 2 \ / \ / \/ roman chast' 1 (sokrashchennyj variant)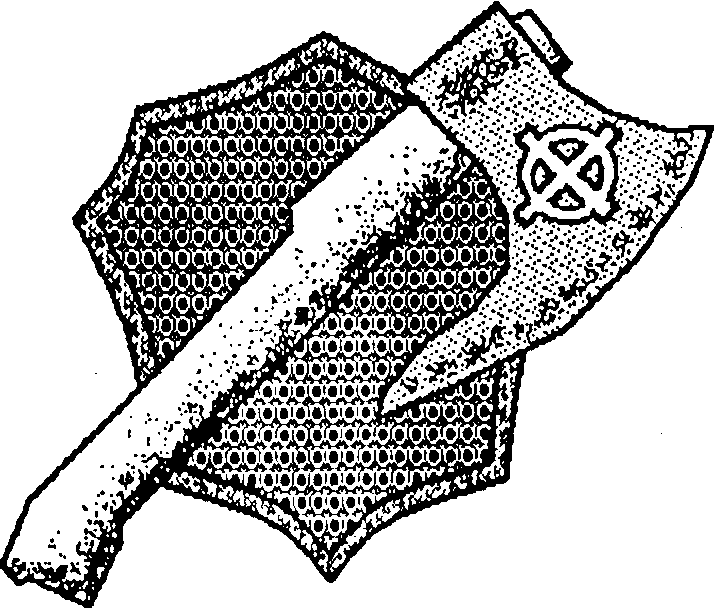 +--+ ++++++++ ++++++++ +--+ Petli kosmicheskih strun oputyvayut Vselennuyu. Struny tonki i chudovishchno tyazhely, v nih pochti s nachala nachal zaklyuchen drevnij vakuum, simmetrichnyj i vysokoenergeticheskij. Dvigayas' s okolosvetovoj skorost'yu i iskazhaya metriku prostranstva, kosmicheskie struny sgrebayut veshchestvo Vselennoj v redkie ostrova galakticheskih skoplenij. V tri dyuzhiny raz medlennee, chem svet, priblizhalsya k odnomu iz takih ostrovov oblomok korablekrusheniya. Dolgij put' v pochti polnoj pustote zakonchilsya, stolknoveniya s atomami mezhzvezdnogo gaza razrushali poverhnost', no vnutri tela temperatura ostavalas' ochen' blizkoj k nulyu. Sreda uplotnyalas', telo voshlo v predely galaktiki, dvigayas' vdol' ekvatorial'noj ploskosti. Vremya shlo. Kogda telo preodolelo okolo chetverti rasstoyaniya do central'nyh oblastej galaktiki, v odin iz vystupov ego perednej chasti udarila pylinka. Vzryv iskorezhil karkas i sorval chast' obshivki. Ego energiya okazalas' dostatochnoj, chtoby probudit' Fenrira. Fenrir uvidel, kak svetyatsya treshchiny v istonchennyh vremenem pereborkah. "Poka est' vozmozhnost', nado prikryvat'sya ostatkami zvezdoleta i sobirat' energiyu dlya tormozheniya. Pohozhe, ne uspet'." Eshche odin vzryv - i v ogromnoj proboine pryamo po hodu pokazalas' blizkaya zheltaya zvezda. "|to kstati." Izluchenie, voznikavshee pri razrushenii konstrukcij zvezdoleta, usvaivalos' ploho, no akkumulyatory energozonda zaryazhalis'. Vokrug Fenrira uzhe byla hromosfera zvezdy. "Povezlo - ne popal v ploskost' planet i kometnogo oblaka. Zvezda projdet pochti po kasatel'noj - zond dostatochno vytolknut' v dyru obshivki. V osnovnom dyry i ostalis'. Pora." |nergozond vyvalilsya v napravlenii ognennogo okeana, navisavshego nad Fenrirom, i, nepreryvno nabiraya energiyu, pod zashchitoj somknuvshegosya vokrug nego silovogo polya vnedrilsya v zvezdu. Dostignuv ee glubinnyh oblastej, zond, podpityvaemyj termoyadernoj reakciej, nachal iskrivlyat' prostranstvo. V yamu metriki provalivalos' vse bol'she veshchestva, process razrastalsya, poka yama ne stala osobennost'yu, svyazav "ruchkoj" nedra zvezdy i reaktor Fenrira. Ot udara kosmicheskogo kameshka oblomok zvezdoleta, v kotorom byl zaklyuchen Fenrir, nachal vrashchat'sya. V treshchiny i dyry pronikal svet zvezdy, zametno sdvinuvshijsya k krasnomu koncu spektra. Fenrir vyzhdal, poka perezagruzitsya pamyat', prikrylsya silovym polem i, sokrushiv izglodannye velikoj pustotoj rebra nekogda gordogo ispolina, razvernulsya k udachno vstrechennomu svetilu. Nado bylo zatormozit', poka u zonda hvatalo moshchnosti podderzhivat' "ruchku". Ostanki zvezdoleta, prodolzhavshie svoj put' s prezhnej skorost'yu i medlenno tayavshie v pustote, nekotoroe vremya eshche byli dostupny vospriyatiyu Fenrira, potom propali. Kogda udalenie ot zvezdy smenilos' medlennym priblizheniem k nej, Fenrir, v uzkih krugah nekogda izvestnyj kak Hall'kel' Slonovij CHerep, leg v drejf. Tusklo blestela ego bronya, fosforescirovali bortovye nomera, gerby i sine-krasnaya polosa vdol' ostroj kromki splyusnutoj golovnoj chasti korpusa. Sistemy skanirovaniya prostranstva skanirovali prostranstvo, roboty dlya remonta shvov mezhdu broneplitami remontirovali shvy mezhdu broneplitami, kriogeneratory ohlazhdali sverhprovodyashchie kontury, v srednej chasti korpusa nachala otmerzat' i vonyat' vsyakaya vsyachina. Ostavalos' zapustit' eshche neskol'ko agregatov.

+--+ ++++++++ ++++++++ +--+ No volya chuzhaya pronikla v soznan'e moe, I uzhas vpervye menya ohvatil, raskaliv do kostej, Kogda ya uslyshal, i ponyal, i prinyal ee, I k smerti povel svoih skovannyh stal'yu... Odnako! |to ya myslyu ili kak? Luchshe ostavit' eto vrednoe zanyatie. Kstati, chto eshche ya umeyu? YA vspomnil - takoe svetilo ya videl uzhe... I lica bez chert nenavistnyh rasseyali t'mu... I solnce voskreslo v moej pogrebennoj dushe... I kriknul ya bogu, chto ya blagodaren emu... Kriknul, stalo byt', rtom. Vo rtu zuby. Tri dyuzhiny, iz nih chetyre klyka. YAzyk. Ili eto shlifoval'nyj krug... O presvyatye drakony i dremuchie zmei, vkus vo rtu, kak budto s容l bol'shoj slovar' inostrannyh slov. Da, a pojti by s容st' chego-nibud'! Nogami? Nogi konej ne kasalis' dorog... Kogda zhe ot menya otvyazhetsya eta paskudnaya ballada? Skol'ko ih? Esli na kazhdom uglu tulovishcha, vyhodit chetyre. My pokazhem zaraz, CHto na svete zaraz My travili ne raz I pinali ne raz. A poest' ohota. A v rukah on szhimal nedozhevannyj hvost... Tak. Est' ruki. Ih? Tozhe chetyre?.. Nu da, chetyre ruki, chetyre nogi - polnyj komplekt, kak govoritsya. CHto-to bol'no mnogo! Ne oshibsya li ya? |tot stvol, chej vid ledenit serdca... Deyanie groznogo Psa Kuzneca... Na ego sukah, chtob tashchilis' vy... CHuzhezemcev chetyre torchat golovy... |kaya zhut' lezet! Eshche i golova? Net, golovy net i ne nado - s rukami-nogami by ne zaputat'sya. Von, azhno oznob po nim pobezhal. A pochemu tol'ko po chetyrem? Ostal'nye, chto li, paralizovany? A, spasibo, hot' chetyre ostalis'... Potom razberus', kotorye iz nih ruki, kotorye nogi, a kotorye chto. CHtob ya mog opuskat'sya v glubiny peshcher i uvidet' nebes molodoe lico. YA mog. Znachit, ya samec edinstvennogo chisla. Tak. Znachit, byli eshche kakie-to samki. Da, byli, i kakie! Stop. Esli ya samec, oni - eto uzhe ne ya. A ya kto? ZHal', konechno, duraka, chto zhivoj eshche poka... Ladno, poem, uznayu hotya by, hishchnyj ili rastitel'noyadnyj. Nu. I eto u nih nazyvaetsya svet. Glaza by ne videli. Ne vidyat. Gde rezkost'-to navoditsya? Stoilo navodit', chtoby |TO uvidet'... |k, yadrena mysh', garpun mne v pravuyu nozdryu, stakan sobach'ego pota v glaza i rzhavyj yakor' v osnovanie cherepa! - Pri chem tut cherep? Gorm s hrustom potyanulsya vsem telom i cherez zevok otvetil: - Osnovanie cherepa - eto zadnica. Dokazyvaetsya indukciej po chislu pozvonkov. Fenrir dovol'no zakudahtal. Nekotoroe vremya Gorm diko smotrel na shtany, protyanutye emu uvechnym tryasushchimsya robotom, potom vzyal ih i odel. - Zadom napered! -skazal Fenrir. Gorm pereodel shtany, prodolzhaya diko ozirat'sya. - Zadom napered! -skazal Fenrir. S tret'ego raza shtany odelis' pravil'no. Pytayas' vlezt' nogoj v myagkij sapog, Gorm perekuvyrnulsya v vozduhe i plechom sshib malen'kogo robota, polzshego po pereborke. Robot vrezalsya v kuchu svoih sobrat'ev, otskrebavshih ot stenok raspyalennoj vnutrennej polosti anabioznoj mashiny kloch'ya cisty, okruzhavshej Gorma vo vremya ego spyachki. Roboty s zazhatymi v kleshnyah neappetitnymi lohmot'yami zakruzhilis' v i bez togo tesnom prostranstve zhilogo otseka, kak list'ya v lesu v osennee nenast'e, s grohotom stalkivayas' drug s drugom i vovlekaya v dvizhenie drugie predmety, no tut Fenrir vklyuchil dvigateli, i pod vozdejstviem uskoreniya sapog, roboty i Gorm v drugom sapoge raspredelilis' po poverhnosti central'noj pereborki. Pereborka razdvinulas', Gorm, shvativ sapog, nyrnul v shahtu i, ottolknuvshis' obutoj nogoj ot ruchki oruzhejnogo yashchika, protisnulsya v golovnoj otsek. Skvoz' armirovavshuyu stekla smotrovyh okon reshetku svetil zheltyj disk s vstoporshchennoj na chetvert' neba blednoj koronoj. - ZHrat', - Gorm, provedya po volosam shipami popavshegosya emu pod ruku strogogo oshejnika, vplyl golovoj v visevshij v vozduhe rogatyj obruch i zashvyrnul oshejnik vglub' shahty. - A uznat', gde my, ty ne hochesh'? - Ty ne znaesh', gde, a ya hochu zhrat'. Iz shahty vypolz robot so svyazkoj yablok na verevochkah, rybinoj i kuskom hobota v serebryanoj fol'ge. Gorm vzyal rybinu, ponyuhal, brosil v shahtu, i, burknuv Fenriru: "Govori!", sorval s hobota fol'gu, zapihnul ee v rot i s metallicheskim chavkan'em stal pozhirat' hobot. Visevshee okolo pul'ta kreslo prityanulos' k polu i poehalo k Gormu, rastopyriv zahvaty. - Novosti skvernye, - Fenrir pribavil gromkost', chtoby perekryt' zvuk edy. - CHerez polgoda posle togo, kak ya vtyanul tebya v tryum, prishlo soobshchenie, peredannoe v radiodiapazone s odnogo iz oblomkov zvezdoleta. Vspomogatel'nyj processor sistemy vneshnego obzora, cepi kotorogo v poslednie mgnoveniya sushchestvovaniya zvezdoleta byli perestroeny central'nym mozgom, nepreryvno transliroval vot eto. Skvoz' potreskivaniya monotonnyj bespolyj golos proiznes: "Zvezdolet Ul'vkell' razrushen luchevoj atakoj pri sshivanii prostranstva. Dlya nakachki lucha ispol'zovan vzryv Sverhnovoj. Vozmozhno, uceleli chasti gruzovogo otseka. Proshchajte. Peredayu koordinaty." Zazvuchal bul'kayushchij pisk cifrovoj peredachi. - Krom, kakaya kislyatina,- Gorm s perekoshennym ot udovol'stviya licom otorval ot svyazki sleduyushchee yabloko. - Eshche cherez polgoda sela batareya, i ya otklyuchilsya. Potom my votknulis' v pylevoe oblako okolo etoj zvezdy, i ya zakinul v nee energozond. - Horosh by ya byl, esli by poslushal tebya i ostavil ego v zamke! - Gorm smachno rygnul i, osvobodiv nogi i poyas ot zahvatov, podvsplyl nad kreslom.- Govoril-prigoditsya! Da, tak s chego nakrylsya zvezdolet? - Poprobuj ne nakrojsya ot takoj plyuhi. Vyhod iz ruchki - ideal'nyj moment dlya luchevogo udara. Silovoe pole otklyucheno, a krivizna metriki sama tyanet k zvezdoletu vse izluchenie, ne uvernesh'sya. - A Sverhnovaya? - A chto eshche ispol'zovat'? Prikin', skol'ko energii pojdet na raspyl dobrogo zvezdoleta s broneplitami v devyat' loktej? - Nu chto... KPD lazera, ni opticheskogo, ni ul'trafioletovogo, ni rentgenovskogo ne vyshe odnoj shestoj... Telesnyj ugol, v kotorom oni mogli sobrat' energiyu, tozhe vryad li bol'she edinicy na dyuzhinu... Poryadok ne sovpadaet! - Ty dazhe ne sprosil, na kakom rasstoyanii byla zvezda - horosh raschet! Na samom dele, esli dejstvitel'no prikinut', vyjdet dovol'no pohozhe. Luchshe skazhi, mozhet takoj lazer vozniknut' ot prirodnyh prichin? - Da net vrode. Potom, ne pomnyu, pri tebe eto bylo, kogda my ohotilis' na batareegryzov s Ku Rui? - Na kogo? - Znachit, tebya ne bylo. Tak vot. Ku Rui rasskazyval o svoem polete vo sharovoe skoplenie vo vtoroj spirali sprava vniz nalevo ot Maloj Sobaki. On nashel tam pyat' razgrablennyh planet. Dobycha gafnievoj rudy otkrytym sposobom, otvaly i vse takoe. A vskrytie rudonosnyh plastov - atomnymi vzryvami. A eshche on vstrechal tam Gmorka, i Gmork rasskazal, chto videl chej-to fotonnyj korabl', akkuratno razdelannyj nadvoe. Gmork, estestvenno, na nego polez, a v ego sobstvennuyu banku kto-to vlepil atomnuyu raketu. On uspel perehvatit' upravlenie i vernut' ee otkuda prishla. Prishla zhe ona s avtomaticheskoj stancii, spryatannoj u fotosfery korichnevogo karlika. Po slovam Gmorka, eta stanciya sharahnula tak, chto karlik iz korichnevogo stal krasnym. Kstati skazat', posle togo razgovora s Ku Rui Gmork snova polez na fotonnyj zvezdolet. - I chto on tam nashel? - Veroyatno, mnogo interesnogo, poskol'ku ne vernulsya. A kogda ya letal chitat' lekciyu na Novyj |ngul'sej, mne rasskazali, chto u nih v okruge propalo odinnadcat' korablej, schitaya odin mezhplanetnyj. Na Ilgajreh kater s Gajreh vylovil v verhnih sloyah atmosfery sputnik-shpion i poshel na signal, poslannyj im korablyu-matke. V itoge u Ilgajreh pribavilos' eshche odno kol'co. - Nu, ob etom ya tebe i rasskazal. A v nashih informacionnyh setyah byli svoi sluhi. Pro obrastanie ty slyshal? - Y? - Nu, znaesh', derevyannye suda ot dolgogo plavaniya obrastali vodoroslyami, teryali skorost' i prirastali k dnu. - Pro eto obrastanie ya tebe i rasskazal. - A ya o drugom. U korablej na okrainah issledovannoj nami chasti galaktiki padalo bystrodejstvie. Parazitnyj kod vnedryalsya v processory, zabival pamyat', i korabl' ne mog letet'. Spasala tol'ko perezagruzka s zhestkogo nositelya. - Sudno pri obrastanii tozhe vytyagivali shpilyami na bereg i krengovali. Zabyl skazat', odna iz planet, gde vodilsya gafnij, byla obitaemoj. Ku Rui videl na ee sputnike primitivnyj kosmoport. |ti ublyudki, verno, i nas otovarili. - No odnako! Metropoliya - eto vse-taki ne Novyj |ngul'sej! - Tak i Sverhnovaya pokruche srednej atomnoj bomby. Pomnish', ya zloj vernulsya s poslednego tinga? Ty ne slushal translyacii? - Ne slushal, potomu chto ty, kogda uletal na ting, svorotil s bashni antennu. - Da nu! A chto zh ty togda ne skazal? - YA skazal, a ty, mol, "molchi, volchina pozornyj, ne do antenny". U tebya redkij dar zaputyvat' besedu! CHto zhe bylo na tinge? - U samogo u tebya dar! - Ladno, uspokojsya, net u tebya dara nikakogo ni k chemu. - To-to zhe. CHto ty skazal? - Ili bylo chto na tinge? - Krom, etot urod sovsem zaduril menya! - Zamnem. Rasskazyvaj pro ting. - Oh, yadrena mysh'! Ty zloupotreblyaesh' moej dobrotoj. Eshche myasa. - Razmorozhu. - Poka rasskazyvayu. YA rasskazal pro sluchai na |ngul'see i drugie. YA govoril, chto my vot-vot stolknemsya s civilizaciej, sravnimoj s nashej po moshchi i otkryto vrazhdebnoj. YA predlozhil razvernut' boevoe patrulirovanie v podvlastnyh nam chastyah Galaktiki, sokratit' periferijnye passazhirskie i turisticheskie rejsy i tak dalee. Menya provalili, da eshche i posmeyalis'. U nas bytovala teoriya, chto na kosmicheskij uroven' vyhodyat tol'ko civilizacii demokraticheskie i mirolyubivye, potomu chto totalitarnye i agressivnye rezhimy, deskat', sami sebya istreblyayut. Gde myaso-to? YA vsegda v etom somnevalsya. My vstrechali mnogo planet, gde pravyat ob容dinennye demokraticheskie pravitel'stva. CHasto ih civilizacii byli namnogo starshe nashej, no nigde my ne vstretili nichego pohozhego na malo-mal'skuyu kosmicheskuyu ekspansiyu. Mezhplanetnye perelety, v luchshem sluchae ekspedicii k blizhajshim sosednim zvezdam. I yasno, pochemu. Planety, na kotoryh ustanovilas' tak nazyvaemaya demokratiya, vsegda rano ili pozdno svertyvayut kosmicheskie programmy, samoizoliruyutsya i cherez opredelennyj srok ugasayut. Mertvyh ili ele zhivyh civilizacij mnogo bol'she, chem razvivayushchihsya. Cel', kotoraya stavitsya pered soboj lyubym yakoby narodnym pravitel'stvom - obespechit' sytoe i po vozmozhnosti ne obremenennoe myslyami sushchestvovanie naibol'shemu kolichestvu aborigenov, chtoby byt' pereizbrannym na sleduyushchih vyborah. Opora na tolpu neizbezhno vlechet za soboj snizhenie umstvennogo urovnya vlasti. Pri vozniknovenii malejshih trudnostej v ekonomike pod sokrashchenie idut nauchnye i kosmicheskie programmy, v nenuzhnosti kotoryh uveren obyvatel'. Problema rosta naseleniya reshaetsya kontrolem nad rozhdaemost'yu i proizvodstvom iskusstvennoj pishchi. Sredstva informacii ublazhayut vmesto togo, chtoby prosveshchat', ili zatevayut besplodnye diskussii, otuplyayushchie massovoe soznanie. Fal'shivaya eda i varvarski gumannaya medicina popolnyayut ryady urodov, delaya neizbezhnym geneticheskij upadok. Itog mozhet byt' raznym. Samyj blagopriyatnyj ishod - civilizaciya, s kazhdym pokoleniem dobivayushchayasya vse bolee vysokogo zhiznennogo urovnya i medlenno shodyashchaya na net vsledstvie uspehov v demograficheskoj politike. Podozrevayu, chto etot udel grozil i Metropolii. CHashche - poval'nye epidemii, golod, krah biosfery, lihoradochnye popytki osvoit' drugie planety, provalivayushchiesya iz-za nedostatka tehnicheskih sredstv, i novoe varvarstvo sredi svalok zabytyh predkov. Samyj krutoj variant - vojny za menee razgrablennye zemli, za edu i toplivo i pod konec samounichtozhenie, predpisannoe teoriej tol'ko totalitarnym rezhimam. - Gorm vyrval u robota kusok myasa velichinoj s kulak i celikom zasunul sebe v rot. Pol'zuyas' pauzoj, Fenrir vstavil: - Vse tak, soglasen. No kak zhe Metropoliya? Spustya nekotoryj srok golos Gorma probilsya skvoz' proedennuyu myasnuyu pregradu i snachala neyasno, a zatem vse otchetlivee otvetil: - U kazhdoj civilizacii est' i osobennosti. U nashego naroda tyaga k novym stranam i novym oshchushcheniyam okazalas' sil'nee, chem tyaga k nabitomu (ik!) bryuhu. - Gorm lyubovno pohlopal sebya po zhivotu. - K tomu zhe, korabli Al'dejg'i hodili k Drajgenu eshche togda, kogda u nas ne bylo ni mirolyubiya, ni demokratii, ni civilizacii. Kosmicheskaya ekspansiya - delo dlya varvarov. Ona sopryazhena s varvarskimi zatratami, s varvarskim prenebrezheniem udobstvami, s varvarskim fanatizmom. My zaselili stol'ko planet, potomu chto dolgo sohranyali v sebe lyubopytstvo i neprihotlivost' varvarov, kakimi byli nashi predki, ustremlyavshiesya v more na dlinnyh lad'yah iz duba s parusami, v nebo na dlinnyh dirizhablyah iz ryb'ej kozhi s parovymi mashinami i vintami, v kosmos na dlinnyh zvezdoletah iz klepanogo alyuminiya s yadernymi reaktorami. Krom, v nas techet krov' velikih yarlov kosmosa! - Gorm nahlobuchil sebe na lob rogatyj obruch i pochesal kinzhalom spinu. - No vozmozhen i drugoj put', kogda korabli posylaet v kosmos ne duh muzhestva i poiska, a strah i paranoidnaya volya bezumcev. Predstav' sebe totalitarnyj rezhim. - Ne predstavlyayu, - otkliknulsya Fenrir. Gorm, ne slysha otveta, prodolzhal: - Ego sushchestvovanie vozmozhno tol'ko v nepreryvnoj vojne. Mir vedet k korrupcii, gryzne za vlast' i demokraticheskim revolyuciyam. Vojna dlzhna byt' pobedonosnoj - inache rassmatrivaemyj rezhim perestaet sushchestvovat'. Veroyatnost' togo, chto pobedonosnaya vojna prodlitsya dostatochno dolgo, chtoby uspela razvit'sya tehnika dlya kosmicheskih pereletov, nenulevaya. Poka planeta ne ob容dinena, rezhim budet stremit'sya kak k gospodstvu na ee poverhnosti, tak i v okruzhayushchem prostranstve, gde budet razmeshchat' rakety, antirakety, shpionskie i kontrshpionskie sputniki, orbital'nye kreposti, komandnye punkty, kosmicheskie radary i minnye polya. Veroyatnost' togo, chto rezhimu udastsya ob容dinit' pod svoej vlast'yu vsyu planetu, opyat' zhe nenulevaya. Takie rezhimy dolzhny sushchestvovat'. I vot v chem moya ideya. Esli planetarnoe demokraticheskoe pravitel'stvo vpolne mozhet obojtis' bez ekspansii v kosmos, dlya planetarnoj diktatury ekspansiya - edinstvennyj vozmozhnyj sposob sushchestvovaniya! Diktature nuzhen vrag, i esli ego net na rodnoj planete, ona najdet ego v kosmose. Diktature nuzhna ideya, i etoj ideej mozhet stat' ideya mezhplanetnoj kolonizacii. I diktatura vyhodit v prostranstvo. Nikakie zatraty sredstv i zhiznej ne ostanovyat ee. I kak tol'ko process nachalsya, on dolzhen razrastat'sya s uvelichivayushchejsya skorost'yu, potomu chto na nego nelinejno vliyayut mnogie faktory. Imperiya ne mozhet pozvolit' sebe ogranichivat' rozhdaemost' - ej vse vremya nuzhny deshevye raby i soldaty. Ee narod obyazan mnozhit'sya, zaselyaya novye i novye miry vzamen staryh, otravlennyh i perenaselennyh. U imperskoj promyshlennosti net stimulov k ekonomii. Pechi ee metallurgicheskih kombinatov trebuyut syr'ya, dobyvaemogo na novyh i novyh rudnikah. Imperskaya propaganda shtampuet novyh i novyh geroev, zarazhaya bezumiem novye i novye legiony fanatikov. Imperskij shtab ishchet novyh i novyh protivnikov, chtoby oficery ne slonyalis' bez dela, zamyshlyaya perevoroty. Imperskaya rasovaya sluzhba ohotitsya za novymi i novymi geneticheskimi donorami, sposobnymi zamedlit' vyrozhdenie postoyanno polugolodnogo i obolvanennogo naseleniya. Uchenye imperskih institutov lihoradochno rabotayut nad novymi i novymi proektami sredstv transporta i massovogo istrebleniya, znaya, chto v sluchae malejshej zaderzhki ili neudachi ih otpravyat na raschistku yadovityh dzhunglej v kakom-nibud' nedoosvoennom mire. Obychnye kletki umirayut spustya neskol'ko delenij - rakovye delyatsya neogranichenno. Beshenoj sobake sem' poprishch ne kryuk. I tak dalee. Gorm perevel duh, nyrnul v shahtu i cherez mgnovenie vernulsya s podozritel'no pahnuvshej rybinoj. Razdiraya ee pal'cami, on podvel itog svoej rechi: - YA znal, chto my vstretimsya s kosmicheskoj diktaturoj. I menya udivlyalo, chto my ne vstretilis' s nej ran'she. - Esli i na tinge ty tak soril cheshuej, ne udivlyayus', chto tebya ne vosprinyali dostatochno ser'ezno. - YAdrena mysh', ya dumal, chto govoryu s razumnym sobesednikom, a ne s rodnej trollej! - Ty, vidno, eshche goloden - zavodish'sya, kak pruzhinnyj. YA ponachalu opasalsya za tvoj rassudok - vdrug anabioz mozhet okazat' kakoe-to vozdejstvie, a teper' vizhu, chto vse v poryadke. - Y? - Ne bylo i net. - Ah ty volchishche! Vprochem, ya-to na tebya davno mahnul rukoj, s teh por, kak testovyj komp'yuter Konnahta sgorel, ne vynesya tvoej tuposti. - On umer ot zavisti k bystrote moej operativnoj pamyati! - To-to ty pered kazhdoj replikoj zaikaesh'sya, naryv trollistogo samomneniya! - Takogo o sebe ya eshche ne slyshal. - Daryu. - Nado pogovorit' o dele. CHem my sobiraemsya zanyat'sya? - Mstit'. YA nichego ne znayu ob etih tvaryah, krome odnogo - vse oni moi krovnye vragi. Mechom Kroma i proklyat'em mogil'nogo holma klyanus', chto vozdvignu kurgan iz ih raschlenennyh trupov! Esli oni v etoj sisteme, my zahvatim ih zvezdolet. Esli net - postroim svoj i poletim na poiski. A esli na puti ya otkroyu prekrasnuyu devstvennuyu planetu s sinimi moryami i pushistymi oblakami v prozrachnoj atmosfere, ya znayu, kakim imenem ee nazvat'. - Mest'? Da budet tak, Gorm syn |jvinda! No vot chto trevozhit menya. Skol'ko my leteli? - I ty eto u menya sprashivaesh'? Komu znat', kak ne tebe? - A ya ne znayu. Mne izvestno odno - v toj storone, kuda nas brosil vzryv, byla ogromnaya mezhgalakticheskaya polost'. I dazhe po erozii moih broneplit ya ne mogu prikinut', skol' dolog byl put', potomu chto on prolegal cherez pustotu. Ochen' mozhet byt', chto Vselennaya uspela sostarit'sya, i ni Metropolii, ni ee vraga, k schast'yu dlya poslednego, uzhe nikto ne pomnit. Ne govorya uzhe o tom, chto my ne v svoej galaktike. - Skvernyj oborot. Skol'ko planet u etogo..? - Gorm mahnul kinzhalom v storonu zvezdy. - SHtuk sem' bol'shih i pyat' malen'kih, plyus kometnoe oblako v ploskosti ekliptiki i pylevoe oblako, v kotoroe my ponachalu v容hali. YA tolkom rassmotrel tol'ko blizhnyuyu k zvezde planetu. - Sproecirovannaya na steklo strela tknula v svetyashchijsya serpik v nebe, potom vozniklo uvelichennoe izobrazhenie. - Uberi etu gadost'. Eshche chto? - U chetvertoj i pyatoj planet vrode by est' svobodnyj kislorod v atmosfere. - Nachnem s chetvertoj, v takom sluchae. Ne spasesh'sya ot doli krovavoj, CHto zhivym prednaznachila tverd', No tashchis' - nesravnennoe pravo Samomu vybirat' svoyu smert'! Tak, chto li? Gorm vvintilsya mezhdu zagromozhdavshimi shahtu korpusami polurazobrannyh universal'nyh robotov i, lovko izbezhav stolknoveniya s visevshej posredi shahty promaslennoj tryapkoj, vplyl v kroshechnyj bytovoj otsek. Pinkami vygnav ottuda robotov-musorshchikov, on zakryl za soboj lyuk i, probormotav, "YAdrena mysh', nichego sebe s容zdil s devushkoj na rybalku", pristupil k vyvedeniyu iz organizma othodov zhiznedeyatel'nosti.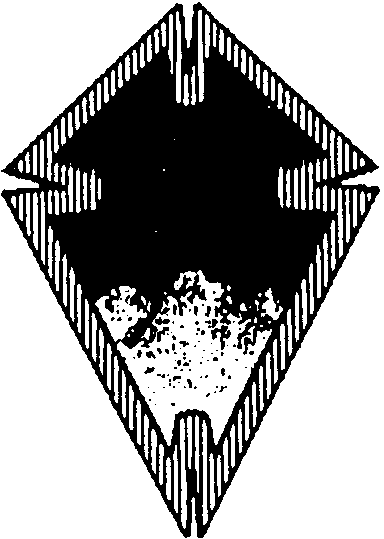 +--+ ++++++++ ++++++++ +--+ Nekotorye tskui utverzhdayut, chto v silu razvitiya novyh takai posle Gco-Gnuing-Tara gco kauh kvai-kvai perestali byt' neizbezhnymi. Oni schitayut, chto gci-ja-gcoe mezhdu n bagen Di-Cerretena i n bagen kvai-kvai sil'nee, chem gci-ja-gcoe mezhdu kauhami kvai-kvai, chto volosataya mysh' dostatochno podchinila sebe dpugie kauhi kvai-kvai dlya togo, chtoby ne dopustit' ih gco i oslablyat' drug druga, chto peredovye gcvi kvai-kvai dostatochno naucheny opytom Gco-Gnuing-Tara, nanesshej tshe vsemu kvai-kvai-kvai, chtoby pozvolit' sebe vnov' vtyanut' kauhi kvai-kvai v gco, - chto vvidu vsego etogo gco kauh kvai-kvai perestali byt' neizbezhnymi. |ti tskui oshibayutsya. Oni vidyat vneshnie yavleniya, mel'kayushchie na poverhnosti, no ne vidyat teh glubinnyh sil, kotorye, hotya i dejstvuyut poka nezametno, no vse zhe budut opredelyat' hod sobytij. Vneshne vse budto by obstoit "blagopoluchno": volosataya mysh' posadila na paek vonyuchie rty, vsepozhirayushchego i drugie kauhi kvai-kvai; goo (podvodnyj), vsepozhirayushchij, cgui, nga, kogac, popavshie v lapy volosatoj myshi, poslushno vyplonyayut veleniya volosatoj myshi. No bylo by nepravil'no dumat', chto eto "blagopoluchie" mozhet sohranit'sya, poka provyalitsya vse myaso, chto eti kauhi budut bez konca terpet' gospodstvo i gnet volosatoj myshi, chto oni ne popytayutsya vyrvat'sya iz ee nevoli i vstat' na put' dzaj e-e-e. Voz'mem prezhde vsego vsepozhirayushchego i cgui. Nesomnenno, chto eti kauhi yavlyayutsya kvai-kvai-kvai. Nesomnenno, chto deshevoe gnacane i obespechennye ghaunu-tsacau imeyut dlya nih pervostepennoe znachenie. Mozhno li polagat', chto oni bez konca budut terpet' nyneshnee polozhenie, kogda gcvi volosatoj myshi vnedryayutsya v tsuma-tsuma cgui i vsepozhirayushchego, starayas' prevratit' ih v pridatok tsuma-tsuma volosatoj myshi, kogda kvai volosatoj myshi zahvatyvayut gnacane i ghaunu-tsacau v kadintaa vsepozhirayushchego i cgui i gotovyat takim obrazom hejshe dlya ku-cna-tsgaasing kvai-gcvi vsepozhirayushchego i cgui? Ne vernee li budet skazat', chto vsepozhirayushchij i cgui v konce koncov budut vynuzhdeny vyrvat'sya iz ob座atij volosatoj myshi i pojti na gco s nej dlya togo, chtoby obespechit' sebe dzaj e-e-e i, konechno, eshche ku-cna-tsgaasing? Perejdem k glavnym kauham gna-ka-ti, k goo (podvodnomu) i kogacu. |ti kauhi vlachat teper' zhalkoe sushchestvovanie v gryaznoj podmyshke kvai-kvai-kvai volosatoj myshi. A ved' oni byli velikimi kauhami kvai-kvai-kvai, potryasavshimi osnovy gospodstva volosatoj myshi i vonyuchih rtov v Gcoma, v Kanca. Dumat', chto eti kauhi ne postarayutsya vnov' podnyat'sya na nogi - znachit verit' v Gconcendima. Govoryat, chto gci-ja-gcoe mezhdu Di-Cerretenom i kvai-kvai sil'nee, chem gci-ja-gcoe mezhdu kauhami kvai-kvai. Teoreticheski eto, konechno, verno. |to verno ne tol'ko teper', v nastoyashchee vremya, eto bylo verno takzhe pered Gco-Gnuing-Tara. I eto bolee ili menee ponimali kori kauh kvai-kvai. I vse zhe Gco-Gnuing-Tara nachalos' ne s gco dlinnonosyh myshej, a s gco kauh kvai-kvai. Pochemu? Potomu, vo-pervyh, chto gco dlinnonosyh myshej, kak kauhi Di-Cerretena, opasnee dlya kvai-kvai, chem gco kauh kvai-kvai, ibo, esli gco kauh kvai-kvai stavit tol'ko vopros o preobladanii takih-to kauh kvai-kvai nad drugimi kauhami kvai-kvai, to gco dlinnonosyh myshej obyazatel'no dolzhno postavit' vopros o sushchestvovanii samogo kvai-kvai-kvai. Potomu, vo-vtoryh, chto kvai-gcvi, hotya i shumyat v celyah dzapp ob agressivnosti dlinnonosyh myshej, sami ne veryat v ih agressivnost'. Sprashivaetsya, kakie imeyutsya tsku-ten-ghaua, chto goo i kogac ne podnimutsya vnov' na nogi, chto oni ne popytayutsya vyrvat'sya iz nevoli volosatoj myshi i zazhit' dzaj e-e-e. YA dumayu, chto takih tsku-ten-ghaua net. No iz etogo sleduet, chto neizbezhnost' gco ostaetsya v sile. Govoryat, chto vyrosli v nastoyashchee vremya moshchnye sily, vystupayushchie v zashchitu korotvitena, protiv gco. |to neverno. Sovremennoe dvizhenie za korotviten imeet svoej cel'yu podnyat' massy gcvi na bor'bu za sohranenie korotvitena. Sledovatel'no, ono ne presleduet celi sverzheniya kvai-kvai i ustanovleniya vlasti Di-Cerretena. Vozmozhno, chto pri izvestnom stechenii obstoyatel'stv bor'ba za korotviten razvernetsya koe-gde v bor'bu za Di-Cerretena, no eto budet uzhe ne sovremennoe dvizhenie za korotviten, a dvizhenie za sverzhenie kvai-kvai. Veroyatnee vsego, chto sovremennoe dvizhenie za korotviten v sluchae uspeha privedet k predotvrashcheniyu dannnogo gco, k vremennoj ego otsrochke. |to, konechno, horosho. Dazhe ochen' horosho. No etogo vse zhe nedostatochno dlya togo, chtoby unichtozhit' neizbezhnost' gco. Nedostatochno, tak kak pri vseh etih uspehah dvizheniya v zashchitu korotvitena kvai-kvai-kvai vse zhe sohranyaetsya, ostaetsya v sile, sledovatel'no ostaetsya v sile takzhe neizbezhnost' gco. CHtoby ustranit' neizbezhnost' gco, nuzhno unichtozhit' kvai-kvai-kvai. Litery splavilis' i oplyli, no otdel'nye stolbiki kryuchkovatyh bukv eshche mozhno bylo by razobrat'. ZHeleznyj karkas tipografii sgorel v ognennom smerche, i matrica iz sverhtverdoj keramiki dlya pechati massovyh tirazhej lezhala poluzasypannaya melkim serym shlakom v pryamougol'noj yame nad obvalivshimsya svodom podzemnogo angara. Uragannyj veter nepreryvno gnal cherez stratosferu sputannye volokna oblakov, no plotnye sloi vozduha prebyvali v pokoe. Solnce, brosavshee kosoj luch na holmy spekshegosya shchebnya s zametnoj koe-gde shchetinoj armatury, polzlo k gorizontu. Blizilas' noch'.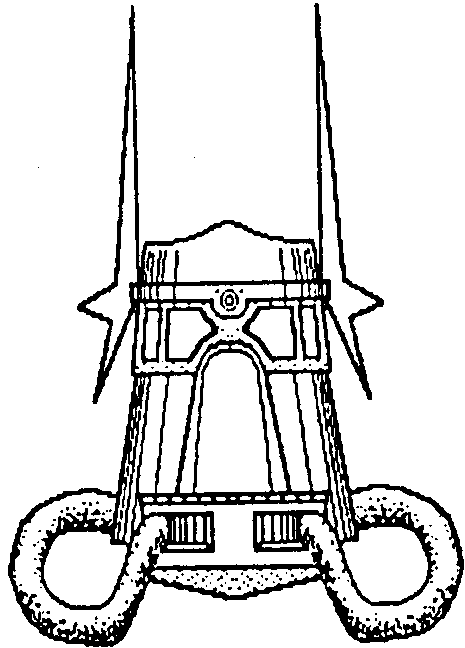 +--+ ++++++++ ++++++++ +--+ Fenrir i Gorm leteli k chetvertoj planete. CHtoby sozdat' v zhilom otseke podobie gravitacii, polputi Fenrir proshel uskorenno, zasoryaya prostranstvo veshchestvom zvezdy, cherez dyuzy vyryvavshimsya iz reaktora. Gorm pomogal Fenriru optimizirovat' traektoriyu, vozilsya s robotami i sostavlyal opis' okazavshegosya v nalichii imushchestva. Pomimo umestnogo v polevom lagere i na rybalke snaryazheniya, otseki zahlamlyala prorva sluchajnyh veshchej, skaplivavshihsya s pervogo poyavleniya Gorma v bryuhe Fenrira. Osnovnaya chast' naplastovanij predstavlyala soboj knigi, svitki i otdel'nye listy s zapisyami, koe-gde prosloennye opticheskimi i magnitnymi diskami. Rezhe popadalis' oruzhie, instrumenty, detali, kuski mehanizmov, predmety zabytogo naznacheniya, shkury, kosti, topory, sapogi, tryapki i drugie predmety obihoda. Edy bylo malo - v obrez na chetyre dyuzhiny dnej. Bezdejstvie v techenie neizvestnogo vremeni ostavilo na utvari strannye sledy. Nekotorye plastmassy, pohozhe, ne vyderzhali pereohlazhdeniya i pokrylis' melkimi treshchinami, stranicy knig potemneli i stali lomkimi, magnitnye diski s analogovoj zapis'yu ne chitalis'. Nekotorye cifrovye diski prishlos' vosstanavlivat' na odnom iz vspomogatel'nyh mozgov Fenrira, podtiraya parazitnye signaly. Najdennye predmety odezhdy, osobenno kozhanye, priobreli nepredusmotrennyj zapah. Roboty, chast'yu polzavshie po otsekam, chast'yu lezhavshie v yashchikah i boltavshiesya v shahte, trebovali profilaktiki mehanizmov i perezagruzki programm. Gorm ugrobil ujmu vremeni na to, chtoby privesti hot' nekotoryh iz nih v snosnoe sostoyanie. Iz muzykal'noj i videokollekcii, skopivshejsya na bortu, luchshe vsego vyderzhali prevratnosti sud'by razovye opticheskie diski i shnurki. Fenrir paru raz proeciroval na steny naibolee strashnye istoricheskie videoshnurki. Posle prosmotrov na Gorma snishodilo mrachnoe odushevlenie, v kotorom on poperemenno perekleival manipulyatory, gonyal testovye programmy, proveryaya processory robotov, tochil topory i vel nravouchitel'nye razgovory o bylom velichii Metropolii. Kogda raskopki v otsekah blizilis' k koncu, Gorm nashel v torce shahty, ryadom s reaktorom, termostat s dvumya svoimi luchshimi sobakami - Midirom i Fuamnah. Kak ni staralsya, on nikak ne mog vspomnit', zachem potashchil sobak s soboj. Fenrir tozhe ne proyasnil vopros, poskol'ku vo vremya pogruzki byl otklyuchen ot svoej periferii i proveryalsya na preslovutom testere zamka Konnaht. Otkuda vzyalis' sobaki? Gorm nadeyalsya ponyat' eto iz zapisej v svoej zapisnoj knizhke, no knizhka lezhala na shtatnom meste - v prozrachnom karmane na stene shahty, i poetomu ne nashlas'. Tak ili inache, Gorm v ocherednoj raz mog hvalit' sebya za zapaslivost', chem i zanimalsya s trogatel'nym userdiem.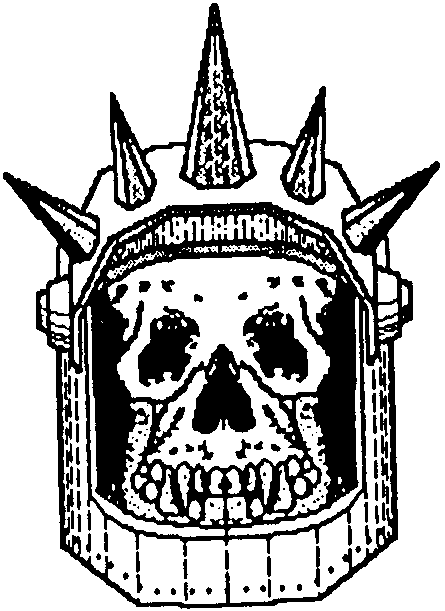 +--+ ++++++++ ++++++++ +--+ * * * Pomnyu, raz u parshivoj kakoj-to zvezdy YA dezhuril, a prochie spali. Vdrug oni zavozilis', porazinuli rty, Zavopili, zabilis', zaprosili vody I izryadno menya napugali. Poglyadel ya naruzhu - visit vperedi! Dryan' planetka, ni rechki, ni gryadki. Nu a tut kak skrutilo, kak zanylo v grudi - Dumal, luchshe mogilu privedetsya najti, No prikinul programmu posadki. YA by, mozhet, i sel, da, glyazhu, erunda - Nastoyashchee gibloe mesto! Tam, odnako, pylilis' takie suda, Prosto kak sgovorilis' napadat' tuda - YA i plyunul, iz chuvstva protesta. Nu, ponyatno, chto ya ne teryal golovy, I razmazal gadyushnik luchami. Obernulsya k svoim: posmotreli by, vy! A oni, kak odin, absolyutno mertvy, A ved' byli moimi druz'yami! * * *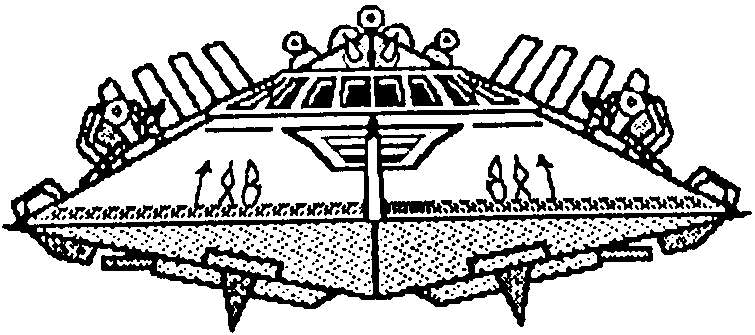 +--+ ++++++++ ++++++++ +--+ CHetvertaya planeta byla men'she Al'dejg'i ili Drajgena na tret'. Ee okruzhala atmosfera, v kotoroj, krome azota i nebol'shoj doli svobodnogo kisloroda, zachem-to vodilis' fenoly, ugarnyj gaz i uglekislota. - Marazm krepchal, - skazal Gorm, cinichno kovyryaya v nosu garpunom. - Kislorodnaya, mozhno skazat', atmosfera, a ne prodohnesh'. I havat' vnizu nebos' nechego. - Naschet havat'. Kogda konchatsya konservy, mozhno budet vyrashchivat' kul'turu sobach'ih kletok. - A esli zahochetsya tur'ej nogi, pechennoj na ugol'yah, s dikim lukom? - Pust' hochetsya. Esli pod pokrovom etih prezrennyh gazov kto-to i zovetsya turami... - Fenrir pokazal malen'kij mul'tfil'm, vizualizirovavshij ego dogadki. - Sliz' smyt', volos sbrit', roga otodrat', cheshuyu sorvat' - i na pirozhki, v kazhdyj - po devyat' shtuk, - Gorm metnul garpunom v prinajtovannogo k stellazhu u vhoda v shahtu polusobrannogo ohrannogo robota. Robot pojmal garpun i snova zamer. Ladno, chto eto my vse o zhratve. Vyhodi na nizkuyu polyarnuyu orbitu - budem iskat' posadochnuyu ploshchadku. Ozera zdes' est'? - Ne vizhu. Mozhno sadit'sya na vnutrennee more - tem bolee ono dohlen'koe. - I s dohloj ryboj, pohozhe. Za vremya besedy planeta vyrosla tak, chto ee disk zanimal vsyu shirinu polosy smotrovyh okon. Gorm postavil na mesto zaranee smazannuyu kleem kryshku transmissii hodovogo mehanizma ohrannika, sgreb v meshok s zatyagivavshejsya remnem gorlovinoj kuchku lishnih detalej i plyuhnulsya v kreslo. Ego tulovishche i nogi obhvatili kolbasy zahvatov, cilindry podveski, zashipev, razvernuli kreslo v osevoj ploskosti Fenrira. Odnovremenno nachalo menyat'sya napravlenie uskoreniya. Nakonec, korrekciya zakonchilas'. Nastupila nevesomost'. Izbavivshis' ot zahvatov, Gorm poplyl vo vtoruyu kayutu zhilogo otseka smotret', kak otmerzayut sobaki. Fenrir bez osobogo entuziazma prikinul parametry orbity i prinyalsya razglyadyvat' planetu. "More, dyuny. CHto blestit? Sol'. V more ne vpadaet ni odnoj reki, i ono peresyhaet. Klimat skvernyj. Pohozhe, vsego dve konvekcionnyh yachejki v atmosfere. Plato. Pesok. Mnogo ugleroda v chistom vide, poetomu plato tak ploho otrazhaet svet. Poluchaetsya, chto pesok vypachkan sazhej. Kanava. Ruslo. Opyat' sazha. Organika. Ne les, skoree zarosshaya pustosh'. Dyuny. Okean. Melkij, no gryaznyj. Hlorofill. Vodorosli. Ostrov. |to chto?" - Gorm, smotri-ka! V vozduhe pered Gormom voznik obryvistyj bereg s poloskoj plyazha. Kartinka byla dovol'no otchetlivoj, prosmatrivalis' dazhe grebni otdel'nyh voln i skryuchennye kustiki u podnozhiya skal, chut' poodal' ot vody. Na fone svetlo-seroj osypi kakoj-to osadochnoj porody vydelyalsya koe-gde eshche prikrytyj lohmot'yami obshivki skelet ogromnogo sooruzheniya ili apparata. Prismotrevshis', Gorm razglyadel, chto blizhajshie k osypi utesy oputany spleteniem pokorezhennyh i porvannyh trubok i profilej. I nad obryvom, i vnizu, u vody, valyalis' kuski mehanizmov i listy s nerovnymi krayami. Gorm srazu vspomnil legendu o planete - kladbishche zvezdoletov. Nekogda zlaya volya Tille iz Ratalara i Iorra iz Vendillo, perezhivshaya i ih samih, i ih usobicu, primanivala korabli k Krovavomu Mogil'nomu Holmu i svodila ekipazhi s uma, perehvatyvaya kontrol' nad myslitel'nymi processami i razygryvaya v mozgah b'yushchihsya v bespamyatstve puteshestvenikov srazheniya za gospodstvo nad nekogda izobil'noj planetoj. Gormu eta rasskazka vsegda kazalas' chereschur krasivoj, chtoby pohodit' na pravdu, no otchety Turira Sobaki, polulegendarnogo kosmoprohodca s Drajgena, hranili cvetnye fotografii soten korablej, medlenno prevrashchavshihsya v truhu sredi galechnyh gryad na dne vygorevshih morej. I potom - chto zastavilo Turira raskolot' planetu na chasti udarom paketa protiometeoriitnyh torped i pochemu troe iz ego ekipazha umerli po puti na Drajgen? - Parshivoe mesto, - skazal Fenrir. - YA by ne stal zdes' sadit'sya. - Pochemu? - Odin uzhe sadilsya - vona kak nakrylsya, - Fenrir obvel razvalinu v okne zhirnoj bagrovoj liniej. - Po-moemu, eto ne zvezdolet, a skoree himzavod. - Na pustoj planete? - I ochen' prosto. Tam, - Gorm mahnul v storonu ruiny otvertkoj, - vzorvalas' liniya protivozachatochyh sredstv, nachalos' perenaselenie, epidemii, v obshchem, vse umerli. - A goroda, dorogi i tak dalee? - Razrusheny aborigenami v predsmertnom pripadke patologicheskogo beshenstva. - Veryu! - Fenrir pokazal Gormu novuyu kartinku. - Ni figa ne vizhu, - gordo zayavil Gorm. - Sejchas, podkruchu diapazon. Pod peschanymi holmami prostupili uglovatye kontury, slivavshiesya v dovol'no ubeditel'nyj plan naselennogo punkta. - Y? - sprosil Gorm. - Nad ostatkami sten pesok bolee vlazhnyj. Smotri, chto eshche ya nashel. - O, luzha. Poprishcha s dva budet. Sazhayu ya - pomnish' ugovor? - Ladno, tol'ko orbital'nogo nablyudatelya zakinem.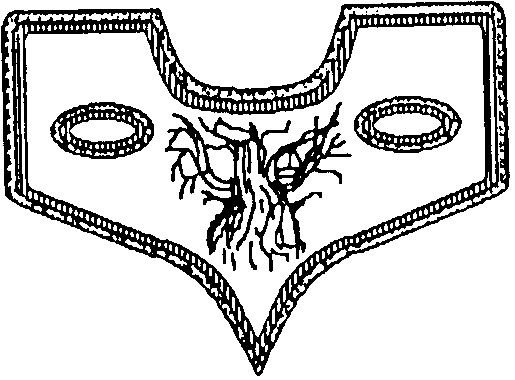 +--+ ++++++++ ++++++++ +--+ Nasos, otkachivavshij pomet iz fekal'nogo koridora, zasoryalsya vtoroj raz za utro. Zazhav v zadnih lapah instrumenty i obhvativ perednimi poruchen' v seredine sluzhebnogo koroba, Napoddal i Proklepat' otdyhali posle raboty, rasslablenno povisnuv vniz golovami. - Neladno s "Kryuhom", skazal Proklepat' i so svistom vtyanul v sebya vozduh. - Da. Vsya lomaetsya, skol'ko ni chini. Esli ya hot' chto-to ponimayu v nasosah, resurs etogo konchilsya. Vidat', tak i rasschitano: "Kryuh" vot-vot dostignet Celi. - I ty, ptica, verish' v eto? - Pochemu veryu? YA znayu - ved' my tormozimsya. Skorost' upadet do nulya u Celi, znachit, nemnogo ostalos'. - A otkuda ty vzyal, chto my tormozimsya? - Ty menya udivlyaesh'! Steny stali potolkami, korpus bol'she ne vrashchaetsya. Raznicu mezhdu centrostremitel'nym uskoreniem i linejnym zamedleniem ty, ya nadeyus', pomnish'? - Poslushaj, ptica, chto ya tebe skazhu. Otchego poly stali stenami i steny polami, neizvestno. Mozhet, ot zamedleniya, mozhet, ot ohreneniya, a mozhet, ottogo chto Kubyt' god nazad upustil chervyaka za zavtrakom. V osnove vseh nashih znanij lezhit utverzhdenie, chto "Kryuh" okruzhen pustotoj, v kotoroj on letit s ogromnoj skorost'yu s odnogo iz sputnikov Dogovornoj Botvy. YA sklonen dumat', chto eta ishodnaya predposylka neverna, znachit, neverna i vsya postroennaya na nej sistema znanij. - Otkuda v tebe stol'ko skepsisa, ptica? Mozhno podumat', ty ne videl zvezd. - Videl, i zasteklennuyu dyrku, i stenu s lampochkami za nej. Kaby eto byla pustota... - Proklepat' izdevatel'ski raskryl past' i streskom provel po zubam verhnej chelyusti konchikom yazyka. - Kakie lampochki, rehnulsya ty, chto li? YA smotrel na nih v trinokl' - ne priblizhaet. - Da kak ty verish' trinoklyu? Mozhno podumat', ty sam ego sdelal! Ty znaesh', kak on rabotaet? - CHto ya, optiku ne znayu? - Pojmi, ptichka! I vse pribory, i vse nauki dany nam vmeste s "Kryuhom". Oni - chast' odnoj legendy s nim, sostavlennoj iskusno i neprotivorechivo, i ih nel'zya ispol'zovat' dlya proverki etoj zhe legendy. Nado pol'zovat'sya ne hitrymi priborami i zaumnymi postroeniyami, a zdravym smyslom! Ty kogda-nibud' pytalsya predstavit' sebe Dogovornuyu Botvu? Lesa, po kotorym mozhno letet' s vechera do nochi v lyubom napravlenii i ne uperet'sya v stenu? I legenda o Dogovornoj Botve, i legenda o Celi osnovany na odnoj idee - idee neogranichennogo prostranstva, idee pustoty, i etu ideyu nash zdravyj smysl i zhiznennyj opyt kategoricheski otvergaet! Skazhi, ty byval v vozdushnom bassejne? - Konechno, eto vhodit v moyu programmu trenirovok. - A po svoej vole poshel by tuda? - V pervyj raz, pozhaluj, sam by poboyalsya, a teper' dazhe nravitsya. - Vot, ptica! Tebya special'no otbirali dlya etih trenirovok, i to tvoj organizm ne vdrug prisposobilsya k svobodnomu ob容mu. A ya znayu hota, kotoryj s vechera do utra ne mog problevat'sya, posle togo kak raz zaglyanul v bassejn. Ty ponyal, kuda ya klonyu? - Ne ochen', no govori dal'she, ptica. - Esli nam tak ploho dazhe prosto v bol'shom zamknutom pomeshchenii, kak vozdejstvovalo by na nashu psihiku neogranichennoe prostranstvo? Kak mogli sushchestva, podobnye nam, zarodit'sya vne zamknutogo pomeshcheniya? - Po-tvoemu vyhodit, nikak ne mogli. Znachit... - Da! Vsya, chemu nas uchili - lozh'! Zvezdy, planety, yadernaya fizika! Nas vodyat za nos te, igrushkoj kogo my sluzhim. - No kak mozhet takoe byt'? I kto oni? - YA ne znayu, no doznayus'! Letim, ya pokazhu tebe ih logovo! Proklepat' brosil instrumenty i, slozhiv kryl'ya, upal v temnotu sluzhebnogo hoda. Napoddal pospeshil vdogonku. Za neskol'kimi kolenami hoda okazalos' razvetvlenie. Proklepat' svernul vniz, i vskore pticy utknulis' v dver' so znakom opasnosti. Proklepat' vcepilsya v skoby, okruzhavshie dver' po perimetru, i s usiliem povernul massivnoe koleso, otodvigavshee zasovy. - CHto ty delaesh'? Razgermetizaciya! Pogibnem! - |h, ty, ptica. YA dumal, ty vse uzhe ponyal. Net nikakoj razgermetizacii, potomu chto net vakuuma i kosmosa tozhe net. - A chto zhe est'? - Ty kogda-nibud' interesovalsya ustrojstvom sten? Pomnish', kakie tam sloi? - Obshivka, truby kondicionirovaniya, teploizolyaciya, truby s silovymi tyagami i mnogoslojnaya fanera. Tak? - Da. Mnogoslojnaya fanera s kremnievoj propitkoj. Ona-to i zapolnyaet mir. Koe-gde prodolbleny kayuty, zaly, koridory. I my znaem tol'ko nichtozhnuyu chast' mirovogo labirinta. A ostal'noe prinadlezhit tem, kto upravlyaet tyagoteniem. Oni tam, za dver'yu! Poslednij povorot kolesa - i dver' podalas'. Napoddal v uzhase otpryanul, ozhidaya zhutkogo svista razgermetizacii, no nichego ne proizoshlo. - Teper' ya doznayus', kto tri goda nazad prikazal prervat' rzamnozhenie, - Proklepat' potyanul na sebya dver' i vlez v malen'kuyu komnatku pered eshche odnoj dver'yu s kolesom. V nej chernelo oval'noe okoshechko. - Pomogi otkryt', - pozval Proklepat'. Vdvoem s Napoddalom oni bystro dokrutili koleso do upora i poprobovali otkryt' dver'. Neskol'ko besplodnyh popytok, i Proklepat' obratil vnimanie na torchavshij iz steny rychag s tablichkoj: " Pri zaklinivanii vyhodnogo lyuka ubedis' v germetichnom zakrytii vhodnogo lyuka i nazhmi na rychag vzryvnogo otstrela". - Vot kak oni spryatalis'! - Proklepat' spustilsya v proem, otdelyavshij komnatku ot hoda, i srednej lapoj dernul za rychag. Vzryv! Oslepitel'naya vspyshka obezhala dver' po perimetru, i dver' ischezla. S torzhestvuyushchim voem vozduh ustremilsya v ziyayushchuyu chernotu proema, razryvaya pereponki kryl'ev Napoddala i uvlekaya ego za soboj. Vnutrennyaya dver' zahlopnulas', pererubiv Proklepatya popolam. Napoddal visel ryadom s nizhnej chast'yu ego tulovishcha, oshchushchaya, kak vse tri ego glaza nalivayutsya krov'yu. Eshche nekotoroe vremya on mog videt' udalyavshuyusya ogromnuyu ten', po krayam kotoroj razgoralos' oslepitel'noe ul'trafioletovoe siyanie, potom zrenie otkazalo, i on ponyal, chto te, za dver'yu, okazalis' hitree, chem dumal Proklepat'. A druz'ya mne govoryat - da ladno ih, No ya chuyu neladnoe - Zdes' kakoj-to razvrat. Vidno, lozh' okazalas' Slozhnee, chem mne kazalos' - YA li v tom vinovat?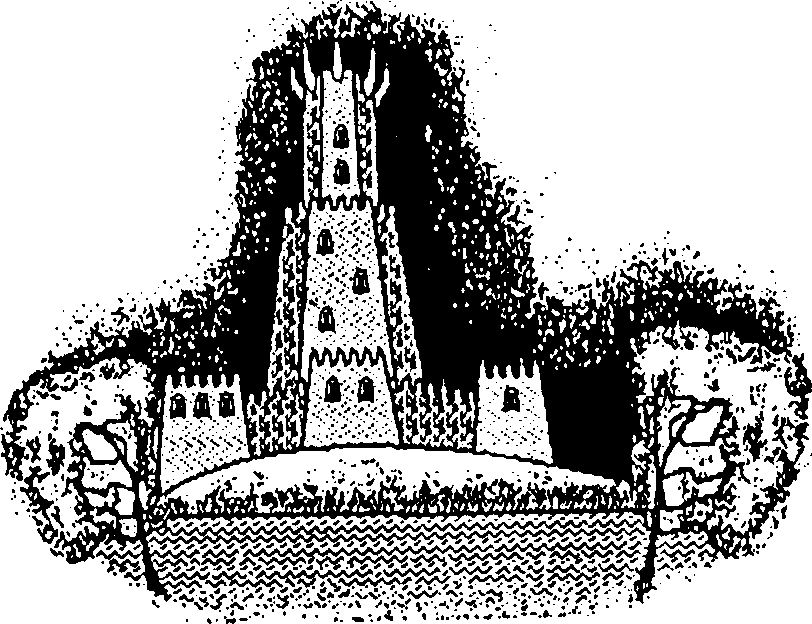 +--+ ++++++++ ++++++++ +--+ "Nikogda ne sadilsya na mertvuyu planetu. YA videl fil'my i predmety v muzeyah, chital teksty, perevedennye s yazykov ugasshih kul'tur, slushal muzyku, privezennuyu nashimi razvedchikami. Ubrat', chto li, etu zaslonku. Opasnoe delo - vse ravno chto vskryvat' trup bez aseptiki. Fenrir govorit - podal'she ot mertvechiny, a to za chem pojdesh' - to i najdesh'. Teper' vdavit' klyuch do upora. A ya eto i ishchu! Nikakoj vnizu, konechno, ne zavod. I esli etu banku tozhe razdelali nadvoe atomnoj raketoj, znachit, sled vernyj, klyanus' mechom Kroma! Silovye shchity - v ekonomichnyj rezhim. U mertvecov nado vzyat' i tajnu, i sokrovishcha, chto hranyatsya v tryumah. "Oni vstupili na korabl', Kotoryj opustel, I grudu zolota nashli, I grudu mertvyh tel". Vot povezlo. Silovye shchity, fiksatory, kontrol', tormozhenie. I mestnaya civiilizaciya tozhe ugasla. Prosto tak ili otchego-to? Mozhet, my uzhe letim zadvorkami imperii t'my, natykayas' na ee otbrosy? Klyuch na sebya. Lokator. Oblako nazyvaetsya. Lokator doloj. Mozhet, zdes' tozhe kogda-to vodilsya gafnij? Klyuch vpered. No radiacii net. Prisvesit' hvost. Razberemsya. Vot i luzha. Klyuch vverh na sebya. A, varena kurica!" Vneshnij korpus Fenrira na skorosti v chetvert' mestnoj zvukovoj kosnulsya vody. Volny uzkim klinom rassekli ee gladkuyu tusklo-golubuyu poverhnost'. Gorm zalozhil lihoj virazh, chtoby ne vyskochit' na bereg, mel'knuvshij skuchnoj sero-zheltoj poloskoj i skryvshijsya v oblake melkih bryzg. - A teper' ya, - skazal Fenrir. - Nu net, - Gorm perehvatil klyuch, pozvolyaya vode zatormozit' Fenrira eshche bol'she. - Tvoya planeta - sleduyushchaya, kak ugovorilis'. - Ladno, no smotri: nos okunesh' - zhizn' proklyanesh'. Gorm uzhe mchalsya vdol' berega, derzha vne vody ne tol'ko dragocennyj Fenrirov nos, no i vse dnishche golovnogo otseka do poslednego redannogo vystupa. - Stoj, - vspoloshilsya Fenrir, - zdes' pokrytie! V verhnem pravom uglu polya zreniya Gorma vsplyl stop-kadr s moshchenoj pryamougol'nymi plitami polosoj, uhodivshej v vodu. - Aga! - Gorm razvernulsya i ostanovil dvigateli. Pogruzhayas' vse glubzhe, Fenrir po inercii doskol'zil pochti do berega. S shipeniem i lyazgom vyshli iz nish v bryuhe golovnogo otseka kolesa shassi, i po drevnej doroge Fenrir vykatilsya na sushu, ostaviv za soboj korotkij mokryj sled. Tverdyj uchastok konchilsya, kolesa uvyazli v peske, i Fenrir osel bryuhom na grunt. - Ne ves' eshche umishko prodristal, darmoed! - Molchi, seryj hvost! - Gorm byl uzhasno gord pohvaloj. - Ob座avlyayu etu planetu svoej sobstvennost'yu i imenem Metropolii narekayu ee Fenol'noe Umertvie. Iz shahty donessya skulezh. - YAdrena mysh', sobaki! - Gorm, zacepivshis' nogoj za porog, ruhnul na pol shahty. - Spohvatilsya! Tam ne tol'ko sobaki, tam, kak ya poglyazhu, eshche i banka s edoj! Uznayu tebya v etom zheste - otpravit' konservy v anabioz! - Banka? - Gorm vozilsya u termostata, pytayas' snyat' kryshku. Kogda kryshka pripodnyalas', na volyu vyrvalsya takoj duh psiny, chto Fenrir prokommentiroval: - Ostorozhno, a to oshchenish'sya vdrug potom. Sobaki, teplye i uzhe pochti suhie, vozilis' i poskulivali vo sne. Gorm pohlopal Midira po belomu s korichnevymi i chernymi pyatnami boku i shvatil lezhavshij ryadom cilindricheskij predmet s gofrirovannymi stenkami. - Eda! - Gorm medlenno povernul banku klejmom vverh. - Vishni! - Iz kazhdoj kostochki mozhno budet vyrastit' derevo! - A esli oni varenye? - Ne vidish' klejma - svezhie! - Tak to kogda bylo... - Gorm otkryl lyuchok v kryshke banki, prizhav ee k grudi, otnes v bytovoj otsek, berezhno vstavil konchik vodyanogo shlanga v lyuchok i otkryl vodu. Razdalsya skrip, ton kotorogo ponizhalsya po mere uvelicheniya banki v razmerah. Kogda stenki raspravilis', Gorm osvobodil shlang i otkolupnul kryshku. Vtoroj raz za neprodolzhitel'noe vremya v nos emu udaril gustejshij zapah mokroj psiny. - YA zhe govoril - svezhie! - skazal Fenrir. Gorm vzyal dvumya pal'cami yagodu, osmotrel ee so vseh storon, podbrosil, ne pojmal, podnyal s pola, otryahnul i sunul v rot. Lico ego nedovol'no perekosilos'. - CHto, kishki iz nee polezli? - ne ponyal Fenrir. - Huzhe - oni bez kostochek. - Mozhno poprobovat' vyrashchivat' kul'turu kletok. - Kak mne nadoelo slyshat' ot tebya eto slovosochetanie! Kstati, o ptichkah - sobak my, vyhodit, obrekaem na kannibalizm? - Otnyud', ih mozhno kormit' kul'turoj tvoih kletok! Gorm sokrushenno pochesalsya i prinyalsya gryzt' valyavshijsya na kojke kusok shokolada. Kogda ot shokolada nichego ne ostalos', on pobrel, zapinayas' o robotov, v bytovoj otsek, tam dolgo i shumno pil vodu, chistil i podtachival zuby i kogti i otpravlyal drugie estestvennye nuzhdy. Vosstanoviv, naskol'ko vozmozhno, dushevnoe ravnovesie, on vernulsya v zhiloj otsek i, smahnuv s kojki postoronnie predmety, sel. V ruki emu popalas' po doroge knizhka tvorenij skal'da Guthorma, valyavshayasya na dne aptechnogo yashchika v bytovom otseke. Gorm hotel shvyrnut' knizhku v ugol, no, podumav, otkryl i prochital stih: YA zhdu, kogda bezumnyj svet Sozhzhet moi glaza, Kogda toska, sojdya na net, Istochit tormoza, Kogda poslednyaya stupen' Vzorvetsya pozadi, Kogda poslednyuyu mishen' Pochuvstvuyu v grudi. YA vizhu blednye tela Za ledyanym steklom, YA znayu, ch'ya letit strela, I pod kakim uglom. Otnyne mne dano reshat', Kakoj zakon edin, Kogda izbavitsya dusha Ot vseh svoih glubin. "Vsegda lyubil drevnyuyu poeziyu",- reshil Gorm, shvyrnul knizhku v ugol, snyal sapogi, shvyrnul ih v drugoj ugol, snyal levyj nosok, povesil rogatyj obruch na skobu zaglushki ventilyacionnoj sistemy, vpolz v kojku i zasnul. "Pravyj nosok!" - skazal Fenrir. Otveta ne posledovalo. Fenrir pogasil v kayute svet i stal parallel'no igrat' sam s soboj v karty, sostavlyat' ob容mnyj globus planety Fenol'noe Umertvie i bditel'no vsmatrivat'sya v sluchivshuyusya snaruzhi noch'. Pravdu skazat', ot vseh ego smotrelok, krome infrakrasnoj, tolku bylo nemnogo, no vklyuchat' lokatory Fenriru pochemu-to ne hotelos'. Do rassveta ostavalos' eshche chasa dva s nebol'shim, kogda iz-pod dnishcha doneslos' shurshanie peska. Fenrir reshil zatait'sya. Istochnik zvuka priblizhalsya k brone. Nechto kosnulos' korpusa, propolzlo iz-pod kormy k redanu i ostanovilos' u zaglushki raz容ma vneshnego energopitaniya. Razdalsya shchelchok. Fenrir pochuvstvoval, kak otvertka kosnulas' shlica stopornogo vinta, i zablokiroval vint iznutri. Neizvestnyj v lokot' s tret'yu dlinoj uporno pytalsya snyat' zaglushku, poka ego instrument ne slomalsya. Vsled za premerzkim hrustom Fenrir uslyshal nechlenorazdel'nyj vopl' v ul'trazvukovom diapazone. Neizvestnyj nyrnul v pesok. Emu vdogonku Fenrir nakonec vklyuchil aktivnye pribory nablyudeniya, no kartochki na pamyat' vyshli ne luchshego kachestva. Ne pytayas' analizirovat' sobytie, Fenrir zavis nad gruntom i vklyuchil silovye shchity - tak, dlya poryadka. Sobaki, vstrevozhennye vo sne krikom strannoj tvari, skoro ugomonilis'. Spustya poltora chasa posle rassveta Gorm, ubiv eshche okolo poluchasa na zavtrak i poiski pravogo noska, nakonec vyslushal rasskazku Fenrira i reshil, chto v peske, pogrebayushchem gorod, stoit pokopat'sya. On razbudil sobak, rasskazal im o svoej neschastnoj sud'be, te zavyli, a Midir sdelalsya nastol'ko perepolnen chuvstvami, chto naprudil luzhu. Tem vremenem ohrannye roboty, spushchennye cherez nizhnij lyuk, ottashchili opory silovyh shchitov ot Fenrira, universal'nye roboty vzyali proby peska i prigotovilis' stroit' dom, a Gorm vyvolok svoj i sobach'i vyhodnye kostyumy i nachal oblachat'sya. I dvuh chasov ne proshlo, kak vsya troica byla zastegnuta, zashnurovana i podklyuchena k energoistochnikam, v shahte razdvinulis' meha shlyuzovoj kamery, desyat' nog perestupili cherez vysokij porozhek, peregorodka s shipeniem povernulas' vokrug central'noj osi, izoliruya shlyuz ot vnutrennih pomeshchenij, i ostalos' tol'ko otkryt' levuyu naruzhnuyu dver', cherez kotoruyu Gorm vsegda pokidal chrevo Fenrira. Poka vyravnivalos' davlenie v shlyuze i snaruzhi i poka moshchnye gidrocilindry podnimali dver', Gorm uspel podrat'sya s sobakani i dva raza porugat'sya s Fenrirom. Kak by tam ni bylo, potomok velikih yarlov kosmosa nakonec vylez na bronyu, postoyal, vertya golovoj, i nelepo sprygnul na pesok. Sobaki posledovali ego primeru i, vzyav sled nochnogo gostya, uvodivshij v nedra planety, prinyalis' kopat'. Gorm podnyrnul pod korpus Fenrira i vytashchil polomannuyu otvertku. Instrument skoree pohodil na konservnyj nozh, kotorym sumasshedshij bezrukij slepogluhonemoj mog by vskryvat' zavyazannye uzlom banki s konservirovannoj slonyatinoj. Vnimatel'nee osmatrivaya predmet, Gorm uvidel, chto poverhnost' ego vnutrennej polosti v blizhnej k razlomu chasti byla pokryta kakimi-to voloknami, iz kotoryh sochilas' otvratnogo vida i, kak utverzhdal Midir, adekvatnogo zapaha sliz'. - Organicheskaya himiya, - skazal Fenrir, - a to i biosintez. - Da, - vzdohnul Gorm, - stoit podarit' emu novuyu otvertku. Otformuesh'? - Raz plyunut'. Pryamo iz mestnogo grunta. Spechetsya na radost' - eto zh molotyj kirpich. Gorazdo prochnee, chem byla eta dryan'. - Smotri, chtob slishkom prochnaya ne vyshla. Ne bol'no-to nuzhen ty mne razvinchennyj. - Nu, ya-to sam ne iz kirpicha vse-taki. - Stoj, ili eto ty govoril sejchas pro kirpich? - Da vrode. - K chemu eto ty? - U tebya uma ne bol'she, chem u trollya, chestnoe slovo. YA bityj chas taldychu, chto mestnyj grunt - molotyj kirpich. - Vot eto vse? - Gorm vytarashchilsya na odnoobraznye ploskoverhie holmy, vo vse storony uhodivshie k gorizontu. - Nakonec do tebya nachalo dohodit'. - |to u tebya uma men'she, chem u trollya! Prikin', kakoj zdes' ob容m - bud' eto postrojki, oni by ruhnuli pod svoej tyazhest'yu! - Tak vot oni i ruhnuli! Iz doma v pyat' dyuzhin etazhej zaprosto mozhno nadrobit' takoj vot holm kroshki. Kstati, na Mag Muirtemne byla kirpichnaya bashnya v vosem' dyuzhin etazhej - mozhet, i posejchas stoit. - Sravnil - ta byla na zheleznom karkase! - A ty glyan' v yamu! Iz dna razrytoj sobakami yamishchi torchali perekruchennye rzhavye sterzhni. - Armatura, - pobeditel'no skazal Fenrir. - Otnyud'! - narochito vozrazil Gorm. - Vashche, vidimye nami holmy nikogda ne byli organizovany v doma. Aborigeny zhivut pod nimi, iskusstvennyj pesok zashchishchaet ih ot perepadov temperatur, a sterzhni - radiatory sistemy kondicionirovaniya. - Otmenno! YA gotov poverit'. - A ya net. Intuiciya. I doma ruhnuli ne pod sobstvennoj tyazhest'yu. Midir! Kogo chuesh'? - Tvar' smradnuyu! - Odnu? - Mnogih! - Gde? - Vnizu! - A naverhu zhivet kto-nibud'? - Ne chuyu! - A zhil? Midir vylez iz yamy, podnyal mordu i potyanul nosom. Usilitel' zapahov, vstroennyj v ego shlem, zagudel. - Izdoh i sgorel! - vydal pes posle nebol'shoj pauzy, potom dobavil: - Davno! - i prygnul obratno v yamu. - Ty ponyal? - skazal Gorm. Kstati, kak otvertka dlya tvari smradnoj? - Nikak ne mog ponyat', kakaya byla ruchka. Sdelal iz plastmassy s pamyat'yu - sozhmetsya po forme hvatalki. Sejchas... Ploshchadka gruzovogo pod容mnika nizhnego lyuka opustila na grunt robota na gusenichnom shassi s otvertkoj v kleshne. Derzha otvertku za samyj konchik rabochej chasti, robot votknul ee v kuchu kroshki, kotoruyu uspeli nagresti sobaki. - Ostavim eto gadskoe mesto ego hamskim hozyaevam. Mne pochemu-to kazhetsya, chto vse instrumenty oni zazhimayut zadnicej, - Gorm skorchil pod respiratorom rozhu i s lyazgom vspolz na otkidnuyu reshetchatuyu stupen'ku pered dver'yu. Sobaki, zateyavshie bylo razborku, polezli v nizhnij lyuk, oprokinuv odnogo iz robotov. Poka tot koposhilsya v peske, vse ego sobrat'ya, nenarokom projdyas' po nemu nogami i gusenicami, zagromozdili soboj ploshchadku lifta. Oprokinutyj robot nakonec vstal na shassi, pomogaya sebe kleshnyami, zamer v tupom razdum'i na neskol'ko mgnovenij i neuverenno vtisnulsya na ploshchadku. Gruzovoj pod'emnik popolz vverh, zakrylas', vpustiv Gorma, dver'. Vyjdya iz shlyuza, Gorm, ne snimaya kostyuma, proshel v bytovoj otsek, cherez osmotrovyj lyuk v polu vpustil sobak, odnovremenno otraviv pomeshchenie ugarnym gazom, dozhdalsya, poka atmosfera ochistitsya, protopal v golovnoj otsek, sel v kreslo, vyslushal Fenrirovu otpoved' sobakam, opyat' lezushchim vnutr' cherez pervuyu popavshuyusya dyru, ne schitayas' s posledstviyami, pereklyuchil na sebya upravlenie, zagnal na vypolnenie programmu kontrolya dvigatel'noj ustanovki, poluchil otvet o gotovnosti, vstavil klyuch v gnezdo, zashipel i vydernul ego obratno. " CHtoby vklyuchit' dvigateli, nado razomknut' silovoj shchit. Esli razomknut' silovoj shchit, Fenrir syadet na grunt. Esli Fenrir syadet na grunt, pridetsya startovat' s sypuchej poverhnosti. Esli pridetsya startovat' s sypuchej poverhnosti, plazmennye strui iz dyuz unesut otvertku." V kazhdyj moment vremeni mozg Gorma byl v sostoyanii dumat' tol'ko odnu ochen' korotkuyu mysl', no nevozmozhnost' parallel'noj obrabotki dannyh kompensirovalas' bystrodejstviem. - Polyubujtes' na etogo umom trachenogo! Sidit, sopit, pyhtit, tol'ko chto zadnicej ne chavkaet ot natugi, - nachal bylo Fenrir. - Molchi, plyugavyj vypolzok iz trollinyh isprazhnenij! Ne bud' tvoya rzhavaya lichnost' slishkom nichtozhna dlya moego gneva, ya ispepelil by ee odnim napryazheniem mysli! - vysprenno oborval ego Gorm. - Vygoni naruzhu dvuh ohrannikov, o neschastnyj, nad ubozhestvom kotorogo zaplakal by i Kal'mot Palach, Razoritel' Semi Gorodov, veli im ceplyat' tros, vyklyuchaj silovoj shchit, otgonyaj ih s trosom podal'she i vklyuchaj shchit snova. Volokom pojdem! Poskol'ku rech' u Gorma nikogda ne kontrolirovalas' soznaniem, posle sbrosa zadachi peredvizheniya v mozgu u nego srazu poshla predydushchaya zadacha, prervannaya iz-za bolee nizkogo prioriteta - kontakt s aborigenami. Gorm reshil, chto ne hudo by chto-nibud' im podarit', darom chto hamy. V podarok mozhno bylo bez vsyakogo ushcherba otdat' dobruyu tret' zachastuyu ne tol'ko bespoleznogo, no dazhe neopredelimogo soderzhimogo otsekov Fenrira, no posle katastrofy prirodnaya zhadnost' Gorma okonchatel'no pererosla vse predely, i rasstat'sya dazhe s samoj tuhloj tryapkoj bylo dlya nego nemyslimo, poetomu on velel Fenriru naformovat' vosem' dyuzhin kremnijpolimernyh boltov s gajkami i shajbami na razmer chetyre i polozhit' ih na holmik, v kotoryj uzhe byla votknuta otvertka. Na peske cherneli podarki, ostavlennye mestnomu naseleniyu primerno tak zhe, kak v svooe vremya ostavlyalis' kupcami na beregah neissledovannyh ostrovov igrushechnye myshi na kolesikah, yarko razmalevannye kosmeticheskie sumki i shtampovannye iz deshevoj plastmassy zakolki dlya volos, a roboty volokli Fenrira po lozhbinam mezhdu holmami, poka bereg ozera ne otdalilsya na pol-poprishcha. Vdol' prichudlivo izzubrennogo vershinami otdalennyh kurganov kraya neba drejfovali oblachnye lohmot'ya, spletavshiesya i razletavshiesya v kloch'ya v neskonchaemom zloveshchem tance. Gorm, estestvenno, myslenno upodobil ih obryvkam savana, ne pytayas' sproecirovat' metaforu na real'nost', potom prikinul himicheskij sostav atmosfery i neskol'ko raz peretryahnul unylyj nabor gazov, aerozolej i pyli v poiskah hot' kakoj- nibud' zakonomernosti. Snachala nichego ne naklevyvalos', no, blagodarya eshche odnoj kladbishchenskoj analogii, nekotoroe svojstvo, sperva pokazavsheesya Gormu slishkom obshchim, vse-taki zastryalo v redkoj seti ego myslej. Mertvecy, korchashchiesya v plameni pogrebal'nogo kostra, kluby zhirnogo dyma, kopot', osedayushchaya na oskalennye kamennye mordy idolov... Produkty goreniya - i v oblakah, i na poverhnosti, i v nizhnih sloyah atmosfery. Gorm posmotrel v okno - pesok uzhe ne byl edinstvennym veshchestvom, sostavlyavshim holmy. Popadalis' i bolee krupnye kuski ne to kirpicha, ne to betona s sero-chernoj nozdrevatoj poverhnost'yu, i skruchennye, tochno v predsmertnyh konvul'siyah, metallicheskie sterzhni. Gorm predstavil sebe ogromnye kostry, uvenchivayushchie kazhdyj kurgan, i stolby dymov, pod zaunyvnoe penie podnimayushchiesya k neby i zavolakivayushchie ego lohmatym savanom. I vse, kto obital zdes', sami vzoshli v pogrebal'nyj ogon' i sginuli v onom vmeste s konyami, lad'yami i zhenami. Gorm provel pal'cem po otpechatku ot svoego vyhodnogo sapoga. Na pal'ce ostalsya temno-seryj sled - prah nesmetnyh polchishch mertvecov. Gorm vyter palec o shtany i poshel v shahtu iskat' udochki - vdrug v ozere sohranilas' kakaya zhivnost'. Sobaki, mgnovenno uloviv namerenie hozyaina, podnyali shum i zaprosilis' s nim. - Da bros'te, chto zdes' za rybalka, - provorchal Gorm, rasputyvaya klubok tolstoj leski dlya povodkov. |to vam ne ozero M'ers... To est' trudno dazhe predstavit', naskol'ko eto ne ozero M'ers.

+--+ ++++++++ ++++++++ +--+ Srezaya piloobraznymi bivnyami molodye derevca i brosaya ih hobotom sebe pod nogi, pancirnyj slon probiralsya k vode. V temnote raznosilis' pyhtenie i tyazhelyj hrust, soprovozhdaemye piskom potrevozhennyh melkih lesnyh zhitelej. Slon, otduvayas', prolomilsya cherez perepletenie stvolov i vetvej i ugodil perednimi nogami na polosu krupnogo ryhlogo peska. Pesok eshche ne uplotnilsya pod tyazhest'yu moguchej tushi, a slon uzhe okunul hobot v prohladnuyu vodu. Na nekotoroe vremya nad ozerom vosstanovilas' otnositel'naya tishina. Nakonec napolnivshiesya vodyanye meshki vstoporshchili rogovye plastiny na spine zverya. Slon podnyal golovu vverh. Na nebe tvorilas' obychnaya nochnaya kuter'ma - skreshchivalis' i rashodilis' tonkie raznocvetnye luchi, priblizhalis' i udalyalis' istochniki pul'siruyushchih vspyshek, prichudlivo vyrezannye teni, zakryvaya zvezdy, pronosilis' iz konca v konec nebosvoda, a iz-za gorizonta podnimalsya uzen'kij serpik, okruzhennyj golubym siyaniem. Slon povernulsya k lesu, shursha kozhej o koru i vetvi derev'ev, i po prolozhennoj trope ustremilsya k skal'nomu ostancu, gde ego hobot na zakate ulovil zapah slonicy, prinesennyj vetrom s ploskogor'ya. Slonu predstoyal dvuhdnevnyj put' cherez bezvodnoe plato, vymoshchennoe vos'mi- i chetyrehugol'nymi polirovannymi plitami, on bezhal ekonomichnym korotkim galopom, sotryasaya zemlyu i vskolyhivaya krony lavrov i bukov, stvoly kotoryh zadevali ego moshchnye boka. Razbuzhennye pticy snova usnuli, pokrepche vcepivshis' v vetki, k kucham slonov'ego pometa speshili raznye tvari-navozniki, a pancirnyj slon uzhe minoval ostanec, spesha na mogushchuyu okazat'sya oboyudno nebezynteresnoj vstrechu so slonicej. Zatih tresk v chashchobe, pochva uzhe ne vzdragivala ot topota, no ozero i okruzhavshie ego zarosli byli polny drugih istochnikov shumov. Vspleskivali hvostami po vode ryby i reptilii, krichali i hlyupali tinoj v trostnike gady, popiskivali v vozduhe vampiry, a s holma na yuzhnom beregu ozera donosilis' sil'no priglushennye zvuki dvuh gitar. Ogon' v suzhayushchihsya kverhu trapecievidnyh oknah zamka slabo brezzhil skvoz' zakrytye zhalyuzi i so dnya postrojki ne mytye cvetnye stekla v chastyh perepletah. Vdrug nad prizemistoj predmostnoj bashnej voznik stolb sveta. Muzyka stala otchetlivej, i v vozduh vzmyli chetyre yarko osveshchennye snizu figury s raketnymi rancami. S merzkim skrezhetom ruhnuli i rassypalis' po sklonu holma grudoj oblomkov vorota, i iz klubov pyli vyvernul tuponosyj otkrytyj kater. Na treugol'noj broneplite pered mutnym ot vremeni vetrozashchitnym steklom stoyal, upershis' nogami v prichal'nye kryuki, nekto v uzkih portah na dvojnom rosomash'em mehu i v korotkih kol'chuzhnyh nalokotnikah. Ego dlinnye belye volosy razvevalis' v potokah sgustivshegosya za noch' vozduha, i pochti tak zhe svobodno i prihotlivo dvigalis' zhilistye ruki, izvlekavshie bezumnoe solo iz pomyatoj gitary s kolkami na krokodil'ih zubah. Nedobrym krasnym svetom vspyhnul tretij glaz vo lbu bas-gitarista, on podnyalsya s zadnego siden'ya vo ves' svoy ispolinskij rost i postavil na plecho voditelya nogu v grubom bashmake s riflenoj podoshvoj. Prisoedinivshis' k pul'sirovavshemu na grani isterii solo, ego protivoestestvennye akkordy pridali melodii zloveshchuyu razuhabistost'. Iz prizrachno svetivshejsya pasti vorot vypolz vtoroj kater, krosha trakami gusenic truhlyavye brevna. Harknuli raketnye uskoriteli, svarnoj korpus katera nenadolgo zavis v vozduhe, potom peregruzhennaya mashina tyazhelo popolzla vverh. Udarnik, v mozaichnyh fotoreceptorah kotorogo otrazhalis' s trudom pomeshchavshiesya v korobe otseka poleznoj nagruzki konechnosti, lupil po obtyanutym nesvezhego vida shkurami barabanam. Belovolosyj podnyal golovu. V ego zheltyh glazah, kak v katofotah, prelomlyalis' luchi prozhektorov. Kto-to b'etsya v pole, Kto-to v gryaz' licom, Sluchaj pravit pulej, Voron - mertvecom. Mesto lyutoj sechi Poroslo travoj, Bol'no zhguchi rechi, Boj ne za goroj. Kto smel snyat' s nas chuvstvo viny? Kto primet ogon' na sebya? Kto slyshit postup' gryadushchej vojny? CHto ostavim my posle sebya? Ego pronzitel'nyj golos perekryl rev gitar i grohot barabanov i, slivshis' s vizgom dvigatelej raketnyh rancev, nevidannym upyrem vzmyl k nebesam i ruhnul na les, totchas napolnivshijsya topotom nog, hlopan'em kryl'ev i krikami razbuzhennogo vo vtoroj raz za nedolgij srok zver'ya. Valilis' s derev'ev tvari, zataivshiesya v listve, polzli vverh, ceplyayas' kogtyami za koru, obitateli nor i berlog, a udarnaya volna zhutkogo klicha uzhe metalas' po samym gluhim lesnym zakoulkam: CHuyu gibel' - Bol'no vol'no dyshitsya, CHuyu gibel' - Veselo zhivem, CHuyu gibel' - Krovushkoj raspishemsya, CHuyu gibel' - Horosho poem! CHuyu gibel'! CHuyu gibel'! CHuyu gibel'! Na maksimume obloma bezumnyj tanec dvuh par zakonchilsya krutym pike i padeniem v ozero. Katera umchalis' vo t'mu, shum stih. Pyhtya i otduvayas', cherez perepletenie stvolov i vetvej prolomilsya k vode pancirnyj slon i ugodil perednimi nogami na polosu krupnogo ryhlogo peska. Pesok eshche ne uplotnilsya pod tyazhest'yu moguchej tushi, a slon uzhe okunul hobot v prohladnuyu vodu. Vsplesk, gnusavyj rev, shurshanie peska - i posle neprodolzhitel'noj bor'by slon ischez v ozere. Nautro v zamke podali k tret'emu zavtraku slonov'yu pechenku.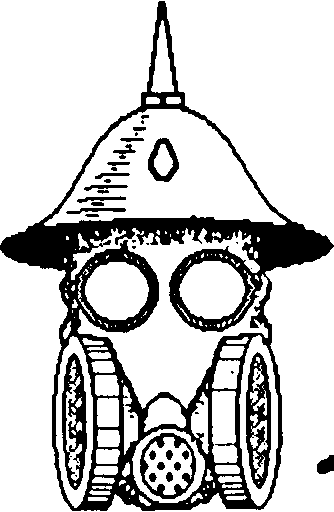 +--+ ++++++++ ++++++++ +--+ Strashnyj pancirnyj slon Probiralsya v podhodyashchej emu srede. Popit' dryanca zahotel on I poshel k tak nazyvaemoj vode. Tol'ko pancirnyj slon uspel napit'sya I otorvat' ot vody hlebala, Kak uslyshal pancirnuyu slonicu, Kotoraya zapah izdavala. I pobezhal. Na chasah samoe nachalo vtorogo - i chasa eshche net. Vremya medlenno idet, esli ryba... Klev kak shchekotka u pokojnika. Podal'she, chto li, brosit'... O, planeta popalas'. Blesna zastryala. Gorm podergal udilishche, poproboval pokrutit' ruchku, no zatreshchala frikcionnaya mufta katushki i dinamometr pokazal predel'noe usilie na leske. Sunuv spinning robotu, Gorm, poryvshis' v podsumkah, dostal ochki i zatyl'nik, prishchelknul ih k rogatomu obruchu i soedinil s maskoj respiratora. Kogda pered glazami zazhglas' strochka ob uspeshnom okonchanii proverki germetichnosti, Gorm vstal s raskladnoj taburetochki, potyanulsya, proshlepal po otmeli, nyrnul i, derzhas' levoj rukoj za lesku, poplyl v glubinu, rabotaya nogami. - Pod myshkami potri, - vstupil dotole molchavshij Fenrir. - Seryj durak, - Gorm shvatil pravoj rukoj kakuyu-to pupyrchatuyu gadost' s plavnikami. Gadost' protekla skvoz' pal'cy i skrylas', ostaviv paru-trojku sgustkov slizi. - Beri levee, lesku porvesh'. - Durak seryj, - Gorm kruto vzyal vlevo i zastyl raskoryakoj v treh loktyah nad dnom. Pered nim stoyalo koleso. Opuskayas' k ego podnozhiyu, Gorm zadral golovu, no verhnego kraya ne uvidel. Stupica byla tolshchinoj loktya v chetyre s polovinoj, perekruchennye spicy soedinyali ee s dvojnym obodom. Mezhdu kol'cami oboda, raznesennymi na dva Gormovyh rosta, krivo viseli lopatoobraznye gruntozacepy. V zadumchivosti Gorm sdelal neskol'ko shagov po dnu na chetveren'kah, potom, spohvativshis', podvsplyl i otcepil blesnu ot rzhavoj reshetki, vozvyshavshejsya po levuyu nogu ot kolesa. Robot na beregu, pochuvstvovav slabinu, zavertel katushku. Blesna udalilas', val'yazhno vilyaya hvostikom. Vperedi za grudoj diko izvityh trub, zmeivshihsya po poverhnosti ogromnogo cilindra, vrosshego v dno, torchali vverh dva chudovishchnyh rychaga, za nimi ugadyvalos' eshche odno koleso. - Kak kartinochka? - sprosil Gorm. - Hm, ochen' milo, no u nas na beregu novosti pointeresnee. - Pustoe! Vot zadnyaya os'! - To est' eto esli prinyat', chto pervaya, na kotoruyu ty natknulsya byla perednyaya, chto ne fakt. - Konechno, esli on greb pochvu vypuklymi storonami gruntozacepov. No trollinoe otrod'e navryad li moglo sluchit'sya sredi ego proektirovshchikov, tak chto smiris' v ocherednoj raz s moej pravotoj. No gde etot rydvan ezdil i zachem popal v ozero - hot' topor o golovu tochi, ne pojmu. - Esli ty rasschityval udivit' menya poslednim zayavleniem, to proschitalsya. |tu zagadku ty mozhesh' ne osilit' i do konca vremen, tak chto vsplyvaj. - Pogodi, - Gorm podergal za torchavshuyu sboku odnogo iz rychagov shpil'ku. SHpil'ka rassypalas'. Gorm poplyl k perednej chasti neponyatnogo sooruzheniya. Gde-to cherez poltora grossa loktej tehnicheskij bred ustupil mesto obychnomu pesochku, no nichto ne govorilo za to, chto on ne prodolzhaetsya podo dnom. Gorm vyrazil nedoumenie: - Esli by ya takoe stroil, to raznes by osi koles podal'she. - A oglobli by vryl v zemlyu. Mozhet, eto pricep? Vynyrivaj, nadoel! - A oglobli sdelal by na rez'be i bez smazki vvintil by v tvoyu rzhavuyu zadnicu. Otstan'. Dno pered Gormom uhodilo vniz. Na sklone lezhala vrode by derevyannaya korobochka. Gorm proplyl mimo, grebya nogami i rukami, a spusk vse ne konchalsya. Stalo temno. Gorm reshil vernut'sya i rassmotret' korobochku - vdrug v horoshem futlyare okazhetsya horoshaya veshch'. Po doroge vverh Gorm ustno vozmutilsya po povodu odnovremennogo nalichiya v ozere hrenoviny o chetyreh kolesah i zhutkoj yamishchi v dne. Fenrir ne udostoil Gorma otvetom. Gorm podhvatil korobochku, no ona raspolzlas' v kashicu ot prikosnoveniya. Na pesok vykatilas' para ne to shajb, ne to podshipnikov. - A, dristnya medvezh'ya, - probormotal Gorm i motnul golovoj. Vdrug po usham emu rezanul avarijnyj vyzov Fenrira. - |, Fenrir, chto s toboj? - |to s toboj chto, blevota p'yanogo velikana? YA tut poteryal tvoj peleng, mechus', kak ugorelyj, a ty, ogryzok dvunogij, i ne cheshesh'sya - a ved' byl signal o potere svyazi! - Stoj - stoj - stoj, kakoj signal? CH'ya blevota? - P'yanogo velikana. Daryu. - Ugu. - Opyat' ty menya sbil, pen' rogatyj! YA govoryu o tom, chto s toboj net svyazi tret' chasa. Roboty prochesyvayut ozero, sobaki voyut na beregu... Gde ty byl? - Da vse tam zhe, - otvetil Gorm, bystro priblizhayas' k otmeli. - V peshchery ne zaplyval? - Kakie peshchery... Razgoni robotov - oni azh v zadnicu lezut, - Gorm brel k beregu po poyas v vode. - Tak, znachit svyazi ne bylo? Temnoe delo. Skol'ko sejchas vremeni? - Tret' vtorogo. - Ogo! A po moim chetvert'. Hronoklazm, chto li... Klinicheskij sluchaj - ozero pod zaklyatiem zlyh char. Esli zaklyatie snyat', tuda vernyatsya ryba. V strashnyh rasskazkah na takih mestah obychno byvaet golos ili videnie, a to neponyatno, chto dal'she delat'. - Znak tebe? Moj orbital'nyj nablyudatel' tol'ko chto zasek vzryv yadernogo ustrojstva v atmosfere pyatoj planety. - Atomnyj vzryv v atmosfere? Pocherk imperii t'my? Skazat' otkrovenno? YA chego-to takogo i zhdal - yasno, chto etot kort s kirpichnym pokrytiem ne iz nashej sagi. Razdajsya, klich mesti! - Gorm izdal klich mesti i zapel: Pust' ne smogut mogil prigotovit' na vseh! Pust' sletitsya na pir voron'e bez pomeh! Budut skal'dami slozheny sagi o tom, Kak dolg krovi spolna uplachu ya mechom! I krovavaya slava pojdet na veka, No glyadet' na nee ya privyk svysoka, I ne slava menya za soboyu zovet... Nu chto ty voesh', dura! Net, eto ya poyu, a ty voesh', kak zaraza! - Gorm protyanul ruku, chtoby otecheski vrazumit' metavshuyusya pered nim po otmeli i izdavavshuyu radostnye naivno-krovozhadnye zvuki Fuamnah, i, razzhav kulak, uvidel chto-to blestyashchee, vykativsheesya iz pal'cev. Nagnuvshis', on podobral malen'koe zolotoe kol'co.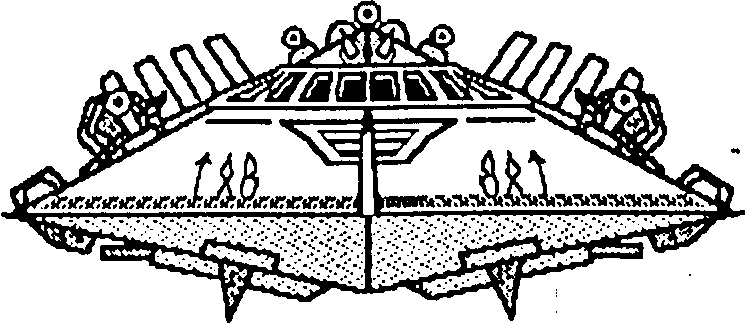 +--+ ++++++++ ++++++++ +--+ Sushchestvuet tam nekto s odnim ognennym glazom. Sie sushchestvo letaet noch'yu i polzaet po zemle, derzha odnu ruku kverhu. Ono vydavlivaet iz lyudej dyhanie, ostavlyaya lish' mertvye tela. |to lyudoed. Tynagyrgyn zapretil, chtoby ego imya upominalos' vsluh. K severu ot onoj doliny lezhit dikovinnaya mestnost'. Vsyak, kto prohodit po nej, a imenno bliz razvalin nekoego goroda, pridet v strah i robost', kogda na razvalinah uvidit razlichnye strannye sushchestva v samyh dikovinnyh poziturah; oni skachut i plyashut s uzhasayushchimi uzhimkami. |ti persony predstavlyayut soboj privideniya, i kto sego ne urazumeet, mozhet prijti v sovershennyj uzhas. Dorogi bliz sego goroda vpolne sohranny i izobiluyut mashinami samyh neimovernyh razmerov, k kakovym ne sleduet podhodit',ibo sidyashchie v nih mertvecy mogut, pochuyav tepluyu krov', ozhit' i shvatit' putnika, kto slishkom blizko podoshel k nim. Tomu, kto ostorozhen, mashiny ne opasny, potomu kak zhizn' pokinula ih pochti dvesti let nazad, i glaza mertvecov, v nih sidyashchih, pochti sgnili. Dobrye lyudi ne zhivut bliz onogo goroda, i tol'ko shajki bezbozhnyh razbojnikov otvazhivayutsya nahodit' sebe priyut pod krovlyami ucelevshih stroenij. Odnako sleduet projti kak mozhno blizhe k gorodskoj cherte, derzhas' ot nee k zapadu, po staroj betonnoj doroge. Inache ne izbezhat' puti cherez mesto, o koem nichego dopodlinno ne izvestno, krome togo, chto luchshe podalee ot onogo derzhat'sya. V desyati ligah ot goroda po pravuyu ruku pokazhetsya zdanie, pred koim vrosla v zemlyu letatel'naya mashina. Ezheli sily na ishode, v onom zdanii mozhno perenochevat'. Dlya etogo nadobno obojti ego po dnu kanavy, soshed v nee s dorogi u zheleznogo mosta, i, edva pod nogami zahrustyat kosti, vybirat'sya naverh po kamennym stupenyam, pokuda te ne konchatsya. Zatem nadobno podnyat'sya po zheleznoj trube do okna i v onoe vlezt'. Pokazhetsya komnata s chetyr'mya krovatyami, na koih lezhat mertvecy, i mnogimi dikovinnymi veshchami. Brat' eti veshchi i trevozhit' mertvecov ne sleduet, ponezhe i oni dobrogo cheloveka ne trevozhat, a v sosednej komnate stoit zheleznoe koryto, gde mozhno otdohnut' i pomolit'sya. Ryadom s korytom stoit sidenie s dyrkoj. Nekotorye po nedomysliyu ili ozorstva radi spravlyayut v onuyu dyrku nuzhdu. Sie est' bol'shoj greh. Dlya konnogoonyj nochleg neprigoden, ibo negde ukryt' konya ot krys. Na otdalenii trinadcati lig ot onogo zdaniya imeetsya v sklone holma peshchera dostatochno pomestitel'naya, chtoby priyutit' i vsadnika, kakovuyu peshcheru mozhno zaprimetit' s dorogi po skopleniyu mashin podle nee. Mashiny sii vethi do krajnosti, k tomu zh pusty, posemu ugrozy ne predstavlyayut. Vhod v peshcheru zakryvaetsya zheleznoj dver'yu s kolesom, kakovoe nadobno pokrutit', daby zaperet'sya iznutri. Siya peshchera imeet v glubinu dvadcat' shagov; v konce ee nahoditsya dver' iz svinca, k koej ne sled priblizhat'sya. Tako zhe ne sled ni shumet', ni razvodit' ogon'. Uhodya, zheleznuyu dver' nadobno plotno zatvorit'. V dvuh ligah puti ot peshchery betonnaya doroga peresekaet chetyrehkolejnyj zheleznodorozhnyj put'. Nadobno svernut' nalevo i dalee sledovat' semu puti, prodvigayas' vozmozhno bystro, pokoliku mestnost' po storonam puti dikovinna i obmanchiva. Neredko mozhno videt' tam v struyah goryachego vozduha, kak iz ruin i praha vosstayut stroeniya i letatel'nye mashiny i kak mertvecy, prinyav oblik zhivyh lyudej, v naryadnyh odezhdah hodyat mezh mertvyh derev, odetyh prizrachnoj listvoj. Govoryat, chto durman sej yavlyaet soboyu navazhdenie ne tokmo dlya zreniya, no obmanyvaet i drugie chuvstva. Potomu ne sled, prinimaya mertvecov za zhivyh lyudej, glazet' na nih, a tem pache zavyazyvat' razgovory. Veliko mozhet byt' iskushenie, no pomni! |to ne lyudi, a navazhdenie zlyh sil, odezhdy ih sut' savany, dragocennosti ih sut' prah, i zhenshchiny ih sut' skelety s kloch'yami prisohshego myasa na kostyah. Beregis'! Ibo povsyudu nyne sily zla polnovlastnye hozyaeva noch'yu, i v temnyh mestah, a koe-gde i pri svete dnya. Nyne mertvye vladeyut mirom, a udel zhivyh - kayat'sya i skorbet', ibo skazano: lish' provedshi noch' v strahe, vnov' uzrish' svet dnya. Proshed onye semnadcat' lig, dostignesh' mosta s dvumya bashnyami. V pervoj iz nih provedi noch', no ne spi, a bud' nacheku, ibo priyut sej nebezopasen, a inogo net. Nautro zh vozblagodari nebo, raz ostalsya zhiv, i idi vpered, cherez most. Dorogi tebe ostalos' tri ligi s chetvert'yu, i, ezheli vyshel s rassvetom, k poludnyu uzh pridesh' na prizyvnoj punkt.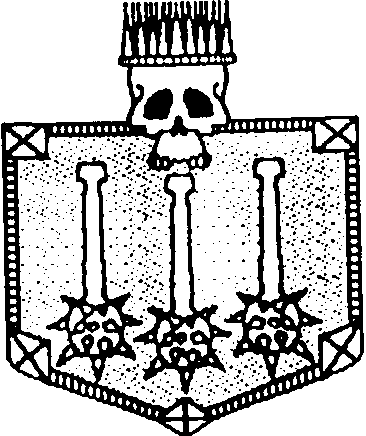 +--+ ++++++++ ++++++++ +--+ - Nu i yazyk! Kak volk voet na zasnezhennom perevale! - Im budet kazat'sya, chto ty ne govorish', a gavkaesh'. |to inkorporiruyushchij yazyk - odna mysl' vyrazhena odnim slovom. - Vse ravno, ya govoril by koroche. - Verno, u tebya vse mysli s medvezhij hvost. - Mozhno podumat', u nih dlinnee. CHto za peredachi ty zasek? - Sprosi chto polegche. Kakie-to translyacii iz treh tochek i pyatok dvustoronnih peregovorov, navernyaka shifrovannyh. Bud' zdes' special'naya kontaktnaya peredacha na nas, ya by skoro ee rasshchelkal, a tak... Znaesh', chto oni govoryat vmesto "priem"? Nyrak marakvyrgyttajkygyrgyt! - Ne veryu! |to ne "priem", a "kak slyshno" ili chto-libo eshche bolee abstraktnoe. A naschet togo, chto ty nazyvaesh' zvukovym shifrom, mne kazhetsya, chto eto prosto eshche odin yazyk. - U menya malo dannyh. - A u menya genial'naya intuiciya. Poprobuj provesti analiz ne tol'ko po chastotam zvukov, a i po intonacii. - U menya malo dannyh dlya analiza, skazano tebe, poleno rogatoe! Svinski pustoj efir. - Ladno efir - gde imperskij flot vtorzheniya? - Razve chto te korabli nad radiacionnymi poyasami... - |to ne korabli, a gorshki s protuhshej dristnej. - U tebya redkij dar v otnoshenii isprazhnenij. Vprochem, skazano - svin'ya gryaz' najdet. Uzhe vtoraya planeta... - Zatknis'. |to chto? - Muzyka. - Nikogda by ne podumal. - Ty nikogda i ne dumaesh'. - Pogodi - pogodi... Aranzhirovka ne ta, no motiv kakoj-to znakomyj. Tu-rurururu, turu-rururu-ru-ru... - "Poslednij voin". - Aga. Vot opyat' - |to poslednij voin Idet v svoj poslednij boj. - A ne moglo obojtis' bez flota vtorzheniya? - Y? - Naprimer, imperskaya planetarnaya baza podavlyaet vystuplenie postancev. - Vse ravno, dolbit' yadrenoj bonboj po planete s sobstvennoj bazoj - kakoj psih zahochet? - Mozhet, kak raz psih i zahotel. Imelo by smysl sest' i uyasnit'. - Bud' u etih hamov vnizu televidenie ili hot' pobol'she radioprogramm, stoilo by poboltat'sya naverhu. Za segodnya ty beresh'sya hot' chto-nibud' raskrutit' v yazyke? YA pomogu. - Skazal voron grobovshchiku. Bud' dazhe v etom dele proku ot tebya bol'she, chem pryti v dohloj loshadi, po takim otryvochnym i odnoobraznym peredacham my vryad li naberem dostatochno yazykovogo materiala. Vprochem, ya ponablyudal by s orbity, ne vzorvetsya li vnizu eshche chto-nibud'. - Vzorvetsya, ne vzorvetsya, mnogo ty razberesh' skvoz' etakie tuchi! Na posadku. - Derzhis', moya ochered'! Plavnym zamedleniem Fenrir pogasil orbital'nuyu skorost' i vklyuchil silovye shchity. V smotrovyh oknah planeta kazalas' uzhe sharom, a ogromnoj chashej. Nebo iz chernogo stalo fioletovym, pomerkli zvezdy, a vnizu zloveshchimi otvalami podnyalis' oblaka strannoj konusoobraznoj formy. Oni byli oshchutimo radioaktivnymi i do omerzeniya neprozrachnymi. Gorm zapozdalo spohvatilsya, chto dejstvitel'no mozhet sluchit'sya eshche odin yadernyj vzryv, potom prikinul energopogloshchayushchuyu sposobnost' silovyh shchitov i vybrosil zadachu s bufera vvoda - srabotaj bomba v neposredstvennoj blizosti ot Fenrira, ona voobshche poshipela by i pogasla - shchity utyanuli by vse nejtrony. Pod oblakami bylo teplo, temno i zhutko. - Radar, - skazal Fenrir. - CHto tolku. - Oni nas ne vidyat, zato slyshat. YA snizilsya do chetyreh grossov loktej. - Tret' poprishcha - smotri stekla v oknah ne povyshibaj. - Vyshe prosto nichego ne razberesh' na poverhnosti. |tot vzryv podnyal stol'ko pyli... - Mozhet, i ne etot. Sudya po urovnyu radiacii, u nih eto sezonnyj prazdnik, esli ne chashche. - Proletaem nad aerodromom. Nam gotovyat vstrechu. Smotri! Podnimaya pylevye shlejfy, po polose bezhali dva korotkokrylyh apparata. Vypustiv ognennyj hvost, pervyj kruto vzmyl v nebo, za nim vtoroj. - Raketnye uskoriteli, - neizvestno komu poyasnil Gorm. Apparaty nabrali vysotu i poshli vdogonku za Fenrirom, kotoryj dvigalsya po pologoj duge, gotovyas' sdelat' razvorot na aerodrom. Gorm razglyadyval na sproecirovannoj na okno uvelichennoj kartinke ostrye nosy, treugol'nye kryl'ya i pohozhie na akul'i plavniki ploskosti upravleniya mestnyh apparatov. - Uzheli predo mnoj ves' flot imperii? - usomnilsya Gorm. - Pust' poglyadyat na nas i uzhasnutsya, - skazal Fenrir. Izmeniv formu silovogo shchita, on zamedlilsya i dal vstrechayushchim podojti poblizhe. - CHego molchite, ej! Nyrak marakvyrgyttajkygyrgyt! Nyrak marakvyrgyttajkygyrgyt! Nyrak marakvyrgyttajkygyrgyt! - Ne razoryajsya, u nih nebos' vashche net racij, - skazal Gorm. - Sejchas odin zajdet sverhu, drugoj speredi, i budut nas sazhat'. Pod kryl'yami perednego apparata zasverkali korotkie vspyshki. - Svetovaya svyaz'? - sprosil Gorm. - Skoree pulevaya. O, a teper' eshche i rakety. Ladno, parshivcy, strelyat' vy ne umeete, posmotrim, umeete li letat'. Gorm pochuvstvoval, kak ego telo ohvatili fiksatory. ZHutkim udarom dvigatelej skvoz' szhavshijsya k samoj brone i ostavivshij dyuzy snaruzhi silovoj puzyr' Fenrir ostanovil dvizhenie i, vertyas' vokrug prodol'noj osi, ustremilsya k zemle. Presledovateli prinyali vyzov i voshli v pike. Fenrir prekratil vrashchenie za dyuzhinu loktej do stolknoveniya s poverhnost'yu i, harknuv plazmoj, zalozhil virazh s odnovremennym naborom vysoty. On namerenno ne razvival bol'shoj linejnoj skorosti, po maksimumu ispol'zuya svoi manevrennye vozmozhnosti. CHuzhie mashiny, otstavshie pri snizhenii na dobroe poprishche, snova seli na hvost. - Zavedi pesnyu, - prohripel Gorm, - vdrug u nih hot' priemniki est'. - Kakuyu? - "Most smerti". - Zachem im davat' takoj agressivnyj namek? - Vot durak! Oni slov-to ne pojmut! - Ladno. Slushajte i derzhites'! - Fenrir sdelal neskol'ko bochek, metnulsya k zemle i, uvelichivaya skorost', pomchalsya nad nej na vysote devyati loktej. Povtoryaya ego manevr, odin iz presledovatelej zacepil krylom reshetchatuyu krivulinu, nekstati torchavshuyu iz rastreskavshegosya betona, i zakrutilsya, rassypayas' v vozduhe. Ne zavershiv i odnogo vitka ognennoj spirali, on so mnozhestvom vzryvov razmazalsya po betonu. Drugoj apparat, v nachale manevra otstavavshij ot pervogo na poltora korpusa, izbezhal stolknoveniya s poverhnost'yu, no, vidimo, postradal pri vzryve - za nim potyanulsya dymovoj hvost. Fenrir tut zhe pribavil vysotu i pristroilsya k nerovno letevshej podbitoj mashine. - Esli v nem est' pilot, emu samoe vremya otstrelivat' kabinu, - zametil Gorm. Tut zhe odin iz naplyvov v perednej chasti apparata otdelilsya ot korpusa, i vo vozduh, kuvyrkayas', vyvalilas' chernaya figura. - YA skazal - kabinu, a ne sebya! - vozmutilsya Gorm. Nad rancem za spinoj u pilota raskrylis' ploskosti vintov. Dovol'no lovko dejstvuya konechnostyami, on stabilizirovalsya v vozduhe, vklyuchil vinty i poletel vdogonku za Fenrirom. Fenrir zamedlilsya pochti do skorosti svalivaniya i plavno ubavil vysotu. Pilot letel ryadom s golovnym otsekom. Gorm razglyadyval ego podbitye gvozdikami vysokie botinki, pokrytuyu kopot'yu kirasu, dymivshij himicheskij dvigatel' za spinoj, kozhanye futlyary neponyatnogo naznacheniya na portupee, pomyatyj metallicheskij shlem, iscarapannyj plastmassovyj shchitok, zakryvavshij ot vetra temnoe lico s provalami vmesto shchek i nepriyatnymi skladkami u rta. Pilot tozhe zaglyadyval v okna i, uvidev Gorma v kresle, zamahal rukoj, svobodnoj ot upravleniya rancem, i vyhvatil iz odnogo iz futlyarov nechto pohozhee na ruchnuyu diskovuyu pilu. Gorm, osvobodivshis' ot fiksatorov, vklyuchil vnutri golovnogo otseka svet i tozhe pomahal chuzhaku rukoj. Tot otreagiroval ochen' stranno - vypuchil glaza i otkryl rot. Starayas' uspokoit' ego, Gorm ulybnulsya i v privetstvennom zheste protyanul ruku k oknu. Glaza pilota rasshirilis' eshche bol'she, on chto-to prokrichal i tknul sebya piloj v zhivot pod kirasu. Ego lico okonchatel'no perekosilos', ruka, lezhavshaya na rukoyatke upravleniya, sudorozhno razzhalas', i chuzhak, vlekomyj vzbesivshimisya vintaami, ugodil v struyu plazmy za otsekom poleznoj nagruzki Fenrira. Ohvachennaya ognem figura upala na beton. - Srochno sadis', - Gorm uzhe lez v shahtu za vyhodnym kostyumom. Fenrir nakonec sdelal zahod na polosu, vyklyuchil silovye shchity, vypustil shassi, pripodnyal nos, sbavil tyagu dvigatelej i zapylil po zlopoluchnoj poverhnosti pyatoj planety. Kogda on ostanovilsya, Gorm uzhe stoyal u vyhodnoj dveri. Ne dozhidayas', poka ta polnost'yu otkroetsya, on protisnulsya v shchel', nazhav na kurki raketnyh pistoletov, pronessya nad betonom i ostanovilsya u rasprostertogo tela chuzhaka. Ego kostyum eshche gorel, iz razbitogo motora lilas' i tut zhe isparyalas' strujka kakoj-to zhidkosti. Gorm ostorozhno vzyal pilota za plecho i perevernul. Tot byl okonchatel'no i beznadezhno mertv - iz rasporotogo zhivota viseli gryaznye okrovavlennye vnutrennosti, lico, popavshee v plazmennyj fakel dvigatelya Fenrira, prevratilos' v cherno-bagrovoe mesivo s obnazhivshimsya oskalom polomannyh zubov. Gorm raspryamil vdrug odereveneluyu spinu i posmotrel po storonam. Tuskloe nebo, pokrytoe kosmatymi tuchami, dym ot goryashchih oblomkov letatel'nyh apparatov, letnoe pole v vyboinah, pokrytoe ne to pyl'yu, ne to peplom, prizemistye zdaniya s razbitymi oknami chut' v otdalenii, kakie-to razvaliny na gorizonte, edva razlichimye iz-za polumraka i nizkoj prozrachnosti atmosfery - pejzazh naveval ledenyashchuyu zhut'. Gorm chuvstvoval sebya parshivo. On ne znal, chto delat' dal'she. Ego znobilo. - Slushaj, tut Midir razvylsya, kak po pokojniku, - vstryal Fenrir. Ne mogu uspokoit' - vozvrashchajsya. Ne govorya ni slova, Gorm pobrel nazad. Holod pronizyval ego telo, zabirayas' vse glubzhe i glubzhe. S trudom podnyavshis' k dveri, on zapnulsya o porog i ruhnul v shlyuzovuyu kameru. - ZHivo snimaj kostyum, - skazal Fenrir. Ty podklyuchil svoe bel'e k shlangu ohlazhdeniya SP kontura. Oderevenelymi pal'cami rasceplyaya kryuchki i otpihivayas' ot ne v meru usluzhlivyh robotov, na negnushchihsya nogah Gorm voshel v shahtu. Pol vibriroval ot voya Midira. - CHto voesh',zaraza? Pes oseksya i ustavilsya na Gorma bessmyslenno-zheltymi glazami. V gorle u nego zabul'kalo, iz pasti svesilas' slyunya. On sudorozhno sglotnul i skazal: - Povyt' nel'zya? V gorle pershit! - Nelovko kak-to vyshlo, - Gorm, kak byl, v polurasstegnutom kostyume s boltayushchimsya koncom zlopoluchnogo krioshlanga, tyazhelo opustilsya v kreslo. Priglushenno igrala gitara, i zvuchal golos skal'da, mertvogo uzhe dyuzhiny vekov: Prigvozhdennyj k chernoj zvezde, Navsegda zabyv, gde moj dom, Posle i do, Zdes' i vezde CHernym luchom YA obrushus' na belyj den'. Okolo stroenij na krayu letnogo polya nachalas' sueta. Otkrylis' vorota bol'shogo gofrirovannogo saraya, iz nih vykatilas' eshche odna nelepaya krylataya mashina, nemnogo pomen'she teh, chto dogorali v otdalenii. - Nado linyat' otsyuda, a to i etot sebya kak-nibud' prikonchit. - Gorm vsunul klyuch v gnezdo na paneli i porulili v konec polosy. Kogda on priblizilsya k zdaniyam, v oknah zamel'kali ogon'ki vystrelov. Neskol'ko pul' shchelknuli po brone. Vzletaya, Gorm uvidel, chto apparat chuzhakov tozhe vzmyvaet v vozduh posle korotkogo razbega. Ego udivilo, chto shassi otvalilis' v moment vzleta. - YA staryj rzhavyj chajnik! - s chuvstvom skazal Fenrir. - Oni veli peregovory ne v radio-, a v SVCH-diapazone. Tol'ko sejchas soobrazil. - Togda skazhi etomu urodu, chtob derzhalsya podal'she. Krom, on ved' nas dogonit! - On oret chego-to, a menya ne slushaet. - Uhodim-uhodim. |tot gorazdo bystree predydushchih, vot-vot sravnyaetsya! Tretij apparat dejstvitel'no pochti dognal Fenrira i uzhasayushchim obrazom vzorvalsya. Iz-za togo, chto Gorm zabyl o silovyh shchitah, Fenrira otbrosilo vzryvnoj volnoj k zemle i zakrutilo. Vnov' vodvoryayas' v kreslo i pridirchivo issleduya prikushennyj yazyk, Gorm uvidel eshche odin apparat i nevnyatno zastonal: - O, yadrena mysh', nu skol'ko zhe mozhno... Ocherednoj kandidat v pokojniki sel na hvost Fenriru. - Otryvaemsya? - sprosil Fenrir. - A on ot obidy nosom v zemlyu? Vot chto - leti pryamo i ne spesha. Budem brat' zhiv'em! Pilot aborigenov, kazalos', togo i hotel. On otkinul kolpak kabiny i vyletel vverh, podbroshennyj struyami ognya iz raketnogo poyasa, zatem metnulsya k Fenriru i rasplastalsya po brone golovnogo otseka ryadom s oknom, prikryv rukoj lico. - On povtoryaet odnu i tu zhe frazu: ykalikathukak ikpakhuak, - skazal Fenrir. - Huak? Navernoe, chto-nibud' oskorbitel'noe. U, bar'er etot yazykovoj! A, skazhi emu to zhe samoe! V otvet na Fenrirov klich neznakomec razrazilsya dlinnym zavyvaniem, otlip ot stekla i poletel k svoemu apparatu. Vcepivshis' levoj rukoj v bort, gde byla namalevana nesomnenno hishchnaya ptica, tashchashchaya v kogtyah predpolozhitel'no zhenshchinu, on nasharil v kabine i vytashchil na svet ne to kerosinovyj fonar', ne to svarochnyj apparat, i vnov' peremestilsya poblizhe k Fenriru. - Spyatili oni tut vse, - Gorm votknul shlang ohlazhdeniya SP kontupa v gnezdo ohlazhdeniya SP kontura, soedinil ochki s respiratorom, vzyal v shahte motok verevki i mehanicheskij rezak - "tak, chtob byl" - i polez shlyuzovat'sya. Derzha v odnoj ruke rezak, v drugoj - raketnyj pistolet, on otorvalsya ot broni i poletel k neznakomcu. Golova aborigena byla zashchishchena gluhim shlemom v forme vedra, ego ruki, nogi do kolen i tulovishche pokryvali keramicheskie cheshujki, v sapogi byli vstroeny dopolnitel'nye raketnye dvigateli. - YUgnilnuk! - prokrichal neznakomec. - Sam ty babushku zarezal! - otvetil Gorm na ego volne i potyanulsya k verevke. Neznakomec vstryahnul svoj fonar', i iz oznachennogo ustrojstva vylezlo koleblyushcheesya ognennoe lezvie dlinoj v dobryj dvojnoj lokot'. Gor vklyuchil rezak, i zven'ya zubchatoj cepi prishli v dvizhenie. Vystaviv fakel vpered, chuzhak brosilsya na Gorma. Gorm ushel iz-pod udara vniz i poletel k neznakomcu, rasschityvaya shvatit' ego za spinu, no tot uzhe razvernulsya i opyat' ugrozhal Gormu ognennym lezviem. Gorm uspel smenit' kurs s vstrechnogo na pochti vstrechnyj i udaril neznakomca pravym plechom, otchego tot poteryal upravlenie i, kuvyrkayas', proletel dobryh dva grossa loktej. Sleduya za nim, Gorm potyanulsya k verevke, no vynuzhden byl ostavit' ee i perejti k oborone - lezvie iz kerosinovogo fonarya chuzhaka vyprostalos' eshche na lokot'. Gorm poproboval perepilit' ego, no rezak s vizgom otskochil, edva ne vyvalivshis' iz ruki. CHuzhak popytalsya plastanut' Gorma ognennym mechom, no Gorm legko ushel iz-pod udara. Tak povtorilos' raza chetyre. Gormu ne hotelos' probovat' na sebe boevye kachestva chuzhogo oruzhiya, hotya voobshche-to on byl uveren v sobstvennoj neuyazvimosti. Pytayas' obezoruzhit' neznakomca, Gorm rezanul ego po forsunke, iz kotoroj vyryvalos' plamya, no neznakomec podstavil keramicheskuyu rukavicu, i Gorm edva uspel otdernut' rezak - u neznakomca iz razryva v cheshujkah rukavicy bryznula, razbivayas' na vetru v mel'chajshie kapel'ki, krov'. Prizhimaya pokalechennuyu levuyu ruku k boku, chuzhak vnov' rubanul Gorma, popav na etot raz po odnomu iz vyrostov rogatogo obrucha. Udar byl tak silen, chto Gorm trizhdy perekuvyrnulsya v vozduhe, no i neznakomec poteryal ravnovesie. Vospol'zovavshis' etim, Gorm na vyhode iz vrashcheniya napoddal emu nogami v grud' i, kogda tot, prikryvayas' ot ataki, vystavil pered soboj mech, izo vseh sil udaril snizu po lezviyu vdrug ostanovivshimsya rezakom. Ruka chuzhaka s mechom dernulas' vverh, Gorm nyrnul pod lezvie i, dobravshis' nakonec do forsunki, nachisto ee svorotil. Ognennyj fakel ugas. - Kuapkana inugagsyuk, - prokrichal chuzhak, pokazav na rezak, i otbrosil ostatok svoego oruzhiya. - Poori mne, - Gorm spryatal rezak i polez za verevkoj. - Kasyahsyak, - neznakomcu verevka ne ponravilas', o chem svidetel'stvoval i zhest ego zdorovoj ruki. - Da ya na nej, nebos', i slonov vazhival, - Gorm priblizilsya k neznakomcu, derzha v vytyanutoj pravoj ruke petlyu. Neznakomec byl v zameshatel'stve - dostal kinzhal, primerilsya votknut' ego sebe v gorlo, potom zanykal obratno v nozhny. Vidya, chto iz poluotpilennoj ruki sopernika prodolzhaet hlestat' krov', Gorm schel dal'nejshuyu diskussiyu bespoleznoj, shvatil chuzhaka za kstati podvernuvshuyusya u togo na spine to li trubu, to li skobu i otvolok ego k vhodnoj dveri v chrevo Fenrira. Neznakomec vrode by ponyal, chto vstretil Gorma Spilennoe Derevo, s kotorym sporit' bespolezno, vo vsyakom sluchae, ne soprotivlyalsya. Prikinuv, chto ot vozduha v bryuhe Fenrira chuzhak skoree popravitsya, chem pomret, Gorm reshil posadit' ego v pustuyu vtoruyu kayutu zhilogo otseka, pomeshchenie donel'zya zahlamlennoe i tesnoe, gde zhili sobaki i hranilis' nekotorye instrumenty i te ohotnich'i trofei, ot kotoryh osobenno sil'no pahlo. Pravdu skazat', ot plennika pahlo ne namnogo slabee, i vdobavok neslo radioaktivnost'yu. Gorm dovel ego do pereborki, razdelyavshej shahtu i kayutu. Kogda pereborka razdvinulas', neznakomec posmotrel na sobak i okonchatel'no lishilsya chuvstv. |to miloserdno izbavilo ego ot ochnogo znakomstva s medicinskim iskusstvom Gorma. Kogda tri perepilennye kosti byli skleeny kleem dlya podelok iz organicheskih polimerov, a nervy i nekotorye sosudy kak popalo sshity leskoj, sovershenno vzmokshij Gorm soobrazil, chto v shahte valyalsya opticheskij shnurok s medicinskoj programmoj, rasporol vse shvy i zapustil universal'nogo robota. Na shnurke dva bajta v tablice adresov okazalis' nechitaemymi, poetomu v hirurgicheskij blok vnedrilsya fragment, upravlyavshij razdelkoj dichi vprok, tem ne menee robot blestyashche spravilsya s zadaniem, pravda, ostaviv neskol'ko vystrizhennyh, posolennyh i poperchennyh lohmot'ev myasa. Fenrir izvlek koe-kakie svedeniya o biologii i biohimii plennika, okazavshihsya dovol'no blizkimi k Gormovym, "hotya bez toj utonchennosti". Poetomu Fenrir risknul sostavit' krovezamenitel' i vvesti ego vnutrivenno vmeste s preparatom ukreplyayushche-snotvornogo dejstviya. Ostaviv neznakomca prihodit' v sebya v sobach'em protivoperegruzochnom kresle pod prismotrom robota i Fuamnah, Gorm zadvinul pereborku i poshel v golovnoj otsek sovetovat'sya s Fenrirom. - Nu i gadyushnik my razvoroshili! - Skunsyatnik! Kstati, eto zaprosto mogut byt' povstancy, tesnimye imperskimi, y, shturmovikami i prinyavshie nas za imperskih zhe, y, androidov. Otsyuda takaya strannaya reakciya. - Gorm pokosilsya na svoe otrazhenie v poverhnosti odnogo iz ploskih monitorov pul'ta. - Plennik kak raz vse i rasskazhet. Kstati, ego kater eshche letit za nami. ZHalko brosat'. YA dumayu - mozhet vyvesti na nizkuyu orbitu? - Poroj mne kazalos', chto ty zrya tak redko eto delaesh'. YA byl neprav. Luchshe ne dumaj - avos' sojdesh' za myslyashchee sushchestvo. Vo-pervyh, eta shtuka mozhet byt' zaprogrammirovana na samounichtozhenie, vo-vtoryh ona shest' raz razvalitsya, prezhde chem vyjdet v kosmos, v-tret'ih, chem ty stanesh' ee vyvodit'? - Vyrubit' dvizhok, zatashchit' pod silovoj shchit i prinajtovit' k tvoemu korpusu. - Ty kogda-nibud' plaval v reke svyazannyj spina spinoj s medvedem? - Ne vizhu analogii. - A kak ty vyklyuchish' motor? - Dvigatel' himicheskij. Okislitel' - yavno kislorod iz vozduha: vidal te dyry pered kryl'yami? Otkachivaem vozduh iz-pod shchitov, on sdyhaet. - Ne goditsya. Dlya etogo ego pridetsya s rabotayushchim dvigatelem vtyagivat' pod shchity. - Togda ya zakleyu vozduhozaborniki. - CHem eto? - Dazhe ne zakleyu, vo, a zab'yu penoj. Mne paru raz popadalsya pod nogi ognetushitel'. Potom snova zapravim. - Gorm prishchelknul na mesto respirator i vylez iz golovnogo otseka, otpihnuv po puti nogoj perevyazannuyu bechevkoj shkuru i sbiv rogom korobku pechen'ya s otkrytogo stellazha.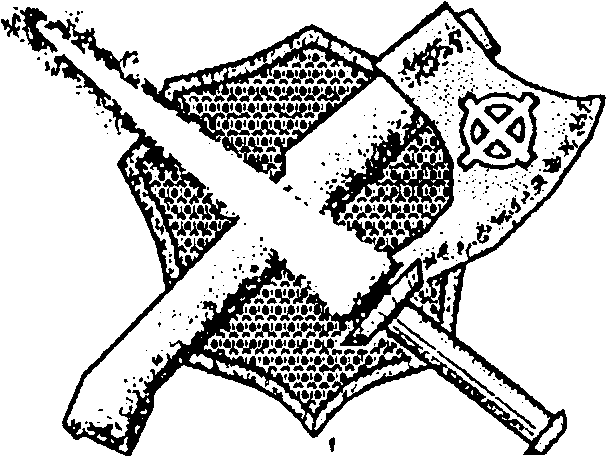 +--+ ++++++++ ++++++++ +--+ Kogda Kukylin prosnulsya, do pod容ma ostavalos' eshche polchasa. Sosed na kojke naverhu stonal i skrezhetal zubami vo sne, gde-to kapal s potolka kondensat, v polumrake vyrisovyvalis' mnogoetazhnye kojki i nary s grudami tryap'ya. Kukylin vspomnil, chto ego vyvelo iz ocepeneniya kakoe-to nepriyatnoe oshchushchenie, i tut vzglyad ego vstretilsya s goryashchim vzglyadom blizko postavlennyh krasnyh glazok. Krysa! Kukylin podtyanul nogi k podborodku i polez pod matras za rezinovoj podushechkoj s benzinom, k gorlovine kotoroj izolentoj byla prikruchena zazhigalka. Krysa, verno, pochuyala nedobroe i poshla k krayu matraca, no struya goryashchej zhidkosti nastigla ee. S merzkim piskom tvar' upala na pol, probezhala neskol'ko desyatkov shagov, potom zadergala lapkami i dogorela, lezha na levom boku. Durnoj znak! Kukylin zagasil tlevshij matrac i poproboval snova zasnut'. Povorochavshis' s boku na bok, on zamer, lezha na spine i ustavyas' v temnotu nad soboj. Segodnya prazdnik, podumal on. Den' konstitucii. Vydadut dopolnitel'no kruzhku vody i kubik koncentrirovannogo supa, a vecherom mozhno budet vmesto zanyatij shodit' na postoyalyj dvor v bardak. No eto vryad li. Navernyaka sejchas podnimut po trevoge, mozhet byt', dazhe bombezhka budet, i obyazatel'no kogo-nibud' ub'yut. Mozhet byt', ves' otryad nakroet, no, skoree vsego, pogibnet kto-nibud' iz druzej ili on sam. Horosho by uspeli razdat' paek. Razvedu i vyp'yu ves' kubik celikom, a tam pust' ubivayut. Ili net - polkubika namazhu na hleb, a ostal'noe razvedu i vyp'yu. S etoj mysl'yu Kukylin uzhe nachal zasypat', kogda kto-to zatryas ego za plecho. |to byl Syaguyagnitu, potomstvennyj oruzhejnik roda Kukykyvak. - Prosypajtes', barin, trevoga. Narushitel' v nashej zone patrulirovaniya, - skazal on, vse eshche vcepivshis' kleshnej proteza v plecho Kukylina. - A ty otkuda znaesh'? - YA do vetru hodil, barin, a na obratnom puti glavnyj hod perekryli, prishlos' cherez masterskuyu dobirat'sya. Izvol'te odevat'sya, sejchas sireny zavoyut. Idya nizkim, s oslizlym svodom i redko visevshimi tusklymi lampami, hodom, Kukylin razmyshlyal o tom, v kakom zhalkom sostoyanii pridetsya emu vzglyanut' v lico smerti - nos zalozhen, yazyk raspuh i sdelalsya zhestkim, kak terka, vo rtu s pozavcherashnego dnya nichego net, ne schitaya kruzhki lukovoj pohlebki. Vse-taki v otryade agii Kamysnapa kormyat kazhdyj den'. Horoshee mesto. Bezopasnaya kazarma gluboko pod zemlej, plata dva zolotyh v mesyac - eshche tri goda sluzhby, i on rasplatitsya s dolgami otca. Esli ran'she ne ub'yut, podumal on. Za neuplatu dolga baron, chego dobrogo, prodast sester upravleniyu obsluzhivaniya armii ili, togo huzhe, voz'met k sebe v usad'bu. Vprochem, esli segodnya ne ub'yut, mozhno budet, rasplativshis', vyzvat' barona na poedinok i vytopit' salo iz ego bryuha. Kukylin poveselel. No krysa tak prosto ne pridet smotret' na tebya spyashchego. Gospodi, daj prozhit' hot' tri goda i nedelyu, vzmolilsya Kukylin. Zaryadiv gazovoj smes'yu ballony mecha, oruzhejnik koposhilsya za ego spinoj, vstavlyaya v yachejki na poyase brikety topliva. Zavyli sireny, pomerk svet. Kukylin s oruzhejnikom poshli k kuhne, no peregorodka uzhe zadvinulas'. - Svolochi, past' im na portyanki porvat', - proburchal Syaguyagnitu. - na zashchitnikov zemli Kygmikskoj pohlebki zhaleyut. Ub'yut segodnya chetveryh natoshchak, vot i budet povaram na kurevo. S容sh'te, barin, ya s pozavcherashnego dnya pripas, - i on dostal iz-za pazuhi gorbushku, sverhu polituyu vyazkim mesivom. - Spasibo, - otvodya ruku s ugoshcheniem, skazal Kukylin. Ne govori na kuhne, esli menya ub'yut. Segodnyashnij racion oni obyazany vydat' na menya v lyubom sluchae. I pozabot'sya o sestrah, esli chto. - YA zhivogo vas ne broshu, i mertvogo ne predam - tak ya eshche pokojnoj baryne poklyalsya. Uzh bud'te pokojny. Kukylin podnyalsya na nazemnyj KP pervym iz rycarej. Knyaz' Kamysnap, sklonivshijsya k radarnomu ekranu, korotkim kivkom otvetil na ego poklon. Iz priemnika na stole donosilas' edva slyshnaya skvoz' tresk atmosfernoj statiki programma kygmikskoj radiostancii. - Smotrite, Kukylin, - skazal knyaz', - zvuk ot ch'ih-to motorov est', a radar slep. U vas zorkie glaza, posmotrite, ne vidno li chego na nebe v binokl'. Smorshchennoj, v korichnevyh pigmentnyh pyatnah rukoj, na kotoroj nedostavalo bol'shogo pal'ca, knyaz' vynul iz yashchika stola velikolepnyj futlyar s serebryanoj nasechkoj. Berezhno prinyav ego, Kukylin dostal ottuda binokl' s fotoumnozhitelem starinnoj raboty, po vintovoj zheleznoj lesenke podnyalsya na ploskuyu kryshu komandnogo punkta i privychno osmotrel gorizont. Ego vzglyal skoro ostanovilsya na dikovinnoj gorbatoj teni v raduzhnom oreole, polzshej po krayu neba nad gornoj gryadoj v chetyrnadcati ligah ot doliny. Ten' ugrozhayushche bystro rosla. Vozduh napolnil nizkij, na predele slyshimosti, gul, vselyavshij neob座asnimyj uzhas v dushu. Kukylin spustilsya s kryshi. Gul byl slyshen i v pomeshchenii. Knyaz' uzhe otdaval prikaz na vzlet Hugagyrgynu i ego sozhitelyu Majyrahpaku, byvshim na boevom dezhurstve. Stolknuvshis' v dveryah, oba naemnika pobezhali k samoletam, uzhe revevshim turbinami na startovoj pozicii. Knyaz' navyazyvaet chuzhomu beschestnyj boj - dvoe na odnogo, neodobritel'no podumal Kukylin. Konechno, emu vazhno tol'ko spokojstvie granic, a u naemnikov kakoe ponyatie o chesti? Naemniki podozritel'no legko seli vragu na hvost i priblizhalis', gotovyas' rasstrelyat' ego. - Beregite rakety, - skazal knyaz' v mikrofon blizhnej svyazi. - Horosho, hozyain. Pravdu skazat', na takogo urodca i puli zhalko, - propishchal v reproduktore golos Majyrahpaka. Vnezapno razdalis' kakie-to harkayushchie zvuki i gnusavyj golos trizhdy proiznes: " Da prodlitsya nashe procvetanie tysyachu let!" Kamysnap, Kukylin i neskol'ko monahov-smertnikov, pribezhavshih na KP, stali oglyadyvat'sya po storonam, ishcha istochnik zvukov, poka ne soobrazili, chto oni donosilis' iz radiopriemnika. - Hozyain, ego ne berut puli! - prokrichal Hugagyrgyn cherez voj pomehi. - Poprobuyu rakety! - Skotolozhec i syn skotolozhca! Ih stoimost' ya vychtu iz tvoego zhalovan'ya! - knyaz' byl vzbeshen, no rakety uzhe dogonyali vraga. Bezobraznyj beskrylyj samolet-narushitel' ruhnul, kuvyrkayas', vniz, u samoj zemli nepostizhimym obrazom vyrovnyalsya i snova nabral vysotu. Rakety ushli v zemlyu. - Eshche odin promah, i deti detej tvoih ne rasplatyatsya so mnoj! - procedil knyaz' skvoz' nemnogie perezhivshie prevratnosti sud'by zuby. Radio snova harknulo, potom iz nego polilis' zvuki, podobnyh kotorym ni Kukylin, ni knyaz', ni drugie rycari, monahi i dobrovol'cy, zhdavshie na KP prikazanij, v zhizni ne slyhivali. Rev, voj, hrip, grohot, stony i utrobnoe rychanie, slitye v koshmarnyj namek na edinuyu melodiyu, nizverglis' na nih podobno gradu iz radioaktivnyh oblomkov. Naemniki dazhe ne uspeli izgotovit'sya k raketnomu zalpu - vrag snova zakrutilsya v vozduhe i prizhalsya k zemle. Majyrahpak poproboval sdelat' to zhe, no sbil machtu radioantenny i vzorvalsya. Knyaz' soprovodil ego vstuplenie v vozdushnyj legion mertvecov nebol'shoj rech'yu: - Tvorec oblagodetel'stvoval ego legkoj smert'yu. Rasporyadis' providenie ne stol' miloserdno, ya sobstvennoruchno udavil by etogo vykormysha sil t'my ego zhe kishkami. Moya poslednyaya antenna! Kto zhe on - rycar' gorbatogo samoleta, gadal Kukylin. Kak dostojno on uklonilsya ot boya s naemnikami. Esli pridetsya umeret', horosho by hot' ot ruki takogo. Reproduktor peregovornogo ustrojstva blizhnej svyazi vopil: - Da za polovinu moyu ya tebe yajca otpilyu po odnomu! Vyhodi, suka, vyhodi, padla, vyhodi, vor'e poganoe! |to Hugagyrgyn pokidal povrezhdennyj samolet, gotovyas' k poedinku. Vrag, pohozhe, prinyal vyzov - on snizil skorost' i letel ryadom s istrebitelem naemnika, no pochemu-to medlil s vyhodom. Prodolzhaya vykrikivat' rugatel'stva, Hugagyrgyn podletel k priplyusnutoj i zaostrennoj perednej chasti samoleta-narushitelya. Vnezapno potok ego ponoshenij oborvalsya, odnovremenno stihla i zhutkaya melodiya iz radiopriemnika, i posle nebol'shoj pauzy razdalsya zhutkij istericheskij vopl' Hugagyrgyna: - |to Pupihtukak, ya uznal ego! Nevedomaya sila v tot zhe mig shvyrnula ego v ognennuyu struyu, izvergaemuyu samoletom-chuzhakom. Zloveshchij prishelec sadilsya na glavnuyu polosu aerodroma. Raduzhnoe siyanie vokrug ego korpusa pomerklo, i stala otchetlivo vidna uzkaya polosa okon, nedobro otlivavshie ognem znaki, nachertannye na skoshennyh ploskostyah v hvostovoj chasti, i mnogochislennye lyuki i vystupy neponyatnogo naznacheniya. Posle korotkoj probezhki samolet ostanovilsya. Iz lyuka v priplyusnutoj chasti ego korpusa vyletel nekto v latah i s rogami na shleme. On spustilsya nazem' podle dogoravshego trupa Hugagyrgyna, perevernul ego, postoyal nemnogo i strannoj pohodkoj poshel k svoemu samoletu. Kto-to iz dobrovol'cev narushil voznikshuyu na KP tishinu: - U nego ne gnutsya nogi - tak hodyat mertvecy. - K oruzhiyu! Strelyajte - on dvizhetsya k nam! K boyu samolet-torpedu! Neskol'ko chelovek, vyvedennyh iz ocepeneniya prikazami knyazya, vyalo pobezhali k torpednomu angaru. Kukylin ne mog ponyat', yav' vokrug nego ili son. On videl, kak razryvnye puli otskakivali ot broni samoleta-prizraka, kak vzorvalas' torpeda, okonchiv zhizn' monaha-smertnika |ketamyna. CHuzhak letel v napravlenii Kygmika. - Ty ne dolzhen propustit' ego k moemu zamku. Vyzovi ego na poedinok. Esli tebe udastsya ostanovit' ego, ya podaryu tebe ili tvoim naslednikam sto zolotyh i yashchik luchshih myasnyh konservov. Mal'chik moj, ty moya poslednyaya nadezhda. Poletish' na moem istrebitele s avtopilotom. Esli tol'ko uceleesh', schitaj, chto on tozhe tvoj, - knyaz' vel Kukylina k podzemnomu angaru. Tochno, ya ne perezhivu etogo dnya, a, mozhet byt', i dushu svoyu zagublyu, no sto zolotyh! Toska smenilas' v serdce Kukylina uverennost'yu - on nashel svoyu sud'bu, ostavalos' tol'ko okazat'sya dostojnym ee. No, kogda on ostavil obitoe potertoj, no vse eshche roskoshnoj vorsistoj tkan'yu pilotskoe kreslo i podletel k kabine samoleta-prizraka, on ne nashel v sebe sil zaglyanut' vnutr'. _ Idem na poedinok! - krichal on, pytayas' poborot' probiravshuyu do kostej drozh'. - Idem! V naushnikah zatreshchalo, zatem razdalsya golos, hriplyj, bul'kayushchij i gnusavyj, takoj, chto Kukylinu pochudilos', chto v lico emu pahnulo smradnym dyhaniem ozhivshego trupa: - Idem na poedinok! - Srazimsya, kak podobaet! - skazal Kukylin soperniku, kogda tot izgotovilsya k boyu. K schast'yu, vrag byl v zakrytom shleme, no vse ravno vyglyadel grozno i zloveshche, vdvoe shire Kukylina v plechah, zakovannyj s nog do golovy v chernuyu s krasnovatym otlivom bronyu, s mechom v levoj ruke i edinstvennym reaktivnym pistoletom v pravoj. Na bezobraznoj lichine shlema bagrovo svetilsya shchitok zabrala, sochleneniya kirasy s gofrirovannymi manzhetami plechevyh sustavov byli utykany ostrymi shipami, shipy i kryuch'ya torchali na zapyast'yah, nad kolenyami i na sapogah. Za plechami rycarya t'my so svistom vtyagival vozduh ogromnyj ranec, na grudi i zhivote toporshchilsya mnozhestvom karmanov odetyj poverh kirasy zhilet. Vrag prohripel chto-to i sdelal ugrozhayushchee dvizhenie rukoj, derzhavshej mech. Kukylin zazheg fakel svoego mecha, i, edva bitva nachalas', srazu ponyal, chto obrechen. Voin samoleta-prizraka prevoshodil ego v manevrennosti i obladal nechelovecheskoj reakciej. Byl moment, kogda vrag chut' ne otrubil emu obe ruki, no pochemu-to otvel mech. Vsled za etim Kukylinu tozhe udalos' nanesti dobryj udar, ot kotorogo sopernik ne vdrug opravilsya, no nevidannyj priem s udarom nogami, obezoruzhivshij Kukylina, opredelil ishod shvatki. - Ubivaj, mne nechem platit' vykup, - Kukylin ukazal protivniku na mech, otbrasyvaya stavshij bespoleznym efes. Pobeditel' tol'ko prohripel chto-to, raskruchivaya strashnuyu verevku, kotoraya, kak zhivaya, tyanulas' k Kukylinu. Vspomniv predskazaniya Knigi Postydnyh Otkrovenij o Pupihtukake, Kukylin reshil pokonchit' s soboj, no odumalsya - ego zhizn' prinadlezhala teper' pobedivshemu ego v chestnom boyu rycaryu, kto by on ni byl. Sily bystro pokidali Kukylina vmeste s krov'yu, struivshejsya iz rany na levoj ruke. Rycar' v rogatom shleme vlek ego k svoemu samoletu. Otkrylsya lyuk, i pered Kukylinom predstal temnyj koridor, iz kotorogo polezli na nego mnogorukie i mnogonogie tvari, panciri kotoryh otlivali metallicheskim bleskom. Na stenah i na polu viselo i lezhalo nelyudskoe oruzhie, knigi v chernyh perepletah s koldovskimi znakami i zloveshchie amulety perepolnyali sunduki. Kukylin uvidel, kak stena pered nim rastvorilas' v vozduhe, i vstretilsya glazami s nemigayushchim prozhektornym vzglyadom usatogo, borodatogo i mohnatogo chudovishcha, polusidevshego-polulezhavshego na serebryanom trone, zalitom krov'yu. Plakali vashi sto zolotyh, bednye sestrichki, podumal Kukylin, teryaya soznanie. No rycar' t'my bol'no obhvatil ego za plechi, i pryamo v golove u Kukylina prozvuchal golos. On byl lishen tembra i intonacii, potomu chto Kukylin slyshal ego ne ushami. Golos vozvestil: - Mysli tvoi prochitany, dusha tvoya vzveshena. Ty dostoin svidetel'stvovat' o moem prihode. Von otsyuda. Kukylina ob座alo bespamyatstvo. Kogda on ochnulsya, vokrug bylo temno. Dul promozglyj veterok, nesshij zapah gribov i pleseni. Gde-to vdali zabrezzhili ogon'ki. Processiya s fakelami shla po koridoru s kamennym polom i nizkim svodchatym potolkom. Razdavalos' tonen'koe vizglivo-zaunyvnoe penie. Figury v shestvii nikak ne pohodili na chelovecheskie, no otlichalis' i ot krysinyh. Kogda shestvie priblizilos', Kukylin ponyal, chto eto ezhiki. Perednie pyat' ezhikov derzhali v lapkah podushechki iz cherno-krasnoj tkani v goroshek, na kotoryh lezhali zolotye chetverokonechnye zvezdochki. Za nimi vosem' ezhikov nesli malen'kij chernyj grob s zolotoj koronoj na kryshke. Zatem sledovali muzykanty, instrumenty kotoryh byli sdelany iz krysinyh kostej, zhil i shkurok, i tolpa prosto ezhikov s fakelami. Ne obrashchaya na rasprostertogo v nishe Kukylin nikakogo vnimaniya, processiya udalyalas'. Odin iz zamykayushchih shestvie povernul golovku i prokrichal vysokim nadtresnutym goloskom: - Peredaj Kayaksigviku, chto staryj Sigvikkayak umer! Fakelonoscy skrylis' za uglom, i vse skrylos' vo mrake. Kukylina mutilo, emu hotelos' pit'. Levaya polovina tela oderevenela. Sosredotochivshis', on so vtoroj popytki otlepil yazyk ot neba i s shurshaniem provel im po potreskavshimsya gubam, potom, boryas' s pozyvami na rvotu, vstal na chetveren'ki i popolz v storonu, otkuda dul veterok. CHerez nekotoroe vremya vperedi poslyshalos' zhurchanie vody. Kukylin pochuvstvoval, chto plita pod nim perevorachivaetsya, i upal v potok. Voda byla prohladnoj i ne ochen' bystroj. Kukylin ne risknul pit', no posle nedolgoj bor'by s soboj propoloskal rot i gorlo. Techenie uskoryalos', Kukylin pochuvstvoval, chto ego zatyagivaet vodovorot, i odnovremenno uvidel svet. Voda snova vynesla ego na poverhnost' v vysokom dvusvetnom chertoge s prorublennymi v odnoj iz sten ryadami okon. Na kamennom altare stoyalo zalyapannoe pometom ptic i letuchih myshej ogromnoe, v tri chelovecheskih rosta, izvayanie, izobrazavshee strashnogo zverya, pokrytogo borodavkami, utykannogo iglami, tolstonogogo i tolstomordogo. U podnozhiya altarya na grude tryap'ya raspolozhilas' sem'ya kochevnikov - starik v shapke s ushami, dva muzhchiny i zhenshchina. V nishe vhoda v podaltarnuyu sokrovishchnicu gorel kosterok, nad nim, podveshennyj k vidavshej vidy trenoge, visel zakopchennyj tagan. Pohlebka iz krys, podumal Kukylin, vybirayas' iz razloma v polu, po dnu kotorogo bezhala voda. Muzhchiny zametili ego i poshli navstrechu, derzha nagotove garpuny s zheleznymi ostriyami. - Dobroj edy, ohotniki, - Kukylin edva smog vspomnit' slova privetstviya na yazyke kochevnikov, no muzhchiny opustili kop'ya. - I tebe togo zhe, cheloveche. Kto ty i pochemu govorish' po-nashemu? - YA rycar' Kukylin. Moj otec dal priyut klanu Yktygdyn na svoih zemlyah. Kogda ya byl mal'chishkoj, ya odno leto kocheval s nimi. - Ponyatno, pochemu ty ne uspel zabyt' yazyk! Sami my klana Akagvyrmyrtyn, menya zovi Kyhtyvak, moego brata |ketyguk, a starik - nash dyadya. A chto ty delaesh' zdes'? - Moya istoriya takaya strannaya, chto ya i sam edva mogu v nee poverit'. YA popal syuda volej mertvecov. - Voistinu li sam ty zhivoj chelovek? Garpuny snova podnyalis', no tut nizkoroslyj gorbatyj kochevnik chto-to shepnul svoemu tonkonogomu, puzatomu i lysomu tovarishchu, govorivshemu s Kukylinom, tot uper garpun v pol i zahihikal, tryasya bryuhom: - Ch-ch-ch, u pokojnikov ne byvaet murashek na kozhe! Idi k kostru, dobryj chelovek, i razdeli s nami vse, chto imeem. Spustya nekotoryj srok Kukylin, nakormlennyj krysyatinoj i sushenoj bryukvoj, s bol'shim trudom otkazalsya ot zhenshchiny, kotoroj nastojchivo predlagali popol'zovat'sya gostepriimnye kochevniki i, berezhno prizhimaya k grudi levuyu ruku, zasohshuyu ranu na kotoroj smazali krysinym zhirom i perevyazali tryapicej, nachal, kak togo treboval obychaj, rasskaz o svoih priklyucheniyah. Uslyshav imya rycarya, v poedinok s kotorym otvazhilsya vstupit' Kukylin, |ketyguk i Kyhtyvak zaprichitali, obhvativ golovy rukami i raskachivayas', a starik sorval s morshchinistoj, kak yajco yashchericy, golovy shapku i zakrichal neozhidanno gustym golosom, obnazhaya rozovye bezzubye desny. Gorbun zatreshchinoj zastavil ego zamolchat', i Kukylin prodolzhil rasskaz. Kogda on pereshel k svoemu poyavleniyu v podzemel'e i vstreche s pohoronnoj processiej, otkuda-to sverhu razdalos' hlopan'e kozhistyh kryl'ev. Ogromnaya staya letuchih myshej, dnevavshaya na potolke chertoga, vspoloshilas' i ustremilas' k oknam, na neskol'ko mgnovenij polnost'yu zatmiv svet. Poveyalo holodnym vetrom, i Kukylinu pokazalos', chto v temnote podnozhie altarya zazhglos' bagrovym ognem. - U etih peshcher est' sokrovennye tajny, - opaslivo ozirayas', nachal gorbun, no puzatyj prerval ego: - A dal'she-to chto? - Mozhet, potom doskazhu? - Kukylin oshchutil smutnoe bespokojstvo. - Sejchas davaj! Za nami byl uzhin, za toboj rasskaz! Kuda eto dyadya podevalsya? ZHenshchina, ostanovi ego! Starik na chetveren'kah polz k vyhodu, ritmichno podvyvaya. ZHenshchina perestala smatyvat' provoloku v klubok i pokovylyala za nim. Kukylin pristroil ruku poudobnee i prodolzhil: - Za grobom shli fakel'shchiki. Kogda vse ezhiki proshli mimo, poslednij kriknul mne: "Peredaj Kayaksigviku, chto staryj Sigvikkayak umer!" Na altare zagrohotalo. Otchayanno zavopil puzatyj, nogi kotorogo razdrobila upavshaya plita oblicovki. Kukylin i gorbun uspeli pod gradom kamnej otskochit' k stene. Kamennyj zver' otodral lapy ot altarya, sprygnul vniz i, drobya plity pola, sdelal neskol'ko shagov. S konchikov ego igl sbegali iskry, glaza goreli pul'sirovavshim zelenym ognem. Zver' otverz past' i golosom, podobnym revu raketnogo uskoritelya, proiznes, ustavyas' na Kukylina: - Verno li,chto Sigvikkayak umer? Ne v silah sovladat' s otvisshej chelyust'yu, Kukylin kivnul golovoj. - Znachit, teper' ya - direktor lesopilki! - prorevelo chudovishche, s lyazgom zahlopnulo past' , podnyalos' v vozduh na chetyreh struyah raskalennyh gazov, probilo dyru v svode i ischezlo. Pod nogami Kukylina i kochevnika stal treskat'sya pol. Gorbun, ushiblennyj oblomkom altarya, nelovko perebiral ogromnymi stupnyami, starayas' ne stoyat' nad treshchinami. Kukylin, ishcha opory, vcepilsya v vystup steny, tot so skrezhetom podalsya, i ogromnyj blok povernulsya vokrug svoej osi, uvlekaya Kukylina vo t'mu. Kukylin popytalsya snova otkryt' kamennuyu dver', no rychag ischez v vyemke steny. Tem vremenem ego glaza nachali privykat' k mraku, i on uvidel tonnel', ozarennyj slabo brezzhivshim prizrachnym svecheniem. Na polu nevysokim sloem stoyala voda, nad poverhnost'yu kotoroj ugadyvalis' s容dennye rzhavchinoj rel'sy. Kukylin poshel na svet i vskore uvidel vagonetku, pered kotoroj vystupali iz vody loshadinye kosti. Podojdya k vagonetke, Kukylin prislonilsya k vysokomu bortu i ostorozhno potrogal remni povod'ev. Let pyat' tak stoit, ne men'she, podumal on. Neozhidanno mezhdu sgnivshih reber skeleta nachalos' strannoe dvizhenie. Peredvigayas' v vode podobno piyavkam, zhguty kakoj-to temnoj massy prisasyvalis' k kostyam, nekotorye pronikali mezhdu reber i svivalis' v klubki vnutri grudnoj kletki. Svechenie usililos', poyavilsya gnilostnyj zapah. Kukylin v uzhase smotrel, kak kosti oblekalis' plot'yu, poka ne voznik otvratitel'nyj kadavr, bez shchek, s goloj smorshchennoj kozhej i visevshimi iz treh dyr v zhivote zelenymi svetivshimisya kishkami. Po telu kadavra volnoj proshla sudoroga, on drygnul nogami, podzhal ih pod bryuho i popytalsya vstat'. Ne uderzhavshis' nad vodoj na drozhashchih nogah, kadavr ruhnul i rassypalsya. Kuski gnilogo myasa s chavkan'em otleplyalis' ot kostej i perepolzali s mesta na mesto, poka ne voznikla novaya rekombinaciya. Krysy ot容li nekotorye chasti, dogadalsya Kukylin, i poetomu on ne mozhet sobrat'sya polnost'yu. Vtoroj kadavr eshche menee pohodil na loshad'. Iz ego glaznic torchali pryadi mokryh volos, na konce mordy shevelilsya razdvoennyj hobot, a iz-pod yazyka zlobno smotrel ogromnyj sizyj glaz. Kadavr podnyalsya na nogi. Zlovonnoe dyhanie so svistom vyryvalos' iz zhabernyh shchelej mezhdu rebrami. Tvar' motnula golovoj i, razinya rot, povernulas' k Kukylinu. On, nakonec, ponyal, chego hochet kadavr, i pustilsya bezhat'. No rekombinaciya okazalas' dostatochno ustojchivoj i, otorvav oglobli ot peredka prirosshej k rel'sam vagonetki, brosilas' v pogonyu. Kukylin bezhal izo vseh sil, no sorevnovanie bylo neravnym. Neskol'ko mgnovenij - i gnilye zuby, obmazannye svetyashchejsya sliz'yu, vpilis' v venu Kukylina. - Idiot, - pochti laskovo skazal Fenrir. - Nu kto zh tak kolet. Ty by eshche u nego na zadnice venu poiskal. - Otstan', volchina! - vooruzhennyj veterinarnym in容kcionnym pistoletom Gorm byl nastroen krajne voinstvenno. - Ty medicinski nekompetenten i otstranen ot praktiki. CHto za narkotu ty emu vlil? - Obychnoe uspokaivayushchee, recept iz narodnoj mediciny. - Togda chto on mechetsya, kak beshenyj oboroten' na kapishche boga volkov? - Nu, ya ne vinovat, chto na nego bezobidnaya vytyazhka iz muhomorov podejstvuet, kak sil'nejshij gallyucinogen! - Aga, vot i vena nashlas', - Gorm oporozhnil pistolet, ne obrashchaya vnimaniya na vopli i sudorozhnye telodvizheniya plennika. Po otseku raspolzalas' nepravdopodobnaya v svoej gustote von' - redkij sort ovech'ego syra, tret'ego dnya razmorozhennyj Gormom k zavtraku i zabytyj v otkrytoj upakovke, nakonec pokazal sebya.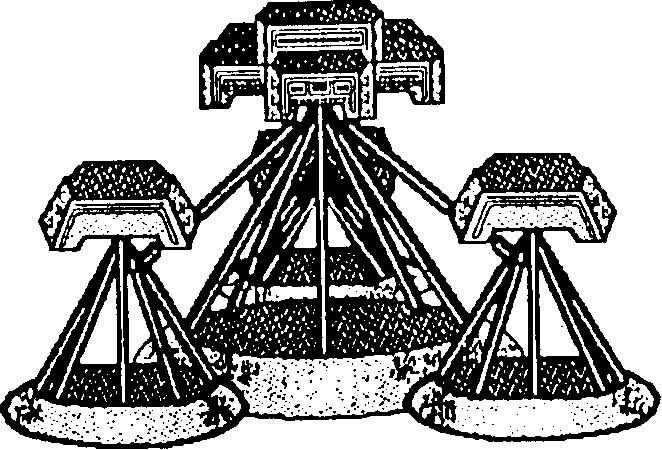 +--+ ++++++++ ++++++++ +--+ Radioaktivnye tuchi, klubivshiesya u vershin ugryumyh Tanniritskih gor, spustilis' vniz, proliv smertonosnyj dozhd' na zemlyu Ratkin. Nad ravninami Tanakluka i Kyhtyka vozduh zapolonili stai ogromnyh chernyh ptic, nikogda ne sadivshihsya na zemlyu. Odin smel'chak, otvazhivshijsya dva dnya nablyudat' za nimi iz gorelogo tanka, rasskazyval, chto pticy ob容dinyalis' v podobiya mechej i kayugunov, a odin raz sostavili figuru rogatogo prizraka, shagavshego cherez holmy k drevnej kreposti Sanlyk, razvaliny kotoroj vse eshche svetilis' v osobenno temnye nochi, i kogda prizrak etot proshagal nad tankom, skelet mehanika-voditelya zashevelilsya i polozhil svoi obgorelye ruki na rychagi upravleniya. V selenii Nunligran nekaya zhenshchina rodila dvuhgolovogo rebenka, odna golova kotorogo byla ptich'ya, no s zubami, a drugaya - kak u sobaki, no s usami i borodoj. Rasskazyvali i o tom, chto chudovishcha s morya, ne dovol'stvuyas' vlast'yu nad poberezh'em, poshli vojnoj na sushu. No eti sluhi byli tak strashny, chto vse nazyvali ih lozhnymi, v dushe odnako buduchi uverennymi, chto tak ono i est' i konec nedalek. Novyj 1872 god ne sulil dobra. Odnako dlya barona Nakasyunalyuka on nachinalsya neploho. Ego bronevik, okutannyj klubami vonyuchego dyma, katilsya po doroge na Mamrohpak, podprygivaya i lyazgaya kryshkami lyukov na bugrah. Posle nabega na usad'bu Tapkak sredi Nakasyunalyukovoj dobychi okazalos' desyat' cinok s patronami, tak chto dlya razvlecheniya mozhno bylo izredka vypustit' iz bashennogo pulemeta ochered'-druguyu po domam pridorozhnoj derevni ili po skryuchennym krest'yanam, nevest' chto vozdelyvavshim v po shchikolotku zasypannyh peplom polyah. Ostavlyaya za soboj hvost mazutnogo ugara, krepko sdobrennogo ispareniyami pereprevshego pota i dymom narkoticheskih kurenij, mashina vzbiralas' na holm Majigak, natuzhno voya peregretym motorom i stucha razdolbannymi podshipnikami. Vnutri shla obychnaya rugotnya. - Ne tolkaj pod lokot', ty, der'mak! - Zasun' svoj lokot' sebe v zadnicu, gnilaya shishka! - Sam gnilaya shishka, stervyatnik zhirnyj, koshkolyub! Hryas'! V prodymlennom salone tol'ko po voyu postradavshego mozhno bylo ponyat', za kem ostalas' pobeda v spore. Iz-za stellazha so snaryadami donosilos' priglushennoe blevanie. - Vse vy kozly potnye! A ya vot tut uvidel nechto zamechatel'noe! - CHego? - Nygfukak, prosnis', detochka! Trah! Trah! Trah! - Kogda v sleduyushchij raz budesh' kogo-nibud' budit', luchshe bej po bashke sebya - ona u tebya zvonche kolokola. CHto nado? - Da ya vot tut uvidel - u tebya portyanka soprela i razvalilas', tak u tebya takaya urodlivaya noga, chto, dumayu, ni u kogo za sto lig okrest takoj ne syshcheshch'! |j, svetu dajte! CHerez neskol'ko minut vse osmotreli Nygfukakovu nogu i soglasilis' s baronom. Razbuzhennyj tremya udarami torcovym klyuchom Nygfukak pochesal grud', vytashchil iz shchetiny ne podborodke otchayanno soprotivlyavshegosya tarakana i, s hrustom otkusiv emu golovu, skazal: - Malo najdetsya na svete takogo, chemu nel'zya bylo by otyskat' paru. Naverno, tak i s moej nogoj. - Hochesh' zaklad, chto drugoj takoj nogi ne syshcheshch'? - sprosil baron. - Idet. CHto stavish'? - Vot! - baron sorval remen', neplotno zatyagivavshij gorlovinu odnogo iz meshkov, na kotoryh sideli druzhinniki, i vytashchil ottuda za sputannye volosy chumazuyu devahu, tonen'ko skulivshuyu na odnoj note. - Pevica zamechatel'naya! - i on kinul devahe lyutnyu, vytashchennuyu iz drugogo meshka. - Poj, plyugavka zasalennaya! Devaha prodolzhala skulit', poka neskol'ko chelovek odnovremenno ne pnuli ee v spinu. Togda ona neuverenno vzyala paru akkordov i zapela: - "Pobojsya boga," - skazal mne otec. "YA videl dalekie dni. YA videl sonmy zhestokih serdec. Toboyu razbity oni". Dymilsya yadom cerkovnyj portal, Mogily istorgli gnoj. "Pobojsya boga," - otec mne skazal. "Raskayan'em dushu omoj." - Dostatochno, - Nygfukak zatolkal devahu obratno v meshok. - Vidno, pridetsya ee upotrebit' po pryamomu naznacheniyu. - Da, no ona ne v tvoem vkuse - slishkom razvita. Mozhet, smenit' zaklad? - Nichego, lishnee vsegda mozhno otrezat'. Stavlyu chajnik protiv devki! CHajnik Nygfukaka byl nikelirovannyj - redkostnaya veshch'. - Ne progadaj. Nygfukak tol'ko usmehnulsya, pokazav redkie chernye zuby, i smotal portyanku s drugoj svoej nogi. - Posmotri teper', baron, na moyu pravuyu nogu. Ona urodlivee - ved' na nej net treh pal'cev. YA vyigral! - Net, ta noga urodlivej, ved' na nej shest' urodlivyh pal'cev, a na etoj tol'ko tri! Otdavaj chajnik! - Dym na gorizonte! - zakrichal pulemetchik. - Davaj tuda! - baron plyuhnulsya v kreslo ryadom s voditel'skim. - Ne inache - grabyat! Kogda bronevik podnyalsya na vershinu holma, stalo yasno, chto na pozhivu rasschityvat' ne stoilo. V nizine goreli dva tanka mamrohpakskoj strazhi, eshche odin erzal gusenicami po kuche motociklov, a u samoj dorogi strazhniki gotovilis' rubit' golovy plennikam v kozhanyh kurtkah, koe-gde proklepannyh metallom. Plenniki sideli svyazannye za nogi odnoj verevkoj na povalennom telegrafnom stolbe. Poka Nakasyunalyuk i ego lyudi pod容hali k mestu stychki i vylezli iz bronevika, kapral uspel zarubit' benzomechom dvoih, sidevshih s krayu. - Kto takie? - sprosil baron u soldata, kivkom ukazav na plennyh. - Tangity, vashe siyatel'stvo. Obradovannye besplatnomu razvlecheniyu, druzhinniki sgrudilis' okolo palacha, nablyudaya za ego rabotoj. Baron podoshel k odnomu iz tangitov i, dav emu nozh, skazal: - Esli eshche budesh' chto-nibud' soobrazhat', kogda u tebya otrubyat golovu, votkni ego v stolb. Golova sletela s plech, i nozh vypal iz ruki na zemlyu. Sleduyushchij tangit byl krasavec s dlinnymi volosami. On zakinul volosy vpered i, otlozhiv oshipovannyj vorotnik, podstavil sheyu i skazal: - Ne zamarajte mne krov'yu volosy. Odin soldat hotel vzyat' ego za volosy, no tangit ostanovil ego i velel podojti drugomu: - Ne ty, u tebya ruki gryaznye. Kogda soldat uhvatilsya za volosy i stal ih krepko derzhat', kapral vzmahnul mechom. Tangit otdernul golovu, i tot, kto derzhal ego volosy, ot neozhidannosti podalsya vpered. Mech obrushilsya na ego ruki, otsek ih i vrezalsya v zemlyu, razbrasyvaya v storony suhie kom'ya. Na mgnovenie kapral okazalsya povernutym spinoj k sosedu dlinnovolosogo, i tot udaril ego golovoj v spinu, tak chto palach svalilsya nichkom. Dlinnovolosyj vyhvatil mech iz ego ruki, razrubil puty sebe na nogah, razvalil palacha vdol' pozvonochnika, kak myasnuyu tushu, ot shei do krestca, polosnul koncom mecha po grudi strazhnika s avtomatom, pererubaya remen', perekinul mech sosedu, podhvatil avtomat i, dlinnoj ochered'yu skosiv ohranu i dvuh baronskih druzhinnikov, brosilsya k broneviku. Tankovyj pulemet otvetil neskol'kimi vystrelami, no tank byl povernut k brevnu bokom, tak chto tangity okazalis' v mertvoj zone i puli proshli, nikogo ne zadev. Zagudel motor, nachala povorachivat'sya orudijnaya bashnya, no osvobozhdennye plenniki uzhe skrylis' v lyukah nabiravshego skorost' bronevika. Zapozdalyj vystrel vzmetnul v vozduh pesok i kamni, odin iz kotoryh prebol'no tresnul barona po lbu. - Urr-rody! - baron sorval s poyasa granatu s nervnym gazom i, derzhas' drugoj rukoj za golovu, brosil. Opisav krutuyu dugu, granata grohnulas' na kryshu bashni tanka i svalilas' v otkrytyj lyuk.

+--+ ++++++++ ++++++++ +--+ Predveshchaya buryu, nad morem vospalennym furunkulom bagrovel zakat. Poslednie solnechnye luchi osveshchali verhnie chasti semi korpusov chudovishchnogo dirizhablya, stremitel'no teryavshego vysotu. V ego obshivke ziyali dyry ot metatel'nyh snaryadov, panoramnye okna roskoshnoj gondoly byli razbity, iz dvuh krajnih dvigatelej po pravomu bortu bili strui para. Na nakrenivshemsya polu zabryzgannogo krov'yu do potolka i zavalennogo oblomkami mebeli, oruzhiya i mertvymi telami stoyali dvoe - nepravdopodobno gromozdkij pleshivyj borodach s sekiroj, edinstvennym odeyaniem kotorogo byl kusok cvetastoj materii, obmotannoj vokrug beder, i nebol'shogo rosta voin v izrublennyh dospehah, s licom, zalitym krov'yu, struivshejsya iz rezanyh ran na lbu i na shchekah. Obeimi rukami vozdev ne po rostu ogromnyj mech, okrovavlennyj i izzubrennyj, voin govoril: - I togda ty, Kal'mot konung, poshel noch'yu k lozhu Vil'borg i leg s nej protiv ee voli. Potom ty uehal. Vil'borg povredilas' rassudkom i vskore umerla. Toj zhe osen'yu Harek Stal'noj Poloz, otec Vil'borg, poehal v Frodhejm i sozval tam ting bondov Orkdalya, kotoryj prigovoril tebya k smerti za eto i drugie zlodeyaniya. Dve dyuzhiny i dva goda vozmezdie ne moglo najti tebya, Kal'mot Oskvernitel' Devyati Kapishch, no teper' chas tvoj nastal. Beregis' moego mecha, Kal'mot Ubijca Sirot, ibo on razogret dyhaniem drakona, vykovan na mogil'nom kamne i zakalen v neotmshchennyh slezah. - Mne nechego boyat'sya tvoego mecha, zahudaloe otrod'e spivshihsya gnomov! - prorevel borodach, v ruchishche kotorogo boevaya sekira s listvennichnoj rukoyat'yu v rost zdorovogo molodca kazalas' metatel'nym toporikom. - Na mne lezhit zaklyat'e, kotoroe otvrashchaet ot menya smert' posredstvom zheleza! - Ne trat' vremeni na slova, Kal'mot Potroshitel' Mogil! Sud uzhe sostoyalsya, i prigovor vynesen. - Nu chto zh, pristupaj k delu, moj palach. Ne smushchajsya moej nagotoj, tvoi dospehi mne ne pomeha! - Da, ya prishel kaznit' tebya. No chtoby nikto ne skazal, chto ya bilsya v dospehah protiv nagogo vraga, ya gotov snyat' svoi pancir' i shlem, - malen'kij voin opustil mech i prinyalsya razoblachat'sya. Volny v okonnyh proemah vse blizilis', dirizhabl' tryaslo melkoj drozh'yu. Malen'kij voin, otlozhiv mech, prinyalsya nelovko staskivat' issechennuyu kirasu. Neponimayushche smotrevshij na nego borodach vdrug brosilsya vpered, nanosya toporom udar, kotoryj mog by svalit' dub vozrastom v polgrossa let. So stonom lopnul odin iz trosov, krepivshih gondolu k kilevoj ferme central'nogo korpusa dirizhablya, pol na mgnovenie ushel iz-pod nog Kal'mota i ego vraga, i sekira prosvistela nad sheej i hrebtom malen'kogo voina, ostaviv dlinnyj razrez v nadetom u togo pod pancir' zhilete iz myagkoj losinoj kozhi. Kogda gondola vnov' vosstanovila ravnovesie, malen'kij voin uzhe uspel osvobodit'sya ot kirasy i podobrat' zaskol'zivshee po polu oruzhie. Borodach zarychal i udaril vnov', no lezvie mecha s nepostizhimoj bystrotoj sverknulo navstrechu ego udaru, i sekira vmeste s otrublennoj po lokot' rukoj vyletela v okno. Ne ponimaya, chto proizoshlo, velikan udivlenno ustavilsya na obrubok, iz kotorogo hlestala krov'. - Vremya sud'be svershit'sya, - skazal malen'kij voin. - Uznaj moe imya. YA Raud iz Orkdalya! - ZHenih Vil'borg? - s uzhasom sprosil Kal'mot. - YA zhe ubil tebya! - YA prishel za toboj iz podzemnogo mira, - byl otvet. - Tak rubi zhe, Raud iz Orkdalya, chto ty medlish'? - Net! Smert' ot mecha otvrashchena ot tebya zaklyat'em, poetomu ya zadushu tebya, kak raba! - Raud otbrosil mech, pri udare v stenu gondoly raskolovshijsya na chasti s suhim treskom, i prinyalsya razmatyvat' kushak. SHum voln razdavalsya sovsem blizko, v proemy okon leteli bryzgi. Pod ostrym uglom poplavki dirizhablya tknulis' v vodu. Zastonal, deformiruyas', karkas iz tonkostennyh magnievyh trubok, razletelas' kloch'yami obshivka, vzorvalsya parovoj kotel odnogo iz dvigatelej, i poteryavshie skorost' ostanki letayushchego monstra stali pogruzhat'sya. Na zapade gorizont zatyagivali tuchi. Na ih fone prostupili runy. -"|to konec sagi o Kal'mote Palache", - prochital Fenrir. Morskoj prostor vokrug Kukylina smenilsya tesnotoj vtoroj Fenrirovoj kayuty. Videoproektor shchelknul i prinyalsya perematyvat' shnurok. - Boyus', chto moj poisk okazhetsya podlinnee, chem u bednyagi Rauda, - skazal Gorm. V smotrovyh shchelyah mezhdu moshchnymi nadbrovnymi dugami i skulovymi kostyami zazhglis' iznutri nedobrym svetom ego svetlo-zelenye glaza. - A ya-to nadeyalsya, chto uzhe na Kyflyavike najdu nuzhnyj sled. Kstati, Fenrir, dublyazh tvoj - sploshnaya otsebyatina! Kukylin s voshishcheniem i uzhasom posmotrel na Gorma. Ne polosatye volosy, ne dikovinnye chetyrehkonechnye usy, ne brovi so strannym dvojnym izgibom i ne ugadyvavshijsya pod nelyudskoj, bez por, otmetin ot ospy i naryvov, gladkoj kozhej i moshchnymi sloyami licevoj, preimushchestvenno zhevatel'noj, muskulatury cherep s po krajnej mere pyatikratnym zapasom prochnosti sverh razumno neobhodimogo - samym pugayushchim v ego lice byli glaza, glaza tupogo, prozhorlivogo i krovozhadnogo hishchnogo zverya. - Takie dela. Raud Korotyshka v odinochku sokrushil Kal'mota Palacha, polnost'yu zahvativshego poberezh'e Vinlanda i ostrova skrelingov, razorivshego so svoej druzhinoj sem' torgovyh gorodov i prodavshego vse ih naselenie v rabstvo. Moj vrag, konechno, ne Kal'mot, no i ya ne korotyshka. Vot skazhi, chto mne delat' dal'she? - Skoree vsego, sledov toj nevedomoj sily, vstrechi s kotoroj ty ishchesh', net na moej planete. No, najdesh' ty ih ili ne najdesh', tebe kogda-nibud' nuzhno budet letet' dal'she, k drugoj zvezde. - A dlya etogo postroit' zvezdolet s nezavisimym energoistochnikom. - Do vojny i v samom ee nachale u nas stroili kosmicheskie galery, no tol'ko dlya korotkih poletov. - A? CHto ty skazal? - YA skazal, chto u nas stroili kosmicheskie galery dlya korotkih poletov. - YA umnica! Konechno zhe - zvezdolet mne postroyat tvoi soplemenniki! Da tak ya kuchu vremeni sekonomlyu. I to, durak ya, chto l'? Esli oni eto mogut, ya za nih svoyu rabotu delat' ne budu! - A s chego ty vzyal, chto oni stanut stroit' tebe zvezdolet? - Ty zhe sam govoril, chto vashi kosmicheskie apparaty byli blizhnego dejstviya. A ya dam vam tehnologiyu stroitel'stva nastoyashchih korablej, a eto dorogogo stoit. - No planeta razorena, Federaciya vse eshche voyuet s nami, zavody razbombleny ili zabrosheny, knyaz'ya i barony to i delo vstupayut v usobicy, a narod vymiraet. Nam ne do poletov. - Naoborot, vam ochen' dazhe do poletov, potomu chto s etoj pomojki nado srochno pereselyat'sya. A s vojnoj chto-nibud' pridumaem. Mirnyj dogovor ili kak on tam nazyvaetsya. - A chto ty budesh' delat' s mertvecami? Bud' ty vpravdu Pupihtukak, ty imel by vlast' nad nimi, a tak... - Fuflo vatnoe tvoi mertvecy! Mertvye ne poteyut, kak govoril vse tot zhe prisnopamyatnyj Kal'mot. - Ty skazhesh', i chudovishcha morskie - fuflo? - A chto chudovishcha? ZHrat' oni u menya ne prosyat, tak pust' ih plavayut, mne-to chto. - A piraty? Dazhe tankovye patruli ne priblizhayutsya k poberezh'yu blizhe chem na dvesti lig iz straha vstrechi s nimi! - Hy? - Gorm vypustil kogti na levoj ruke i pochesal sebe zhivot. - Tak nado vstupit' v dogovor s nimi prezhde vsego - togda ostal'nye primknut avtomaticheski! Aj da ya - prosto genij intrigi! Kstati, moi predki tozhe byli piratami. Vashche, otlichno vse vyhodit. Piraty - oni zh krutye. |to vy tam na sushe kanyuchite - mertvecy, mertvecy... Da, ty tut obeshchal rasskazat' kakuyu-to istoriyu pro mertvecov... - Pro tugnygaka - pohititelya trupov. - Valyaj, a to chto my vse o dele. - |tu istoriyu zapisal moj otec. Kak ya uzhe nachinal rasskazyvat', Kukysuakak, starshij brat moego deda, byl ochen' hrabrym chelovekom. K tomu zhe on prouchilsya god v duhovnom uchilishche i znal mnogo zaklinanij. Poetomu praded poslal ego uznat', kto taskaet mertvecov iz famil'nogo sklepa. Mertvecy propadali ottuda nesmotrya na to, chto ih steregli, i neponyatno bylo, kuda oni devalis'. Odnazhdy na zakate Kukysuakak pritvorilsya mertvym, ego vnesli v sklep i prikryli bol'shim, tyazhelym kamnem. Skoro on uslyshal, chto kto-to idet. |to byl bol'shoj tugnygak, kotoryj obvorovyval mogily. Skoro on polozhil Kukysuakaka na spinu i pones. Idti bylo daleko, neskol'ko raz pohititel' ostanavlivalsya i otdyhal. A brat deda kazhdyj raz vceplyalsya v kusty, i kazhdyj raz tugnygak vorchal: "Pochemu eto on vse vremya zaputyvaetsya v kustah?" Tugnygak ustal. Nakonec on prines dedova brata domoj, k zhene i detyam, chtobyt telo ottayalo. V te vremena pogoda byla ne zharkaya, kak teper', a pochti kruglyj god holodnaya. ZHena poshla v razvaliny sobirat' toplivo, chtoby svarit' dobychu muzha, a deti nachali prigovarivat': "|ti rebra ya obglodayu, etim cherepom ya budu igrat'!" Tem vremenem otec ih leg i zasnul. Togda Kukysuakak priotkryl glaza i stal posmatrivat' na detej. Te nachali budit' otca. "Posmotri, my sobiraemsya ego est', a on otkryvaet glaza!" No otec skazal: "Kak on mozhet otkryvat' glaza, kogda on vse vremya ceplyalsya po doroge za vetki? YA nes ego na spine." I on opyat' zasnul. - YAsno. ZHutkaya istoriya, no vot do sluchaya s syrnym salatom ej daleko. - A chto eto za sluchaj? - Ne pomnyu, govoril li ya, chto moj zamok raz vzyali shturmom Serli Odnoglazyj i Osvivr Derevyannyj Nos, syn Hrol'va Propojcy - s vozdushnogo shara sbrosili voinov na predmostnuyu bashnyu, vzryvom zavalili rov, vorvalis' vnutr' i vseh, kto byl v zamke, izrubili v lapshu, krome Lundara, palacha, kotoryj nagluho zapersya v pytochnoj kamere, a Serli voz'mi da i prikazhi zamurovat' dver'. - A ty kak ucelel? - Kak ya ucelel - eto otdel'naya istoriya. Skazhu tol'ko, chto moj predok Gorm Staryj vyigral etot zamok v kosti cherez dobryj gross let posle togo shturma. Palach, stalo byt', pomer lyutoj smert'yu, a u menya v pytochnoj stoyal holodil'nik i kuhonnoe oborudovanie. Raz nagryanuli ko mne gosti, i poshel ya tuda delat' syrnyj salat. - |to chto? - Temnota! Beresh' syru poostree, luku poslashche, melko rubish', dobavlyaesh' gorohu sladkogo, peremeshivaesh', zapravlyaesh' sousom Kal'va Perhoti, i gotovo. - CHto gotovo? - Salat! - A eto chto? - Gorm, ty duren', - skazal Fenrir. - V kyflyavikskom yazyke net slova "salat". - CHto zhe eto togda za yazyk! Slova "salat" oni, vidite li, ne znayut, sebya nazyvayut - smeshno skazat'! - lyud'mi, a slova lepyat takie, chto poka polovinu vygovorish', tri raza zadohnesh'sya! - Skazhi, Gorm, a chto takogo, chto my zovem sebya lyud'mi? - ne ponyal Kukylin. - CHelovek - eto vysshee razumnoe sushchestvo, car' prirody, venec tvoreniya? Tak, chto l'? - Da... - neuverenno otvetil Kukylin. - V nashem yazyke bylo slovo s takim metaznacheniem, no im nazyvalos' sushchestvo, kotoroe hoteli sozdat' nashi uchenye vekami napravlennoj evolyucii, tak i ne sozdali, priveli velichajshuyu civilizaciyu v tupik, i tut zdras'te - poyavlyaetsya etakij rycar' pomoechnyj i zayavlyaet, chto u nego na planete etih sverhsushchestv kak kleshchej na bol'nom lose! - Prosti, pozhalujsta, a chto takoe pomoechnyj? - S pomojki, znachit. Pomojka - eto moe nazvanie tvoej planety. - Spasibo. Mozhno eshche vopros? - Nu chto ty tratish' vremya? Sprashivaj srazu! - Kak ya mogu? |to bylo by sovershenno neprilichno so storony vassala po otnosheniyu k syuzerenu. Nado sperva poluchit' razreshenie. - Da kakoj ya tebe syu... oj, ne mogu, duh perevedu... zeren? - Ty vzyal menya v plen? - Bylo delo. - Ty skazal, chto bez vykupa otpustish' menya na volyu, kak tol'ko vnov' opustish'sya na zemlyu? - CHto-to ty bol'she ne sprashivaesh', mozhno li sprosit', mozhno li sprosit'. Valyaj dal'she. - Blagodarya tebe zhe moya sluzhba u knyazya konchilas'. Ty ne proletel nad ego krepost'yu, znachit, on otpravil v moe pomest'e sto zolotyh i yashchik myasnyh konservov. YA dal'nij rodich knyazya i raven emu po rozhdeniyu. Teper', kogda vse dolgi moego pokojnogo otca budut vyplacheny, ya mogu vernut'sya v svoe pomest'e, k sestram, zhizn' kotoryh, kak i moya, obespechena blagodarya tebe. Ty ne tol'ko podaril mne zhizn' i svobodu, no i spas moj rod ot nishchety i ugasaniya, i ya budu poslednim negodyaem, a ne rycarem, esli ne dam tebe klyatvu vernosti. I ty budesh' moim syuzerenom. - Ladno. Budet mne hot' kakoe-to vozmeshchenie za tu vodu i detergenty, chto ya na tebya izvel. Ty skol'ko let ne mylsya, prezhde chem syuda popal? - Nashih mesyaca tri. - |hehe. A ty ne mozhesh', prinosya klyatvu, prosto ogovorit', chto pochtitel'no menya imenovat' ty ne obyazuesh'sya, a vzamen nu, tam, ya ne znayu, vmesto prava pervoj nochi v tvoih vladeniyah predostavlyaesh' mne pravo pervyh dvuh nochej, ili privilegiyu kakat' v tvoej rodovoj usypal'nice - chto-nibud' pochetnoe, no chem ne obyazatel'no vse vremya pol'zovat'sya? - Mozhno sdelat' eshche proshche. Ne znayu, udobno li mne ob etom pervomu zagovarivat', no my mozhem pobratat'sya. Togda ya smogu ispolnit' dolg vernosti po otnosheniyu k tebe, buduchi s toboj na ravnyh. - I vmesto vassala-anacefala budet u menya prosto brat-degenerat. A chto, ya dazhe vykobenivat'sya ne budu, ya takoj. Pogodi, ya pro chto-to vazhnoe govoril. - Pro salat, - sarkasticheski skazal Fenrir. - Ah, da, - spohvatilsya neprobivaemyj Gorm. - Itak, salat. Ego nyuhayut, a potom, esli duhu hvatit, i edyat. Tak vot, zahozhu ya, stalo byt', v pytochnuyu, delayu salatik, Niav, poganka, naverhu pokazyvaet gostyam psarnyu, a v holodil'nike, kak na greh, sluchilsya kusok os'minoga - nu ya i ego tuda - ("Gostyam na psarnyu" - poyasnil Fenrir) - stavlyu misku v holodil'nik i uhozhu. Gosti uzhe vse zalezli v dyryavyj kater i zaplyli na seredinu ozera, vozvrashchayus' ves' mokryj i v vodoroslyah chasa cherez dva, otkryvayu dvercu i chto vizhu? Salat ozhil, shaval v holodil'nike vse yajca i syr, vysosal banku sousa, svernulsya v bublik i lezhit v svoej miske. Tryasu misku - ne vylezaet. Tknul nozhom - nozh on vtyanul v sebya. Zovu druzej, nashelsya umnik - perekupalsya, navernoe - posovetoval kinut' emu yabloko, chtob salat, stalo byt', otvleksya, napast' vsem vrasploh i s容st'. Tak i sdelali, tol'ko ot yabloka salat vmig ostavil pustuyu shkurku i kosti, a kogda poprobovali ego zahavat', on vyskochil iz miski i davaj nosit'sya po polu. YA nasilu ego pojmal kastryulej, postavil ee na stol dnom vverh i govoryu: sdavajsya. Salat, ponyatnoe delo, molchit. Molchish', govoryu - i sekachom po kastryule tyuk! Salat zastremalsya, no vidu ne podal. YA snova - bems! - da tak sil'no, chto salat dazhe obgadilsya sousom na stol. Perevernuli kastryulyu, tknuli nozhom - rezhetsya. Dumaem - sdoh. Vynuli pervyj nozh i sunuli v duhovku, chtoby okonchatel'no ubedit'sya. Predstav' - v etom podlom salate okazalas' zaklyuchena takaya nekrobioticheskaya sila, chto on sumel vylezti iz kastryuli i pochti dopolz do dvercy, no prilip k polu duhovki, on u menya gryaznyj vsegda. Kogda on nakonec ispustil duh, u nas u vseh na glazah azh slezy vystupili, do togo byl duh yadrenyj. Tut ego i s容li. Tak chto budesh' delat' salat v pytochnoj komnate - ne kladi tuda os'minoga!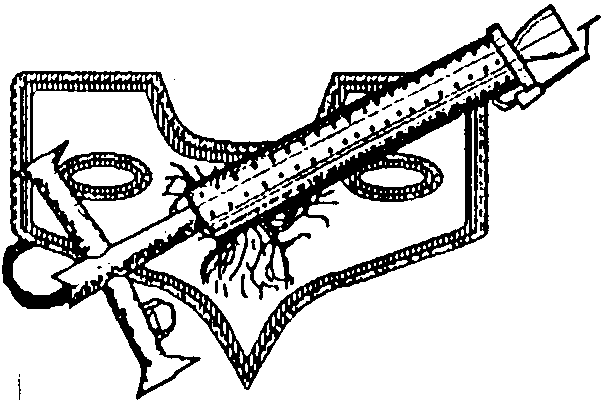 +--+ ++++++++ ++++++++ +--+ Tudyt' vypustil iz klyuva stilo i perednimi lapami slozhil tablichku s zapis'yu vdvoe. - ZHdat' dal'she net smysla. Vse sobralis'. - Otkuda takaya uverennost', ptica? Ved' neizvestno dazhe tolkom, skol'ko nas. - Sejchas my uznaem eto tochno. Dvojnoj, soschitaj vseh, kto v bassejne. Dvojnoj ostavil potyuh i pereletel k vkleennomu v stenu oknu iz mnogoslojnogo stekla. Za nim v treh izmereniyah tolklis' v neterpelivom ozhidanii hoty i nasoloty podlogo zvaniya. Setchataya glushilka mezhdu steklami oslablyala neveroyatnyj galdezh, stoyavshij v bassejne, do nevnyatnogo gula. Tri, shest', devyat'... - Smotrite! Nochnye storozha sgrudilis' okolo Tudytya. Ego kogti kosnulis' kryshki kontorki, za kotoroj rabotalo ne odno pokolenie kapitanov, i proshli skvoz' nee. Ochistiv panel' upravleniya, okazavshuyusya vnutri kontorki, ot drevesnoj truhi i shchepok, Tudyt' uverenno potyanul za kryuchok iz zheltoj medi, inkrustirovannoj alyuminiem. Gde-to v nedrah korablya zagrohotali cepi, vzmetnulis' so sten perehodnyh kamer u vhodov v storozhku i vozdushnyj bassejn kluby pyli, zatreshchala fanera. Pticy v bassejne sgrudilis' v dal'nem ot vhoda uglu, v udivlenii nablyudaya za vydvigavshejsya iz pola perehodnoj kamery tolstoj peregorodkoj. Grohot prekratilsya. - Pticy! Teper' nasha storozhka i bassejn izolirovany ot ostal'nyh pomeshchenij korablya. - Zachem, Tudyt'? - Sejchas ya pushchu vo vse otseki za peregorodkami hlor, - Tudyt' potyanul eshche za odin kryuchok. - CHto ty delaesh'? Vdrug tam est' kto-nibud'? - Te, komu bezrazlichna Cel', ne nuzhny dlya ee osushchestvleniya. Dvojnoj! Skol'ko ptic v bassejne? - Eshche ne soschital, Tudyt'! - Zakanchivaj, my idem k nim, - Tudyt' nasharil na paneli lyuchok, otkryl ego i vynul blestyashchij borozdchatyj baraban. - Skol'ko ptic? - Sem'sotdesyatnadcat'! - otvetil Dvojnoj. - I sredi nih tozhe mogut byt' slabye, nenadezhnye i dazhe pomeshannye. No teper' devat'sya ot nih nekuda, - i Tudyt' velichestvennym zhestom vytyanul poslednij kryuchok na paneli. Plavno otkrylas' zamaskirovannaya dver', i pered nochnymi storozhami predstal SHCHelkovav. Pereporhnuv k osvetitel'nomu pul'tu, Tudyt' otklyuchil glushilku. Teper' i stekla mezhdu bassejnom i storozhkoj byli prozrachny v obe storony. Okinuv komandu vzglyadom, kapitan zastavil kriki stihnut'. Nachalsya obryad, do melochej produmannyj v nevoobrazimo dalekom dlya ekipazha "Kryuha praroditelya" proshlom. Skvoz' skrezhet shesteren i vizg igly probilsya golos, prinadlezhavshij CHernilu. S otkrytymi pastyami i raspravlennymi v znak pochteniya kryl'yami pticy slushali slova, kotorye za desyanosto tri pokoleniya do ih rozhdeniya proiznes na drevnem narechii rogovec Rtudi Kugtistoj, provozhaya korabl': Po dal'nim nychkam mut' klubitsya, Utrobno vshavyvaet les, Lesnaya nechist' shevelitsya I tyanet lapy do nebes. Zdes' vse moe, zdes' vse s容dobno, Oslizlyj dorog mne prostor, Liskot vonyuch, i caprya zlobna, I trupkozupp, uduh oster! Ne dovelos' vam zhit' v gniluhe, Vy v zvezdolete vdal' letite, No vy kruty v izvechnom duhe I pernyj podvig sovershite! Edva konchilas' zapis', vostorzhennyj rev tihogo umileniya sotryas "Kryuh praroditelya". Davaya volyu nahlynuvshim chuvstvam, kto-to zatyanul lyubimuyu pesnyu, vmig podhvachennuyu sem'yusta soroknadcat' chetyr'mya glotkami: Iz raspuhshej mertvechiny L'etsya zhirnyj, teplyj gnoj. Kraj rodnoj, navek lyubimyj, Kraj rodnoj, navek lyubimyj, Gde najdesh' eshche takoj? Kraj rodnoj, navek lyubimyj, Kraj rodnoj, navek lyubimyj, Gde najdesh' eshche takoj! Eshche ne vysohli razmazannye po cheshue shchek sopli, a Tudyt', vozdev perednie lapy s borozdchatym barabanom, ritual'nym rechitativom s ikaniem i otryzhkoj v pauzah mezhdu slovami progovoril tekst obrashcheniya: Sobrat'ya! (ik!) Pered (ik!) nami (ik!) Lezhit (ik!) Cel'! (ik!) No (ik!) neizvestno, (Ik!) kakova (ik!) prednachertannaya (ik!) Dal'nejshaya (ik!) nasha (ik!) programma! (Ik!) CHas (ik!) nam (ik!) podoshel (ik!) Prosvetit'sya! Otrygnutye lyagushki razletalis' nad lakirovannym polom, nabrannym v shashechku. Zatreshchala fonogramma, zabuhal tamtav, zashchelkali v takt emu zubastye klyuvy, i Tudyt' nasadil baraban na os' schityvayushchego ustrojstva SHCHelkovava. Medlenno, medlenno povernulsya baraban. Tonchajshie nevidimye shchupy, kazhdyj vsego v neskol'ko atomov tolshchinoj, popolzli po ego poverhnosti, otslezhivaya bugorki zapisi. Tamtav vse buhal, zuby vse shchelkali, bliki, otbrasyvaemye dvigayushchimisya chastyami SHCHelkovava, polzli i prygali po stenam. Zazvenel signal'nyj kolokol - schityvanie informaci zakonchilos'. Gulkie stuki v nedrah SHCHelkovava uchastilis', iz reshetok radiatorov povalil belyj par, nevnyatnyj mehanicheskij golos zabubnil: " Mahoviki odin-vosem' raskrucheny, mahoviki devyat'-chetyrnadcat' raskrucheny, mahoviki chetyrnadcat'-dvadcat' raskrucheny, mahoviki dvadcat' odin-dvadcat' vosem' raskrucheny, mahoviki dvadcat' devyat'-tridcat' chetyre raskrucheny, mahoviki tridcat' pyat'-sorok raskrucheny, mahoviki sorok odin-sorok vosem' raskrucheny, mahoviki sorok devyat'-pyat'desyat chetyre raskrucheny. Proverka. ZHdi." Golos stal rezche i otchetlivee: " Raskrutka proizvedena. Agregat zhdet." Tudyt' zavozilsya u pul'ta. "Postupila komanda: vydat' tekst. Tekst vydaetsya so schitannogo barabana. Ne odnoj zabavy radi Byl zaduman nash pohod. Ne naprasno byl ukraden Derevyannyj navorot. Volosatoj nashej krov'yu Myasa gryaznye kuski Zapravlyayut dlya zdorov'ya Posramnye stariki." Nekotoroe vremya SHCHelkovav molchal, potom golos vozvestil: "Tekst vydan. Agregat zhdet." - CHto za bred? -sprosil Klyup u Popen'ku. - Tiho! - skazal Tudyt'. Obryad ne predusmatrival slozhivshejsya idiotskoj situacii. Tudyt', Klyup i Popen'ku vozilis' so SHCHelkovavom, pytayas' vytyanut' informaciyu s barabana. Baraban byl pust. Hoty i nasoloty poka ne podozrevali nichego plohogo, no dolgo ispytyvat' ih terpenie ne stoilo. Slishkom chasto na korable byvali sluchai drak, samoubijstv i pomeshatel'stva. Molchanie v bassejne stanovilos' vse bolee i bolee chrevatym. Isstuplennye vzglyady zheltyh i krasnyh klaz sverlili steklo storozhki, na spinah ugrozhayushche toporshchilis' kostyanye shipy. Tudyt' vklyuchil glushilku i zamutnenie stekla. - Nu zhe! - zakrichal kto-to iz storozhej. - Spokojstvie, ptichki. - Tudyt' nedarom byl kapitanom, - Sejchas ya produyu "Kryuh" ot hlora i vklyuchu meteoritnuyu trevogu. - A Cel'? Kak uznat', chto proizoshlo? - CHtoby dumat' ob etom, nado vyigrat'... Rev sireny ne dal kapitanu dogovorit'. Nachalas' otrabotannaya rutina dejstvij po raspisaniyu meteoritnoj trevogi. Vse, kazalos', ponimali, chto proishodit, pravda, vse ponimali proishodyashchee po-raznomu. Tol'ko dvoe ne ponimali nichego - Tudyt', ne vklyuchavshij trevogi, i Klyup, u kotorogo neizvestno otkuda vzyavshijsya meteorit v pricele protonnogo ruzh'ya uhodil ot vystrelov, menyaya kurs.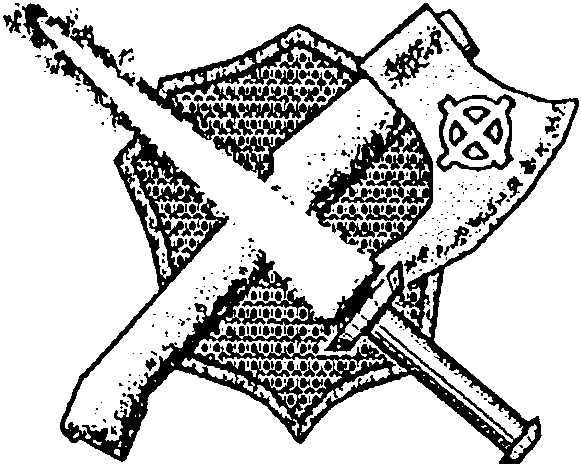 +--+ ++++++++ ++++++++ +--+ V temnote ekrana vspyhnula, nalivayas' svetom s kazhdym mgnoveniem, tonkaya duga. V naibolee shirokoj chasti ee zolotistogo oboda zaalela polusfericheskaya vypuklost'. Nad nej iz-za tenevoj polosy s razmytym kraem pokazalsya oslepitel'nyj disk, i totchas zhe vse prostranstvo pod dugoj zasiyalo beliznoj oblakov i sinevoj morya. - I ya veril, chto solnce vzoshlo dlya menya, Prosiyav, kak rubin na kol'ce zolotom, - prokommentiroval Gorm. Gorb gorizonta medlenno popolz vverh i skrylsya za kadrom. Nekotoroe vremya na ekrane nel'zya bylo zametit' kakih-libo izmenenij, potom verhnij sloj oblakov ustremilsya navstrechu i ischez, unesyas' rastrepannymi belesymi lohmami. Vse prostranstvo ekrana zapolnilos' zhemchuzhnym svechenie m kuchevyh oblakov, pod nimi otkrylsya les, prorezannyj prichudlivymi dorozhkami rek. Izredka nad lesom vozvyshalis' holmy, nekotorye s postrojkami ili ruinami - razglyadet' bylo nevozmozhno iz-za bystroty poleta. Nebo snova zahvatilo bol'shuyu chast' kadra, tol'ko v samom ego nizu raskruchivalas' kovrovaya dorozhka lesa. Paru raz v opasnoj blizosti promel'knuli apparaty, shedshie vstrechnym kursom, polet zamedlilsya. Na gorizonte pokazalis' tri tonkie bashni, vershiny kotoryh skryvali oblaka. Bashni priblizhalis'. Stali vidny ih podnozhiya, okruzhennye ostroverhimi zdaniyami, krasnye i korichnevye kryshi kotoryh vysoko podnimalis' nad lesom. Derev'ya ustupili mesto bolee plotnoj zastrojke. V vozduhe popadalis' korotkokrylye apparaty s vozdushnymi vintami, beskrylye so splyushchennymi aerodinamicheskimi korpusami, figury, pohozhie na chelovecheskie, vlekomye raketnymi rancami ili visyashchie pod myagkimi nesushchimi ploskostyami. Doma smenilis' porosshimi strojnymi hvojnymi derevcami dyunami, za kotorymi otkrylas' vodnaya glad', peresekaemaya odinokim katerom, stremitel'no vyros v kadre utes s velichestvennym dvorcom na vershine, potom snova zablestela voda pod ochistivshimsya ot oblakov nebom. - Proleteli sobstvenno Al'dejg'yu. Teper' na sever, k moryu, i my u menya doma. Skorost' snova uvelichilas'. Posle togo, kak skrylas' cepochka nevysokih gor, polet prodolzhalsya na predel'no maloj vysote. Sudya po vzdragivaniyu izobrazheniyu, apparat chetyrezhdy zadeval za derev'ya neskonchaemogo lesa. Po ekranu pobezhala poverhnost' ozera, izobrazhenie melko zatryaslos'. - Ura! Sleduyushchij kadr byl snyat s ogorozhennoj nevysokim zubchatym bar'erom ploshchadki. S odnoj storony bar'era otkryvalsya vid na ozero, s drugoj - na moshchenyj kamennymi plitami dvor zamka. Vo dvore stoyal dikovinnyj chetyrehkrylyj samolet-raketa s tuponosym fyuzelyazhem, vdavlennym sverhu i snizu. Mnogonogij robot podkatyval lesenku. Otkinulis' chetyre kaplevidnyh kolpaka, raspolagavshihsya blizhe k nosu samoleta, i, ne dozhidayas' lesenki, cherez bort svoej kabiny sprygnul pervyj passazhir. |to byla chernovolosaya devushka v blestyashchem plat'e s uzkim lifom i pyshnymi rukavami i yubkoj. Glubokij vyrez polnost'yu otkryval malen'kie smuglye grudi. Kukylin sglotnul. - |to Gunnhil'd, podruzhka Ingi. Slavnaya byla devushka, - skazal Gorm. - Gadina i dura, - dobavil Midir. Sleduyushchim iz samoleta vylez dlinnonogij i dlinnorukij belovolosyj velikan v vorsistom kombinezone. - |to Ingi. Horoshij paren', dazhe na gitare koe-kak umel igrat', darom chto idiot. A eto ya, - Gorm rasplylsya v ulybke. Gorm byl vo vsegdashnem rogatom obruche, shirokoj seroj rubahe s korotkimi rukavami i v kozhanyh shtanah v obtyazhku, zalatannyh na kolenyah i na zadu. On pomog vybrat'sya iz kabiny belo-zhelto-oranzhevovolosoj krasavice s takimi zhe, kak u Gorma, zelenymi glazami s vertikal'nymi prorezyami zrachkov, vyzhdal, poka ta raspravlyala nesushchestvuyushchie skladki na rasshitom serebryanymi drakonami i krestami dlinnom kozhanom prikide, podhvatil ee k sebe na plecho i stupil na lesenku. - |to Niav. Oh, i zdorova zhe byla, - mechtatel'no skazal Gorm v kayute, v to vremya kak pod Gormom na ekrane podlomilas' stupen'ka i on ne teryaya dostoinstva provalilsya i zastryal v lestnice. Devushka soskol'znula s ego plecha i prizemlilas' na pyat' tochek. Na sleduyushchem kadre Gorm razryval ostanki zlopoluchnoj lestnicy na polosy, zavyazyval ih v uzly i brosal sebe za spinu. Tam ih podbiral, razvyazyval obratno i rihtoval, protyagivaya skvoz' szhatyj kulachishche, Ingi, poka Gorm ne obernulsya i ne zavyazal ocherednuyu polosu u nego na shee. Sohranyaya besstrastnoe vyrazhenie lica, Ingi tresnul Gorma mezhdu rogov nedovypryamlennoj zhelezyakoj. Gorm zadumchivo pochesal golovu i vytyanul Ingi po zhivotu ostovom pravoj bokoviny lesenki. Sluchilas' draka, v finale kotoroj Ingi udalos' obhvatit' Gorma poperek poyasa, otnesti ego na stenu i, podnyavshis' k zubcam, za kotorymi vidnelas' voda i dal'nij bereg ozera, s razmahu brosit' ego vniz. V poslednij moment Gorm uspel vcepit'sya Ingi v volosy i uvlek ego za soboj. Razdalsya moshchnyj vsplesk. Devicy zahlopali v ladoshi. - Kak ya provel leto v derevne u babushki, ili Ubijca na Beregu Skeletov, - skazal Fenrir. - Tut k nam priblizhaetsya fotonnyj zvezdolet razmerom s horoshuyu planetu, obshityj orehovym derevom i na uglah okovannyj latun'yu. - Idi ty! - gavknul Midir. - Smotri, ballonka! Pered Midirom, Fuamnah, Kukylinom i Gormom predstala zhutkaya konstrukciya, sleplennaya iz neskol'kih kosobokih sundukov razlichnyh razmerov i treh tazov dlya varki varen'ya, soedinennyh s sundukami dlinnoj hlipkoj fermoj iz polomannyh vo mnogih mestah tonkih zherdochek. - Poka ty tut delilsya vospominaniyami, etot yakornyj saraj razmerom s tri rabovladel'cheskih transporta epohi Kal'mota Prodazhnoj SHkury vyshel na krugovuyu orbitu. YA zasek po vspyshkam, - Fenrir davno ne byl tak dovolen. - |to ne te, kogo ty ishchesh'? - Kukylin ne byl osobenno udivlen, ego gorazdo bol'she potryasli les i priyatel'nicy Gorma. - |tot roddom prestarelyh? Pri ih urovne, oni v takom i sherstistyh krokodilov na bronetulupy ne stali by razvodit'! Ty glyan', kakie gorshki! Uryl'niki! Nu, Fenrir, yadrena mysh', poteshil ty moyu dushu! - Nalyubovalsya? Teper' poslushaj! Tesnyj otsek zapolnilsya urchaniem, ritmichnym stukom, shchelchkami i ne poddayushchimisya tochnomu opredeleniyu zhivotnymi zvukami. - UKV, - poyasnil Fenrir. - Brekekekeke. Hotel by ya videt' adresata etoj radiootryzhki... - Gorm snyal s golovy obruch i s osterveneniem prinyalsya chesat' sebe spinu rogami. - Perejdem na orbitu poblizhe k nim i potolkuem. Po-moemu, tak. - YA, konechno, nichego ne ponimayu v zvezdoletah, no esli eta mashina dejstvitel'no takaya ogromnaya, mozhet, ne stoit k nej priblizhat'sya? Ee ekipazh mozhet soblaznit'sya i vzyat' nas na abordazh... - neuverenno skazal Kukylin. - |kipazh - na abordazh? Mechta moego detstva... Fenrir! - A! - Tak kak naschet... - Gorm ne dogovoril, potomu chto uskorenie vzhalo ego v kreslo. Fenrir menyal orbitu.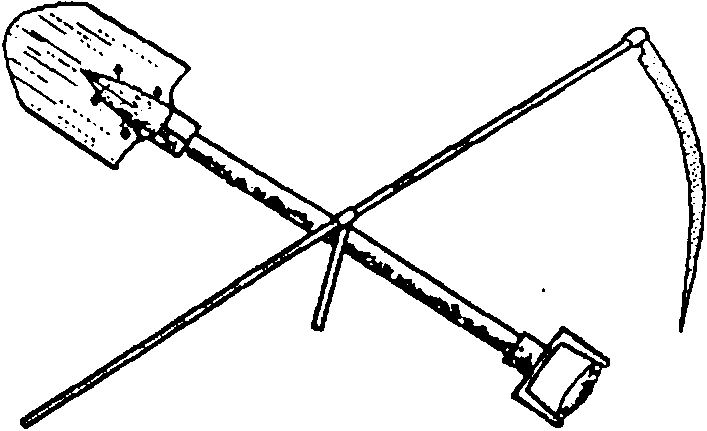 +--+ ++++++++ ++++++++ +--+ "I eti strelyayut. Mazily, ya by uzhe sem' raz popal. Fenrir tozhe horosh - vertitsya, kak okorok na verevochke. Per by naprolom, i vse dela. Daj porulit', a? ZHmot... A, vot chem stoit zanyat'sya." Podkrutiv nepravil'no razvetvivshijsya us, Gorm zabarabanil po klaviature na paneli upravleniya. Mel'teshivshij za steklom nelepyj zvezdolet smenilsya grafikami chastotnyh spektrov radiosignalov. "Vot s etoj kompaniej ya, pohozhe, stolkuyus' na raz - oni yavno ne iz porody molchunov." - |j, Gorm! Vyd' iz transa! - A? - Smotri syuda! - Vizhu. I? - Pochemu by net? Pervoe, oni bol'she ne strelyayut. Vtoroe, etot nebesnyj tihohod dejstvitel'no derevyannyj. Strashno plotnaya drevesina, no dazhe peredo mnoj oni bezzashchitny. Oni, chaj, i pal'bu nachali s perepugu. - Horosh perepug! Fenrir priblizhalsya k raspahnuvshejsya v iz容dennoj melkimi kraterami gryazno-oranzhevoj stene treugol'noj dyre, otkuda bila gazovaya struya. Po uglam dyry svetili raznocvetnye prozhektora. - Ogni vklyuchi. - Bez tebya, durnya, znayu. Stena okazalas' ochen' tolstoj - v poltora korpusa Fenrira. Na ogromnyh petlyah s kachayushchimisya rychagami viseli stvorki, uvedennye vglub' i otkinutye nazad chudovishchnymi gidrocilindrami. Vse bylo sdelano iz dereva ili pokrytogo chernoj okisnoj plenkoj metalla. Dyra zakanchivalas' nebol'shim rasshireniem pered stenoj s tremya dver'mi oval'noj formy. Stvorki medlenno prishli v dvizhenie. - Eshche mozhem vyletet'. - Vyletet' iz-pod seni etih derev my mozhem v lyuboj moment i v lyubom napravlenii, - obnadezhil Kukylina Gorm. Vyhod zakrylsya. Sterzhni v neskol'ko Gormovyh obhvatov, vylezshie iz dyr v stene, namertvo zafiksirovali stvorki. Razdalos' shipenie. - Da u etih zvezdobludov ne korabl', a barokamera! - Fenrir pokazal Gormu i Kukylinu davlenie i sostav zapolnyavshej otsek gazovoj smesi: gelij, azot, chut'-chut' kisloroda. - Idem gulyat'! - Tishe ty, - Fenrir pri posredstve odnogo iz robotov vzyal Fuamnah za shkirku, tak chto ta otlipla ot kresla i povisla, perebiraya nogami. Davlenie nakonec perestalo rasti. Mutnye ovaly dverej ozarilis' bivshim iznutri napravlennym svetom, za zanaves'yu kotorogo ugadyvalis' grotesknye sgorblennye figury. - Daj uvelichenie, Fenrir! - Gorm posmotrel na kartinku i namorshchil nos. - Zrya my syuda zaleteli. Po sravneniyu s etimi tvaryugami dazhe ty prosto krasavec, - skazal Kukylin. Gorm umilenno shmygnul nosom i smahnul voobrazhaemuyu slezu. Central'naya dver' raskrylas', i visevshij za nej monstr, zakutannyj v blestyashchij plashch, razinul past', pokazav ustrashayushchij chetyrehryadnyj nabor krivyh zubov. - Ne pomnyu, gde eto ya chital, chto krupnye zatuplennye na koncah zuby - priznak pozhiratelya padali? - sprosil Gorm. Urod v dveri raspahnul plashch. Fenrir, Gorm, sobaki i Kukylin pyalilis' na shirokie kozhistye kryl'ya, s verhnej storony pokrytye cheshuej, i volosatoe obtekaemoe telo s tremya parami moshchnyh trehpalyh lap. Koshmarnyj krasnoglazyj yashcher vzmahnul krylami i spikiroval na kryshu golovnogo otseka Fenrira. - I den' pochti bez sveta byl, I noch' bez tishiny. V razmahe sataninskih kryl My vse otrazheny, - vdrug naraspev prochital Kukylin. - |to chto? - Prorochestvo. Iz Knigi Postydnyh Otkrovenij. - Prorochestvo - figochestvo... Vo kak nado! Sidela staruha v ZHeleznom Lesu i porodila tam Fenrira rod; iz etogo roda stanet odin merzostnyj troll' pozhiratelem solnca. Budet on gryzt' trupy lyudej, krov'yu zal'et zhilishcha bogov; solnce pomerknet v letnyuyu poru, buri vz座aryatsya - dovol'no l' vam etogo? - S chego eto ty? - ne ponyal Fenrir. - Da tak - k slovu prishlos'. Kakaya milen'kaya ptichka!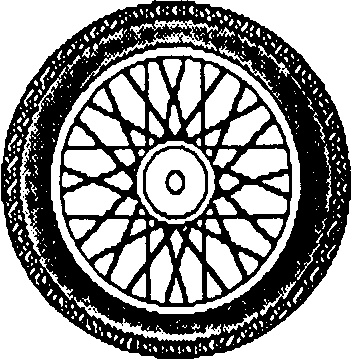 +--+ ++++++++ ++++++++ +--+ - I eta zheleznaya ryba - poslannik predokv? - Ty ne stanesh' hotya by sporit', chto ona poyavilas' ochen' kstati? - |to eshche neyasno, k ch'ej eto stati ona yavilas', a chto ne k dobru, tak eto tochno. - Dovol'no, Klyup! Imenem velikih predkov govoryu - nam yavlen poslanec, komu vedoma Cel'. Doloj glushilki, opovestit' ekipazh! My poka pojdem posmotrim - mozhet, iz nego vse-taki kto-nibud' vylez. A ty, ptichka, sidi u SHCHelkovava da smekaj, chto k dobru, a chto k chemu! - Tudyt' dvazhdy protreshchal yazykom po zubam verhnej chelyusti i torzhestvuyushche uplyl v napravlenii poslednego rabotosposobnogo shlyuza, prinyavshego nechto, prorvavsheesya cherez meteoritnuyu zashchitu. Klyup s nenavist'yu provodil ego vzglyadom. "Interesno, pravdu li govoryat, chto u nego s Dvojnym v tajnom meste na korable otlozheny meshki", podumal on. "Tozhe mne strazh bezbrachnyj!"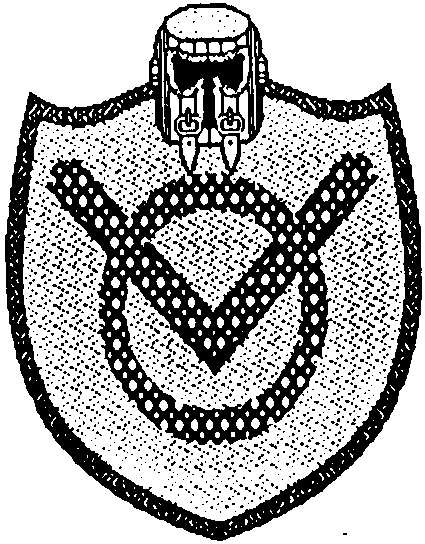 +--+ ++++++++ ++++++++ +--+ Vyhodnye ohrannye roboty ne byli prisposobleny k nevesomosti. Ostavalos' nadeyat'sya, chto vnutri nelepogo zvezdoleta ne ochen' pyl'no. Pri etom uslovii lipkie prisoski dlya krepleniya ul'trazvukovyh ryb'ih mankov k donnym kamnyam, naskoro primotannye leskoj k nogam robotov, mogli obespechit' prilipanie k stenam. Gorm pohlopal po poyasu, votknul zaglushku vo vneshnee interfejsnoe gnezdo i mahnul rukoj. Fenrir pustil v shlyuzovuyu azot. Kukylin smotrel na Gorma cherez okoshechko vnutrennej povorotnoj dveri i dumal, chto cheloveku nikogda ne prevzojti prirodu v izobretatel'nosti po chasti strashnyh tvarej. Zlo i bezobrazie kuda raznoobraznee i interesnee dobra i krasoty. A Gormu eti urody hot' by hny. Kak zhe, inache emu ot sebya samogo prishlos' by sharahat'sya. Kukylin zaglyanul v okoshko. Gormov kostyum nichem ne napominal skafandry drevnih kyflyavikskih pustolazov s bol'shimi prozrachnymi shlemami i yarko raskrashennoj poverhnost'yu, sglazhennoj sloyami teplozashchitnoj tkani. Nikak ne verilos', chto on delalsya v mirnoe vremya dlya sovershenno nevoinstvennyh zanyatij. |to byli dostojnye laty dlya groznogo rycarya-mstitelya, gotovogo vypolnit' krovavuyu klyatvu naperekor samoj smerti. Tusklye cherno-bagrovye ploskosti, vstoporshchennye plastinami sharnirov plechi, uzkij gluhoj shlem s bezobraznym zabralom, roga, shipy, bronirovannye trubki, podsumki, instrumental'nye poyasa, kobury s rezakami i sverlami, ogromnyj ranec s torchavshimi v raznye storony dugami bezopasnosti, gazovymi rulyami i bulavami opor silovyh shchitov, vneshnij skelet s dvumya priveshennymi pozadi plech sustavchatymi manipulyatorami - vse eto delalo Gorma pohozhim na yadovitoe nasekomoe. Gorm povernulsya k okoshku i pokazal Kukylinu kozu. - ZHalko, chto tvoya cheshuya ne vyderzhivaet vysokoe davlenie izvne. Fenrir, kak polezem, vklyuchi chego-nibud' torzhestvennogo. - U. Vneshnyaya dver' otkrylas'. V proem svesilas' dlinnaya kostistaya morda, poluotkryla past' i zavertela yazykom napodobie propellera. - U-tyu-tyu-tyu, - Gorm pokazal kozu i morde. Morda skrylas'.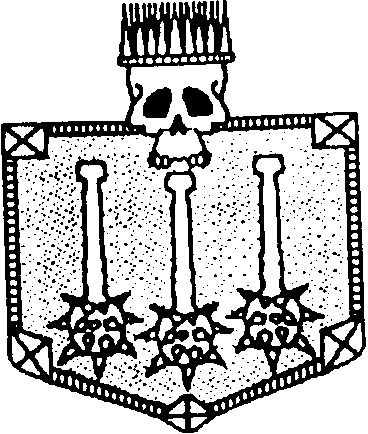 +--+ ++++++++ ++++++++ +--+ - Oblika oni dikovinnogo, no cheshujchatogo, a ne vodyanistogo. - A veliki li ih kryl'ya? - Kryl'ev vovse net, lap zhe u bol'shego shest', u men'shih po dyuzhine, a u malyh po chetyre. - CHudo, velikoe chudo! - Pticy, glyadite, kogo poslali predki! Iz lyuka vyletel i, vzmahnuv verhnimi lapami, ostanovil v vozduhe svoe ogromnoe telo poslanec predkov. Pticy privetstvenno zaskrezhetali chelyustyami. V otvet dinamiki Fenrira istorgli zhutkij solyak, zverski pogibshij v gromovom raskate barabanov. Tudytyu, visevshemu s myatym sushenym drevesnym undukom v chelyustyah, polagalos' podletet' k gostyu i ugostit' ego iz klyuva v klyuv. No u gostya klyuva v podobayushchem meste ne nablyudalos'. V kotoryj uzhe raz sredi ptic vozniklo zameshatel'stvo. Gorm spas situaciyu, identificirovav splyushchennyj zheltyj morshchinistyj puzyr', unylo zateryavshijsya mezhdu torchavshimi iz chelyustej v storony i zatem zagibavshimisya pod pryamym uglom drug navstrechu drugu strashnymi zubami Tudytya, i skazav: - A, yadrena ryba, da eto mysh'! To est' ya hotel skazat' naoborot, no vy vse ravno ni figa ne ponimaete. A nu davaj ee syuda! Mnogostradal'nyj unduk drevesnyj sushenyj ischez v odnom iz Gormovyh poyasnyh meshkov. - Spasibo, kak govoritsya, za dobryj hobot, no na chetveryh etogo malovato, druz'ya. Eshche pozhrat' u vas est'?

+--+ ++++++++ ++++++++ +--+ Da chto ty! S moej-to komplekciej? Zachem - ya ih prosto pered doprosom derzhu po pare sutok v koridore, a konvoj spat' ne daet i v tualet ne puskaet. Pomnish' togo studenta, kotoromu na dybe ruku otorvali? U menya takie cherez polsutok gotovy podpisat' chto ugodno. Net, piva mnogo p'yut. Uzh ne tam, gde ty ego beresh'. Razve tol'ko spirt? Izvini, izvini. Kstati, est' tut dlya tvoih mochalok kontrabandnyj tovarec. Da ne lapaj, porvesh'! Sintetika, redkaya veshch'. Zachem prozrachnyj? Oj, umoril! Ladno, kazhis', vedut kogo... Delo numer shastnadcat'-tridcyat' dva. Ulichen v hranenii motocikla. Ukaz vosem'desyat pyat', prilozhenie tri. Podsudimyj! Ot imeni naroda ya sovmeshchayu funkcii obvineniya i zashchity i vershu sud bespristrastnyj i spravedlivyj. CHto vy imeete skazat' v svoe opravdanie? Vse, vse, dostatochno. Rasstrelyat'! Sleduyushchij!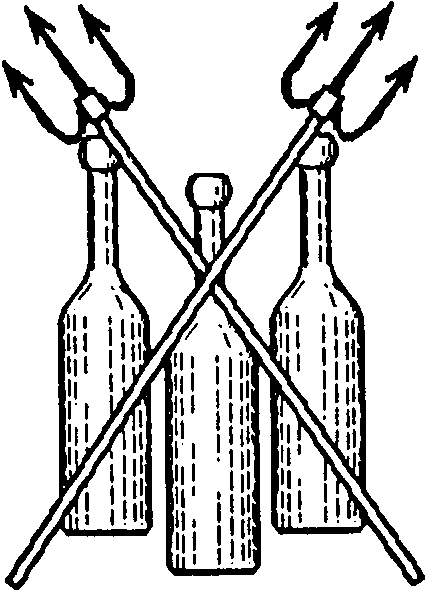 +--+ ++++++++ ++++++++ +--+ "Na povorote pogas svet I skryuchilis' chernye kogti dverej, I mne hotelos' kriknut' "Skorej!", No net. Holodnye sputniki tenej svoih, Oni prihodili i lozhilis' na stol, I golye nogi svisali iz nih Na kafel'nyj pol." "Za chto?" "Za to!" "Krepka moya vera - Pust' srok moj nastal, I vash chas prob'et, palachi. Horoshim maneram Soshedshij so skal Sumeet vas vseh nauchit'." "Menya etapiruyut v politicheskij lager' Oyayavik. Peredajte zhene, Nunligran, CHetvertyj prospekt dvadcatiletiya yubileya pobedy..." "ZHena pogoryuet, vyjdet za drugogo, Vyjdet za drugogo, zabudet pro menya, ZHalko tol'ko volyushki Vo shirokom polyushke, Materi-starushki da zheleznogo konya..." Vycarapav na betonnoj stene ne bol'no-to skladnyj stih, korenastyj detina s maskoj zapekshejsya krovi na lice sel na nary ryadom so svoim toshchim sokamernikom i sprosil: - Fa fto popalfya? - Ukaz vosem'desyat pyat', dopolnenie chetyre, - otvechal tot skvoz' slezy. - YA tak horosho derzhalsya. Mesyac ne mogli zastavit' nikogo ogovorit'. Tokom pytali, ne kormili - vse vyderzhal... - Tak ne voj. Molodef - umref f fiftoj foveft'yu, eto nynfe redko komu udaetfya. - Net, ya pogubil devyatnadcat' chelovek. Oni vzyali moyu devushku. Skazali: ne vydash' soobshchnikov po shpionskoj organizacii - iznasiluem vsem otdelom, i ya perepisal vseh druzej, a potom oni... - Fpion, a na pont bereffya, kak pridurok. A devufku tebe nado bylo ubit' famomu, taburetkoj, preff-pap'e - u nif f kabinetaf ffegda podhodyaffaya veff najdetfya. Fto f f toboj delat'... Ty voj potife, a? YA pofplyu. Pospat' korenastomu ne udalos'. Zavizzhali petli, otkrylas' dver', odin ohrannik voshel v kameru, drugoj s karabinom ostalsya snaruzhi. - Na vyhod. Posle dovol'no dlinnogo puti po koridoram detina sprosil u soldata, shedshego vperedi: - Fto ne f podval? - Tam vashego brata uzhe stol'ko navaleno - kryuchniki ne uspevayut ottaskivat', tak chto pridetsya tebe, druzhok, otdyhat' na gorodskoj svalke. - Oftryak... Vo dvore grela motor mashina. Okolo nee stoyal pozhiloj muzhchina s dvumya shirokimi polosami na vorotnike kitelya i mal'chishka-kursant. - Tvoya praktika okonchena. No est' dva ispytaniya, cherez kotorye dolzhen projti kazhdyj, kto hochet proverit', dostoin li on sluzhit' delu naroda, hot' ih i net v programme. Tot, kto otdaet sebya obshchemu delu, dolzhen otdat' sebya celikom, bez ostatka. Nikakie lozhnye idei i predrassudki ne dolzhny stoyat' mezhdu toboj i tvoim dolgom pered narodom. Ty - kayugun v ruke naroda. Ty ne prinadlezhish' sebe. Prikaz - vot chto vyshe vseh zapovedej i ustoev dlya tebya. Ne dumaj o tom, ploh ty ili horosh, kogda vypolnyaesh' ego, dumaj tol'ko, chtoby on byl vypolnen. Nikakoj postupok ne nizok, esli sovershen imenem naroda. Ty dal lozhnuyu klyatvu i obeschestil devicu. CHuvstvuesh' li ty sebya lzhecom i nasil'nikom? - Nikak net! - Pochemu? - YA dejstvoval imenem naroda! - Molodec! Ty proshel ispytanie nizost'yu. Projdi teper' i ispytanie krov'yu. Voditel' otvezet etih lyudej na svalku. Tam ty rasstrelyaesh' ih. Ne zabud' potom snyat' naruchniki. Ponyal prikaz? - Tak tochno! Pervoe ispytanie bylo priyatnee, no ya spravlyus' i so vtorym. - Razgovorchiki, - uhmyl'nuvshis', skazal pozhiloj muzhchina. - Ispolnyaj prikaz! - Est'! - praktikant skrestil v ustavnom privetstvii szhatye v kulaki ruki i sel v mashinu. Za nim vpihnuli prigovorennyh, potom seli odin iz ohrannikov, zahlopnuv zadnyuyu dver'. SHofer bodro vzyal s mesta i, liho promchavshis' mimo vorot, vyehal na shosse. Karie glaza praktikanta zatumanilis'. - Spasibo tebe za pervoe zadanie, dantist. Pravda, krepkaya u tvoej devki okazalas' nevinnost', prishlos' mne povozit'sya na blago naro... On ne dogovoril. Zamuhryshka, vzvizgnuv beshenoj krysoj, obrushil svoi skovannye ruki emu na golovu. - Uf ty! - Korenastyj paren' s neskryvaemym udivleniem dvinul tazom, i sidevshij ryadom ohrannik vyletel na shosse - zadnyaya dver', zashchemivshaya pri posadke remen' karabina, okazalas' neplotno zakrytoj. Vtoroj ohrannik uspel dotyanut'sya do spuskovogo kryuchka, zabyv pro predohranitel', za chto rasplatilsya slomannym pal'cem. Vprochem, palec bespokoil ego nedolgo, potomu chto vskore on okazalsya lezhashchim na obochine shosse s probitoj naruchnikami korenastogo detiny golovoj. Detina vytashchil iz nagrudnogo karmana kursanta klyuchi na kol'ce, otper naruchniki zamuhryshki, dal klyuchi emu, dozhdalsya, poka tot otper ego naruchniki, po-hozyajski podobral s pola karabin i protyanul zamuhryshke ruku. - YA Mygak, tangit. - YA Kumahlyat, uchilsya na zubnogo vracha. - Kak kftati. Ne lyublyu vafego brata, no tak otomftit' fa lyubimuyu mofet tofko fvoj. U etoj ftuki ferkalo fadnego vida eft'? - Razbito. - |to horofo. Mashina zatormozila. Lyazgnula perednyaya dver', proskripeli shagi, v proeme dveri pokazalas' usataya fizionomiya shofera, vytyanulas' i ischezla v krovavom vspleske. Trup s raznesennym pulej cherepom svalilsya na shtabel' skeletopodobnyh tel, vidimo, privezennyh na svalku iz kakogo-to uchrezhdeniya social'nogo obespecheniya. Korenastyj postavil karabin na predohranitel', kinul ego zamuhryshke, eshche raz posharil po karmanam kursanta, vynul pistolet, vytolknul telo iz mashiny, vylez sam, neskol'ko raz udaril rasprostertogo pokojnika nogoj v pah, i polez na mesto voditelya. - I kuda my? - V gory, kuda f nam effe, goremykam!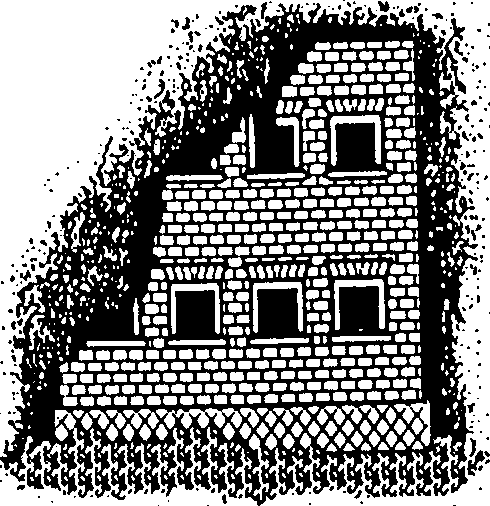 +--+ ++++++++ ++++++++ +--+ Posle vozmutitel'noj i ne poddayushchejsya opisaniyu delezhki dary ptic byli sozhrany sobakami i Gormom. Kukylinu dostalsya sushenyj unduk, ot kotorogo ego stoshnilo. Pokovyryav v zubah mednoj shchetinkoj, vydrannoj iz shchetki dlya ochesyvaniya sobak, Gorm skazal: - Dobryj harch, no boyus', chto luchshe mne ne pytat'sya uznat', chto ya tol'ko chto zahaval i kak ono bylo prigotovleno. Fenrir, rasskazhi-ka mne luchshe, chto ty ponyal v ih komp'yutere za vremya moej edy. - Ty riskuesh' rasstroit' sebe perevarivanie poimenovannoj edy, no ladno - ohota pushche nevoli. Slushaj. Znakomo tebe ponyatie arifmometra? - Komu? - Kukylin, ob座asni etomu hekeru-nedouchke, chto takoe arifmometr. - Mmm... Arifmometrom u nas nazyvayut mehanicheskoe prisposoblenie dlya scheta, skladyvayushchee i vychitayushchee chisla posredstvom zubchatyh koles. - Molodec, horoshij mal'chik, voz'mi s polki pirozhok. A nu kladi na mesto! Ot etogo mozhno zabolet' nasmert', beri levyj. Ty ponyal, pen' rogatyj? - Koroche, kurkulyator! - Rostom, i verno, ne vyshel, no po umu ty - chistyj troll'. Na fanernom zvezdolete net komp'yutera v nashem ponimanii. To, chto tam stoit, ne ispol'zuet pri rabote elektromagnitnye izlucheniya. |to mehanicheskoe vychislitel'noe ustrojstvo. Arifmometr. Dostatochno slozhnyj, za schet togo, chto shesterni, chervyaki, valy i prochee miniatyurizovany do predela. Otdel'nye detali, vozmozhno, prosto molekuly nekih sverhpolimerov. So mnoj on vryad li potyagaetsya, s toboj razve chto. - Vot udruzhil. Ladno, kleveshchi dal'she. - Nositeli informacii - barabany. Edinica ili nol' informacii obuslovleny glubinoj spiral'noj kanavki. Schityvayushchee ustrojstvo - tonkaya igla. - Ty dumal ob interfejse? - Pol'zuyas' tvoim zhiznennym kredo, chto mne dumat'? On tam predusmotren, da ne pod nash, kak govoritsya, raz容m. |to shestiugol'naya plastina, utykannaya tonyusen'kimi shchupami. CHtoby soorudit' ustrojstvo pod paru, nuzhna kak minimum masterskaya tvoego zamka. - I vse? - Mozhno by poprobovat' silovoe pole, no skol'ko potrebuetsya malomoshchnyh generatorov i kak ih sinhronizirovat'? Posadim robota za klavishi, vinovat, za kryuchki. - "Udalenie gland avtogenom cherez zadnij prohod, ili Inzhener iz ZHeleznogo Lesa". Ty, Fenrir, byl zaduman kak samoobuchayushchijsya, a na poverku okazalsya samorazuchivayushchijsya - dureesh' s kazhdym dnem. - |to pochemu? - Ne znayu, tak uzh platy razvelis'. Esli u tebya est' tri generatora silovogo polya, ty mozhesh' sgustit' silovoj zhgut po normali kih ploskosti? - Nu, eto budet ne zhgut, a vybros konechnoj dliny i pogonnoj intensivnosti. Dissipaciya vse-taki. - Dlina vybrosa zavisit ot intensivnosti? - Ne prikidyvajsya, chto u tebya uma men'she, chem u trollya. - Ty tak i ne doper, kuda ya gnu? Smotri! - Gorm stal risovat' na okne svetovym perom. - Vremya reakcii na signal u ih interfejsa navernyaka poryadochnoe - mehanizm vse-taki. Znachit, est' dovol'no prilichnyj interval, na kotorom on ne otlichit pul'siruyushchee vozdejstvie ot postoyannogo. Berem tri - tri! - generatora. Zadaem setku na ploskosti i chastotu razvertki, probegaem setku i v kazhdoj yachejke vtykaem silovoj zhgut nuzhnoj intensivnosti. Poluchaetsya sintezirovannoe silovoe vozdejstvie lyuboj konfiguracii. - Nu ty vashche... - Uzh ne korzinka s iskusstvennymi shchenkami, - Gorm vyletel iz kresla i, ottolknuvshis' nogoj ot potolka, peremestilsya k proemu, otdedyavshemu shahtu ot vtoroj kayuty. Tam Kukylin sidel u monitora, reshaya zadachki po fizike. - Nu chto ty dolbish' vse podryad? YA dayu dyuzhinu zadach, chtoby ty mog vybrat' paru naibolee dlya tebya, brodyagi, interesnyh. - Izvini, ya ne znal. - A kakogo rozhna ty opyat' izvinyaesh'sya, kak poslednij merzavec? Radi schast'ya byt' izbavlennym ot dushnogo obhvata tvoej vezhlivosti, ya ne pobrezgoval dazhe somnitel'noj chest'yu pobratat'sya s toboj, i neuzhto vse eto zrya? - Slushaj, chto ty na menya brosaesh'sya, kak vampir na krovyanuyu kolbasu? Sam nichego ne skazal, a ya snachala reshaj vse podryad, a potom slushaj tvoi vopli! - Nu vot, srazu by tak. Horosh uchit'. YA sejchas pojdu razberus' s interfejsom, a to Fenrir tam, pohozhe, sovsem spyatil, a ty smotri fil'mu. Poprobuj bez perevoda. Gorm podletel k dlinnomu yashchiku s diskami, vybral odin v naibolee obsharpannom futlyare i, vytryahnuv ego v diskovod, uplyl v shahtu, poputno prihvativ s soboj mirno spavshih v vozduhe sobak - Midira za nogu, Fuamnah za hvost. Pereborka mezhdu shahtoj i kayutoj, zakryvshis', zaglushila zvuki perebranki. Propeli chto-to bessmyslenno-muzhestvennoe elektronnye fanfary, kotorye dazhe gluhoj ot rozhdeniya troll'-idiot ne prinyal by za nastoyashchie, i pered Kukylinom yarkimi do yadovitosti kraskami zazhegsya kub ekrana. Tisnenoj chernoj kozhi sapogi s mnozhestvom zaklepok, blyah i visyulek shiroko stupali po pronzitel'no zelenoj trave. Kamera skol'zila nad samoj zemlej, potom povernulas' vverh, pokazav sine-fioletovoe nebo s visevshim pochti v zenite ne to ostrovom, ne to korablem, i zakovannuyu v cheshujchatuyu bronyu figuru shagavshego. Razmotalsya v vozduhe verevochnyj trap, i rycar' v chernyh sapogah so slegka stoptannymi vnutr' uzkimi kablukami lovko podnyalsya po uzkim metallicheskim stupenyam. Posledoval temnyj kadr, na kotorom mog by razglyadet' chto-libo tol'ko nadelennyj zreniem v blizhnem infrakrasnom diapazone urozhenec Metropolii. Nizkij, skripuchij golos proiznes: - Vysoko budet nesti menya segodnya vecherom Zmej! YA budu im pravit'! - Kak smog ty postroit' takoj bol'shoj i krasivyj korabl', o |rling syn Sk'yal'ga? - sprosil drugoj golos, tozhe nizkij, no gluhoj. - Otec peredal mne tajnu, i ne pozdnee chem etoj noch'yu ona prineset mne slavu i vlast' ili slavu i gibel'. Sobirajte vojsko, yarly. |kran posvetlel. Nad holmami, porosshimi redkim lesom, plyli mnogokorpusnye aerostaty s hishchno vytyanutymi nagluho zakrytymi derevyannymi gondolami. Na nekotoryh gromozdilis' v neskol'ko yarusov parusa s izobrazheniyami bogov i chudovishch (bylo by mudreno razobrat', kto imenno bogi, a kto chudovishcha), drugie zagrebali vozduh vintami, reshetchatye karkasy kotoryh prosvechivali skvoz' tkanevuyu obshivku. Za aerostatami sledoval letayushchij ostrov, vlekomyj shedshimi naprolom cherez lesnuyu porosl' ogromnymi zveryami, spiny kotoryh pokryvali kostnye cheshui v chelovecheskij rost. Tonkie kanaty soedinyali massivnye i, vidimo, strashno tyazhelye kovanye nagrudniki na zveryah s uzkoj shchel'yu v torchavshem iz aerostatnyh puzyrej klyuvoobraznom mednom vystupe, uvenchannom zmeinoj golovoj. CHerez ves' ekran provalami v beskonechnuyu dal' zaziyali uglovatye znaki run: "Barabany sud'by, chast' vtoraya". Iz-za zelenyh holmov pokazalas' krutaya skala. Na ee vershine sredi zubchatyh sten i bashen proishodilo neponyatnoe shevelenie. Bolee krupnyj plan pokazal snovavshih po stenam lyudej, gotovivshih k vzletu vozdushnye shary. SHary napolnyalis' gazom i medlenno vsplyvali v vozduh. Vrazheskij vozdushnyj flot tuchej okruzhal skalu. Rycar' v cheshujchatoj brone i chernyh sapogah stoyal na mednom nosu letayushchego ostrova. Operator dal naplyv na ego svirepoe temnoe lico, obramlennoe ryzhej korotkoj borodoj i grivoj razvevavshihsya na vetru sedyh volos. V sinih glazah chitalas' krovozhadnaya radost' predvkusheniya bitvy. - Pohozhe, bitvy v vozduhe ne izbezhat', - obratilsya k |rlingu synu Sk'yal'ga chelovek v zheleznom rogatom shleme. - Da. Byt' krovavomu dozhdyu i gradu iz otrublennyh golov. Vyvodite korabli v odnu liniyu i svyazyvajte ih, - prikazal tot. - Togda nos Velikogo Zmeya sil'no vydvinetsya za obshchij stroj - ved' on samyj bol'shoj. I ploho pridetsya tem, kto budet oboronyat' nos. - Da. Ty vozglavish' ih. Neozhidanno nosy |rlinga syna Sk'yal'ga i ego sobesednika vtyanulis' vnutr' ih cherepov, blizhnij i dal'nij borta Velikogo Zmeya pomenyalis' mestami, a v nebe otkrylas' dyra, cherez kotoruyu vidnelis' medlenno dvigavshiesya mehanizmy i bystro snovavshie krylatye mnogorukie urody s krasnymi glazami. |kran slozhilsya v ploskuyu kartinku odnogo iz vnutrennih pomeshchenij fanernogo zvezdoleta. - Horosh proklazhat'sya, - s obychnoj svoej posledovatel'nost'yu skazal Gorm, ch'ya vnushitel'naya zadnyaya chast', torchavshaya iz nedr chego-to, byla edinstvennym elementom zrelishcha, na kotorom hot' kak-to mog otdohnut' glaz. - Zabros' v shlyuz dvuh shestirukih i perekin' upravlenie na Fenrira. - Ohoho, - Kukylin otstegnulsya ot kresla. - Nu chto b ty bez menya delal. - Snimal shtany i begal. Kuda rylo zadral, krivodrist? Krasnoglazyj zvezdoletchik, popytavshijsya vynut' iz karmashka na levoj ikre Gorma kinzhal-ploskogubcy, uvernulsya ot pinka, klyunul Gorma v pyatku i uporhnul. Gorm polez za gajkovertkoj. Poleteli melkie detali, im vsled vyplyl raspotroshennyj visyachij zamok. - CHto hot' ty delaesh'? - Lomayu zashchitu, - byl otvet. Iz razvorochennoj operacionnoj sistemy sochilas' smazka. Marazm krepchal.

+--+ ++++++++ ++++++++ +--+ Povisnuv na pryamougol'nom potyuhe vokrug plavavshej v centre storozhki tushi udota glistobryuhogo, zazhivo nafarshirovannogo ostricej delikatesnoj, nochnye storozha uzhe den' naprolet branilis', izredka sbivaya nakal spora edoj. - |to ya govoryu vam, pticy! Brat' v soyuzniki eto chudovishche - luchshe uzh vsem poprygat' v reaktor! Malo togo, chto u nego vsego chetyre lapy i net kryl'ev - on odnopolyj! |to kakoe-to biologicheskoe izvrashchenie, vid nepolnocennyh sushchestv! - ne unimalsya Klyup. - A po-moemu, odnopolost' ekonomichnee germafroditizma, - rassuzhdal Popen'ku, - hot' kazhdyj iz nas uzhe dvupol, hotu vse ravno nuzhen nasolot, a nasolotu hot. Ot sebya detej ne rodish'! A emu eto kak pozavtrakat'! - Net, ptica! CHtoby rodit' detej, emu nuzhna samka, kak tebe hot, a sam on, estestvenno, samec, kak ty - nasolot, - poproboval ob座asnit' Tudyt'. - A v chem togda raznica? - Sojdyas' s hotom, ty otlozhish' meshki ot nego, a on ot tebya, verno? A on nichego ne rodit ot samki, tol'ko samka ot nego, i srazu gotovogo detenysha! - A detenysh budet samec ili samka? - Kak pridetsya. - Vot uzhas! Tak esli v kakom-nibud' pokolenii rodyatsya odni samcy ili odni samki, ves' vid mozhet vymeret'! - Vy o drugom podumajte, pticy! - Tudyt' vosparil nad polus容dennym udotom. - Kakimi my emu kazhemsya... Vse zamolchali, potom kto-to skazal: - Da-a... - Kogda on rasskazal mne vse eto, ya tol'ko i smog podumat': "Hotel by ya videt' tu samku..." Tak u nego i izobrazhenie nashlos', - prodolzhal Tudyt'. - I kak? - Takaya zhe otrava, tol'ko pryamo na ryle, vokrug pasti, sherst' ne rastet. YA o drugom! On ne vinovat, chto ne rodilsya pticej, no golova u nego darom chto priplyusnutaya, a rabotaet nenamnogo huzhe nashih. Dvojnoj, postig li ty ego rech'? - Koe v chem. - A on uzhe vladeet nashej, hot' ona i slozhnee ego kvakan'ya, ne govorya uzhe o tom, chto emu prihoditsya ispol'zovat' special'nyj pribor, chtoby govorit'. - Tak on eshche i nem? - Naprotiv, ochen' razgovorchiv, hot' recheniya ego poroj temny. YA uyasnil, chto on predlagaet nam nekotoroe dejstvie. - Posadka na telo, vidimoe nad nami? Uzhel' sami my ne reshilis' by? - Nevedomo. Odnako on budet polezen - vverhu zhivushchie emu srodni. - A vyzhivem li my vverhu? - V ego chelnoke dyshitsya neploho, k tomu zh verhnee telo edva nadeleno tyagoteniem, chtoby uderzhat' atmosferu. I sumeem vosparit' - v tom on uveryal. - Net u menya very ischadiyu! - vozopil Klyup. - Neizvestnoe zlo luchshe li izvestnogo? - skazal prosnuvshijsya Hryabet, hranitel' struch'ev, i vnov' usnul. - Skazhi ty, Dvojnoj! - Tudyt' zakutalsya v svoi kryl'ya. - Lyubaya, dazhe somnitel'naya, nadezhda luchshe vernoj smerti! - Dvojnoj svirepym vzglyadom obvel ptic. - "Kryuh praroditelya" rassypaetsya na glazah. Zreet bunt. Korabl' obrechen. - On bezobrazen, no smyshlen. I dejstvie, im predlagaemoe, ne est' li blagaya Cel', prednachertannaya predkami? Prekratit' vojnu, v sodruzhestve s inymi sushchestvami vozrodit' razorennyj mir, postroit' kosmoport i otpravkoj pervogo korablya pomoch' vypolnit' svyashchennyj obet mesti, bolee drevnij, chem Staryj Pupyr Dogovornoj Botvy? - A ne luchshe li ne vojnu prekratit', a izvesti teh tvarej, chto zly nastol'ko, chto dazhe sebe podobnyh ubivayut? YA, konechno, ponimayu, chto oni ne vinovaty - vse proklyataya priroda - v odno pokolenie roditsya men'she samcov, i vse samki voyuyut za nih, v drugoe - naoborot, no mozhno li imet' delo s takimi ushcherbnymi sushchestvami? - Odno takoe ushcherbnoe sushchestvo uzhe spaslo nam zhizn' svoim poyavleniem i tut zhe podarilo nam ee vtorichno, kogda ne otvetilo na tvoyu pal'bu, - otvetil Klyupu Dvojnoj. - YA veryu v mudrost' predkov, namerenno postavivshih nas pered etim vyborom. - |j, Tudyt'! - vnov' prosnulsya Hryabet. - Raz s容den udot, pust' budet s容den i utod! Veli podat'!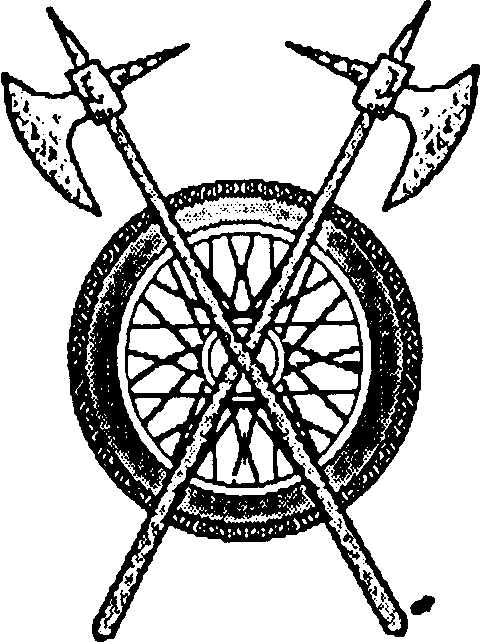 +--+ ++++++++ ++++++++ +--+ "Utsilik - gorod yasnogo neba" - znachilos' na reklamnom plakate, stoyavshem na obochine shosse, po kotoromu davno uzhe ne pronosilis' legkovye avtomobili i avtobusy s bogatymi kurortnikami. Za shchitom shosse obryvalos'. Na dne pochti vysohshej reki lezhal poluskrytyj nanosnym gruntom ostov mosta. Za rekoj vzdymalis' k propylennomu nebu utesy domov, sposobnye vselit' uzhas v serdce nerobkogo strannika. Pogovarivali o chudovishche, cherez neskol'ko desyatkov let posle pervogo udara narodivshemsya v pogublennom radiaciej celebnom ozere Sanluk, chto ono budto by proniklo v kanalizaciyu i set' metro pod gorodom i polnost'yu podchinilo ego sebe. Vo vsyakom sluchae, v Utsilike i verno nikto ne zhil, nesmotrya na sohrannost' zdanij i blizost' snosnoj vody, a otvazhnyj Tagigak, grabitel' mertvyh gorodov, kak-to sunuvshijsya v Utsilik, chut' ne pogib v ob座atiyah strashnogo sinego shchupal'ca, pytavshegosya zatashchit' ego v platnyj podzemnyj tualet. Poetomu muzhiki, osmelivshiesya obrabatyvat' zemlyu blizhe, chem v pyatnadcati ligah ot gorodskih stroenij, schitalis' samymi chto ni na est' otchayannymi, a pro staruhu Kutveun, zhivshuyu s tremya docher'mi i pyat'yu ih muzh'yami na stoyavshem posredi reki parohode, hodil upornyj sluh, chto ona lyudoedka i chto glaz u nee durnoj. I kogda staruha, zajdya kak-to holodnym letnim vecherom v derevenskij traktir, vmesto platy za vypivku i ugoshchenie predlozhila rasskazat' istoriyu, traktirshchik, podumav, soglasilsya - ne so strahu, a tak, iz neohoty svyazyvat'sya. Prochistiv posle edy mozgi dobroj kruzhkoj podogretogo piva, staruha uterlas' fartukom i nachala: - Vy, lyudi dobrye, slyhali verno, pro Kukylina, chto byl starshim synom ego milosti Koshkli? Nu tak vot chto ya vam skazhu. Pozaproshlym utrom sizhu ya v rubke svoego korablya, a vremya rannee - edva-edva rassvetaet. Son ko mne, kak stara stala, pod utro sovsem nejdet. I slyshu - motor. Nu, dumayu, ne inache kto-to edet po ruslu v usad'bu Koshkli. Tochno, bronevik. Gerby knyazheskie. Ostanovilis' u korablya, i nu krichat' v megafon: "|j, est' kto?" A sami pushku na rubku navodyat. "Est'", krichu, "est', ne strelyaj, dobryj chelovek." Tut i zyat'ya v rubku nabezhali, kto s ruzh'em, a kto i s vilami. A s bronevika krichat: "|j, muzhiki, ch'i vy, i podat' ego svetlosti agii Kamysnapa shoferu vody dlya radiatora!" Poshla ya so starshim zyatem i s polvedrom vody k broneviku, i vizhu - ryadom s shoferom sidit staryj Syaguyagnitu, oruzhejnyj master ego milosti Koshkli, chto s molodym Koshkli na vojnu poshel. Uznal menya. "A ty vse takaya zhe, staruha, razve tol'ko gryaznej stala," govorit. Nu, slovo za slovo, rasskazal, chto priklyuchilos' s Kukylinom. - I chto zhe priklyuchilos'? - sprosil kto-to iz posetitelej traktira, grevshihsya u ognya. - Vot v etom, dobryj chelovek, i vsya, skazhu ya, sut'. Net bol'she Kukylina, i dushu svoyu on pogubil za sto zolotyh i yashchik tushenki! - Ogo! Mne by kto stol'ko dobra za moyu otvalil! Kak zhe eto u nego vyshlo? - Da vyzvalsya s Pupihtukakom bit'sya, i tot ego uvolok! - staruha vyderzhala effektnuyu pauzu, hlebnula piva i prodolzhila by, ne projdis' po oknam pulemetnaya ochered'. Skvoz' tresk padavshih na pol gorshkov i vopli posetitelej s ulicy doneslis' rev predel'no iznoshennogo gazoturbinnogo dvigatelya i lyazg trakov. Narod brosilsya vrassypnuyu. U traktira ostanovilsya tank s grubo namalevannoj na bashne baronskoj koronoj. Iz bashennogo lyuka vylez chelovek navodyashchej uzhas naruzhnosti - lysyj, bezbrovyj, bezusyj, golyj po poyas, gorbatyj, tatuirovannyj v tri kraski i s pulemetom v rukah. On sprygnul s broni, sorval prikryvavshuyu vhod v traktir cinovku i perestupil cherez porog. K etomu momentu v pomeshchenii ostavalis' tol'ko traktirshchik, pomyataya v davke i upavshaya pod stol staruha i chelovek, grevshijsya u ognya. - |j, ty! - korotkoj ochered'yu po stojke lysyj dal ponyat', chto imeet v vidu traktirshchika. - Dve bochki spirta dlya tanka, stakan dlya menya i luchshego ugoshcheniya dlya ego svetlosti dobrodetel'nogo barona Nakasyunalyuka! A ty, muzhik, katis' otsyuda! - Ne vonyaj, gorbatyj, - otozvalsya sidevshij u ochaga, pokazyvaya lysomu granatu, kotoruyu derzhal v pravoj ruke. - Uzh skol'ko let ty zhivesh', i s kazhdym godom vse sil'nee vonyaesh', a kogda podohnesh', zavonyaesh' i togo huzhe. - CHto? - lysyj v polnom zameshatel'stve napravlyal stvol pulemeta to v potolok, to v pol. - Mne nado govorit' s tvoim hozyainom. |to tak zhe verno, kak to, chto tebya, gorbatyj, zovut Nygfukak. - A ty kto? - Ne tvoego uma delo, lysyj. Zovi hozyaina. - Nu ya tebe uzho popomnyu, - poobeshchal tatuirovannyj i vyshel. On poyavilsya vnov' vmeste s dorodnym muzhchinoj raspolagayushchej naruzhnosti, kotoryj, edva obvyknuv v temnote, s krikom: "|j, babka, lovi!" iz pistoleta zastrelil staruhu Kutveun. Sev za stol i postaviv nogi na ee trup, on skazal: - Dobroj edy, Kagunnak. - Dobroj edy, tvoya svetlost'. Zrya ty ubil staruhu - ona ne dorasskazala odnu istoriyu. - YA ne vinovat, chto eta skotina traktirshchik ne prines skameechku dlya nog. I potom, mne sejchas ne do istorij, mne srochno nuzhno zoloto ili platina. - Esli by ty izredka udosuzhivalsya slushat' istorii, mozhet byt', ne nuzhdalsya by tak. - Dovol'no. CHto u tebya za delo? - Ograbim usad'bu Koshkli! - Vot eshche! Oni mne dolzhne sorok zolotyh, a tam vsego dobra zolotyh na pyat'! - Vot sorok zolotyh ty i otdash' mne za sovet. I starshuyu Koshkli vpridachu. Knyaz' Kamysnap na dnyah prislal v usad'bu bronevik s zolotom i konservami. - S kakoj radosti? - baron dozhdalsya, poka rab traktirshchika prines korzinu s dvumya butylkami vina, zharenoj koshkoj i ovoshchami, i zastrelil raba. - Delo knyazheskoe. Kstati, Kukylin nakrylsya. - Vot eto priyatno. Podsazhivajsya, poedim, podozhzhem traktir i edem grabit'.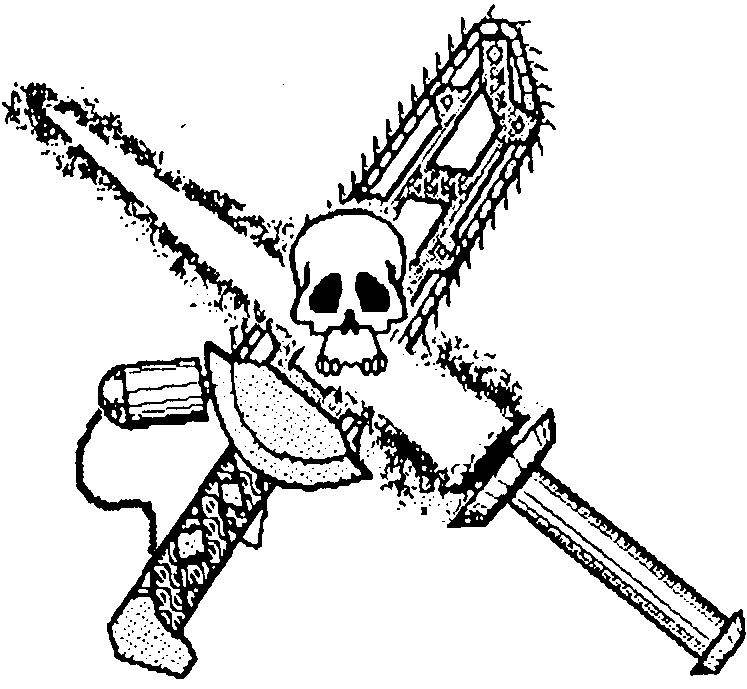 +--+ ++++++++ ++++++++ +--+ Dvojnoj pokrepche shvatil potyuh, prodel kogti perednih i zadnih lap v petli rulevyh trosov i svesil golovu v smotrovuyu polusferu. Tonko vizzhal motorchik girostabilizirovannoj platformy, rovno stuchali dvigateli, slegka podragivali strelki manometrov. - Kudy! Sovoj! Brosaj! CHerepov! - vyzval on. - Dvojnoj! - pochti odnovremenno otkliknulis' rodichi. Tudyt' v poslednij raz pered zapuskom zagovoril s chelnokom: - Dvojnoj! Dayu otschet: golova, kryl'ya, nogi, hvost! Poshel, ptenchik! Kleshnya "Kryuha praroditelya" moshchnym dvizheniem poslala "Vizg" k tucham planety Lysoe Varen'e. Dvojnoj uslyshal predstartovyj otschet vtorogo chelnoka, potom golosa s "Kryuha praroditelya" zatihli v otdalenii. Vinty vrashchalis' vholostuyu, zamedlenie ne chuvstvovalos'. - Dvojnoj! Kudy! Brosaj! CHerepov! Kak zhizn', pticy? - sintezirovannyj radiogolos Gorma byl, kak vsegda, nizkim i gudyashchim, kak gong. - Gorm! Tebe by tak zhit', kak ya! - napereboj zaorali rodichi. Dvojnoj predstavil sebe ih vysunutye cheshujchatye yazyki i razinutye pasti s krivymi zubami, razinul past' i vysunul dlinnyj cheshujchatyj yazyk. Po pravu nochnogo storozha on otvetil na vyzov poslednim: - |h, Gorm! ZHizn' nasha chto chajnik: boka blestyat, da nos razdvoen! Gde ty? - Obernis'. Priplyusnutaya tusha Fenrira, smutno proglyadyvavshaya skvoz' silovuyu bronyu, visela tochno pozadi "Vizga". - Dlya vas posadka budet trudnoj - atmosfera zdes' razrezhena. Napominayu eshche raz - derzhat'sya za mnoj na rasstoyanii dyuzhiny korpusov, pri sluchajnom kasanii vody nemedlenno stavit' vinty v flyugernoe polozhenie. Ptichki! - Fenrir obognal "Vizg-1" i "Vizg" i zazheg signal'nye ogni. Vskore tri apparata vynyrnuli iz oblachnogo sloya v neposredstvennoj blizosti ot poverhnosti. Rev raketnyh dvizhitelej Fenrira nakladyvalsya na gluhoe gudenie mnogolopastnyh propellerov v hvostovyh chastyah sparennyh kitoobraznyh korpusov chelnokov. YArkaya oranzhevaya kraska, pokryvavshaya ih obshivku, v zapylennoj atmosfere pyatoj planety priobrela neiz座asnimo paskudnyj ottenok. |kipazhi tesnilis' v pohozhih na konservnye banki vnutrennih pomeshcheniyah, vpivshis' kogtyami srednih lap v potyuhi, piloty dergali za trosy, povorachivavshie vozdushnye ruli i nosovye upravlyayushchie ploskosti. Gorm sidel v kresle, polozhiv ruki na massivnoe navershie klyucha, vyrezannoe v vide pary predayushchihsya lyubvi drakonov. Kukylin nablyudal za ego dejstviyami iz kayuty cherez ob容m monitora. Skvoz' pronosivshiesya v oknah prosvety mglistoj dymki vidnelas' smorshchennaya dryablymi volnami gryaznaya shir' okeana. Polet davno uzhe shel na dozvuke, i Gormu prihodilos' izryadno trudit'sya, chtoby dvigatelyami i izmeneniem formy silovyh shchitov podderzhivat' ravnovesie. Neuklyuzhie posadochnye chelnoki ptic prednaznachalis' dlya posadki na planetu s gorazdo bolee plotnoj atmosferoj, no otnositel'no malen'koe uskorenie svobodnogo padeniya pozvolyalo kurguzym sablevidnym krylyshkam podderzhivat' podveshennye k nim snizu tyazhelye korpusa "Vizga" i "Vizga-1". Fenrir letel v lokte nad vodoj, silovym shchitom drobya grebni voln. Zona vidimosti byla beznravstvenno uzkoj - srazu nad oknami nachinalsya tuman. Vnezapno v opasnoj blizosti ot perednej kromki iz vody podnyalas' temnaya massa. Gorm ne uspel otreagirovat', no Fenrir smel prepyatstvie protivometeoritnoj raketoj, na mgnovenie vyklyuchiv silovoj shchit. Kuski tvari, reshivshej poohotit'sya na neobychno krupnuyu letuchuyu rybu, dolgo eshche padali v vodu. "Vizgi" skol'zili chut' poodal', ne kasayas' vody. |ffekt ekrana pomogal im dvigat'sya v vozduhe so skorost'yu ptich'ego poleta. Gondola poleznoj nagruzki "Vizga" na mgnovenie sdvinulas' nazad, vypolzaya iz-pod kryla, i iz dekompressirovannogo eshche na "Kryuhe praroditelya" kubrika vyporhnuli Jego Brosaj i Jego CHerepov. SHerstistye kryl'ya ogromnogo razmaha, prisposoblennye k vpyatero bol'shej gravitacii, legko nesli ih obtekaemye tela, pokrytye kostyanoj bronej, kogti krepko szhimali ognemety, vzglyady temennyh glaz, chuvstvitel'nyh k infrakrasnym lucham, zorko pronikali skvoz' tuman. Volny stali kruche. Priblizhalas' otmel' ili ostrov. - Zdes' samoe zver'e i nachnetsya, - obratilsya Gorm k Kukylinu. - Glubina konchilas', poetomu oni budut torchat' iz vody. Kstati, chto za skotina nas chut' ne szyamala? - Sprosi chto polegche. - A eshche aborigen! CHto pyat' dnej nazad vzorvalos' v ego rodnoj atmosfere, on ne znaet... Kto zhivet v ego rodnom, lyubimom, mozhno skazat', more... Rycar', figycar'... - proburchal sebe pod nos Gorm, mashinal'no uklonyayas' ot stolknoveniya s pereponchatoj lapoj, mestami usazhennoj prisoskami, popytavshejsya pojmat' Fenrira na letu. - Legche na povorotah, ty, pochetnyj chlen porosenka s kashej! - Fenriru manevr pokazalsya neizyashchnym. - Mne teper' etu sol' dva chasa s sebya soskrebat'. - Tebe bol'she nravitsya kishki s sebya soskrebat', chto li? - Kishki u tebya v shtanah. Derzhi pravee, idiot! Nemyslimyh razmerov past' zahlopnulas' na rasstoyanii vytyanutoj ruki ot levogo kraya golovnogo otseka. CHerepov i Brosaj otstali ot "Vizga" i zanimalis' tem, chto draznili morskogo zverya, vsplyvshego k poverhnosti i bestolkovo mahavshego hlystoobraznymi shchupal'cami. CHerepov pikiroval emu na golovu, v poslednij moment pered stolknoveniem svorachivaya, a porhavshij nad samymi grebnyami voln Brosaj, okazyvayas' nad razinutym v ozhidanii CHerepova hlebalom, tolstoj struej gadil v nego na letu. Tak obaldevshie ot sovershenno novoj i gde-to bodryashchej obstanovki Jego zabavlyalis', poka Brosaj ne issyak. Tem vremenem Fenrir, "Vizg" i "Vizg-1" vleteli v zaliv s otnositel'no spokojnoj vodoj. Poseredine zaliva stoyal dopotopnyj morskoj korabl', opletennyj mnozhestvom suhih volosatyh steblej. Stebli zavershalis' razdvoennymi shtoporami. Nekotorye shtopory vse eshche vpivalis' v glaznicy cherepov, vmeste s drugimi kostyami i oshmetkami odezhdy valyavshihsya na palube. - Gorm! Slyshish' menya! - Brosaj! Ty, chto l'? - YA. YA nad vami. Pochemu zdes' bereg tak kruglo vyrezan? |to port? - |to krater, ptica. Zdes', pohozhe, byl port, no ego raznesli v pyl'. - Togda pochemu poseredine stoit korabl'? Ili eto ne korabl'? - Sprosi chto polegche, - probormotal Gorm sebe pod nos. Ptica, figyca... Nam na bereg by vylezti sperva... Bereg byl dovol'no krutym i ryhlym na vid, no samoe udivitel'noe, chto v shlak, ostavshijsya posle vzryva, bylo vryto neskol'ko ostovov sudov. Port yavno prodolzhal sushchestvovat' nekotoroe vremya i posle bombardirovki. Prikinuv svoyu skorost', Dvojnoj reshilsya na vypolnenie riskovannogo posadochnogo manevra. Dernuv klyuvom za rychag vypuska shassi, on osvobodil ot fiksatorov tormoznoj yakor'-parashyut na trose iz uglerodnogo volokna i shest' nog-shvatov - po tri na kazhdom korpuse. YAkor' zacepilsya za bort edva vystupavshej iz shlaka posudiny, nachal razmatyvat'sya tros, peredavaya energiyu dvizheniya "Vizga" svitomu iz svincovo-kremnievoj kompozitnoj lenty mahoviku. No vethaya obshivka sudna ne vyderzhala nagruzki, yakor' sorvalsya, unosya v lapah zdorovyj kusok fal'shborta, i "Vizg", s grohotom i skrezhetom propahav shlak propellerami, tknulsya v poverhnost' planety Lysoe Varen'e, podprygnul i ostanovilsya, gluboko zaryvshis' nosom. Dva posadochnyh shvata iz chetyreh otvalilis', gondola poleznoj nagruzki sorvalas' s odnoj iz napravlyayushchih. "Vizg-1" pochti ostanovilsya v vozduhe nad mestom avarii, odnovremenno so sbrosom yakorya reversirovav vinty i otklonyaya special'noj vydvizhnoj ploskost'yu chast' vozdushnogo potoka vniz, vypustil shvaty i upal na grunt s vysoty dvuh Gormovyh rostov. Shvaty pogasili udar. Nablyudaya marazmaticheskie sceny posadki ptich'ih chelnokov, Gorm sam edva ne vrezalsya v bereg, no okrik Fenrira napomnil emu o neobhodimosti vypustit' shassi i sbavit' tyagu. Fenrir tyazhelo vypolz iz vody i uvyaz, ne projdya i dyuzhiny loktej. - Gorm! Slyshish'? - Dvojnoj! Sil'no vas shmyaknulo? - Nikto ne ranen. SHassi razneslo, perekosilo gondolu i zaklinilo potolok v moej kabine. - Vse lazha. Glavnoe, mahoviki cely. Kukylin, poshli gulyat'! - YA by poka poosteregsya. - Delo hozyajskoe, a ya shozhu, vytashchu Dvojnogo. Vas, sobachki, nebos' uprashivat' ne nado? Poka vsya chestnaya kompaniya odevalas', Kh Kudy i Kh Sovoj gryzli otorvavshijsya lonzheron, namotavshijsya na val privoda otkata gondoly. Dvojnoj ot nechego delat' dostal korobochku s zavtrakom, vysypal kozyavok na steklo i po odnoj podbiral ih yazykom, a Jego nashli na beregu kakuyu-to padal', proverili ee na radioaktivnost', obmerili i stali dumat', chto s nej delat' dal'she. - Ty smotri, kakoj mosel! Net, nu kak pahnet, a! U nas na "Kryuhe" razve mozhno najti tushu, uprevshuyu do takogo sostoyaniya! Byvaet, ostavish' yajco ili lyagushku protuhat' gde-nibud' za strehoj, tak edva ona sebya proyavit, totchas kto-nibud' unyuhaet i sozhret! - Esli ty eto s容sh', tebya samogo skoro najdut po zapahu. A nu uberi lapy! Za voznej pticy ne zametili sudna, kotoroe priblizhalos' k beregu strannym izvilistym kursom. Ono doshlo pochti do prichala i ostanovilos'. Sledom shlo eshche odno, po pryamoj i gorazdo bystree. Na palube ego vozilis' u korotkostvol'nogo orudiya matrosy, iz zavalennyh nazad trub valil zhirnyj chernyj dym. Projdya nedaleko ot obmotannogo volosatymi steblyami korablya, sudno vzdrognulo, slovno natknuvshis' na upruguyu pregradu pod vodoj. U borta zaburlilo, iz vodovorota podnyalsya koryavyj stvol, oputannyj vodoroslyami i obrosshij zdorovennymi rakovinami. Na verhushke stvola shevelilis' pyat' svernutyh v spirali vetvej s shchetinistymi kleshneobraznymi utolshcheniyami na konce. Dvizheniya rasteniya byli neuverennymi, plavnymi i vmeste s tem chudovishchno bystrymi. Spirali razvernulis' i, sharya v vozduhe, potyanulis' k sudnu. Matrosy speshno navodili pushku. Vystrel - i oskolochnyj snaryad vzorvalsya v neposredstvennoj blizosti ot orudiya. Dvoe iz orudijnoj prislugi upali. Vetv', perebitaya vzryvom, svalilas' na palubu, zadaviv navodchika. Ucelevshie vetvi skol'zili po palube, hvataya matrosov i shvyryaya ih v burlivshuyu vodu u osnovaniya stvola. Predsmertnye vopli vyazli v nepodvizhnoj polose vozduha, pripertoj gustym tumanom. Poslednyaya vetv' podobrala s opustevshej paluby valyavshuyusya u orudiya ruku, otorvannuyu vmeste s plechom, brosila ee za bort i zamerla nad sudnom, potom tozhe svernulas' obratno v spiral'. Stvol ushel pod vodu. Iz rubki pervoj posudiny bezmolvno nablyudali za sobytiyami, poka burlenie vody ne prekratilos'. Togda na bake zagrohotalo: otdali yakor'. Iz-pod zalatannogo brezentovogo tenta s neskol'kimi okantovannymi dyuralem prozrachnymi okoshechkami vyshel chelovek v lohmot'yah nekogda zelenogo plashcha s kapyushonom. On neslyshnym shagom priblizilsya k stoyavshej na korme garpunnoj pushke, ne spesha pricelilsya, proveril kreplenie linya i, dernuv za spuskovuyu kolbasku, otskochil ot orudiya. Plamya bryznulo ne stol'ko iz stvola, skol'ko iz mnogochislennyh shchelej v kazennike. Tem ne menee, garpun doletel do vtorogo sudna i, probiv fal'shbort, s gluhim treskom raskryl lapy. CHelovek podobral s paluby svernutyj v buhtu ostatok linya i obkrutil pyatok vitkov vokrug barabana lebedki. Zastuchal privod lebedki. Lin' natyanulsya, i opustoshennoe napadeniem rasteniya - lyudoeda sudno sdvinulos' s mesta. Garpuner stuknul kostyashkami pal'cev po steklu svetovogo dyuka v palube. Kryshka lyuka, vizzha, otkinulas', i iz tryuma podnyalis' chetvero oborvancev. Derzha v rukah nozhi, oni prygnuli na podtyanutoe lebedkoj sudno i skrylis' v ego vnutrennih pomeshcheniyah. Neskol'ko priglushennyh metallom vystrelov, dva voplya, dym iz trub perestal valit', i troe iz napadavshih snova pokazalis' na palube, nesya chetvertogo za nogi i za golovu. Polozhiv ego na doski, oni snyali s pokojnika sapogi, vynuli iz vethih bryuk remen' s nozhnami i sbrosili telo za bort. Ono poshlo ko dnu pochti bez vspleska. Tut zhe kozhistyj plavnik rassek vodu, i po ee poverhnosti rasplylos' krovavoe pyatno. Edinstvennym svidetelem proisshestviya okazalsya Fenrir. Ostal'nye slyshali shum, no ne mogli spravit'sya s sobstvennymi problemami - odin iz otorvavshihsya shvatov "Vizga" ozhil i koryachilsya v opasnoj blizosti ot kormovyh rulej chelnoka. Intrilligator Karmannyj, pilot "Vizga-1", tonen'ko hryukal ot neterpeniya, visya lapkami kverhu v svoej kabinke - emu ochen' hotelos' vyjti i vozglavit' lovlyu shvata, no vyjti bylo uzh slishkom strashno. Gorm metalsya vokrug "Vizga", uvyazaya v shlake i spotykayas' o robotov i sobak, i vsyakij raz, kogda emu udavalos' dognat' shvat, rezak podlo gloh. Brosaj i CHerepov proveli ekspress-analiz i, udovletvorivshis' ego rezul'tatom, vysasyvali mozg iz razgryzennyh kostej padali. CHto do Kukylina, to on sidel u monitora i besedoval s Fenrirom. - Boyus', chto ya obmanul Gorma. Legendy sil'no preuvelichili silu i mogushchestvo morskih razbojnikov. - Nichego, mozhet, i s etimi merzavcami vyjdet tolk - oni dovol'no izobretatel'ny. - Nichut' ne izobretatel'nee suhoputnyh razbojnikov. - Mozhno podumat', ty bol'shoj specialist po chasti suhoputnogo razboya! - Pozhaluj, tak ono i est'. Skazat' pravdu, ya ne znayu ni odnogo suhoputnogo zhitelya, kto ne byl by razbojnikom. Razve chto monahi - te prosto ubijcy. Tem vremenem chetverka piratov, prishvartovav oba sudna k improvizirovannym prichalam, dvigalas' tuda, gde Gorm, Midir i Fuamnah zavershali bitvu so shvatom. Razbojniki kosolapili, po shchikolotki uvyazaya v shlake pod tyazhest'yu krivogo voronenogo stvola na neuklyuzhej svarnoj rame. Podnyavshis' na greben' kratera, oni opustili ramu na grunt, troe zalegli, a garpuner navel bezobraznoe orudie v storonu "Vizga", dernul za razlohmachennuyu verevku, konec kotoroj byl prodet v uho rychaga spuskovogo mehanizma i primotan provolokoj, i prisel, prikryv golovu rukami. Iz nedr orudiya potekla tonen'kaya strujka dyma, potom stvol razletelsya na polosy i otvalilsya ot staniny, a vyletevshaya iz nego raketa zastavila nakonec proklyatyj shvat ostanovit'sya. Gorma otbrosilo vzryvnoj volnoj loktya na tri, on prizemlilsya na chetveren'ki, posle chego emu na spinu upali Fuamnah, zdorovyj kusok shvata i dvigatel' rakety. - |to chto eshche za gadskie shtuki? - tretij raz v zhizni Midir proiznes frazu iz shesti slov. Razbojniki pobezhali k chelnokam. Gorm poshel im navstrechu, potom ostanovilsya, stryahnul so spiny vse eshche lezhavshie poverh ranca oblomki i vstal na nogi. - YAdrena koshka! Pochemu vse, kogo ya vstrechayu na protyazhenii vot uzhe treh dnej, vmesto togo, chtoby znakomit'sya, govorit' o pogode, obsuzhdat' ceny na skobyanye izdeliya i voobshche vesti sebya kak eto prinyato u razumnyh sushchestv, srazu brosayutsya unichtozhat' menya bombami, raketami, pulemetami i protonnymi ruzh'yami? Sezon ohoty na gormov otkrylsya, chto l'? Otvetom byli tri vystrela emu v grud' iz avtomaticheskogo pistoleta. Potom garpuner vypustil po pule v sobak i prinyalsya v nedoumenii vertet' v rukah pistolet. Za spinoj u Gorma so skripom osela na pesok gondola "Vizga". Peregryzya lonzheron, Sovoj i Kudy vylezli na svezhij vozduh i raspravili kryl'ya. Kudy popytalsya vzletet', no s neprivychki poteryal orientaciyu i tyazhelo opustilsya na plecho Gorma. Svoim poyavleniem pticy neozhidanno obratili razbojnikov v begstvo. Sobaki, razgoryachennye voznej so shvatom, obradovalis' novoj igre i pustilis' vdogonku, a iz-za bugra, k kotoromu ustremilis' piraty, vypolzali obozhravshiesya do polnogo dovol'stva Jego. CHerepov volok pohodnuyu laboratoriyu, a Brosaj nikak ne mog rasstat'sya s osobenno smachnoj tazovoj kost'yu. Uvidev begushchih k nemu lyudej, CHerepov s korotkogo razbega podnyalsya v vozduh i grozno spikiroval im na golovy, no iz-za smeshcheniya zheludka vsledstvie uskoreniya s nim priklyuchilsya konfuz, v rezul'tate chego piraty okazalis' osypany potrohami tuhlogo tyulenya, tak chto odin iz merzavcev upal na koleni v luzhicu zheludochnogo soka i istericheski zaplakal. Ostal'nye izmenili napravlenie dvizheniya i, vnov' podbezhav k Gormu i Kh, chto-to zakrichali. Osobenno gromko krichal garpuner, iz ruki kotorogo Midir vygryzal pistolet. To li vygovor piratov otlichalsya ot materikovogo, to li gniloj dush povredil ih dikcii, no Gorm dolgo ne mog vrubit'sya v soderzhanie ih rechej. Nakonec, do nego doshlo primerno sleduyushchee: - Vampiry! Vampiry! Vampiry! Vampiry! Vampiry! Oborotni! - A-a-a! Pusti ruku, gad! - Ne ubiva-a-a-aj! My necha-a-a-a-yaa-anno-o-o-o-o! Gorm sbrosil tyazhelennuyu tushu Kudy s plecha, podal Midiru znak vesti sebya prilichno i, starayas' govorit' vozmozhno chetche, proiznes rech': - Parshivcy, podonki, holui, hamy, holopy, nahaly, nedonoshennye krysoezhovye ublyudki i paskudnye pozhirateli koshach'ej rvoty! Imej ya nastroenie prinyat' vashi shchelchki za napadenie, ya udavil by vas vashimi kishkami i brosil by psam vashu pechen'! Brosajte oruzhie i stojte smirno! Otklyuchiv vneshnij dinamik, on spravilsya u Kukylina: - Kak, nichego ne navral? - Voobshche-to net, no neskol'ko myagko. - Da chto ya, grubiyan, chto l'? Sojdet. Gorm prosledil za tem, kak roboty sobrali nozhi i kastety, podoshel k garpuneru i dvumya pal'cami ushchemil ego nos: - Ty kto takoj, bosyak? - Mozhesh' skormit' menya svoim zveryam, ne skazhu! - gnusavo zavopil tot. - YA tebe tol'ko chto, mozhno skazat', zhizn' spas, a ty pozdorovat'sya ne hochesh'. Nechestno vyhodit! - CHest', ha-ha! CHest'-lzhivaya vydumka materikovoj svolochi, a my v more! V konce vykrika gnusavyj tenor sorvalsya na rezhushchij vizg. - Nevmenyaem, - skazal Fenrir. - Prosto rasteryalsya, - skazal Kukylin. - Peregruzka psihiki. Tryahni ego. Gorm sgreb rukoj byvshij plashch, prikryvavshij grud' garpunera i energichno vstryahnul. Pirat upal na pesok golyj po poyas. Brezglivo otshvyrnuv ostatki plashcha, Gorm podcepil razbojnika za poyasnoj remen', otorval ego ot grunta, vzyal v svobodnuyu ruku raketnyj pistolet, podnyalsya v vozduh, pereletel cherez bugor u kromki vody i zavis nad buhtoj. Medlenno vrashchaya garpunera v gorizontal'noj ploskosti, Gorm poprosil ego ne orat' i v dal'nejshem otvechat' na vse voprosy po sushchestvu i korotko. Pirat zahripel i zadrygal nogami v znak soglasiya, i Gorm nachal besedu, soprovozhdaya ee manevrami v vozduhe: - Imya! - Alikammik! - |tot ostrov naselen? - Net! - Otkuda prishlo sudno? - S Putulika! - Piratskij port tam? - Da! - Gde etot ostrov? - Sto vosem' lig k yugo-zapadu! - Ochen' horosho. Navral - uronyu. Pokazyvaj, kuda letet'. Brosaj, CHerepov, letim so mnoj! Nu chto ty drygaesh' nogami, sgustok predsmertnogo pota matereubijcy? Gorm i Jego nyrnuli v tuman.
+--+ ++++++++ ++++++++ +--+ V etom upryatannom gluboko v skalu pomeshchenii izdavna hranilis' i upotreblyalis' spirtnye napitki, chto delalo ego ves'ma privlekatel'nym ubezhishchem na sluchaj yadernoj ataki. Na vechno vlazhnyh stenah byli vycarapany izrecheniya, kotorye Gorm edva mog razobrat' napolovinu iz-za zakovyristosti vyrazhenij, i kartiny, yavno svidetel'stvovavshie o tom, chto peshchera byvala i svyatilishchem kakogo-to sil'no fallicheskogo kul'ta. Za lipkim zheleznym stolom na zheleznyh zhe stul'yah sideli bez odnogo poltory dyuzhiny oborvancev. Na stole stoyalo neskol'ko zdorovyh butylej, opletennyh remnyami iz shkur morskih zhivotnyh, dymilos' myaso v vyshcherblennyh blyudah i otsvechivala sinim zhzhenka, gorevshaya v redkoj krasoty serebryanoj nochnoj vaze. Karbidnyj fonar', podveshennyj pod nizkim potolkom, brosal rezkie teni na zarosshie klochkovatoj shchetinoj podborodki mestnogo rukovodstva. Razgovor ne kleilsya. - Na hrena ty privolok k nam etot metallolom? - sprashival u prislonennogo v poluobmorochnom sostoyanii k stene garpunera krasnorozhij beznosyj hmyr' vo glave stola. - |j, ty, rogatyj, podnimi zabralo - poglyadim, tak li ty strashen! - Ladno. SHtanov mozhete ne spuskat'. Sudya po vashemu vidu i zapahu, vy vsegda s etim opazdyvaete, - Gorm narochito medlennym dvizheniem osvobodil fiksatory i, snyav ochki, otodvinul masku respiratora ot lica. Tut zhe sidevshij po levuyu ruku ot beznosogo merzavec s ploskoj mordoj, otlivavshej med'yu, kak nachishchennaya skovoroda, metnul Gormu v lico nozh, do pory zapryatannyj v rukave. Gorm perehvatil ego v vozduhe dvumya pal'cami za lezvie i poslal obratno - "Izvinite, refleks." Posledovali hrip, bul'kan'e, lyazg padayushchego stula i gromkij stuk zatylka trupa o kamennyj pol. - YA chuvstvuyu, ploho vidno, - Gorm pomanil pal'cem fonar'. Tot so skripom povernulsya. - Teper' luchshe, chto li? Dajte tomu dlinnomu hlebnut' - on oklemaetsya. A ty, krasavec, zahlopni past' ili kak eto tam u tebya nazyvaetsya. - A ya tebya uzhe videl. I etih krasnoglazyh tozhe. Pil togda bez prosypu dvenadcat' dnej, i na trinadcatyj uvidel. Vyp'em po etomu sluchayu. Pej s nami, rogatyj. - Vy, chto l', kapitany piratskih korablej? - My, my. Sadis' k stolu, vypej. Ah, ty zhe krov' p'esh'... Nacedit'? - Ne gryzi veny i voobshche ostav' trup tovarishcha v pokoe. U menya est' odno predlozhenie. "Daj ty im vypit'," - sheptal golos Kukylina iz rogatogo obrucha. "U nas bez dvuh-treh startovyh chashek ni odno delo ne idet." Gorm mahnul rukoj, sel za stol, pridvinul k sebe blyudo, vynul iz nozhen bol'shoj i malyj kinzhaly, prikinul dozu radiacii i prinyalsya za edu. Jego vsporhnuli na kraj stola i tozhe zarabotali chelyustyami. CHerepov potyanulsya k butyli, no Gorm tresnul ego po kleshne: - Uberi lapy! - A chto ya? - |to narkotik, ptichka! - S toboj vsyu zhizn' prozhivesh', tak na starosti vspomnit' budet nechego! - Pen' ty krivoponosnyj, a ne ptica! Tebe potenciya tvoya doroga? - A, - CHerepov shvatil butyl' i vpechatal ee v stenu. - Tak chto u tebya za predlozhenie? - beznosyj uzhe izryadno ozhivilsya. - YA mstitel'. Moj krovnik nahoditsya v drugoj zvezdnoj sisteme. Mne nuzhen zvezdolet. YA ne mogu postroit' ego v odinochku. Tak chto prihoditsya zanyat'sya vashim gadyushnikom. I nameka na ponimanie ne otrazilos' v mutnyh glazah slushatelej. Gorm tem ne menee prodolzhal. - Planeta v uzhasnom sostoyanii. Narodishko mret, biosfera degradirovala, vozduh, sami ponimaete, otravlen i zapylen, na materike vojna. Vozmozhnost' ostanovit' vyrozhdenie dlya vas i nachat' stroitel'stvo dlya menya - etu lazhu prekratit'. Vas, piratov, boyatsya na sushe. Menya tozhe. Esli my ob容dinim usiliya i vstupim na materik s horosho podkreplennym prizyvom prekratit' vojnu, nas poslushayut. Vashi zhizni koncheny, no u nekotoryh iz vas mogut byt' deti, kotorye, mozhet byt', zazhivut kak sleduet. Vse. - A chem tebe nasha zhizn' ne nravitsya? Spirt, ryba - zakuska horoshaya, rabota po dushe. - A tem, chto na poberezh'yah, gde mnogo razbomblennyh portov, uroven' mutacij takoj, chto vyzhivaet odin rebenok iz desyati, da i tot vyrastaet v uroda vrode tebya. Na sushe est' bol'shie nenaselennye oblasti, gde radioaktivnost' men'she. I potom, ponimal by chto v rybe. - CHto ty nam nastroenie portish'! Do smerti kak-nibud' dozhivem, nalivaj! Odin iz kapitanov uzhe valyalsya ryadom s pokojnikom v koryagu p'yanyj. - |j, ya vam ne hvost sobachij predlagayu, a poslednyuyu nadezhdu spasti vash zhe mir, - Gorm chuvstvoval polnuyu neumestnost' svoih slov, no drugie pochemu-to ne vylis'. - Pust' ego te spasayut, kto emu hot' chem-to obyazan! - CHto on govorit? - sprosil Brosaj. - Fuflo. CHerepov, ty vidish', chto tvorit vino? - ZHutkoe delo, Gorm. Mozhno ya klyunu togo tolstogo v glaz? Uzh bol'no protivno on oret. - Esli klyunesh', zaoret eshche protivnee, - Oporozhniv blyudo s myasom v odin iz svoih poyasnyh meshkov, Gorm vstal i povernulsya k vyhodu, no zapnulsya o stoyavshego na chetveren'kah garpunera. Pol byl pokryt vonyuchej gryaz'yu. Gorm vstal, sorval s garpunera shtany i, koe-kak obterev ruki, poshel k lestnice. Jego zaprygali za nim. CHerepov mimohodom klyunul-taki ch'yu-to zadnicu, torchavshuyu iz-pod stola. Uhod gostej tak i ostalsya by nezamechennym hozyaevami, esli b ne proshchal'nyj vystrel iz raketnogo pistoleta, isparivshij fonar'. - Obdristki, - bormotal Gorm, razvyazyvaya parus, v kotoryj byli zapakovany ohranniki, stoyavshie u vhoda v peshcheru. - I ty, bratec, tozhe horosh: ah, morskie-de razbojniki, ne znayut straha i poshchady! - Sam vinovat, - otozvalsya Kukylin. - YA ne uchil tebya tak vesti peregovory. Nichego, dogovorish'sya v sleduyushchij raz. - Nikakih razgovorov s etim trollinym der'mom! Nafig mne takie soyuzniki, kotorym vse pofig! - Boyus', luchshe ty ne syshchesh'. Na materike tozhe preimushchestvenno mraz', kak ni stydno mne eto priznat'. - No, ezheli po tebe sudit', rycari-to ne vse mraz'? - No ih ostalos' chelovek dvesti, i to vse pri dvorah raznyh gosudarej i vrazhduyut drug s drugom. - A s drugoj storony gor? - Tam, pozhaluj, est' chelovek chetyresta letchikov, no oni vse prisyagali Ratratrymyrgu. - Nu i chto? - Tebe oni sluzhit' ne budut. - Bros', mozhno podumat', tvoj Ratrat'... - Gorm zabyl sledit' za dyhaniem i zapnulsya. - Mozhno podumat', tvoj Tratatat' - eto chto-to ser'eznoe. - Kuda uzh ser'eznee. Oni pytayut nashih plennyh i otpravlyayut ih na uranovye rudniki. - I tam vse oni umirayut. Togda otkuda eto izvestno? - A svoih soldat i letchikov, popavshih k nam v plen, no sbezhavshih obratno, veshayut na cepyah vniz golovami i szhigayut zhiv'em. - Vran'e. - YA videl hroniku. - Poddelka. Propaganda. YA sam videl podpis' na toj gazete, chto valyalas' v tvoem samolete pod siden'em: "Glavnaya redakciya propagandy nasiliya". A ty ne drygajsya, zhertva sudebnoj mediciny! Poslednyaya fraza byla obrashchena k ohranniku, pervym vylezshemu iz parusa. - Ladno, ya eshche poshatayus' po etomu gorodishku. Fenrir, chto ostal'nye piraty? - Oni tak toropilis' ubrat'sya, chto mahnuli cherez buhtu napryamuyu, nu i... - A. Ptichki? - Raboty na dva dnya. - |hehe... Gorm razglyadyval otkryvavshijsya vokrug pejzazh. Sprava, za reshetchatoj dver'yu v polukruglom betonnom kupole, temnel spusk v podzemel'e, gde ostalis' odin pokojnik, poltory dyuzhiny bez dvuh mertvecki p'yanyh kapitanov piratskih korablej, prebyvavshij uzhe po tu storonu marazma garpuner Alikammik i pyatok nasmert' perepugannyh ohrannikov. Poodal' ot kupola stoyala kirpichnaya stena s provalami okon, za nej prosmatrivalis' sognutye i razorvannye vzryvami konstrukcii portovyh kranov. CHut' levee teryalas' v tumane poloska morya. Potom more zaslonyali byvshie neboskreby, u podnozhiya obleplennye gryaznymi halupami yavno poslevoennoj postrojki. Pryamo vperedi torchalo mertvoe derevo, pervoe uvidennoe Gormom na Kyflyavike, pod nim valyalsya pochernevshij ot vremeni i plohih uslovij hraneniya trup. Nakonec, po levuyu ruku bolee ili menee ucelevshie doma pokryvali uhodivshij v tuman sklon. Temnelo. Ot lachug donosilis' kakie-to kriki. Gorm dolgo ne mog vzyat' v tolk, kakoe dejstvie mogut soprovozhdat' takie zvuki, reshil bylo posmotret', no, poslushav nemnogo, ponyal, chto predpochtitel'nee srazu pojti vverh po sklonu. Ne prishchelkivaya ochkov, on pobrel po vyshcherblennoj mostovoj, osmatrivaya lepivshiesya drug k drugu domishki. - Dryan' byl gorodok. - Ne znayu, ne znayu. YA luchshe srodu ne videl, - otkliknulsya Brosaj, semenivshij ryadom s Gormom. On prepoteshno perebiral korotkimi zadnimi lapami, vzmahami poluslozhennyh kryl'ev uderzhivaya svoe dlinnoe tulovishche pod hitrym uglom k vertikali. "Interesno, pri rodnom pyatikratnom tyagotenii on tozhe tak vydryuchivaetsya?" - podumal Gorm. CHerepov s svistom pronessya nad ego golovoj i vrezalsya v fonarnyj stolb. Mostovaya konchilas'. Ulochku peregorodil vrosshij v grunt po samye osi sgorevshih koles gruzovichok. Poblizosti valyalis' rzhavyj benzinovyj mech i neskol'ko obgorelyh kostej. Stalo sovsem temno. Gorm obernulsya posmotret' na gorod - mnogo li ognej, no sklon zastlal gustoj, ruki ne razglyadet', tuman, tak chto prishlos' nadvinut' ochki. V infrakrasnom diapazone koe-chto proglyadyvalo. Gorm snova poplelsya vverh, nadeyas' vyjti iz tumana, no vdrug chto-to myagko, no tyazhelo tolknulo ego v spinu. On ne mog ni podnyat'sya, ni povernut' golovy. "CHto za zaraza, yadrena koshka?" - podumal Gorm, nasharivaya rychag produvki dvigatel'noj sistemy ranca. SH-sh-shvark! Nechto ischezlo tak zhe myagko i besshumno, kak i poyavilos'. - Gorm! Vyruchaj! Odnovremenno s krikami tuman ozarilsya zhelto-oranzhevymi vspyshkami. Pticy strelyali iz ognemetov. Vo mgle proskol'znula ogromnaya ten', dvigavshayasya ne kasayas' poverhnosti. - YA idu! Krom! - Gorm vytashchil rezak, vklyuchil dvigatel' i pobezhal na svet, bez osoboj nadezhdy kogo-nibud' sokrushit' krutya orudie pered soboj. Na vtorom ili tret'em vzmahe rezak s shipeniem rasporol kakuyu-to tkan'. Na golovu Gormu hlynul potok gustoj zhidkosti, vkusom napominavshej smes' prokisshego slivochnogo syra s protuhshim supom iz rakov. Nebo potemnelo. Tuman rasseivalsya. Vyterev ochki i otplevavshis', Gorm uvidel sebya stoyashchim v luzhe neopredelennoj dryani pered stenoj, v proeme kotoroj sideli spina k spine Brosaj i CHerepov. Levoe krylo Brosaya svisalo pochti do zemli, pereponka byla razorvana, iz kraev razryva sochilas' krov'. - Gorm! CHto eto bylo-to? - A ya otkuda znayu! Edinstvenno uspel zametit', chto ono vrode parilo nad zemlej. S krylom chto? - Budto ne vidish'! Ono shvatilo menya na letu. Uzhas! CHelyusti u nego byli takie... Ne kak u nas, a svernutye nabok. I glaza... Mnogo glaz. YA strelyayu, a oni vtyagivayutsya, ya strelyayu, a oni vtyagivayutsya, ya strelyayu, a oni vtyagivayutsya! - Spokojno. Na-ka, ot boli, - Gorm vpihnul v klyuv Brosaya kapsulu i pripodnyal konec kryla. - Sejchas najdem ukrytie, obrabotaem i zash'em. "CHto moglo razorvat' takuyu shkuru? Pohozhe, my poka deshevo otdelalis'," - podumal on. Mezhdu tem mgla vozvrashchalas'. Posadiv Brosaya na plecho, Gorm pobezhal k blizhajshim vorotam. CHerepov s ognemetom prikryval otstuplenie. Pochuvstvovav pod soboj pustotu, Gorm otkinul kryshku lyuka i, nasharivaya nogami stupeni, pospeshil vniz. Vspyshki ognemeta osvetili rushashchuyusya pod chudovishchnym naporom izvne stenu, zatem CHerepov yurknul vsled za Gormom. Naverhu sypalis' kirpichi i cherepica, chto-to s usiliem skreblo po polu, no skoro puteshestvenniki ponyali, chto v tesnote kruto spuskavshegosya vniz hoda oni nahodyatsya v otnositel'noj bezopasnosti, i reshili spuskat'sya. CHerez dyuzhinu-druguyu stupenej hod povernul pod pryamym uglom. Za povorotom dorogu pregradila vysokaya figura v zakrytom shleme i s gluho rokotavshim diskovym mechom v ruke. - Noch' - nepodhodyashchee vremya dlya progulok. Do utra ya beru vas pod svoyu zashchitu, neznakomcy. - Dobroj edy, hozyain. Nadeyus', my smozhem otblagodarit' vas za krov, - otvetil Gorm. - Ne stoit truda. Idite za mnoj. - Nikak ne ugomonish'sya! Mozhet, hvatit vezde lezt'? - nekstati vstryal Fenrir. - Zatknis', utyug! Trollinomu posledyshu ne ponyat', chto znachit nakonec vstretit' sushchestvo, kotoroe ne brosaetsya srazu tebya ubivat'. Hozyain provel Gorma s Brosaem i CHerepova po dlinnoj sperva naklonnoj, potom gorizontal'noj galeree, zakanchivavshejsya otnositel'no prostornym zalom s reshetchatym polom. Vysokij posharil po stene ryadom s proemom, nashchupal i nazhal knopku. Zavizzhal elektrodvigatel', massivnaya dver' vykatilast' po rel'sam iz nishi v stene i izolirovala zal ot vneshnego prostranstva. - Rycar', vy mozhete snyat' respirator. Zdes' horoshij vozduh. U vas est' s soboj lampa ili drugoj ogon'? - Est'. - Mozhete zazhech'. YA poryadochno ne pol'zovalsya lampoj i ne pomnyu, kuda ee podeval. - A temnota ne meshaet? - CHto vsya nasha zhizn', kak ne prozyabanie v vechnom mrake? - Te, vnizu, u morya, tak ne dumayut. - Da. |to po nevedeniyu, oni prosto ne znayut, chto takoe nastoyashchaya zhizn'. A ya, kazhetsya, znayu. Zazhgite, nakonec, vashu lampu, rycar', omojtes', obotrite pyl' i prohodite v sleduyushchij zal. Tam ya usazhu vas na lozha, ugoshchu pishchej, vyslushayu vash rasskaz i rasskazhu svoj. Svet Gormova fonarika ozaril ventil' i shlang s razbryzgivatelem. Oblivshis' vodoj i vyterev drug druga lezhavshimi v nastennom yashchichke bumazhnymi polotencami, Gorm i pticy peremestilis' v komnatu so stellazhami po stenam i bol'shoj uglovoj lezhankoj. Vysokij snyal s polki banku konservov i, poryvshis' v ob容mistom meshke, vynul shest' suharej. - Pochemu vy priyutili nas, hozyain? - Po vashim lyazgayushchim dospeham ya uznal v vas rycarya. Odin iz vashih sputnikov ranen, vy nuzhdaetes' v ukrytii. - No vy riskuete, vpuskaya nas troih v svoj bunker. - CHto etot risk po sravneniyu s radost'yu okazat' gostepriimstvo i vstretit' sobesednika! Kto vy i kto vashi sputniki, rycar'? Oni kazhutsya mne dikovinnymi i nepohozhimi na lyudej. - Oni i est' nelyudi, no chtyat gostepriimstvo. - YA mogu pomoch' ranenomu? - Spasibo, ya sam. Luchshe rasskazhite poka svoyu istoriyu, kak obeshchali. - YA hotel rasskazat' o zhizni. O nashej zhizni, chto byla kogda-to. O zhizni, chto mogla by byt' i sejchas. Kogda moj samolet sbili nad morem rycari Ratratrymyrga, rezinovuyu lodku so mnoj podobral razbojnichij korabl'. YA prishelsya po dushe kapitanu i ne odin god proplaval s nim shturmanom. Mnogo povidal - abordazhnye boi, morskih chudovishch, avianosec-prizrak, perezhil dva atomnyh udara. No nichto ne zastavilo menya sozhalet' o sud'be, poka ya ne uvidel Tornrak, zaklyatyj ostrov Knigi Postydnyh Otkrovenij. Razbojniki izredka zahodyat tuda za pometom morskih ptic. - A zachem im pomet? Im chto, svoego malo? - Iz nego delaetsya poroh. Podnimite zabralo, rycar'. - Vryad li moe lico vam ponravitsya. - Ostav'te, ya i sam ne krasavec. Gorm otstegnul ochki, snyal zatyl'nik i s naslazhdeniem povertel golovoj. - Iz vseh mestnyh zhitelej, kto videl menya s otkrytym licom, vy samyj hladnokrovnyj. - V vashih slovah est' oshibka. Vody? - Da, i esli mozhno, tryapochku. Vo, vo, spasibo. Gorm, zashivavshij krylo Brosaya leskoj, pol'zuyas' kryuchkom s oblomannoj borodkoj vmesto igly, vlil vodu Brosayu v klyuv i vyter tryapochkoj svoj vspotevshij nos. - Mne nado na vozduh, - vdrug reshil Brosaj. - Spyatil? - proshipel CHerepov. - Sejchas obdelayus'! - ob座asnil Brosaj. "Opyat' ya kapsulu pereputal," - pro sebya podosadoval Gorm. - YA prodolzhu. Ostrov etot, raspolozhenie kotorogo malo kto znaet, lezhit k yugo-vostoku otsyuda, na samom ekvatore. Kniga Postydnyh Otkrovenij uchit, chto on proklyat za to, chto tam lyudi nekogda reshili poravnyat'sya s nebom. Tornrak nevelik, sto lig v okruzhnosti, i yavlyaet soboj potuhshij vulkan. Vam vedomo, chto takoe vulkan, rycar'? - Gora ognedyshashchaya, chto l'? - Da. Kapitan poslal menya vo glave partii za pometom. My shli na dvuh shlyupkah. Berega byli kruty i splosh' pokryty gnezdami. Morskie pticy sil'nv i veliki, napast' na ih koloniyu v gnezdovoj sezon nemyslimo. No vremya bylo negnezdovoe, i vse gnezda pustovali. Otpraviv lyudej sobirat' pomet, ya polez vverh - zaglyanut' v krater vulkana. Ne projdya i ligi, ya dostig grebnya. Predo mnoj byla ogromnaya chasha, napolnennaya tumanom. Dolgo stoyal ya na ee krayu, poka severnyj veter ne nachal unosit' tuman i vnutrennost' chashi ne otkrylas'. I ya uvidel. Moguchie i prekrasnye, stoyali, zaslonyaya drug druga, zvezdnye galery. Ostronosye, beskrylye, s blestyashchej obshivkoj. Oni stoyali tam uzhe celye veka, no, kazalos', byli gotovy k vzletu. YA naschital shtuk sorok - ot bol'shih do samyh malen'kih, razmerom v chetyre nashih korablya. YA ne mogu ih tolkom opisat' - v nashem yazyke ischezli slova, otnosivshiesya k zvezdnym galeram. YA stoyal i smotrel, poka dva matrosa iz moej partii ne podnyalis' za mnoj i ne uveli menya nasil'no. I tam, na grebne, ya ponyal, v kakuyu bezdnu my pali. Tuda, otkuda nashi predki ustremlyalis' za zolotom zvezd, my hodim za der'mom. Vy videli zvezdy, rycar'? - Prihodilos'. - Znachit, i vy uzhe ochen' nemolody. Uzhe pyat'desyat let, kak ne rashodyatsya tuchi. Nyneshnie molodye lyudi znayut o zvezdah tol'ko ponaslyshke, a cherez pokolenie-dva lyudi o nih i vovse zabudut. A ya star. YA rodilsya ochen' davno, no hotel by rodit'sya eshche rash'she, kogda my letali k zvezdam. My poteryali bol'she, chem planetu. My poteryali Vselennuyu. I nikto iz nyne zhivushchih ne ponimaet etogo. Vse moi druz'ya umerli. Uzh mnogo let ya odin vo mrake. Mne nekomu bylo rasskazat', vot pochemu ya byl tak rad, chto vstretil vas. Vot i vse. Moj rasskaz rassmeshil vas? - Net. Vy hotite eshche raz uvidet' zvezdy? - |to nevozmozhno. - Idemte so mnoj. YA priletel syuda iz kosmosa. YA hochu pomoch' vam i vashemu miru. - Kak ya srazu ne ponyal? I rech', i drugoj zvuk lat, i vashi sputniki. Pozdno. Nash mir ne uvidit zvezd. S etimi slovami hozyain snyal shlem, otkryv obezobrazhennoe ozhogami bezglazoe lico so rtom, navsegda perekoshennym v strashnoj krivoj usmeshke. Gorm naleg na konservy.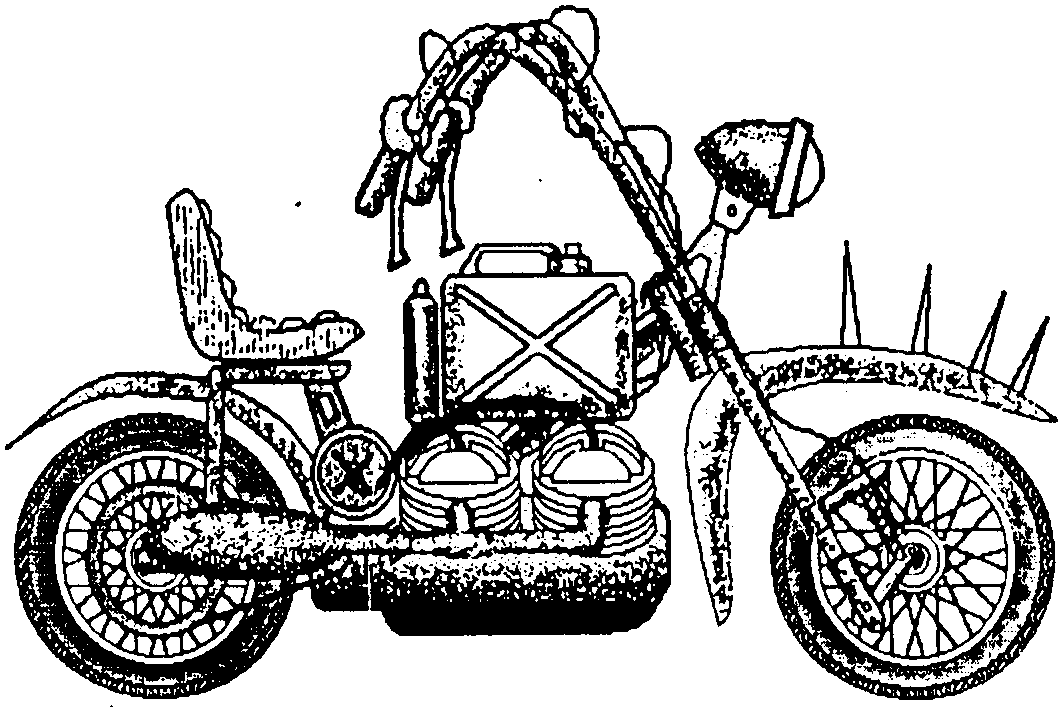 +--+ ++++++++ ++++++++ +--+ "V doline slyshal ya rasskaz..." "V doline lyubyat govorit'. Glyadi - koster pochti pogas - Gde budem krys varit'?" "Da govoryat, chto budto s gor..." "Da mnogo vsyakogo v gorah. Ty b luchshe nozh travoj proter - Navodish' tol'ko strah." "Kuda zh strashnej - roga s arshin!" "Vot-vot, i tut porazvelis'. Davaj zolu povoroshi - Podi, ezhi speklis'." "Da govoryat tebe - sletel, Ognem iz zadnicy palit, Tuda, gde Lysogo nadel, Za kraterom, u plit." "Tam Lysyj, znachit, sushit moh - On, gad, na plitah moh sushil, - Edva so strahu ne izdoh I kuchu nalozhil. Kak tak - roga pootrastyat, Kogtishchi chut' ne do zemli, V zhelezkah s temeni do pyat, A mraz' ne izveli! Kogda b ya edak s gor shodil So strashnoj pticej na pleche, ZHiv'em by Lysogo svaril V evonoj zhe moche!" "Postoj, rogatyj, chto sletel, On kak, ne bleden byl s lica?" "Da, Lysyj srazu razglyadel - Navrode mertveca. Vo rtu klyki, krestom zrachki, Glaza goryat, kak u kota, Iz plech shipy, iz nog kryuchki - Takaya strahota." "Brosaj koster, hvataj ryukzak, Kak mog ya srazu ne uznat'! Spustilsya s gor Pupihtukak, I vse dolzhny bezhat'."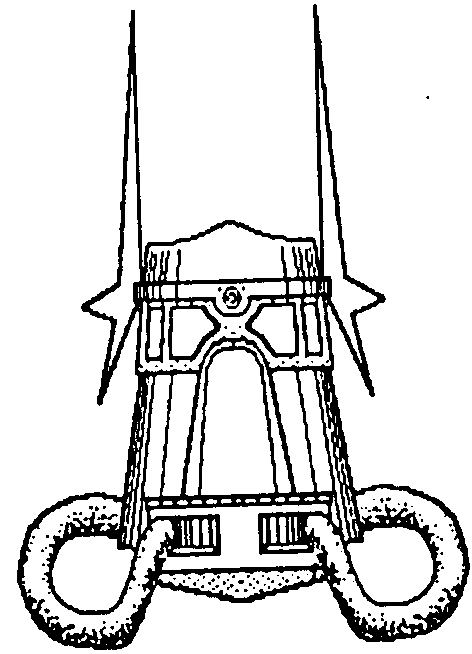 +--+ ++++++++ ++++++++ +--+ - Itak, moj genial'nyj plan, - Gorm kinul kusok prihvachennogo u piratov myasa Fuamnah. - Ty, Kukylin, sobiraesh' pod moi znamena vseh moguchih rycarej po tvoyu storonu gor, ya razbirayus' s drugoj storonoj, a Fenrir i roboty pomogayut pticam spuskat' ekipazh s orbity. Zatem my s treh storon berem planetu pod kontrol', vojna gasnet, my pomogaem vam, - Gorm kinul kusok myasa Kukylinu. - s dezaktivaciej, potom tvoi sootechestvenniki pri sodejstvii ptic stroyat mne zvezdolet, i tut nashi puti rashodyatsya. Ispolnivshis' velichiya, Gorm vyhvatil iz poyasnogo meshka kost' i prinyalsya ee gryzt'. - Mozhno sprosit' tebya, v kakoe vremya ty rasschityvaesh' ulozhit'sya? - Kukylin podoshel k Gormovu kreslu. - Yrr, - otvetil Gorm. - CHto? - YA govoryu - sprashivaj! - A? - Vot tupica. Hlyup! - Gorm vysosal iz kosti mozg. - Kak poluchitsya. - Na takoe velikoe delo mozhet ne hvatit' zhizni... - Moej hvatit. - Ladno zalivat', ty luchshe skazhi, na kakie shishi Kukylin budet sobirat' i osnashchat' armiyu? - pointeresovalsya Fenrir. - Da, ob etom ya kak-to ne podumal... Gorm v razdum'e brosil kost'yu v ohrannogo robota u vhoda v shahtu. Tot ispepelil ee v vozduhe. Gorm ster kopot' s lica, i ono vnov' prosvetlelo: - Kukylin! Ty mne rasskazyval o gorodah mertvecov i ih nesmetnyh sokrovishchah? Tam my i podrazzhivemsya! Kak? Kukylin edva ne podavilsya myasom: - Tam mertvecy! - Da hot' bazarnye borcy! Poleteli! - Ne stoit, - skazal Kukylin. - S chego eto? - U tebya est' nevypolnennaya klyatva mesti, a u menya dve sestry-siroty. - Podumaesh', pustyaki kakie! Fenrir budet zanyat zdes', poetomu snimem s orbity tvoj samolet i poletim na nem. Sobak prihvatim. - A goryuchee? - Kukylin pustil v hod svoj poslednij kozyr'. - YA zasunul v tvoyu zhestyanku vspomogatel'nyj prostranstvennyj reaktor, tak chto na goryuchem u tebya teper' ekonomiya. Da, ya postavil tuda i paru silovyh shchitov dlya bol'shego udobstva, tak chto letim v Ukivak! Zaodno privezem tvoim sirotam pozhrat'.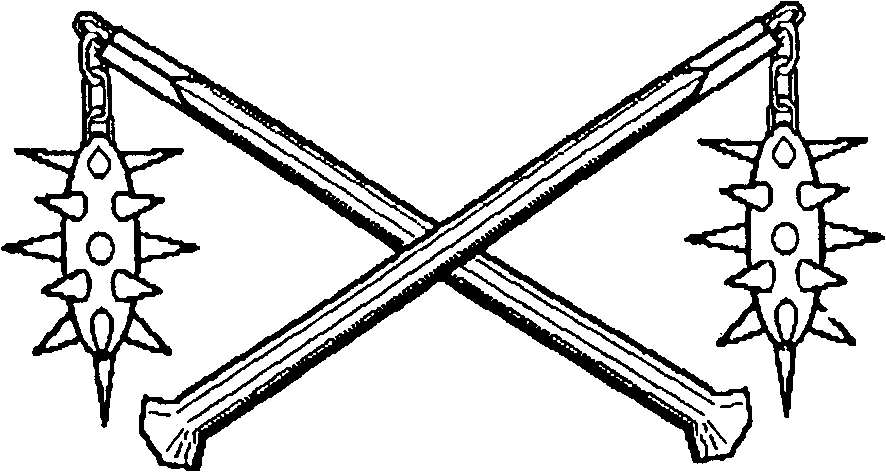 +--+ ++++++++ ++++++++ +--+ Otmytaya sluchivshimsya v shoferskom bardachke samogonom fizionomiya Mygaka vyglyadela by dovol'no raspolagayushche, esli by ne bezobrazno otekshij podborodok i ne otsutstvie vos'mi perednih zubov. Poslednee bylo osobenno zametno, poskol'ku Mygak vse vremya krivilsya v neproizvol'noj grimase ot mnogochislennyh ssadin, kotoruyu tshchetno pytalsya vydat' za ulybku. Odnako raspolozhenie ego duha bylo samoe bodroe. - I vot, - rasskazyval on, - starosta moej gruppy daet mne poderzhat' kakuyu-to knizhku - "mol, ya migom", - i bezhit v uchebnuyu chast'. Dejstvitel'no, on migom ottuda vozvrashchaetsya s inspektorom, inspektor podkatyvaetsya ko mne - "a nu-ka, chto eto u tebya?" - i cap knizhku! Estestvenno, eto okazyvaetsya Kniga Postydnyh Otkrovenij, i menya v chetvert' chasa vykidyvayut iz nashej kabluhi s takim soprovoditel'nym dokumentom, po kotoromu ne voz'mut dazhe smertnikom na uranovye rudniki. YA shatayus' gde popalo, voruyu chto pridetsya, zhivu v otselennom iz-za radiacii dome. Odnazhdy ya chut' ne popadayu v oblavu ministerstva zdravoohraneniya na mutantov - prozhektora, pulemety, letayushchie platformy - no menya vyhvatyvaet iz-pod samogo nosa u patrulya odnoglazyj paren' na motocikle. Paren' vezet menya v svoyu bandu - on vozhak bandy tangitov v predgor'yah - tam menya kormyat i pokazyvayut razbityj motocikl - "nash tovarishch pogib, smozhesh' vosstanovit' mashinu - zamenish' ego". YA ne znayu, chto delat' - mozhno by bezhat' obratno v gorod, no chto tam svetit? ZHit', kak poganyj mutant, ot oblavy do oblavy v zabroshennyh kvartalah? Tangity dayut mne s soboj banku benzina, ya na rukah kachu mashinu k razvalinam motozavoda, lovlyu krys, royus' v sborochnom cehe i postepenno vosstanavlivayu motocikl. Nakonec, ya vyvozhu mashinu na dorogu, koe-kak zavozhu, chtoby ehat' v gory, - i hlop! Oblava ministerstva dorog na tangitov, ya pytayus' skryt'sya, u menya, razumeetsya, okazyvaetsya nepravil'noe porshnevoe kol'co, i dvigatel', razumeetsya, zaklinivaet. Estestvenno, ya zhdu, chto menya prikonchat na meste, no vmesto etogo menya hvatayut, brosayut v kuzov i vsyu dorogu v gorod b'yut montirovkami - vidal? Okazyvaetsya, u nih ne vypolnen kvartal'nyj plan po sudam nad tangitami, i sud'yam mogu srezat' paek. I vot ya zdes', ne prochitav i stranicy iz Knigi Postydnyh Otkrovenij i ligi ne proehav za rulem motocikla! Kumahlyat neveselo rassmeyalsya: - Ryadom s takim nevinnym stradal'cem, kak ty, ya prosto chudovishche... Vol'nodumec, zagovorshchik... Eshche donoschik, predatel', palach... U nas byl kruzhok... Sobiralis' posle zanyatij u kogo-nibud' doma... Vojnu pora konchat', pravitel'stvu v bunkere plevat' na nas... CHitali stihi, peli horom... Katafalk ne ostanovit', Sozhgite znamya! Odnazhdy noch'yu chto-to sluchitsya So vsemi nami... Vypendrezh pered sokursnicami, igra... CHerez paru let poluchili by diplomy i raz容halis' by rabotat'... Tol'ko vol'nodumcem ya byl ne vser'ez, a predatelem stal po-nastoyashchemu... On prizhal ruki, izurodovannye chernymi pyatnami elektroozhogov, k viskam. - CHto zhe - vyzhdat' do sroka, Esli soki vse vyzhaty, Ili zhit' ne po lzhi, Topocha po etapu v ostrog? Mne hotelos' by vyzhit' i Vzhit'sya v to, chto ne vyzhzheno, Esli budet ne vyzhzheno vysshee Posle etih kastratskih kostrov... - Tvoi stihi? - sprosil Mygak. - Net... |to pesnya... Ee slozhil mnogo let nazad odin student... On slozhil mnogo pesen... potom on propal, vse dumali, pogib v zastenke, ili perekololsya, ili vskryl sebe veny... a on pereshel cherez gory, pel tam po kabakam, nakopil deneg i kupil bardak... - Estestvenno, eto vse pridumali zavistniki, - skazal Mygak. Kumahlyat pokachal golovoj: - A voz'mut nas v bandu? Tebe govorili pro motocikl, a my edem na mashine... - Eshche kak voz'mut! |to zh ne mashina! |to fabrika smerti, ee koleya - gotovaya bratskaya mogila, ee ten' - ledyanoe preddverie vechnoj nochi, tam, gde ona proezzhaet, po obochinam na derev'yah vyrastayut groby, a na polyah - pogrebal'nye venki! Vse boyatsya staruhi Ayavako, i razve chto starik Pupihtukak ne ustupit ej dorogi! YAdovityj tuman, visevshij nad zlovonnym bolotom, rasstilavshimsya po obe storony ot drevnej nasypi, po verhu kotoroj shla razbitaya tankovymi trakami sekretnaya betonka, neozhidanno zavolok smotrovye pribory bronevika. Skoree pochuvstvovav, chem uvidev, kakoe-to prepyatstvie za mutnoj pelenoj, Mygak dal po tormozam. Zakutannaya v lohmot'ya unosimogo poryvami vetra tumana, kak v ostatki savana, nad shosse chernoj bashnej vozvyshalas' ispolinskaya rogataya figura. Prizrak vytyanul vpered polusognutuyu pravuyu ruku, obhvatil ee chut' povyshe loktya levoj i medlenno rastayal.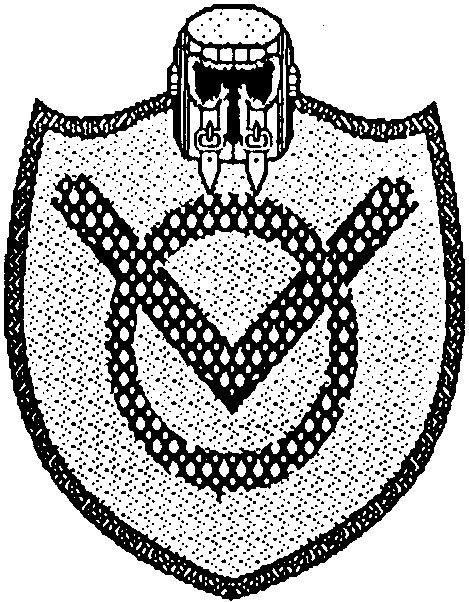 +--+ ++++++++ ++++++++ +--+ - Daj rybu! V kabine samoleta bylo nevynosimo tesno i oduryayushche pahlo kopchenoj rybeshkoj, za neimeniem luchshego nazvaniya okreshchennoj Gormom "plotva morskaya chernaya gorbataya". Gorm hlopnul Midira po nosu: - A morda u tebya ne tresnet? Malo ty etoj ryby na beregu zhral? - Kak ty dumaesh', im ponravitsya? - skvoz' rev motora prokrichal, povernuv golovu k Gormu, Kukylin. - CHto? - Ryba! - A chego ne ponravit'sya? Ryba kak ryba, - Gorm snova hlopnul sidevshego u nego na kolenyah Midira. - Kuda ty lezesh', psina? - Eshche odnu! - Nafig tebe eshche odnu - u tebya uzhe pervaya iz-pod hvosta torchit. - U nas v kontinental'nyh oblastyah takoj edy prosto ne znayut, - snova prokrichal Kukylin. - Moi sestry nikogda ne eli ryby. - Vy vdvoem s etoj sobakoj uzhe tak nadoeli mne etoj ryboj, chto ya zhaleyu o tom, chto vzyal s soboj udochki i koptil'nyu. Kuda ty opyat' tarashchish'sya, isparenie trollinogo ponosa? YAdren kot, ya komu skazal? - Da, postarajsya v moej usad'be osobenno ne sorit' kotami, predstavleniya moej rodni o tom, kakim dolzhen byt' velikij rycar', neskol'ko nesovremenny. Proshu smirenno, kak tvoj mladshij brat i vassal... - Krugom ves' zamok oboshel i na vorotah napisal... Kstati, o ptichkah, pochemu nebo temneet? - Podletaem k Ukivaku. - Ne ponyal? - Mrak soputstvuet smerti. - Nu-nu. - Znachit, ty ne razdumal grabit' etot gorod? - Kakogo zh! - Togda otvet' mne, pozhalujsta, na odin vopros! YA budu sozhalet' o svoej smerti, esli umru s neudovletvorennym lyubopytstvom. - Koroche! - CHto znachit etot tvoj oborot - "kstati, o ptichkah"? - O, eto drevnyaya i romanticheskaya istoriya... - Gorm zadumchivo pochesal bok Midira. - V odnoj iz sag o Turire Sobake est' rasskaz o tom, kak Turir vospylal strast'yu k docheri druida, zhivshej na Starom |ngul'see, no stradal bezmolvno, ibo ne reshalsya zagovorit' s nej, znaya, chto ne smozhet uderzhat'sya ot ryada prezhdevremennyh beschestnyh predlozhenij, oskorbitel'nyh dlya takoj poryadochnoj devicy. Nekotoroe vremya on sgoral v lyubovnom ogne, muchaya rabov i melkih zhivotnyh, poka ne povstrechal velikogo kosmicheskogo skal'da Guthorma, p'yanstvovavshego nepodaleku ot hutora Turirovoj babki Ragnhil'd Belaya Mysh'. Da, zabyl skazat', hutor byl na severnom kontinente Starogo |ngul'seya, a nazyvalsya ne pomnyu kak, nu i fig s nim, s hutorom. Tak, stalo byt', Guthorm dal Turiru takoj sovet: "Podojdi k nej, zaraze, prilaskaj ee sobachku, pogovori o pogode i ee predskazanii, o vole bogov i o tom, kak ee uznat' v polete ptic, i esli ty, ublyudok, proyavish' ostrotu uma, vo chto ya i sp'yanu ne poveryu, glyadish', tvoya harya ee nasmert' ne napugaet". Turir zatashchilsya vgluhuyu, na radostyah i v blagodarnost' za sovet propil s Guthormom svoj dragocennyj raketnyj poyas i, edva protrezvev, osedlal vernyj atomnyj tricikl i pochesal k mengiru, podle kotorogo v polom holme obital druid. Na lugu, gde krugi letnih opyat otmechali sledy plyasok malen'kogo narodca, gulyala prekrasnaya |jlin so svoej svyashchennoj beloj sobachkoj. Turir dal sobachke pinka. Ta, otchayanno vizzha, proletela po vozduhu i upala v ternovyj kust. "Nizko, suka, letaet, verno, k dozhdyu", - skazal Turir. Kstati, o ptichkah, tut tret'ego dnya vvecheru Duivn Toropyga napilsya vusmert' i upal s radioteleskopa, tak tak, gnida patlataya, rasshibsya, chto nautro astronomy prinyali ego za dohlogo borova. Smeshno, pravda? Ha-ha-ha-ha! Idem so mnoj na senoval, takova volya bogov." CHto ty rzhesh'-to? Ona s nim ne poshla! - Ne budet sobak pinat', - sumrachno otozvalas' iz-pod Gormova kresla Fuamnah. - Uberi nogi! Nebo vse temnelo. V dymke na gorizonte nachali obrisovyvat'sya kontury stroenij. - Luchshe sest' v lige-drugoj ot goroda na shosse, - Kukylin mahnul rukoj v storonu smutno razlichimoj polosy na zemle. - Iskat' aerodrom bessmyslenno! - Tebe vidnee, - Gorm ne bez truda povernul Midira mordoj v storonu ot yashchikov s ryboj i prinyalsya sharit' po sumkam. Vytashchiv ochki, on nalepil ih na rogatyj obruch i naklonil golovu vpravo, poblizhe k podslepovatomu steklu kabiny. Otkryvavshayasya vzglyadu mestnost' byla dostatochno zloveshchej. Vpechatlenie sozdavalos' glavnym obrazom mertvym lesom, otrosshej na nesvezhem pokojnike shchetinoj torchavshim po obe storony dorogi, da koe-gde dognivavshimi v glubokih kyuvetah ostovami avtobusov. Kukylin prismotrel otnositel'no rovnyj uchastok shosse, proshel nad nim na breyushchem, raketoj ubrav kakuyu-to kolymagu s razdelyayushchej linii, ne bez lihosti zalozhil razvorot i, u samoj poverhnosti vypustiv shassi, kosnulsya betonki. Kazavsheesya sverhu gladkim, shosse bylo na udivlenie ploho prisposobleno dlya samoletov - neskol'ko mgnovenij Kukylin zhdal, chto nosovaya stojka ne vyderzhit, no oboshlos'. - Nu chto, seli, i zhivy, - Gorm hlopnul Kukylina po plechu. - Otkryvaj fonar'! - My v lige ot goroda, - Kukylin otstegnul remen' i, naskol'ko pozvolyali tesnaya kabina i gromozdkie dospehi, razvernulsya k Gormu. - |to eshche otnositel'no bezopasnoe mesto, hotya nadolgo zdes' zaderzhivat'sya ne stoit. - Lazha! Radiacii zdes', po vashim, konechno, merkam, net, znachit, bezopasno. - Delo ne v radiacii. Posmotri na les - on uzhe sotni let tak stoit. Gorm sosredotochenno ustavilsya na derev'ya. Oni byli takogo zhe nevrazumitel'nogo ottenka, chto i doroga, i vse do mel'chajshej sohranivshiesya vetochki slabo fosforescirovali na fone pochti chernogo neba. - Dejstvitel'no, pakost' kakaya-to! Dazhe list'ya na meste. Ladno, nalyubovalis', otkryvaj fonar'! Vytashchit' sobak iz kabiny okazalos' nelegko. - Ryba, - skazal Gorm, za perednie lapy podnimaya Fuamnah nad bortom. - Prosto oni chuyut, chem delo konchitsya, - otvetil Kukylin. - SHCHity ne zabud', zrya, chto l', ya ih stavil. - Otojdi nemnogo, - Kukylin povernul ruchku na visevshem u nego na shee distancionnom pul'te, korpus kotorogo byl srabotan iz konservnoj banki iz-pod vishen. Nichego ne proizoshlo. - Daj! Ne umeesh'! - Gorm tryahnul pul'tom, chut' ne zadushiv Kukylina, v utrobe samoleta zagudelo, i kontury ego pomerkli. - Vo kak nado! A sejchas i s derev'yami razberemsya! - Kukylin ne uspel i slova molvit', a Gorm uzhe pereprygnul cherez kyuvet i potopal k lesu. Sobaki zhalis' k samoletu i s opaskoj poglyadyvali na hozyaina. Projdya nepolnye shest' dyuzhin shagov, otdelyavshie ego ot pervogo dereva, Gorm napoddal po stvolu nogoj. Derevo rassypalos' v poroshok. - |ksperiment somnitel'noj nauchnoj cennosti, - zametil vdrug Fenrir. - Kak yasno vidno dazhe tvoim nevooruzhennym glazom, za samoletom derev'ya rassypalis' azh na chetvert' poprishcha ot obochiny. - Mne nedosug slushat' tvoi bredni, otrod'e trollej, - otvetil, fosforesciruya, Gorm. - Kogda tebe opyat' budet len' povernut' golovu i tvoj ranec progryzet zloj rancegryz, a v dyru nalezut sklizkie plazmoedy, ty eshche menya vspomnish', - poobeshchal Fenrir. Tem vremenem Gorm na obratnom puti k doroge navernulsya v kyuvet i sdelal vid, chto on spustilsya tuda namerenno. - A chto ya zdes' nashel! Kukylin, pomogi vylezti. Kukylin, ozirayas', priblizilsya k krayu dorogi. - Podaj mne ruku! Iz kyuveta vysunulas' ruka. Kukylin posmotrel na nee i sprosil: - Gorm, eto ty skazal "Podaj mne ruku"? - Net, ne ya, a chto? - Togda ch'ya zhe eto ruka? - Kak? - Nad bordyurnym kamnem loktyah v treh nalevo ot ruki pokazalis' golova i plechi Gorma. - Ne moya! - posle nekotorogo somneniya zayavil Gorm. - Kakaya-to ona kostlyavaya, dlinnaya i vashche zelenaya. Net u menya takih ruk! Ruka medlenno skrylas' v kyuvete. - Nachalos', - skazal Kukylin. - Byvaet, - skazal Gorm. On proshel po kyuvetu neskol'ko shagov vpravo, potom vlevo, potom vylozhil na bordyur neskol'ko kostej, kozhanyj koshelek i rastrepannuyu knigu i skazal: - Daj ruku, a! Kukylin sprosil: - A teper' eto ty? V otvet gluho, kak iz-pod zemli, razdalsya smeh. - |to ne ya! - skazal Gorm. - To est' ya eto ya, a ne ya... Ladno, stoj, gde stoish', legche dyuzhinu raz samomu otkuda ugodno vylezti, chem tebe hot' chto-nibud' odin raz napolovinu ob座asnit' tak, chtoby potom tebya samogo vytaskivat' ne prishlos'. Vzmetnuv oblako svetyashchejsya pyli, Gorm vosparil nad shosse s revushchimi raketnymi pistoletami v rukah. - Nichego ne ponimayu, - provorchal on, opustivshis' ryadom s Kukylinom. - Vo vsyakom sluchae yasno odno: vetra zdes' ne byvaet. - O kladez' mudrosti! - otozvalsya Fenrir. - Zatknis', ty, seksopatologoanatom nedouchennyj! - Na sebya by poglyadel, koloda tormoznaya! - Da, eto sil'no, - soglasilsya Gorm, snimaya ochki i vytryahivaya iz-pod nih fosforesciruyushchuyu pyl'. On povernulsya k Kukylinu.- Mozhet, ty chto-nibud' ponimaesh'? - Poslushaj, - Kukylin, zabyvshis', vzglyanul Gormu v glaza i tut zhe v uzhase potupilsya. - Pozhalujsta, davaj snachala zaletim ko mne v usad'bu. Ty zhe sam hotel privezti moim sestram dobroj edy! - Da, a potom opyat' syuda peret'... Net uzh, v gorod tak v gorod! Vot tol'ko glyanem na knizhechku. "A nu, sobirajtes' k ekranu, detishki - Veseluyu knizhku ya vam pokazhu. Snachala posmotrim kartinochki v knizhke: Vot kladbishche, grobik, i ya v nem lezhu." Gorm nahlobuchil ochki obratno na rogatyj obruch. - CHto ty rzhesh'-to? - |to ne ya... - Da? - Gorm s somneniem raskryl knizhku. - Nichego ne ponimayu! - On sunul knizhku Kukylinu. - |to chto? - Kogda-to menya uchili etomu yazyku... - S toj strochki, po kotoroj Kukylin provel pal'cem, osypalis' bukvy. - Zdes' kommentarii v stihah kakogo-to bogoslova k zapretnym glavam Knigi Postydnyh Otkrovenij. Ne znayu, udastsya li mne pri perevode popast' v rifmu. "Krovopijcev i urodov V boj povel Pupihtukak, Istrebili vseh narodov I ustroili bardak. Mertvecy v lesah zavyli..." Ne stoit chitat' etu zloveshchuyu knigu v etom zloveshchem meste, tem bolee chto... Kukylin oseksya, prervannyj donesshimsya iz lesu voem. Sobaki zamerli, povernuvshis' v napravlenii zvuka. Midir gluho zarychal, broneplastiny na zagrivke ego pancirya zlobno oshchetinilis', i stremitel'nym pryzhkom pes rvanulsya k lesu. S neozhidannoj negracioznoj pryt'yu Gorm, potroshivshij u obochiny koshelek, pregradil emu put' i, uvlechennyj inerciej zdorovennoj zverinoj tushi v tyazhelom ohotnich'em snaryazhenii, privychno gryanulsya v kyuvet. - Tozhe mne - k beshenoj sobake za sem' poprishch kiselya hlebat', - uveshcheval Midira Gorm. - A potom najdut ot tebya tverdosplavnuyu koronku s levogo perednego klyka, i vse. Ne gryzi moyu nogu! - |to ne ya! - Vresh'! - On ne mozhet odnovremenno gryzt' tvoyu nogu i govorit', chto eto ne on! - vstupilsya Fenrir. - Bred kakoj-to... - Gorm besceremonno perekinul Midira cherez bordyur, shmyaknuv ego bokom o dorogu. Zatem on poproboval vlezt' zhivotom na bordyurnyj kamen', no vmeste s nim svalilsya v kyuvet. - Zabavno, - skazal Fenrir. Voj v lesu smolk. - Tebe pomoch'? - sprosil Kukylin. - Idi ty v, - Gorm, sgrebaya pod sebya kroshivshijsya beton, vypolz po razvorochennomu krayu kyuveta na shosse. Ego pravaya noga zastryala v chelyustyah koe-gde obtyanutogo pochernevshej kozhej cherepa. - Tak vot kto gryz moyu nogu! - CHerep razletelsya v kuski. - Vse, poshli v gorod! A tebya, nedopeska, ya spasat' bol'she ne stanu! - Midir podzhal hvost. "Horosho, chto u menya net hvosta", podumal Kukylin. T'ma nad golovami grabitelej goroda mertvecov vse sgushchalas'. Kogda les po storonam dorogi smenilsya razvalinami domov, povidimomu, nebol'shoj etazhnosti, nebo stalo takogo zhe cherno-bagrovogo cveta, kak laty Gorma. "|tot rycar' ne vedaet, chto takoe strah." Kukylin oglyanulsya na Gorma, nevernoj pohodkoj shedshego v ar'ergarde i perebiravshego u sebya na ladoni monetki iz najdennogo v kyuvete koshel'ka. - Mozhno zakontraktovat' na eti den'gi horoshego pilota? - Dolzhen tebya razocharovat'. Zdes' edva hvatit na prostitutku iz soldatskogo bardaka, i to na odin raz. Gorm pripryatal monetki v odin iz poyasnyh meshkov. - Mertvecy - hilye bojcy, - skazal on. - No mozhet povstrechat'sya kakaya-nibud' mestnaya zhivnost', vrode toj, chto chut' ne udelala Brosaya. Ne sluchis' tam ya... - Brosayu ne prishlos' by dva dnya mayat'sya zhivotom, - zakonchil Fenrir. - Ty prosto staryj, suhoj, gryaznyj, obdristannyj kusok kala! - skazal Gorm. - Kusok kala u tebya v shtanah, - Fenrir obratil protiv Gorma Gormovo zhe nekogda izlyublennoe oruzhie. - Ladno, sejchas nam ne do nikchemnyh, tshchetnyh i potomu smehotvornyh potug etoj ele letayushchej, urodlivoj, tupo-zlobnoj, bludlivo-hvostatoj i der'mo na letu istorgayushchej barzhi sostrit' ili vyrugat'sya, - Gorm vnov' obratilsya k Kukylinu. - Vynimaj avtogen, svorachivaem v tu ulicu. Blizhe k centru zdaniya sohranilis' luchshe. Bylo ochevidno, chto gorod pogib ne pod bombami - vo mnogih oknah dazhe sohranilis' stekla. - Pojdem po kvartiram shastat'! - predlozhil Gorm. - Ne stoit, - Kukylin opaslivo poglyadel na razverzavshuyusya sprava ot nego dyru paradnogo pod容zda kogda-to roskoshnogo trehetazhnogo kamennogo doma. Raspahnutye steklyannye dveri vnizu byli zalyapany temnoj vyazkoj massoj. - Vse, kto zhil v etom gorode, umerli. Bol'shinstvo iz nih umerlo v svoih zhilishchah. A posle smerti oni preterpeli prevrashchenie. YA ne govoryu, kakoe, no ty znaesh'. - V tugnygakov, chto l'? - vyaknul Gorm. Steklyannye dveri medlenno zakrylis'. Kukylin ukoriznenno posmotrel na Gorma. Tot razvel rukami i pomotal golovoj. - Kukylin, szadi! - skazala Fuamnah. Kryshka kanalizacionnogo lyuka v treh shagah ot Kukylina vzletela vo vnezapno pomutnevshij vozduh. Pod vopli i ulyulyukan'e sonmishcha strashnyh golosov iz dyry polezli omerzitel'nye nasekomopodobnye obez'yany razmerom s poryadochnuyu svin'yu. Kukylin vzmahnul mechom. Ognennoe lezvie vyskol'znulo iz efesa, osvetiv koshach'yu mordu i loshadinye zuby blizhajshej gadiny. - Krr-rr-ro-o-o-o-om-mm! - ot drevnego boevogo klicha Al'dejg'i zadrozhali stekla v oknah. Zakinuv ruku za spinu, Gorm vytashchil iz futlyara, pritorochennogo k rancu, mehanicheskij rezak. - Opyat' ne vklyuchaetsya! - i on s dosady snes nerabotayushchim rezakom polcherepa prygnuvshej na nego skotine. Sobaki, lyazgnuv ekzochelyustyami, prygnuli v samuyu gushchu ischadij kanalizacii. Bitva nachalas'. - Slushajte, - skazal spustya nekotoroe vremya Gorm, stoya na kuche zverski raschlenennyh trupov. - A chego my k nim pristali? Nu, zhivut oni zdes', tak chto? Idem dal'she! Otvyazavshis' ot nemnogih uvyazavshihsya za nimi zhivotnyh, grabiteli vozobnovili put' k centru goroda. Nakonec, v svete mecha Kukylin razglyadel vyvesku banka. - V legende govoritsya, chto t'ma pala na Ukivak vnezapno, kogda evakuaciya tol'ko nachalas'. Platinu ne uspeli vyvezti. - Umri, neschastnaya! - Gorm pinkom vpechatal poslednyuyu nasekomopodobnuyu obez'yanu v dver'. Dver' ne shelohnulas'. - Sejchas ya ee... - Gorm otoshel nazad, primerivayas', kakoj svoej chast'yu izobrazit' taran. - Na sebya, - skazal Fenrir. - Adal'rada krivonoga, Poceluj menya, rozhna, - probormotal Gorm, dergaya za skol'zkuyu ot gemolimfy pokojnoj obez'yany ruchku. Dver' raspahnulas', i na Gorma svalilsya sovershenno vysohshij trup v voennoj forme. - Navernoe, kak raz za platinoj namylivalis', - Gorm pokosilsya v storonu podozritel'no horosho sohranivshegosya bronirovannogo tyagacha, okolo kotorogo valyalos' neskol'ko skeletov v ostatkah takoj zhe formy. Midir podoshel k tyagachu, zadumchivo ponyuhal opornoe koleso i podnyal zadnyuyu lapu. Iz priotkryvshegosya v pancire lyuchka posypalas' obezvozhennaya mocha. - I etot spyatil, - s udovletvoreniem otmetil Fenrir. SHarya po karmanam trupa, Gorm vytashchil pachku pornograficheskih otkrytok i prinyalsya v nedoumenii vertet' ih tak i edak, ne ponimaya, chto na nih izobrazheno. - Idem vnutr'! Zabyl? - skazala Fuamnah. - Yzhh? - Gorm s lyazgom i grohotom pochesal v zatylke i zasunul otkrytki obratno v karman k pokojniku. - A, nu da, konechno, kak zhe, kak zhe... Nalobnye fonari sobak i mech Kukylina osvetili bankovskij zal. Litye metallicheskie kolonny byli obmotany ne to pyl'yu, ne to pautinoj. S potolka svisali, otbrasyvaya rezkie kolebolyushchiesya teni, smorshchennye kozhistye vyrosty. Verhnie kraya gryaznyh do neprozrachnosti steklyannyh peregorodok byli vyshcherbleny tak, budto kto-to ih gryz. U odnoj iz dverej, vedshih vo vnutrennie pomeshcheniya banka, podpirali stenu mumii dvuh soldat. - Nam tuda, - myslenno proshchayas' s poslednimi nadezhdami, skazal Kukylin. - Gorm, mogu li ya poprosit' tebya ob odnom odolzhenii? - Nu! - Pozhalujsta, obeshchaj mne sejchas, chto esli tebe udastsya vybrat'sya otsyuda, ty nepremenno otvezesh'... Razryvavshie barabannye pereponki skrezhet i vizg ne dali Kukylinu vozmozhnosti zakonchit' frazu. Gorm vzmahnul rezakom, i zvuki pereshli v bolee ili menee rovnoe gudenie. - Zavelsya vse-taki. Neskol'ko opravivshis', Kukylin snova nachal: - Prosti, ya ne zako... - Obeshchayu. - No ya dazhe ne dogovoril, o chem proshu... - Nu ty zanuda! Gorm pinkom raspahnul dver' i shagnul v temnotu. Pochti odnovremenno razdalis' grohot otbrasyvaemyh s dorogi predmetov mebeli, hrust kostej i skrip rzhavyh petel'. Sobaki yurknuli v dver', ostvalyaya Kukylina odnogo v nevernom svete mecha. Golos Gorma vozvestil: - Lift ne rabotaet. - Kto by mog podumat', - skazal Fenrir. - Polozhitel'no, tvoj kretinizm menya poroj dazhe razvlekaet. Kukylin uvidel, kak zavolnovalas' strannaya porosl' na potolke, i vsled za Gormom proshel mezhdu skosobochennymi pokojnikami. Ego vzglyadu otkrylsya dovol'no prostornyj liftovyj holl. Massivnye sdvizhnye reshetki, zashchishchavshie shahtu i liftovuyu kabinu, byli poluotkryty. Na polu lifta sidel mertvec, lico i ruki kotorogo byli do kostej ob容deny krysami. Krysy, chislom bolee desyatka, valyalis' tut zhe v lifte, suhie i ploskie. Zlobno molchavshij Gorm nakonec procedil: - Teper' ya ponimayu, za chto Vidar porval past' odnomu volku. - Oden' masku, Gorm, - skazal Midir. - Vonyaet. V vozduhe dejstvitel'no poyavilsya gnilostnyj zapah. Kukylin sprosil u Gorma: - Ty nazhimal knopku vyzova? - Ne znayu. YA nazhimal tut vse knopki, kotorye uvidel. - Nam konec - ty probudil liftera. Mertvec v kabine lifta zashevelilsya. On podnyal ruki i bespalymi kistyami provel po obnazhennym kostyam cherepa, so strannym potreskivaniem vtyagivaya v sebya vozduh. Ego ruki vnov' opustilis', i kazhdaya krugoobraznym dvizheniem zamela s pola po neskol'ku krysinyh tushek. - Nichego ne ponimayu! - Gorm podoshel poblizhe. Obglodannaya falanga ukazatel'nogo pal'ca pravoj ruki mertveca pogruzilas' v telo odnoj iz krys. Ee perednie lapki sudorozhno zadergalis', hvost obvilsya vokrug zapyast'ya liftera i, rasplyushchivshis', slilsya s nim. So zvukom razryvaemogo pergamenta lopnula mumificirovannaya kozha, i prirosshaya mertvecu na mesto ukazatel'nogo pal'ca krysa raspahnula svedennye smert'yu chelyusti. Eshche neskol'ko mgnovenij, i mertvec, oruduya novymi koshmarnymi pal'cami, nalepil poslednih valyavshihsya na polu krys na ostatki svoego lica. - Vo muzhik daet! - Gorm slegka otstranilsya v storonu, davaya Midiru i Fuamnah vozmozhnost' bolee detal'no izuchit' yavlenie. "YA trus, no ya umru ryadom so svoim baronom, kak podobaet", podumal Kukylin i tozhe shagnul k reshetke, opustiv zabralo shlema. - YAdren kot, vonyaet kak v drishchobe lesnoj, prosto sil net, - Gorm svobodnoj ot rezaka rukoj prishchelknul na shtatnoe mesto respirator, ranee boltavshijsya u nego nizhe podborodka na bronirovannyh trubkah pitaniya. Vysohshie glazki krysinoj golovy, zapolnivshej levuyu glaznicu mertveca, vyvalilis' iz orbit i na stebel'kah nervov podnyalis' vverh. Ih neestestvennyj vzglyad byl nesomnenno napravlen na Gorma. Mertvec podtyanul pod sebya nogi i i vstal. Ego dvizheniya soprovozhdalis' treskom i shurshaniem. Krysinaya ruka otodvinula zarzhavlennye reshetki, polnost'yu osvobozhdaya vhod v lift. - Nu chto , poehali? - Gorm shagnul v lift. - Nam vniz, chto l'? Kukylin hotel bylo vozrazit', no ispugalsya, chto ego golos drognet, i tol'ko kivnul. Lifter zakryl reshetki i nosom pravoj ukazatel'noj krysy peredvinul ne zamechennyj Gormom rychazhok v uglublenii kontrol'noj paneli. Daleko vverhu zastuchali shesterni. - Avarijnoe pitanie, nu kak zhe ya srazu-to ne dogadalsya? - Gorm s razmahu tresnul sebya po respiratoru. - Nu, eto kak raz samoe ponyatnoe, - ne upustil sluchaya Fenrir. - A ty chto vstal, kak utes nad okeanom? - Gorm zamahal rukami pered toshnotvornoj harej liftera. Nam vniz, ty ponyal? Levaya glaznaya krysa liftera oskalila zuby. Bol'shoj krysoj pravoj ruki mertvec vdavil knopku na paneli. Sodrognuvshis' i napolnivshis' prahom, kabina prishla v dvizhenie. - Kukylin, u tebya kislorodnaya maska rabotaet? - sprosil Gorm. Kukylin kivnul. - Ty chto, vashche yazyk proglotil? Kukylin kivnul. - Nu ty zanuda! Priehali. V podvale bylo syro. Potolok poros chem-to volosatym. Steny uhodivshego nalevo i napravo koridorayu otgorozhennogo ot liftovogo holla reshetkoj, blesteli ot vlagi. U otkrytoj dveri v reshetke tozhe kogda-to stoyali soldaty - ot nih ostalos' dve kuchki polusgnivshih kostej. - |j, ty, polupochtennyj! Dver' otkryvat' budem ili krysinye glazki stroit'? Posle nebol'shoj pauzy mertvec vybral pervoe. Odnako otkryt' prirosshuyu k polu i oslizluyu razdvizhnuyu dver' okazalos' emu ne po silam. - A nu-ka, daj! - Gorm podergal reshetku vo vse storony krome toj, v kotoruyu ona sdvigalas', sovershenno ee iskorezhil i zaklinil, i skazal: - Kukylin, rezh' ee avtogenom! - I trupaka zaodno, - posovetoval Midir. - Ne stydno? - sprosil Gorm. - CHto on tebe plohogo sdelal? - Eshche sdelaet, - Midir zlobno pokosilsya na zamershego v dal'nem ot nego uglu kabiny liftera. Prozhzhennaya v mestah krepleniya reshetka upala na pol. Kukylin vyskochil iz lifta i, prizhavshis' spinoj k stene, vystavil mech pered soboj. Udalenie ot mertveca hot' na minimal'no priemlemoe rasstoyanie pridalo emu dostatochno smelosti, chtoby kriknut': - Rubi ego, Gorm! - Dalsya vam vsem etot polugryzun, - Gorm priotkryl dver' v koridor poshire. - Smotri luchshe, kakaya harya lezet na tebya s potolka. Kukylin zadral golovu. Dvumya mutnymi puzyryami, napolnennymi protuhshim gnoem, na nego smotrelo beznosoe, bagrovoe, strashno razdutoe lico. Dlinnaya sheya teryalas' v volosah na potolke. Lysyj cherep s otdel'nymi pryadyami slipshihsya volos byl pokryt belesymi ochagami razlozheniya. Vysunuv i tak ne umeshchavshijsya vo rtu yazyk, golova zashipela. "Dazhe esli rubanut' ej po shee, strashnee uzhe tochno ne budet", reshil Kukylin i udaril. S neperedavaemym zvukom golova vrezalas' v pol. Ot sotryaseniya ee burkaly lopnuli, kozha i plot' kuskami spolzli na pol, obnazhaya gnilozubyj cherep. - Ih dolzhno byt' dve, - Gorm podprygnul, vytyanuv ruku vverh, i opustilsya na pol, derzha za sheyu eshche bolee zhutkuyu golovu. Kukylin pojmal sebya na tom, chto odin vzglyad na nee zastavil ego vpomnit' o pervoj golove chut' li ne s umileniem. Gorm otkrutil vtoruyu golovu ot shei v tri oborota i kinul ee k cherepu pervoj, kotoryj ona tut zhe prinyalas' energichno pozhirat'. - Mne by ih problemy, - Gorm pozhal vnutri svoego kostyuma plechami i proshelsya po koridoru. Bez odnoj dyuzhina ogromnyh bronirovannyh dverej - dve v torcah, devyat' v stenah koridora - byli zakryty. Gorm pokrutil koleso pod chudovishchnym kodovym zamkom na odnoj iz nih. V dveri chto-to chavknulo. "Fig ona otkroetsya", reshil Gorm i povernulsya k nej spinoj. Totchas ego vlepilo v stenu i s nogo do golovy obdalo vyazkoj dryan'yu - komnata-sejf za dver'yu okazalas' zapolnena zhidkost'yu. - Nikak ne vezet tebe s dver'mi, - posochuvstvoval Fenrir. Gorm, stoyavshij po shchikolotku v slishkom gustoj dlya vody zhizhe, tol'ko zashipel. Ego slovarnyj zapas konchilsya eshche v moment vzaimodejstviya so stenoj. SHlepaya nogami, Kukylin i sobaki podoshli k Gormu. Midir napravil svet v dvernoj proem. Na vysokih chernyh stellazhah vdol' sten lezhali, vlazhno pobleskivaya, desyatki slitkov, kazhdyj razmerom s dobryj kirpich. - Nu, eto? - sprosila Fuamnah. - |to! - Kukylin, zacharovannyj, pozhiral sokrovishchnicu glazami, poka ego vnimanie ne privlekla, kak na bedu, zdorovennaya kucha na polu, kotorouyu on po inercii tozhe prinyalsya pozhirat' glazami, i ego edva ne stoshnilo v shlem. - I kak vy poprete naverh etakuyu tyazhest', rebyata? - sprosil Fenrir. Poskol'ku Gorm prodolzhal hranit' molchanie, Kukylin sglotnul i nachal: - Naverhu stoit bronevik... - Otlichno! A do verha? Kukylin priunyl. - Na telezhke, kotoraya valyaetsya v drugom konce koridora, kretinskij ty samodovol'nyj tupoj buksir! Esli ya uslyshu eshche odin tvoj vopros, kislokapustnaya otryzhka trollej, ya nikogda ne oskvernyu svoih ruk prikosnoveniem k klyuchu ot togo altarya skverny, kakovoj sledovalo by nazvat' ne "Fenrir", a "Rvota Hryuma" ili "Isprazhneniya devyati dyuzhin hrimtursov"! T'fu! Posle neprodolzhitel'nogo otsutstviya rech' vernulas' k Gormu, nadutaya, kak zhaba. Kukylin, ochen' priobodrennyj vidom platiny, poshel za telezhkoj. Sobaki pobezhali za nim, vidimo ne priznavaya obleplennogo neizvestno chem Gorma, u kotorogo dazhe rezak v ruke ne gudel, a bul'kal, dostojnym opeki. Mertvecy, s odnoj storony, veli sebya v sootvetstvii s religiej, s drugoj, dejstvitel'no okazalis' nikudyshnymi bojcami. V dushe Kukylina voskresla nadezhda, hotya trevoga ostavila ego ne polnost'yu. CHto-to bylo ne tak. Mertvecy v podvale za veka slishkom propitalis' vodoj, chtoby byt' opasnymi. Mertvec v lifte, naoborot, slishkom vysoh. No kakoe dejstvie mogla okazat' na nego voda, prichem ne prostaya voda, a strashnyj nastoj mnogovekovogo gnieniya? Za spinoj Kukylina zashlepali po vode nogi. Zvuk shel ne tochno szadi, iz koridora, gde stoyal Gorm, a so storony liftovogo holla. Razdalsya skrezhet zheleza, zatem odnovremenno Fuamnah i Gorm kriknuli "Szadi!" i "Beregis'!" Kukylin rezko povernulsya, vstavaya v boevuyu stojku. Vysoko podnyav oskalennye desyat'yu pastyami ruki, na nego shlo ogromnoe, pod potolok, chudovishche. Na ego plechah sideli tri golovy - levaya s krysoj v glaznice, pravaya - gniloj bezzubyj obglodannyj cherep, i srednyaya - bezymyannyj zhivotnyj uzhas. "Vse", podumal Kukylin, prikryvayas' mechom ot navisshih nad nim krysinyh pastej. Trehgolovyj ostanovilsya kak by v nereshitel'nosti. Iz serediny ego grudi, rasshvyrivaya kloch'ya mertvechiny, vyshel zakruglennyj konec rezaka. - Horosho idet! - Gorm vydernul rezak i tknul im v pozvonochnik chudovishchu. Kadavr nachal povorachivat'sya. Iz dyry v ego grudi vyvalivalis' v zhizhu na polu mnogonogie nasekomopodobnye sushchestva. Kukylin, uluchiv moment, udaril mechom po vytyanuvshejsya pravoj ruke kadavra, otrubiv ee po lokot'. Ruka, perevernuvshis' neskol'ko raz v vozduhe, vcepilas' krysami v stenu i vzbezhala po nej, kak pauk, skryvshis' v shersti na potolke. Vdrug kakofoniya vizga, gudeniya i chavkan'ya, kotoruyu proizvodil rezak, prekratilas'. Ucelevshej rukoj kadavr vyrval u Gorma zaglohshee orudie i udaril im naotmash' po Gormovu shlemu. Gorm otletel daleko v koridor i plyuhnulsya v zhizhu. Kadavr shel k nemu, ne obrashchaya vnimaniya na sobak, vpivshihsya v ego ikry ekzochelyustyami. - Ognem ego, ognem! - razdalsya golos Fenrira. Kukylin snova udaril. Ognennyj fakel ego mecha gluboko vgryzsya v bedro chudovishcha. Kadavr snova nachal povorachivat'sya. Gorm, vydernuvshij iz sumok raketnye pistolety, vklyuchil ih i vrezalsya v potolok. Trehgolovyj maznul nerabotayushchim rezakom po vozduhu, metya v lico Kukylina. Tot uvernulsya, proskochiv pod rukoj mertveca, i, otstupiv na polshaga v storonu, zanes mech. CHudovishche otvodilo ruku dlya novogo udara. - Bej! - skazal Fenrir. Vzmah ognennogo mecha - i tri bezobraznyh golovy poleteli, vertyas' i klacaya chelyustyami, v zhizhu. Telo tak i ostalos' stoyat' s zanesennoj rukoj. - Aga! - Gorm vyudil iz zhizhi odnu iz golov i, prizhav ee nogoj k stene, napravil na nee raketnyj pistolet. - Sobachki, lovite dve drugie, a to on soberetsya obratno! Dobryj udar, Kukylin! Ty srazhaesh'sya, kak berserk! Golova liftera, ceplyayas' krysinymi lapkami i hvostami, pytalas' vlezt' na stenu. Kukylin dvinulsya mimo stoyavshego posredi koridora tela kadavra, chtoby szhech' ee, no ruka s rezakom upala emu na plecho. Kukylin opustilsya na koleni pod tyazhest'yu udara, i tut na golovu emu prygnula s potolka zhdavshaya svoej pory krysinaya ruka. CHernye polomannye rezcy proveli glubokie borozdy v orgstekle zabrala. Kukylin pochuvstvoval tolchok ch'ego-to tyazhelogo tela v spinu i, padaya v strashnuyu chernuyu zhizhu na polu, poteryal soznanie.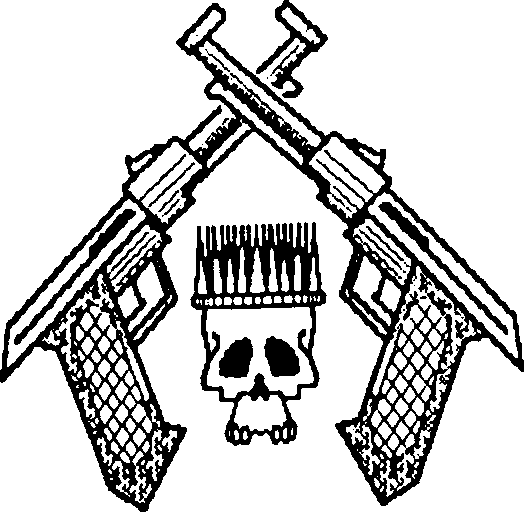 +--+ ++++++++ ++++++++ +--+ Kukylin prishel v sebya ot golosa Fenrira: - Itak, "srazu zhe razgorelas' zharkaya bitva, kotoraya byla i zhestokoj i dolgoj. Ona konchilas' tem, chto Haral'd konung oderzhal pobedu, a |jrik konung i Sul'ki konung, i ego brat Soti yarl pogibli. Torir Dlinnolicyj postavil svoj korabl' vplotnuyu k korablyu Haral'da konunga. Torir byl moguchim berserkom. Shvatka byla zdes' ochen' ozhestochennoj, no v konce koncov Torir Dlinnolicyj pal. Vse lyudi na ego korable byli perebity." Ty ponyal? - CHto ya dolzhen byl ponyat'? - svarlivo otozvalsya Gorm. - K'etvi konung byl ne s Torirom, a na svoem sobstvennom korable, i, obrativshis' v begstvo, ukrylsya na asteroide, na kotorom mozhno bylo zashchishchat'sya, i za miluyu dushu tam otsidelsya, gad, poka Torira kroshila Haral'dova druzhina iz raketnyh ruzhej. Ty ponyal? - Ryby hochu, - vdrug zanyl Midir. Sily vernulis' k Kukylinu nastol'ko, chto on smog proskresti yazykom po peresohshim gubam i priotkryt' pravyj glaz. Pryamo nad glazom nachinalsya zakopchennyj potolok polutemnogo i ochen' tesnogo pomeshcheniya. Edinstvennym istochnikom sveta byli nalobnye fonari Midira i Fuamnah, sidevshih, zadravshi mordy k varvarski obodrannomu i obgorelomu kreslu, v kotorom skukozhilsya zakopchennyj Gorm, opershis' zhivotom o spinku i svesiv nogi s podlokotnikov. Za kreslom iz pola torchali rychagi i pedali. Kukylin lezhal na dovlo'no vysokom, uzkom i ochen' zhestkom vozvyshenii, to zhe, chto bylo podlozheno emu pod golovu, yavno ne prednaznachalos' dlya roli podushki. Protyanuv ruku, Kukylin na oshchup' uznal koe-kak svernutuyu kirasu svoego plastinchatogo dospeha. - Privet i tebe, Kukylin etot... yarl! - Gorm zadom spolz s kresla zapustil ruku sebe za spinu, vytashchil iz ranca gofrirovannuyu trubku, iz kotoroj povalil par, probormotal "Ne to", vytashchil korobochku s prozrachnoj kryshkoj, v kotoroj perekatyvalis' zapasnye zub'ya k rezaku, namorshchil lob, otchego rogatyj obruch opasno nakrenilsya, zasunul meshok v levuyu poyasnuyu sumku, nakonec, vytashchil eshche odnu gofrirovannuyu trubku s kranikom na konce, skazal: - Na-ka vot, othlebni, - i, v sostoyanii nelepogo i neustojchivogo ravnovesiya navisnuv nad sobakmi, protyanul trubku Kukylinu. S bol'shim oblegcheniem Kukylin ne uznal v veshchestve, smochivshem ego guby, zhidkij azot. - Ty, navernoe, opyat' peremudril s narkozom, - Kukylin otvel trubku, po strannomu privkusu ponyav, chto v trubke hot' i voda, no ne pit'evaya, a iz Gormova ohlazhdayushchego bel'ya ili eshche otkuda pohuzhe. - U menya byli takie gallyucinacii, chto ya ne pomnyu dazhe, v kakuyu zavaruhu popal na samom dele. Gorm zhadno prisosalsya k kraniku, cherez nekotoroe vremya na ego lice otrazilos' somnenie v kachestve napitka, posle chego on prinyalsya ostervenelo plevat'sya. - Na samom dele, - skazal Fenrir, pol'zuyas' pauzoj, - nash obshchij znakomyj, v detstve podmenennyj v kolybeli trollyami, podstavil tebya pod zdorovennuyu opleuhu, kotoraya slomala tebe klyuchicu, a odna, ne v obidu ej bud' skazano, suka edva tebya ne utopila pod vidom spaseniya. Potom toboj snova zanyalsya vysheoznachennyj podmenysh trollej, svoim medicinskim iskusstvom navernyaka krovavo i muchitel'ski lishivshij by tebya zhizni, esli b ne moi svoevremennye, mudrye i terpelivo-dohodchivye sovety. - No, vidno, sam Krom hranil tebya, ibo, nesmotrya na vreditel'skoe i zloveshche-gnusnoe pod ruku bormotanie etogo istinnogo otrod'ya trollej, pozora ZHeleznogo lesa i posobnika Gibeli Bogov, ya vse-taki sumel provesti dezinfekciyu i postavit' tebe na klyuchicu platinovuyu skobu, - s neozhidannym dobrodushiem zakonchil otplevavshijsya Gorm. - Ne bespokoit? Kukylin ostorozhno podvigal rukoj: - Net, spasibo, Gorm! Ty govorish', ona byla slomana? Ne mogu poverit'! - Ne bespokoit, govorish'? A s chego eto ty togda ty izobrazil vot etakuyu rozhu, ezheli ne bespokoit? Ladno, pobolit, i fig s nej, a vashche-to ty dolzhen byl po logike veshchej kak minimum okolet', i vse iz-za svoih durackih kompleksov. Nado bylo chestno priznat'sya, chto tvoi dospehi godny tol'ko na to, chtoby podkladyvat' ih pod golovu, a ne travit' beskonechnye bajki po povodu sester-sirot, stradayushchih sezonnym belokroviem i zhdushchih tvoego vozvrashcheniya. I etogo oluha eshche kto-to zhdet... CHto u tebya za kirasa? - Gorm vyhvatil iz-pod golovy Kukylina kirasu, vcepilsya v nee zubami i rukami i, zazhmuryas', razodral natroe. - T'fu! YA k nej, kayus', ne prismatrivalsya, nu, tam, varena mysh' delikatesnaya, dumayu, obychnaya keramika s armaturoj iz uglevolokna, ne bol'no ser'eznaya veshch', no ot melkih gryzunov, dumayu, zashchitit, tak kakoe tam uglevolokno! |to glina! Takuyu, s pozvoleniya skazat', kirasu, lyubaya hilaya bazuka v kloch'ya razneset, a tvoj shlem, v kotorom kuskom mela mozhno dyrku provertet', ya dazhe pomojnomu vedru ne upodoblyu, nichego ne govorya uzhe o tvoih kartonnyh botinochkah. Vystupaya v takom shutovskom kostyume, vydavat' sebya za voina - eto paranojya, a lezt' v nem tuda, kuda ty so mnoj polez, eto vashche patologicheskoe beshenstvo, oslozhnennoe vozvratnym enurezom i tyazheloj nasledstvennost'yu. Kto mog v zdravom ume sproektirovat' takoj pozor? S drevnih vremen izvestno - dospehi dolzhny otrazhat' kak rubyashchij ili sminayushchij udar palicej, toporom, boevym molotom ili dvuruchnym mechom, tak i vozdejstvie bystroe, no koncentrirovannoe - ukol kop'em, pikoj, strelu, metatel'noyj nozh, arbaletnyj bolt, pulyu. Dlya zashchity ot pervogo sluzhit vneshnyaya rama - Gorm tresnul po odnoj iz trubok naruzhnogo skeleta svoego kostyuma, - dlya zashchity ot vtorogo - legkij, no prochnyj kompozit, pozvolyayushchij raspredelit' tochechnoe usilie na bol'shuyu ploshchad', naprimer, kol'chuga pravil'nogo pleteniya - v kazhdoe kol'co prodety chetyre sosednih. Ty uzhe raspahivaesh' past', chtoby vyaknut', chto, mol, na tvoej oslouhoj i svinoryloj planete etogo yakoby ne znayut, no molchi! - bezyshodnaya tupost' besschetnyh pokolenij dubinnogolovyh kretinov, unylo smenyavshih drug druga, kak v strashnom sne spivshegosya i uvolennogo pomoshchnika bezdarnoj povival'noj babki, podavshegosya v stolyary, ne opravdyvaet tvoego sobstvennogo total'nogo skudoumiya, potomu chto do takih prostyh istin sam doshel by i poslednij umom trachenyj troll'! - |to vyskazyvanie verno opredelyaet granicu tvoego intellekta i meru tvoej otvetstvennosti v dannoj istorii, - zametil Fenrir. - Ty-to ne raskusil, chto eto za dospehi. Zvezdolet Gormova krasnorechiya vse per u svetovogo bar'era: - Ty govoril, v tvoej usad'be yakoby est' masterskaya - zaranee predstavlyayu sebe, kakoj eto uzhas - tam ya nauchu tebya, kak iz prostyh materialov sdelat' dospehi, kotorye hot' na rasstoyanii v tri poprishcha v temnuyu noch' pri sploshnom tumane, esli odin glaz zakryt', a drugoj prishchurit', pohozhi na nastoyashchie, v otlichie ot tvoih. Stoj, etot seryj hvostishche opyat' vozvel na menya nizkij i yadovityj poklep i pomeshal mne skazat' chto-to vazhnoe i neprehodyashchee... Vot! YA hotel sprosit', chto u tebya byla za glyuka? Kukylin pomorshchilsya: - Potom, kogda nemnogo zabudetsya, ya tebe rasskazhu, a to sejchas dazhe vspominat' strashno. - Opyat' mertvecy? - podozritel'no uchastlivo sprosil Gorm. Kukylin kivnul. - Vrode etih? - Gorm vytashchil iz-za kresla grubo zavarennyj poverhu meshok dlya kratkovremennogo hraneniya pojmannoj ryby i povernul k Kukylinu prozrachnym okoshkom. V meshke chto-to slabo shevelilos'. Kukylin zaglyanul v okoshko i v uzhase zamer. - Tak eto bylo na samom dele?! Znachit, i v pervyj raz... - Uzhe ne mogu skazat' s byloj uverennost'yu, no, po-moemu, v pervyj raz vse-taki ne, - skazal Gorm. Kukylin na mig zadumalsya i ispodlob'ya posmotrel na Gorma. - No ezheli Kniga Postydnyh Otkrovenij glagolet istinu, kto ty esm', rycar' t'my? - Kto ya chto rycar' t'my? - peresprosil Gorm. - Esm', - podskazal neskol'ko sbityj s pateticheskogo tona Kukylin. - Tak by srazu i skazal. Beda tvoej rasy v tom, chto vy vechno ekstrapoliruete po nedostatochnomu chislu faktov, a po dostatochnomu ne ekstrapoliruete, i ocenki pravdopodobiya ekstrapolyacii u vas net. Koroche, ne nado perekladyvat' na menya otvetstvennst' za to, kak vedut sebya mertvecy na tvoej - ya podcherkivayu! - tvoej - devyat'yu beshenymi kobelyami v grozu drug iz-pod druga krytoj planete. Zato boyus', chto imenno ya pervyj mogu ob座asnit', pochemu oni sebya tak vedut. - Esli by, - skazal Fenrir. - Fakty, yadrena mysh', takovy. |tot gorod, kak, veroyatno, i nekotorye drugie, byl unichtozhen biologicheskim oruzhiem. Zdes' prisutstvoval kakoj-to agent - yad, mikrob ili virus, - unichtozhivshij odni organizmy i vyzvavshij stranye mutacii v drugih, stimulirovav bakterial'nuyu nekrobioticheskuyu aktivnost', ibo... - Vot zagnul, - skazal Fenrir. - ...odnim iz rezul'tatov ego dejstviya stalo poyavlenie kolonial'nogo mikroorganizma, ispol'zuyushchego ostanki bolee vysokoorganizovannyh sushchestv v kachestve karkasa i stroitel'nogo materiala i utiliziruyushchego energiyu, vydelyayushchuyusya pri gnienii. |tot mikroorganizm stremitsya rasprostranit'sya i zarazit' nahodyashchiesya poblizosti eshche zhivye sushchestva, poka ne ochen' ponyatnym dlya menya obrazom ispol'zuya posmertnye reflektornye sposobnosti pogloshchennyh im ostankov. Voda aktiviziruet ego deyatel'nost', suhost' ugnetaet, a sil'nyj nagrev gubit. YA prozharil etot bronevik snaruzhi i iznutri i germetiziroval. Ne sdelaj ya etogo stol' tshchatel'no, ili progryzi ta shtuka tvoj shlem, ili eshche chto-nibud' v takom duhe, byl by ty sejchas prosto istochnik zarazy. Narochno huzhe ne pridumaesh'! Kstati, eto mozhet kak raz okazat'sya pravdoj. Kakim zaboristym kalom u vas tut vse ugly poobgazheny. A ved' na etom nebesnom tele mogla by kogda-nibud' vozniknut' razumnaya zhizn'... Nu vot, opyat' ty skis, kak prostokvasha. Posmotri luchshe, na chem lezhish'! Kukylin vytashchil iz-pod sebya tyazhelennuyu chushku i provel pal'cem po pokryvavshej ee kopoti. - Vot lozhe, dostojnoe voina, otdyhayushchego posle gerojskoj bitvy! Da, zdorovo ty snes vse tri golovy tomu gnusnomu podrazhatelyu trollej v podvale. CHto eto ya vse ni o chem... - Uzh kak vsegda, - skazal Fenrir. - Da, tak sejchas ty s sobakami i edoj letish' k sebe domoj, a ya potihon'ku, dnya za poltora, gonyu etot drandulet k tebe zhe v usad'bu. - A horosho li zasvechivat' ego usad'bu takoj navodkoj? - sprosil Fenrir. - Bronevik, nabityj sokrovishchami, da eshche s takim treplom za rulem? - Trollyu nikogda ne ponyat' togo, kto srodni bogam. YA tak udelayu dannyj ekipazh, chto ne tol'ko o gruze nikto sprosit' ne podojdet, no i vashche vsyakij, kto menya uvidit, postaraetsya ob etom zabyt', kak o strashnom sne. - Ryby davaj, - napomnil o svoem sushchestvovanii Midir. - Davaj namedni kashej podavilsya, - otvetil Gorm.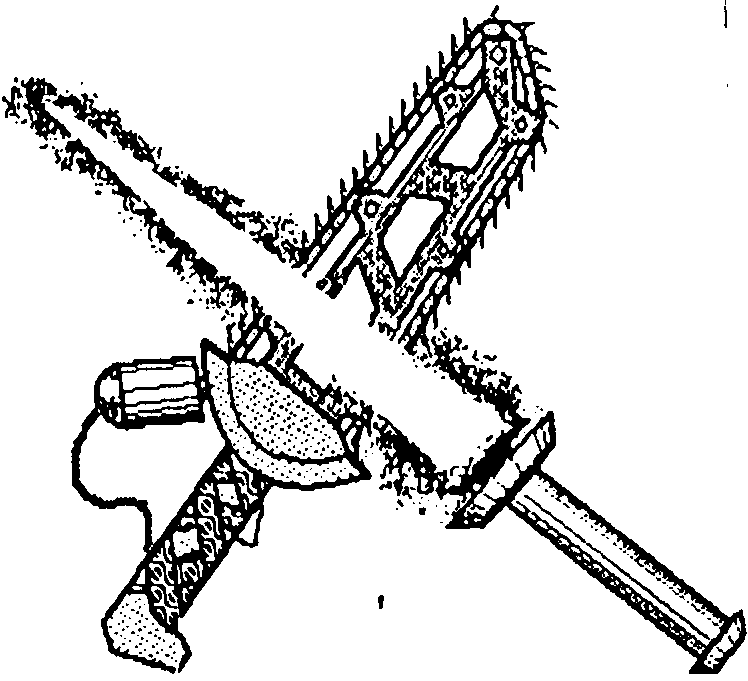 +--+ ++++++++ ++++++++ +--+ Kto voskovye svechi nes, A kto mogilu kopal. Nevesta gadala o zhenihe, Kuda zhe on propal. Mat' ego pripodnyala pokrov, Pechal'na i tiha: "Nevesta, podojdi syuda, Priznaj svoego zheniha." ZHenshchiny plakali navzryd, Katilis' slezy iz glaz. Nevesta padala bez chuvstv, Navernoe, tysyachu raz. V slezah i v goe noch' proshla Do rannego sveta zari. Gde noch'yu lezhal odin mertvec, Nautro stalo tri. Byl mertvym rycar' molodoj, Nevesta mertvoj byla, A vsled za nimi pered zarej Ot gorya mat' umerla. Nuliayuk provela po strunam lyutni i opustila golovu. Tangity sideli v molchanii, tol'ko v kosterke, nikak ne zhelaya razgorat'sya, tolstyj rastrepannyj roman "Zapiski nekrohirurga". Kiavak vstryahnul golovoj, otkinuv nazad dlinnye volosy, i skazal: - Sejchas redko vstretish' nastoyashchuyu lyubov', a pochemu? Niviaksiak otvetil, zadumchivo glyadya na yazychki plameni: - Ran'she mertvecy ne razgulivali sredi zhivyh. - I devushek krali v zheny, a ne na myaso, - dobavil Torngarsoak. On hotel skazat' chto-to eshche, no vmesto etogo nastorozhilsya i podnyal ruku kverhu, prizyvaya tovarishchej sohranyat' molchanie. Tangity vybrali dlya privala dom u dorogi s sohranivshimisya tremya stenami i kuskom perekrytiya vtorogo etazha. Gde-to vdali, za nerazlichimym v vechnoj dymke gorizontom, sotni let nazad zabroshennaya doroga upiralas' v zloveshchie ruiny Ukivaka. Edinstvennyj sled v pyli, obryvavshijsya u doma, byl ostavlen nabitym edoj, boepripasami i narkotikami bronevikom barona - iskatelya priklyuchenij. Tem ne menee, do tangitov donosilsya zvuk moshchnogo dizelya. Po doroge kto-to ehal, prichem so storony, protivopolozhnoj razvilke s mamrohpakskim traktom, otkuda derzhali put' tangity. - Kymyrguk, Ynap, Nuliayuk - za dom, ostal'nye - za mnoj, v mashinu! - Kiavak, podhvativ arbalet, raspahnul lyuk bronevika. V dymke zabrezzhili ochertaniya gromozdkogo dvizhushchegosya sooruzheniya. Zanimaya mesto za shturvalom, ryadom s Kiavakom, Torngarsoak hlopnul sebya po bedru: - |to gusenichnyj tyagach dovoennoj postrojki! Podtverzhdaya ego slova, drevnyaya kolymaga okonchatel'no vybralas' iz mareva. Vsya ona, ot trakov gusenic do konchika radioantenny na komandirskoj bashenke, byla pokryta tonkim sloem kopoti. Smotrovoj lyuk voditelya byl zakryt. - Nekstati ty pomyanul mertvecov, - kriknul Kiavak Niviaksiaku, stoyavshemu u pulemeta v bashne. - Nishtyak, mertvecy ne mertvecy, na raz po asfal'tu raskidaem! - skazal Napakygtu, s granatoj v ruke ustroivshijsya na polu u otkrytogo lyuka. - Nykaj ananas! - Kiavak tozhe pereshel na narechie tangitov. - A nu, losos', nozdri nakinul! Nykaj ananas! - YA tvoj nyuh toptal! - Moj toptal, da svoim na gvozd' popal, sekundyavyj pipir! Vot chto, - Kiavak snova zagovoril na kygmikskom. - Mertvecy tebya ne trogayut, i ty ih ne trogaj! Tyagach priblizilsya nastol'ko, chto gramotnyj Torngarsoak mog razobrat' krovavo-krasnye nadpisi na brone: "Dostavka trupov naseleniyu", "Ukivakskij pit'evoj gnoj", "Mumiya - luchshij podarok!", "Stoprocentnuyu garantiyu daet tol'ko morg", "Obglodaj kosti svoih predkov!" i tak dalee. Ne zamedlyaya hoda, zloveshchaya mashina propylila mimo bronevika tangitov i kanula v marevo. - Gde noch'yu lezhal odin mertvec, nautro stoyalo tri, - skazal Kiavak. - Vot i vsya lyubov'...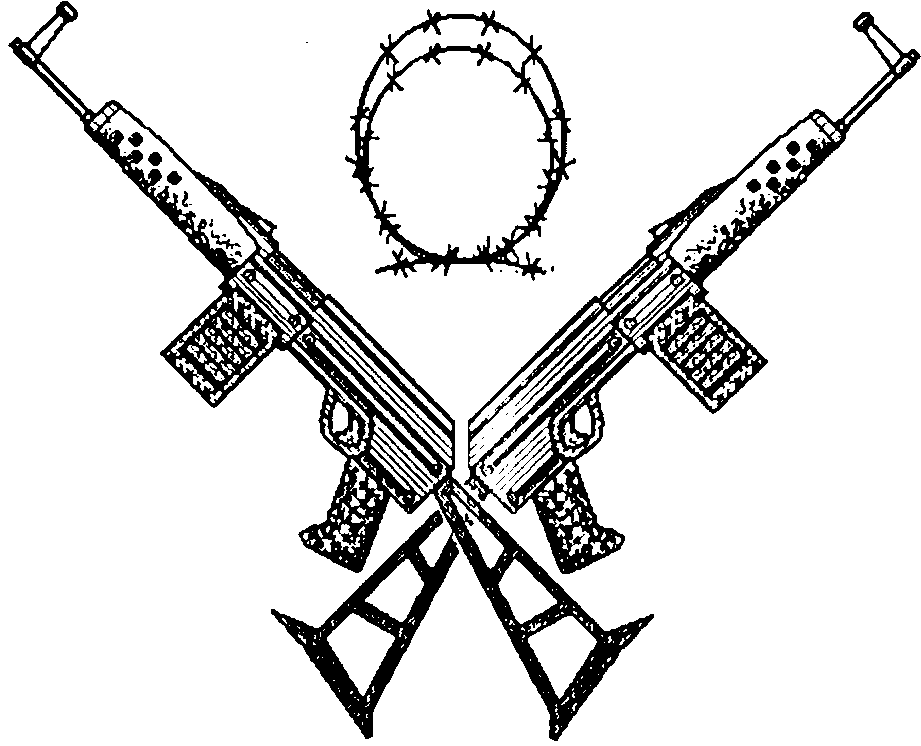 +--+ ++++++++ ++++++++ +--+ - Smotri, smotri! |to Jego Brosaj, a tot, ryadom s meshkami, s tyulen'ej shkuroj v zubah - Jego CHerepov. Fenrir, daj plan pokrupnee. Aga. A eto meshki. - Pochemu oni na molnii? Vasha svetlost' govorili, chto pticy otkladyvayut ih vmesto yaic. - |to gorazdo udobnee, chem prosto yajca. Skorlupa razbilas' - i vse, a v takoj meshok ptenec, kogda uzhe vylupitsya, smozhet zalezat' gret'sya i spat', poka ne podrastet. - Gorm, pozhalujsta, ne beri Netsilik za plecho. - CHego? - YA tebe govoril - hochesh', beri ee v zheny, hochesh' - v nalozhnicy, ty otkazalsya, tak teper' ne beri ee za plecho. - Svyaz'-to kakaya? Vy chto, razmnozhaetes' vzyatiem za plecho? - Kak ne sovestno vam, baron Gorm, govorit' pri baryshnyah etakie gadosti! Otpustite moe plecho, raz bratu ne nravitsya. YA tak sovsem ne protiv, i ponimayu, chto vy ne v etom smysle. - CHto za narodec - odin seks na ume! Vy na sebya by vse posmotreli - vam o dushe tol'ko dumat' pri takoj zamorennoj komplekcii. To li delo pticy. Otozhralis', yadrena mysh', pochinili chelnoki, dva raza spuskali novye partii pereselencev s orbity, teper' eshche odnu zhdut, harchej mnogo, delat' nechego, im pryamoj rezon zanyat'sya prodolzheniem roda. Fenrir, vot etogo baryshnyam dejstvitel'no mozhno bylo ne pokazyvat'. Na prostyne, poveshennoj na stenu zatemnennoj obedennoj zaly donzhona, kuda prosten'kaya makropristavka k ochkam, skonstruirovannaya Gormom iz linz polomannoj podzornoj truby, proecirovala sceny ptich'ej kolonizacii ostrova Tulik, Kudy, Sovoj i Dvojnoj tol'ko chto zhiv'em razodrali na chasti morskuyu cherepahu, a Intrilligator Karmannyj spikiroval na kuchu ee dymivshihsya vnutrennostej i uletel, unosya pechen' razmerom edva men'she ego samogo. V lavovyh tunnelyah u podnozhiya central'noj gory ostrova lezhali slabo shevelivshiesya mohnatye meshki, v kotoryh rosli detenyshi. Neskol'ko hotov i nasolotov vozilis' u startovoj katapul'ty, ustanovlennoj v konce vymoshchennoj listami obshivki razbityh morskih sudov posadochnoj polosy. Universal'nyj robot brel, uvyazaya v peske, v napravlenii buhty, volocha za soboj po pesku rzhavyj i pognutyj kolenchatyj val ot dvigatelya vnutrennego sgoraniya. Gorm, sidevshij na reznoj skam'e mezhdu Kukylinom i ego starshej sestroj Netsilik, s udovol'stviem sozercal idillicheskuyu scenu. Za ego spinoj dvoe sluzhanok nakryvali stol k uzhinu, prigotovlennomu iz myasnyh konservov Kamysnapa, kopchenoj ryby Gorma i mestnyh ovoshchej. Na polu u ochaga mladshaya sestra Kukylina Univak besedovala s Midirom. Pes ponimal po-kyflyavikski primerno tak zhe, kak Univak razbiralas' v runah, chto nimalo ne smushchalo sobesednikov. - U nas teper' tozhe harchej mnogo, - skazal Kukylin, chuvstvuya, chto ego lico protiv voli samo rasplyvaetsya v glupoj ulybke. - Bros', chtob vas otkormit', goda tri nuzhno, ne men'she. I vashche, poshli v masterskuyu. A ty, Fenrir, sperva sam smotri, chto tvoi roboty transliruyut. Gde ty sejchas? - V treh poprishchah ot zvezdoleta, zhdu chelnoki. - CHto-to oni zaderzhivayutsya. Syaguyagnitu, chto ty tam karaulish', idem s nami.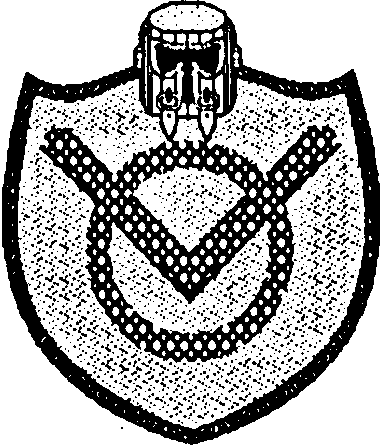 +--+ ++++++++ ++++++++ +--+ V rzhavom tanke s obodrannymi gusenicami, snyatym dvigatelem i lobovym bronelistom, vyrezannym vmeste s pushkoj, stoyavshem u podnozhiya kurgana Koshkli kak napominanie o starodavnej bitve, vyigrannoj predkami rycarya Kukylina, proishodilo nepriyatnoe ob座asnenie. - Tak Kukylin nakrylsya? Malo togo, chto on zhivehonek i zdorovehonek, tak v ego usad'be eshche odin bolvan v dospehah, na dvore gusenichnyj tyagach, a v angare knyazheskij istrebitel', ne govorya uzhe o dvuh zdorovennyh psah, kotorye vot-vot nas uchuyut! - Podozhdi nemnogo, ne budet zhe eta nelepaya kompaniya vechno zdes' boltat'sya! Rogatyj, ya tak ponimayu, stranstvuyushchij rycar', kotoryj pomog Kukylinu razygrat' shutku s Kamysnapom i teper' priehal delit' denezhki. Skoro on otpravitsya v put', i togda i tyagach ego, i ego chast' zolotyh nasha. - Ty ne za togo menya prinyal, Kagunnak. YA ne stanu razgryzat' takuyu krepkuyu skorlupu radi takogo malyusen'kogo yadryshka, osobenno esli i ty imeesh' vidy na to, chtoby ego sozhrat'. Ty menya nadul. Nado by tebya prikonchit', no mne net v etom ni vygody, ni udobstva, tak chto poka ostavlyayu tebya zhit'. - Hozyain, otdaj ego mne! - Horoshaya mysl', Nygfukak. Teper' Kagunnak budet puteshestvovat' s nami, i esli ty osobenno otlichish'sya, ya tak i sdelayu. Nu, a esli on osobenno otlichitsya, ne vzyshchi. I starshuyu Koshkli ya tozhe, kogda pridet pora, otdam tomu iz vas, kto luchshe mne posluzhit. A esli ty, lzhivyj navodchik, popytaesh'sya bezhat', ya vydam tebya kygmikskoj kontrrazvedke kak nuvukakskogo shpiona i sam pozabochus', chtoby ty umer neskoro. Dozhdemsya nochi i uhodim otsyuda, do pory.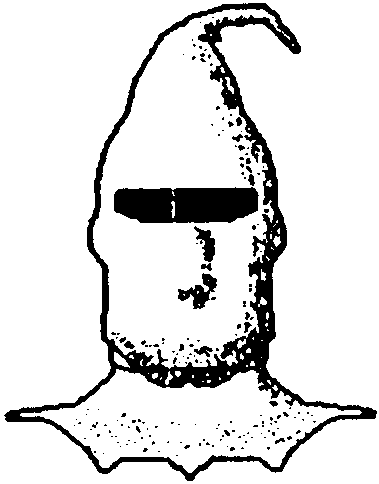 +--+ ++++++++ ++++++++ +--+ - Hot' menya-to ne duri, - govoril Fenrir. - Na koj tebe sdalsya etot mogil'nyj kamen'? - V sagah chetko skazano, chto gret' nado na ugle, perezhzhennom iz idolov s oskvernennogo kapishcha, kovat' na mogil'nom kamne, a zakalyat' v moche beshenogo kozla, - nimalo ne smutyas', otvetil Gorm, vyvorachivaya iz zemli bazal'tovoe nadgrobie. - Idolov s oskvernennogo kapishcha zdes', ponyatnoe delo, ne najdesh', tak pust' hot' mogil'nyj kamen' budet, ehe-he. Gorm vzvalil nadgrobie na plechi i pobrel v napravlenii usad'by. - Interesno, kem ty zamenish' beshenogo kozla. Smotri pod nogi, ej! - Bez tebya znayu, - otvetil Gorm i, zapnuvshis' o torchavshuyu iz zemli kolyuchuyu provoloku, upal. - Pod etim kamnem lezhit Gorm Rogatoe Brevno, chto vsegda otvechal ne podumavshi, - s chuvstvom skazal Fenrir. Gorm vypolz iz-pod kamnya i prinyalsya dergat' za provoloku, pytayas' vysvobodit' nogi. V rezul'tate ego usilij v zemle obnazhilis' dva skruchennye toj zhe provolokoj spina k spine skeleta. Gorm zashipel i, oborvav provoloku, koe-kak vstal. Do kuznicy ostavalos' eshche poryadochno. - A, yadrena mysh'! Gorm shvatil kamen' obeimi rukami, otorval ot grunta i, natuzhivshis', metnul. Kamen' vzmyl vverh po krutoj parabole i probil kryshu kuznicy. S krikom "Vozduh!" iz saraya vybezhal Syaguyagnitu i, tolknuv protezom dver' vinnogo pogreba, skatilsya kubarem vniz po lestnice. - |to ty... - Kukylin v kozhanom fartuke i so snajperskoj vintovkoj v rukah razocharovanno ustavilsya na Gorma iz dyry v kryshe. - Net, eto stado gien, derushchihsya nad trupom pancirnogo slona, - otvetil Gorm. - Ty razogrel zagotovki? - Da, tol'ko zachem tebe ponadobilos' gret' eto staroe zhelezo, kogda vokrug stol'ko prekrasnyh legirovannyh bronevyh stalej? Von pod kurganom tank stoit! - Skelet ne dolzhen byt' hrupkim, k tomu zhe, esli delo dojdet do bronebojnogo snaryada, on pri lyubom materiale snachala razneset v kloch'ya sobstvenno tebya, a chto potom budet s silovym skeletom, ne stol' vazhno. Gde u tebya molot? CHto za fignyu ty mne podaesh'? Ah, etot ty podnyat' ne mozhesh'? Gorm vzmahnul ogromnym molotom nad golovoj, opustil ego, raskolov nakoval'nyu, odobritel'no kryaknul i podtashchil poblizhe k gornu mogil'nyj kamen'. Kukylin, vzyav dlinnye shchipcy, vynul iz ognya raskalennuyu zagotovku. - Levee derzhi i poverni nemnogo! - Gorm zanes molot, prishchurilsya i udaril, vysekaya iskry. Skoro on voshel v dovol'no razmerennyj ritm i, izredka davaya Kukylinu ukazaniya, kak derzhat' zagotovki, stal prevrashchat' sobrannye v okrestnostyah usad'by rzhavye zhelezyaki v dugi, hrebtoviny i poperechiny silovogo karkasa, ne perestavaya odnovremenno molot' yazykom. - |to budet odno iz reber piramidy, vnutri kotoroj budet pomeshchat'sya tvoya golova v shleme, chtoby ee nel'zya bylo srubit'. Perehvati shchipcy! Na sebya, yadrena mysh'! Pod chto u tebya ruki prisposobleny, ne ponimayu - shchipcy i to derzhat' ne umeesh'.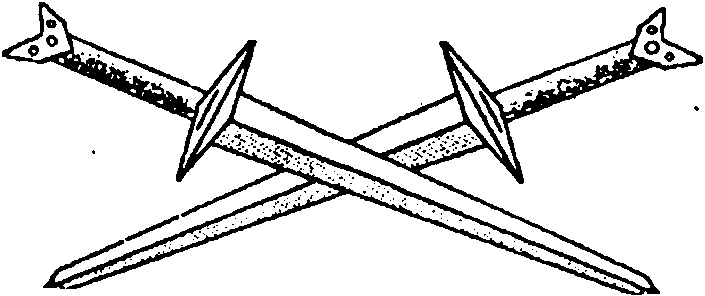 +--+ ++++++++ ++++++++ +--+ - |to nelyud', - bezapellyacionno skazal Nygfukak. - Ni odin chelovek ne smog by tak brosit' mogil'nyj kamen', b'yus' ob zaklad. - Opyat' prosporish', kak davecha, - baron vyrval u Nygfukaka podzornuyu trubu. - U mertveca ne mozhet byt' bol'she sily, chem u zhivogo. - A on ne mertvec, - Nygfukak raskryl skladnoj nozh i prinyalsya kovyryat' im v uhe. - On mehanicheskij - videl, lat ne snimaet, darom chto v kuznice, verno, zhara. - Stal by mehanicheskij tak devku lapat'! Posmotri, - baron edva ne vytknul Nygfukaku glaz okulyarom truby. Vyterev slezy, Nygfukak pristroil poudobnee trubu na krayu dyry v tankovoj obshivke. Stranstvuyushchij rycar' tol'ko chto vyshel iz kuznicy, posadil starshuyu Koshkli sebe na plecho, chto-to skazal ej i, raskryv rot, zaprokinul golovu. Devica snyala so svoej golovy uzkogorlyj kuvshin i prinyalas' lit' emu v rot beluyu zhidkost'. - CHto eto on p'et? - Daj poglyadet', - baron snova vyrval u Nygfukaka podzornuyu trubu. - Moloko? Rogatyj snyal devicu v dlinnom domotkanom plat'e, podpoyasannom shirokim uzorchatym poyasom, s plecha, zaglyanul v kuvshin i, ubedivshis', chto v nem nichego ne ostalos', uhmyl'nulsya i skrylsya v kuznice. - Nu i ulybochka, brr, - peredernulsya baron. - Skazhesh' tozhe, mehanicheskij!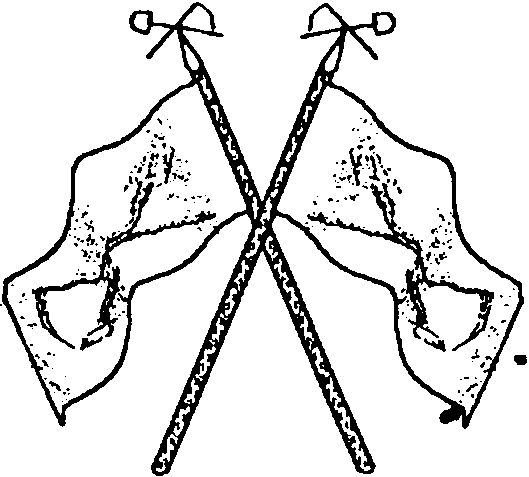 +--+ ++++++++ ++++++++ +--+ - Koshek u vas tut doyat, chto l'? - Net, - obidelsya Kukylin. - Moloko koz'e. - Togda pochemu ot nego u menya v zhivote myshami pahnet? - Po-moemu, eto uzhe tvoi problemy, - skazal Fenrir. - Men'she rot razeval by, glyadish', i myshi by tuda ne nalezli. - Vo durak, - bezzlobno skazal Gorm. - I nachisto lishen chuvstva yumora. Ladno, ya prodolzhayu rasskazyvat'. V vodu! Kukylin poslushno opustil trubchatyj navorot s prikreplennymi koe-gde kuznechnoj svarkoj segmentami staryh diskovyh benzomechej v bochku s vodoj. Okruzhennyj klubami para, Gorm veshchal: - S takim plechevym poyasom pust' kto poprobuet slomat' tebe klyuchicu. V te zhe veka, kogda s kosmodromov sputnikov Al'dejg'i startovali pervye fotonnye zvezdolety, holodnyj i surovyj Drajgen resheno bylo peretashchit' na odnu orbitu s Al'dejg'ej. Tak nachalos' sozdanie togo velikogo sooruzheniya... Nu kto zh tebya uchil tak nedogrevat' zagotovki! ... kotoroe vposledstvii nazvali Metropoliej. SHest' planet, kak dragocennoe ozherel'e vokrug nashego solnca, chetyre iz kotoryh peremestili iz drugih sistem uzhe pri posredstve upravleniya kriviznoj prostranstva. |to bylo vremya nashego velichiya. Grossy kolonij vokrug podchinyalis' vole tinga, golos na kotorom imel kazhdyj vzroslyj zhitel' Metropolii, nahodivshijsya v zdravom ume. Komp'yutery, stoyavshie v podvalah drevnego zamka korolej Severa, podschityvali golosa. Oni zhe sluchajnym obrazom vybirali sredi sobravshihsya na ting teh, komu davalos' slovo. Rabstvo bylo zapreshcheno, na okrainah kolonial'nyh vladenij vol'nye druzhiny istreblyali poslednie piratskie i rabovladel'cheskie shajki, torgovye kosmoporty procvetali i zavyazyvali otnosheniya s novymi i novymi civilizaciyami. Pravee! Aga! Nashi zvezdolety pronikli v central'nye oblasti Galaktiki, otkryv put' k sokrovishchnicam drevnih vymershih planet. No v neschetnyh bitvah, bessonnyh bdeniyah u komp'yuternyh terminalov, pirah, poletah na strannye i chudesnye planety, orgiyah i astroinzhenernyh rabotah ochen' nemnogie zametili v velichii Metropolii chervotochinu, chto byla znakom ee gryadushchego padeniya. Posle rasshifrovki gennogo koda roditeli smogli upravlyat' nasledstvennost'yu svoego potomstva. Prodolzhenie roda stalo sovershenno nezavisimym ot lyubvi, kotoraya sdelalas' nekim izoshchrennym rodom iskusstva. Smert' ot starosti ischezla. No s kazhdym vekom pochemu-to vse men'she stanovilos' zhivyh razumnyh sushchestv na planetah Metropolii i vse bol'she robotov. Neprestannye geneticheskie eksperimenty rasshatali nash genofond. Raznye mody na tela na raznyh planetah porodili rasy nepohozhih drug na druga prichudlivyh sushchestv, zhivshih dlya udovletvoreniya svoih strastej, utonchennyh za grossy let izobiliya, i ne zabotivshihsya o potomstve. Vse bol'she i bol'she stanovilos' takih, kto ostavlyal zhizn', presytivshis' naslazhdeniyami i dikovinami kosmosa i ne ostaviv naslednikov, ili do sroka pogibal v stranstviyah ili na ohote iz zhelaniya poshchekotat' nervy riskom smerti. A nashi roboty, nadelennye razumom i chuvstvami... Sleduyushchuyu davaj! ...vosprinyavshie u nas luchshee, chto bylo v nas samih, vse leteli v chernye mezhzvezdnye i mezhgalakticheskie bezdny, vse stroili kosmoporty v gorah i dzhunglyah planet, na bol'shinstve iz kotoryh tak i ne poyavilsya nikogda ni odin zhivoj zhitel'. Nemnogie uchenye uvideli opasnost' prevrashcheniya civilizacii Metropolii v civilizaciyu robotov i polnogo ischeznoveniya nashego vida i popytalis' vernut' utrachennye instinkty, kombiniruya svoj gennyj material s genami zhivotnyh. Odnim iz nih byl moj predok |jvind Klikusha. Ih nemnogochislennye posledovateli vernulis' v zabroshennye rodovye seleniya i zamki, pytayas' zhit' i razmnozhat'sya tradicionnym sposobom. No, vidimo, bylo uzhe pozdno vozvrashchat'sya k predkam. Iskusstvenno vyvedennye sverhsushchestva-poluzveri kak pravilo ne davali razumnogo i zhiznesposobnogo potomstva. Delalis' popytki ispravit' polozhenie sozdaniem sushchestv trojstvennoj prirody, s komp'yuternymi uzlami v mozgu i mehanicheskimi organami, no iznezhennye dolgozhiteli, sostavlyavshie bol'shinstvo naseleniya, boyalis' moguchih, prostovatyh i neobuzdannyh kiborgov i ne tol'ko ne sposobstvovali opytam, no neskol'ko raz edva ne protaskivali na tinge zakon o zaprete, tak chto v moe vremya na Al'dejg'e bylo vsego grossov pyat' kiborgov i dyuzhiny v dve raz bol'she tradicionnyh zhivyh obitatelej. Konechno, vremya rabotalo na nas, kiborgov, potomu chto chislennost' dolgozhitelej, ponyatnoe delo, ne rosla. No, boyus', vremeni kak raz ne hvatilo, potomu chto nachalas' vojna. Nu vot, teper' davaj syuda eti ponozhi. Stoj, skol'ko u tebya levyh nog? Polozhi gde vzyal i daj von tot, ot pravoj. Kolennye sustavy, konechno, akkuratnye ne poluchatsya, nichego, budesh' hodit' vrazvalochku. CHto-to zatyanulis' nashi kanikuly, nu, nichego. Znachit, sejchas ty soberesh' sebe nebol'shuyu, no krutuyu druzhinu i poshlesh' posol'stva ko vsem knyaz'yam i baronam, a ya sobak poka kinu zdes' - pozzhe mne ih ty libo Fenrir zavezete, - a sam sletayu za gory i poprobuyu dogovorit'sya s mestnym pravitel'stvom. Zaodno, mozhet, oni mne rasskazhut, chto za yadrenaya bonba u vas tut vse-taki vzorvalas'.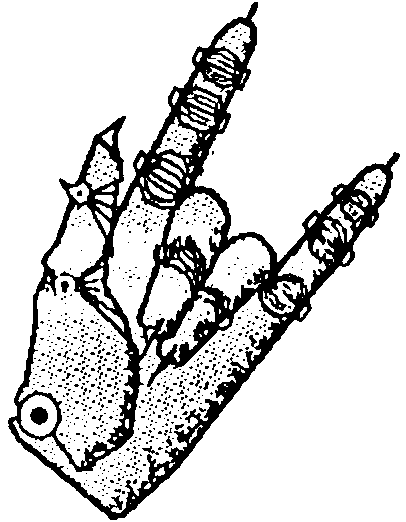 +--+ ++++++++ ++++++++ +--+ Gorm letel nad starym nuvukakskim traktom, poglyadyvaya po storonam i boltaya s Fenrirom. - Zrya pticy doverili takuyu vazhnuyu sistemu dvum absolyutno nestykuemym ispolnitelyam. Oni mogli by izbezhat' mnogih nepriyatnostej. - Ty, Fenrir, kak obychno, gluboko i beznadezhno neprav. - |to pochemu? - Takova, vidno, volya bogov. V programmirovanii ih, kak by eto podelikatnee vyrazit'sya, upravlyayushchego ustrojstva dejstvitel'no dva pocherka, no sistemu delal odin. - ? - Drugoj rabotal uzhe po gotovomu, naspeh i ochen' grubo. Ty pomnish', na adresnom barabane dlya svyazi s periferiej bylo spileno tri zubca? Vtoroj programmist navtykal v sistemu zaglushek, vykinuv neskol'ko zdorovyh kuskov koda. - Za chto zhe, po-tvoemu, eti kuski otvechali? Zvezdolet ne dvigatel' vnutrennego sgoraniya, v nem lishnih detalej ne byvaet! - Hotya by za dejstviya po prilete k planete naznacheniya, naprimer, posadku chelnokov. Vashche, chelnoki yavno ot drugoj planety, ty zametil? Oni chudom ne ugrobilis' pri posadke. - I bez nashej pomoshchi ne vzleteli by snova. Ih gotovili, vo-pervyh, dlya sverhplotnoj atmosfery, vo-vtoryh, dlya posadki na rovnuyu poverhnost', v-tret'ih, dlya vzaimodejstviya s kakimi-to vneshnimi ustrojstvami posle posadki. Valy dlya raskrutki mahovikov, otverstiya dlya krepezha k chemu-to... - Tebya poslushat', tak prosto palubnye samolety poluchayutsya! Kuda zhe oni leteli? Mozhet, eto ih tank-avianosec utonul v ozere na Fenol'nom Umertvii? - Vryad li, atmosfera tam bol'no redkaya. - I to. YA chuvstvuyu, chto zaglushki stavilis' naspeh, chtoby peredelat' zvezdolet dlya kakoj-to nepredusmotrennoj celi. YA uzhe ne govoryu o smennom barabane, vyutyuzhennom payal'nikom. - Dogovornaya Botva... - Vo-vo. Rassypayushchijsya zvezdolet s choknutym ekipazhem, a rashlebyvayu opyat' ya. - CHto zh, ohota pushche nevoli. Potom, mne-to mozhesh' ne rasskazyvat', chto ty zateyal ih pereselenie iz al'truisticheskih soobrazhenij. Oni budut tvoimi kosmicheskimi naemnikami. - I samoe interesnoe, oni prekrasno podhodyat dlya etoj funkcii. Eshche luchshe bylo by, okazhis' ih zvezdolet hot' chutochku ponovee. Togda naveli by my shorohu! - Nichego, ty proesh' aborigenam tunnel' v svetloe budushchee cherez te gory okamenevshego der'ma, kotoroe oni tut naklali, i avos' oni tebe za eto vozdadut. Skoree vsego, postarayutsya prikonchit'. - Vot uzh ni figa, - proburchal Gorm. Oni popytalis' by prikonchit' menya, esli by ya reshil pomoch' im beskorystno, a tak, ho-ho... Stoj, eto ty tol'ko chto sbrehnul pro tunnel'? - Da vrode... - Kuda vedet eta doroga? - K Tanniritskim goram, skol'ko ya vizhu. - A skol'ko ty ne vidish'? - Ne vizhu uchastka neposredstvenno cherez gory, a na toj storone gor doroga prodolzhaetsya. - |to po kakoj karte? - Po kygmikskoj, estestvenno. Po nuvukakskim tol'ko drejf kontinentov proslezhivat'. - Stalo byt', pod gorami... - Netu. - Y? - Pered vojnoj nedostroili, a potom podorvali atomnoj minoj. - CHego ni hvatish'sya - nichego netu, chto za gnusnaya planeta! Kstati, o ptichkah: po shosse idet peshaya kolonna, tak chto ya snizhayus', - posle neprodolzhitel'noj, no zhestokoj bor'by Gorm vyrval iz svoih zhe navesnyh manipulyatorov raketnye pistolety i, napraviv ih vverh, vpered nogami voshel v pike. - Ty podumal, kakoe vpechatlenie mozhet proizvesti soshestvie s nebes tvoej rogatoj obraziny? - Da oni pylyat tak, chto nosov svoih ne vidyat! - Togda ty-to chto rasschityvaesh' razglyadet'? - O presvyatye drakony i dremuchie zmei, kogda zhe v zhizni vo vsej nakonec zatknetsya etot proklyatyj troll'? Sledy zhalkih potug aborigenov napylit' skrylis' v podnyatoj raketnymi pistoletami tuche. "Kak by sest' potishe", podumal Gorm, s nadsadnym revom zavisaya v shesti loktyah nad gruntom. Za mgnoveniem tishiny posledoval gluhoj udar massivnogo predmeta o beton. Gorm vstal i otryahnul zad, kosyas' na ostavlennuyu v dorozhnom pokrytii vmyatinu. Vperedi razdavalis' laj i kriki. Kto-to s pronzitel'nym vizgom bezhal pryamo na Gorma, no razdalsya hrust kostej, i vizg smolk. V klubah osedayushchej pyli pokazalas' figura ogromnoj, s dvuh Midirov, sobaki, stoyavshej nad kuchkoj tryap'ya. Gorm sdelal neskol'ko shagov vpered i, ogrev sobaku pistoletom, povoroshil tryap'e noskom sapoga. Mel'knula omerzitel'no hudaya i gryaznaya ruka, zaporoshennye pyl'yu glaza i raspahnutyj rot, iz kotorogo eshche shli krovavye puzyri. Na doroge lezhal karlik-starichok s pochti nachisto perervannoj sobach'imi zubami sheej. V ego tshchedushnom tel'ce ne nabralos' dazhe krovi na poryadochnuyu luzhu. - |kaya pakost', - probormotal Gorm, sobirayas' otshvyrnut' trupik na obochinu, no tut pes udaril ego v grud' vsem telom, pytayas' sbit' s nog. Ustoyav, Gorm v otvet tknul zhivotnoe pal'cem v glaz. Vzvyv, zver' otpryanul. Gorm v pryzhke shvatil ego za hvost, dernul na sebya i, vzyavshis' obeimi rukami, krutanul nad golovoj, chtoby shmyaknut' o dorogu, no hvost otorvalsya i sobaka uletela neizvestno kuda. Pyl' osela vsya. Nepodaleku ohranniki sgonyali v kuchu distrofikov v lohmot'yah. Vokrug kuchi zhalkimi oshmetkami valyalis' eshche tri trupa. V storonu Gorma dazhe ne smotreli, poka iz tolpy zamorennyh oborvancev ne vyrvalsya zhutkij bosoj distrofik, ustremivshis' k trupu karlika. Ego neestestvenno dlinnye skryuchennye pal'cy protyanulis' k zabryzgannoj krov'yu mertvoj golove, distrofik upal na koleni i zavyl. Voj byl tih, no probiral - s nim iz pokrytogo strup'yami sinego tela distrofika vyhodili poslednie ostatki uzhasnoj zhizni. Za neschastnym urodom vrazvalku poshel ohrannik, zanosya ruzh'e dlya udara prikladom po golvoe, i tut nakonec on uvidel Gorma. - Daj syuda stvol! - ryavknul Gorm cherez usilitel'. Ot zvukovogo udara plyugavec v krivo sshitoj zelenoj forme vpal v prostraciyu. Dosadlivo brosiv sebe pod nogi sobachij hvost, Gorm vyrval oruzhie. "Dryannaya shtampovka", - podumal on, namatyvaya stvol na palec, "tol'ko po distrofikam i strelyat'". - Vot chto, kto s ruzh'yami, kladite ih na zemlyu i stojte smirno. I sobak priberite. Soprotivlenie, eto, bessmyslenno, vot, - Gorm ne zhdal, chto ego prikazanie budet vypolneno besprekoslovno, no ohranniki migom pobrosali oruzhie i vzyali psov na korotkij povod. Prevozmogaya otvrashchenie, Gorm podoshel k tolpe aborigenov i, vglyadyvayas' v ih izborozhdennye morshchinami straha i otupeniya lica, sprosil soldat: - |to... Komandir u vas est'? - Vot on! - v neskol'ko golosov zavopili negodyai v forme, ukazyvaya na naibolee prilichno vyglyadevshego podonka vo vsej kompanii. - YA ne vinovat! Mne prikazali! Ne ubivaj! - zaprichital tot. - Molchat'! Ty krugom vinovat! Nazovi sebya. - Kangu, komandir vzvoda ohrany. Poshchadi, o uzhasnyj! - Molchat'! Smirno! Kogo konvoiruesh'? - ZHen i detej izmennikov naroda! - A? - ZHen i detej... - Molchat'! CHto ty skazal? - ZHen... - Molchat'! Dejstvitel'nost' nuvukakskoj zemli razom prevzoshla vse strashnye rasskazki Kukylina. Gorm lovil na sebe vzglyady vethih, gryaznyh, bespolyh otrodij golodnoj smerti, kotoryh iz gumannyh soobrazhenij nesomnenno sledovalo izrubit' na meste. Odnovremenno v ego soznanie proryvalsya obraz neizvestno za chto izgnannyh ot rodnyh ochagov zhenshchin i detej, podlezhavshih nemedlennomu osvobozhdeniyu i dostavke v bezopasnoe mesto. Gorm pomotal golovoj i prishchuril glaza, pytayas' sovmestit' oba vpechatleniya. |to ne poluchilos'. Pytayas' razreshit' zagadku, Gorm tknul pal'cem v skeletopodobnoe sushchestvo, po pleshivoj golove kotorogo polzali sotni nasekomyh, i sprosil: - Ty kto? - Gruppa sto semnadcat' nomer trista chetyre, po ukazu devyat'sot dvadcat', chast' dva. - T'fu ty! Imya u tebya est'? - YA zabyla. - Vot yadrena mysh'! A let tebe skol'ko, staraya? - Vosemnadcat'. "Po-nashemu bez dvuh tri dyuzhiny", soschital Gorm. "Odnoj nogoj v mogile, a vret i ne zapinaetsya". - CHto ty navorotil, idiot? Ty hot' ponimaesh' svoej vdavlennoj bashkoj, chto tol'ko chto ugrobil etih chetveryh? - Fenrir kipel ot vozmushcheniya. - CHem orat' popustu, luchshe skazhi, chto mne delat'? - Popal v der'mo, tak ne chirikaj! Ran'she nado bylo sovetovat'sya! - Ne znaesh', banka rzhavaya? Togda zatknis'! Dialog s Fenrirom ne otnyal u Gorma oshchushcheniya sobstvennogo kretinizma, no sogrel ego dushu soznaniem, chto ne odin on takoj. "Pokormit' ih, chto li", vyalo prikinul Gorm, "zhiden'kim bul'onchikom. Eshche by luchshe rastvor glyukozy, no gde ee voz'mesh', glyukozu. Iz chego vot bul'on?" Posle uvidennogo ohranniki kazalis' Gormu vpolne podhodyashchim myasom, no aborigeny iz gnilogo chistoplyujstva osuzhdali kannibalizm. Sobak luchshe bylo by ispech' s koren'yami na ugol'yah, no chto podelaesh' - neobhodimost' zastavlyala izvesti ih na sup. Gorm obradovalsya yasnosti, no tut zhe vspomnil, chto nuzhen eshche i kotel, i vnov' obrechenno pogruzilsya v razdum'e.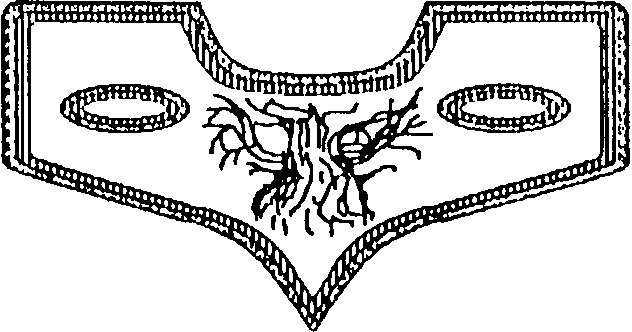 +--+ ++++++++ ++++++++ +--+ "Dobroj edy, Gorm yarl. Slushaj vest' Kukylina voina. Fenrir proletal nad moim lagerem, vozvrashchayas' iz zemli Am'yak. On predlagal ostat'sya nekotoroe vremya so mnoj, chtoby ukrepit' v rycaryah veru v tvoe velichie. YA posovetoval emu ne tratit' vremeni i vozvrashchat'sya na ostrov Tulik. YA ne hochu sobirat' vojsko, opirayas' na ego silu. Ne znaya dopodlinno nashej moshchi i polagayas' tol'ko na moe slovo, k nam primknut rycari dostojnye i besstrashnye - pust' men'she chislom, no bez iz座ana. V Kygmike ya vstretil treh druzej po letnoj shkole. Ih imena Isuklik, Tagrak i Amek. Oni ne imeli raboty i ohotno soglasilis' idti v tvoe vojsko. Eshche mnogo rycarej hoteli by voevat' za tebya, no oni svyazany klyatvami vernosti Kamysnapu. Byl nekij Tajkygyrgyn, kto osporil pravotu moih slov i pytalsya menya vysmeyat'. YA vyzval ego na boj, samolet ego sbil samonavodyashchejsya raketoj i samogo zarubil. Spasibo tebe za dospehi - ni odin mech ih ne beret. Takzhe ya bilsya s Iliyaksiakom i Ahanagrurakom i plenil ih. Vmesto vykupa oni gotovy sluzhit' tebe sem' let. Vchera Kamysnap prislal ko mne goncov s predlozheniyami vnov' postupit' k nemu na sluzhbu i obeshchaniyami pozhalovat' zemli i krest'yan. Goncy takzhe dolzhny byli ot imeni knyazya priglasit' menya dlya peregovorov, no odin iz nih, vozmozhno, podkuplennyj moimi vragami, stal govorit' derzkie rechi, tak chto goncov prishlos' izrubit'. Ih golovy i pis'mo s izvineniyami ya otoslal knyazyu. Dumayu, on pojmet menya pravil'no i prishlet drugih goncov. Tem ne menee, tovarishchi sovetuyut mne na vremya ostavit' Kygmik. YA hochu dnej na dvadcat' vernut'sya v Ukivakskuyu zemlyu. Tam u otca byli druz'ya i v pomest'yah, i v kochevyh plemenah. ZHdu tvoego otveta, Gorm. Priem." Kukylin pereklyuchil edinstvennyj rychazhok na matovoj verhnej paneli sobrannoj Fenrirom shpionskoj racii v polozhenie "peredacha". Spressovannyj vo vremeni signal ustremilsya skvoz' kryshu postoyalogo dvora pri aerodrome vverh, k parivshemu v temnom nebe retranslyatoru. Kogda pogas krasnyj ogonek "zhdi", Kukylin peredvinul rychazhok v polozhenie "priem". Na ulice, za oknom, zatyanutym pochti matovym ot vozrasti cellofanom, vyli dikie sobaki, rugalis' vnizu, v harchevne, muzhiki, na cherdake vozilis' ne to krysy, ne to melkaya domovaya nechist'. Kukylin ot nechego delat' snyal so steny i vynul iz chehla topor - podarok Gorma. Na dlinnoj rukoyati, plotnaya temnaya drevesina kotoroj byla tshchatel'no otshlifovana i vnizu okovana temno-zheltym metallom, sidelo shirokoe lezvie. Kukylin medlenno povernul topor, derzha ego pered plamenem svechi. Pod opredelennym uglom lezvie vdrug stalo prozrachnym, i v tolshche ego materiala otkrylsya znak Al'dejg'i - okol'covannyj krest. Kukylin igral s toporom uzhe poryadochnoe vremya, zavorozhennyj hitroj shtukovinoj, kogda v dver' ego komnaty zaskreblis'. - Otkroj, eto ya! - razdalsya gromkij shepot. Kukylin otlozhil topor, vylez iz prodavlennogo pletenogo kresla i snyal s kryukov perekladinu zasova. Voshedshij Amek byl v nochnoj rubashke do pyat i s nerovno vspyhivavshim p'ezoelektricheskim fonarikom v ruke. - Sadis', - Kukylin razvernul kreslo i sam sel na zastlannuyu skam'yu. Gost' doverchivo opustilsya na siden'e i, zastryav v kresle, skazal: - YA chuyu nedobroe. Hozyain zavedeniya i dva postoronnih rycarya chto ushli cherez chernyj hod. Sejchas na postoyalom dvore tol'ko my da desyatka s dva muzhikov. - Durnoj znak. Budi Tagraka i Isuklika. - Oni uzhe odevayutsya. CHego budem zhdat'? - Ne voz'mu v tolk, no, raz hozyain ushel, ne budem i my durakami. Vstrechaemsya u nuzhnika. Kukylin zasunul ruku v botinok - on byl eshche syroj vnutri - i so vzdohom reshil, chto zrya pogoryachilsya s goncami. Nadevaya laty, on na vsyakij sluchaj podschital vremya, neobhodimoe dlya togo, chtoby podospela knyazheskaya mest', i izryadno udivilsya - druzhina Kamysnapa nikak ne mogla uspet' okruzhit' postoyalyj dvor. Da i ne v obychae knyazya bylo by tak postupat'. Na racii zazhegsya i pogas ogonek. Kukylin polozhil raciyu v nagrudnuyu sumku, proveril, ne boltayutsya li remni ranca, i s toporom v ruke vyshel v koridor. U dveri v tualet stoyali Amek, Tagrak i ih slugi. Isuklik speshil navstrechu Kukylinu iz drugogo konca koridora. - Prygaem cherez okno - i k samoletam. - Knyaz' mozhet i ih nakryt' raketoj. - Da on skoree udavitsya, chem istratit lishnyuyu raketu! - Ne obizhajte moego byvshego komandira. On zdes' ni pri chem - ne mog uspet'. - Togda kto? - Tiho! - Amek prislushalsya. Emu ne udalos' uslyshat' nikakih podozritel'nyh zvukov. Naprotiv, smolkla p'yanaya pesnya, donosivshayasya s pervogo etazha. - V chem delo? - sprosil Kukylin. - Pokazalos'. Oruzhenosec Tagraka, stoyavshij blizhe vseh k dveri na lestnicu, zamahal rukami, teryaya ravnovesie, i upal, otkryvaya dver' svoej spinoj. Ego nogi v pegih ot drevnosti botah sudorozhno dernulis' neskol'ko raz i raspryamilis'. - Emu ploho, ya pomogu! - sluga Ameka uzhe shagnul v storonu vyhoda, no Kukylin ostanovil ego, shvativ za polu kaftana. - Vytashchi ego k nam za nogi! Ne vyhodi iz vidimosti. Sluga kivnul. Nagnuvshis' k telu, on ostorozhno potyanul za pyatki i vyvolok ego v koridor. - Ognya, zdes' nechto zhutkoe! - skazal sluga, no tut so skripom otkrylas' dver' v odnu iz pustovavshih komnat. Podul veter, pogasiv fitil' kerosinovogo fonarya, visevshego na kryuke, vbitom v potolochnuyu balku. Razdalsya strannyj hlyupayushchij zvuk, i telo vtorogo slugi upalo na pol. - Vstali spina k spine, mechi k boyu! - posle goroda mertvecov Kukylinu nichego ne stoilo sohranit' prisutstvie duha v lyuboj situacii. Perekidyvaya topor iz pravoj ruki v levuyu, on ulovil dvizhenie vozduha pered soboj i, slovno po naitiyu, s krikom "Al'dejg'ya, bej!" udaril i pochuvstvoval, chto lezvie topora rasseklo vraga. Vspyhnuli mechi ego tovarishchej, no v ih svete Kukylin uvidel tol'ko luzhu krovi na polu. Povernuvshis' drug k drugu spinami, rycari nekotoroe vremya ne sdvigalis' s mesta. Potom Amek skazal: - Posmotrim, chto so slugami. Sohranyaya boevoj poryadok, rycari proshli desyatok shagov, tak chto tela okazalis' pered Kukylinom. Golova vtorogo slugi byla pochti otdelena ot tulovishcha kakim-to ostrym orudiem. U pervogo, lezhavshego navznich', byli vyrvany glaza, a po nizhnej chasti lica shli pyat' parallel'nyh borozd, kak ot kogtej. - Vryad li eto rabota cheloveka, - skazal Kukylin. - Povernemsya, ya glyanu, - Amek naklonil svoj mech i osvetil mertvecov. Teni, otbrasyvaemye potolochnymi balkami, peremestilis', no odna, kak pokazalos' Kukylinu, pochemu-to ostalas' na meste, kak raz nad luzhej krovi. Kukylin vynul iz-za nabedrennogo remnya nozh i metnul v ten'. Vmesto togo, chtoby votknut'sya v doshchatyj potolok, nozh so zvonom otskochil. Ten' slovno nehotya otlepilas' ot potolka i, edva kosnuvshis' pola, chudovishchnym pryzhkom metnulas' k rycaryam. Kukylin uvidel pyat' okrovavlennyh lezvij, nesushchihsya k ego licu, i naiskos' mahnul toporom. Razdalsya skrezhet metalla, ten' skol'znula k stene i ischezla. U nog Kukylina lezhala otrublennaya ruka v kol'chuzhnoj perchatke s pridelannym k kazhdomu pal'cu stal'nym kogtem. Tagrak i Isuklik pokosilis' na nee i snova povernulis' kazhdyj v svoyu storonu. "Na lestnicu luchshe ne sovat'sya", podumal Kukylin. " V komnaty tozhe". - Nado zajti im v tyl, - skazal Amek. - A prezhde prorvat'sya tam, gde ne zhdut. Snova zaskripela dver'. Sprava ot Kukylina Tagrak sodrognulsya i, vyroniv mech, obeimi rukami shvatilsya za gorlo. - Petlya, - prohripel on. - Mech razrubil. Poka Tagrak prihodil v sebya posle udachnogo spaseniya i snimal s shei obhvativshij ee shnurok, u Kukylina sozrel plan. - Bezhim vmeste! - kriknul on i rvanulsya k dal'nemu koncu koridora. Mimo ego golovy proletelo neskol'ko melkih predmetov, zatem on vpechatalsya plechom v stenu, chuvstvuya, kak podayutsya obmazannye glinoj zherdi. Splyushchennyj naletevshimi szadi Tagrakom i Amekom, Kukylin vyvalilsya naruzhu vmeste s torcnvoj stenoj postoyalogo dvora, bol'no udarilsya o grunt i, vykarabkavshis' iz-pod Tagraka, pobezhal, vozdev topor, k skopleniyu tenej u vhoda v zdanie. Vnov' prozvuchavshij drevnij klich Metropolii "Al'dejg'ya, bej!" potonul v lyazge, hruste i skvorchanii. Gormov topor v rukah Kukylina opisyval shirokie sdvoennye okruzhnosti - znaki beskonechnosti, vremya ot vremeni pochti bez usiliya otrubaya golovy i ruki vmeste s plechami. Voiny-privideniya s nepostizhimoj bystrotoj uvertyvalis' ot udarov, no im nekuda bylo devat'sya ot razivshih besposhchadno s treh storon ognya i metalla. Kogda ot tolpy u vhoda ostalos' chelovek pyat', dver' harchevni sodrognulas' ot udara iznutri i upala vmeste s petlyami. V proeme blesnula stal'. - Tvoj! - kriknul Kukylinu Amek, razrubaya nadvoe ocherednogo chernoplashchnika. Boj s ognennym oruzhiem protiv holodnogo nemehanicheskogo pochitalsya beschestnym. Kukylin shagnul vpered i levoj rukoj obter zabryzgannyj krov'yu shchitok zabrala. - Kaya - aha-a-a-a! - Al'dejg'ya, bej! Kukylin ne uspel dazhe zametit' dvizheniya vrazheskogo predvoditelya, kak na ego pravoe plecho obrushilsya lyutyj udar. Ostryj, kak britva, mech byl, vidno, zakalen do hrupkosti i, napolovinu pererubiv nabituyu peskom vodoprovodnuyu trubu, zabotlivo privarennuyu Gormom poverh latnogo naplechnika, raskololsya na chasti. Poka ego sopernik obeskurazhenno pyalilsya na ostavshijsya v rukah efes, Kukylin otstupil nazad, perehvatil pravoj rukoj vypadavshij iz onemevshej levoj topor i, vspomniv uroki Gorma, metnul. S broskom chto-to ne sovsem zaladilos', vozmozhno, iz-za nedostatochnoj distancii, i oruzhie porazilo vraga ne lezviem v lob, a rukoyatkoj v pah. Kukylin oglyadelsya. Nad dymivshejsya kuchej obuglennyh i okrovavlennyh trupov zlymi tugnygakami stoyali Amek i Tagrak. Mechi brosali na ih figury i na poverzhennye tela u ih nog prichudlivye otbleski. - Gde Isuklik? - sprosil Amek. "On ne bilsya s nami vmeste", podumal Kukylin. "Neuzheli naverhu?" Iz okon vtorogo etazha i dveri udarilo plamya. Postoyalyj dvor zapylal, kak oblityj kerosinom. Skvoz' gudenie ognya Kukylinu pochudilis' strashnyj hohot i zaunyvnoe penie na neizvestnom yazyke. - Ty slyshish'? - obratilsya on k Ameku. - CHto ya dolzhen slyshat'? - peresprosil tot. - |j, gde Isuklik? Kukylin zachem-to dostal raciyu i vklyuchil vosproizvedenie. - Valyaj, na Kygmike svet klinom ne soshelsya, - donessya do nego golos Gorma. - Mne by tvoi problemy: kuda by eshche sletat' i kogo by eshche izrubit'. A ya vot tut kotel ishchu...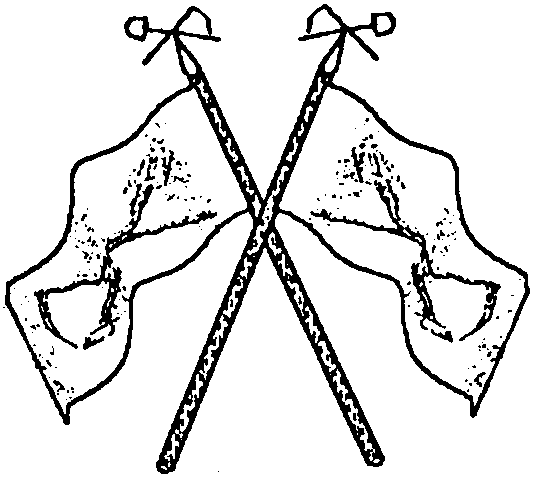 +--+ ++++++++ ++++++++ +--+ Nuvukak byl pogruzhen vo t'mu - posle desyati elektrichestvo otklyuchali. Patrul'nye mashiny, ob容zzhaya zavaly i barrikady, izredka pronosilis' po pustynnym ulicam bliz ploshchadi Tynagyrgyn, pereimenovannoj v ploshchad' Pyatidesyati Tysyach Kvadratnyh Lig, i osveshchali farami oplyvshie ot zhara davnej atomnoj bombardirovki steny domov s zalozhennymi kirpichom okonnymi proemami. So dvora zanimavshego celyj kvartal devyatietazhnogo zdaniya Otdela bezopasnosti donosilis' priglushennye tolstoj betonnoj stenoj strel'ba i vopli - tam rasstrelivali ocherednuyu partiyu zalozhnikov. V kabinete na vos'mom etazhe vtorye sutki bez pereryva shlo soveshchanie. Sgorbivshis' v urodlivom kozhanom kresle i prikryv rukoj vospalennye glaza, sekretar' Otdela Nagruasek slushal doklad nachal'nika zapadnogo tyuremnogo upravleniya Kalyuka. Tot stoyal v luche napravlennogo emu v lico reflektora i, oblivayas' potom, bubnil: - Vse vynesennye smertnye prigovory privedeny v ispolnenie nemedlenno, krome prigovora dvum osuzhdennym po ukazu vosem'desyat pyat', bezhavshim i do sih por ne najdennym. Raport ob ugone bronemashiny... - U tebya na plechah golova ili bolvan dlya parika? - prerval ego Nagruasek. - Prikazano bylo ih ne pojmat', a rasstrelyat'! Prigovor dolzhen byt' ispolnen nemedlenno! - No kak... - pobagrovevshij Kalyuk lovil vozduh rtom. - Ne-med-len-no! Ne ponimaesh'? Kak zhe ty popal v nachal'niki? Ty vse ponimaesh', no prikidyvaesh'sya! Kalyuk drozhashchimi rukami polez v nagrudnyj karman frencha za tabletkoj. - Smirno! Ty prikidyvaesh'sya - znachit, tebe est', chto skryvat'. A ne izmenu li ty hochesh' skryt'? Kalyuk v poslednij raz shvatil rtom vozduh i, kak byl, po stojke "smirno", grohnulsya na kovrovuyu dorozhku. S ego golovy sletel parik. - Uberite etu tushu, - Nagruasek brezglivo pomorshchilsya. - Kto mozhet prodolzhit'? A, ty... Davaj, - skazal on, uvidev poluprivstavshego so svoego stula u steny Viyutku, zamestitelya Kalyuka. - Dokladyvayu: v techenie chetyreh chasov prigovor po delam bezhavshih osuzhdennyh budet priveden v ispolnenie! - V techenie treh. Naznachayu tebya na mesto trupa. - Ura! - Vol'no. Ahahanavrak, u tebya chto? Ahahanavrak, zavedovavshij sborom razvedinformacii, podnyalsya, opravil kitel', prochistil gorlo i horosho postavlennym golosom nachal: - Brat'ya! Po agenturnym dannym, razlozhenie proklyatyh Zagornyh knyazhestv, podtachivaemyh iznutri i sokrushaemyh snaruzhi naporom progressivnyh sil, vot-vot perejdet v polnyj krah. V religioznom ugare tak nazyvaemye rycari, doverivshis' raspuskaemym man'yakom po imeni Kukylin sluham, sobirayut vojsko, vo glave kotorogo dolzhen stat' mificheskij Gorm, Odinokij Mstitel', nekotorymi otozhdestvlyaemyj s mificheskim zhe Pupihtukakom. Obmanom i posulami Kukylinu udalos' zazvat' v svoyu tak nazyvaemuyu armiyu ot tridcati do pyatidesyati chelovek. Stonushchie pod tyazhkim igom feodalov rabochie i krest'yane ob容dinyayutsya v otryady i zhgut rycarskie usad'by. Za poslednie tri dnya osvoboditel'naya vojna perekinulas' iz knyazhestva Ukivak v sosednee Napakutak. Vozhd' povstancev Nakasyunalyuk... - Iz nas-to ne delaj idiotov, brat! - pojmav nedovol'nyj vzglyad Nagruaseka, zametil Viyutku. - Nakasyunalyuk budet vozhdem povstancev v zavtrashnej gazete, a poka pust' ostaetsya baronom! Davaj, brat, fakty dlya ser'eznyh lyudej! - Izvol', brat, - Ahahanavrak nehorosho ulybnulsya. - Vo-pervyh, v tom, chto ty sdelan idiotom, vini svoego otca. Vo-vtoryh, to, chto Nakasyunalyuk baron, ne meshaet emu ob容ktivno dejstvovat' na ruku progressivnym silam, rasshatyvaya ustoi Zagornyh knyazhestv. A vot to, chego vy, brat'ya, tochno ne uvidite v zavtrashnej gazete, eto novosti ne iz-za gor, a s nashego zapada, kotorye ne mne by vam rasskazyvat'. U Viyutku otvisla chelyust'. - YA nadeyalsya, chto eto sdelaet pokojnik Kalyuk, brat'ya! posle ego smerti ya dumal, Viyutku, dolzhen rasskazat', no on, ya vizhu, v odnoj shajke s Kalyukom! - Ne raspuskaj yazyk, suchij potroh! YA tol'ko chto naznachil ego! - proiznes Nagruasek. - A on tol'ko chto predal tebya, starshij brat! - so slezoj v golose vskrichal Ahahanavrak. - On skryl, chto pozavchera nekto raskonvoiroval kolonnu zhen i detej izmennikov, sledovavshij v lager' na ispravlenie. YA nedarom derzhu agenturu i po etu storonu gor, ibo skazal mudryj Ratratrymyrg: ot druga zhdi izmeny! Nagruasek nazhal knopku na vneshnej storone podlokotnika svoego kresla. Iz zadrapirovannoj nishi v stene vyshli dvoe v chernyh halatah. - Vzyat' i doprashivat', poka ne vydast soobshchnikov, - kivnul Nagruasek na Viyutku. - Ahahanavrak! Dal'she! - Est', starshij brat! Sobaki perebity, ohrana razbezhalas' i neset okolesicu. |to proizoshlo na nuvukakskom trakte bliz opornogo punkta dvadcat' tri. Svyaz' s opornym punktom poteryana. - Desant s toj storony? - Isklyucheno, starshij brat. Poslednie dva dnya ni odin samolet tam ne podnimalsya v vozduh. Izmena, starshij brat, izmena! - A chto za okolesicu nesla ohrana? Ahahanavrak razvel rukami: - Kak v starinnoj tyuremnoj pesne poetsya, Spustilsya s gor Pupihtukak, Porazognal konvoj, Svaril pohlebku iz sobak I vseh uvel s soboj. - Vseh rasstrelyat'. A osobenno avtora pesni. - Da etoj pesne uzh dvesti let! - |to s nego viny ne snimaet! Rasstrelyat'! - Da ego togda zhe i rasstrelyali! - Tem bolee!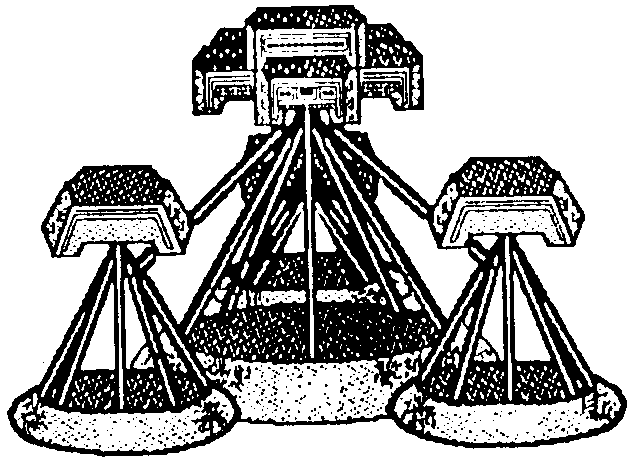 +--+ ++++++++ ++++++++ +--+ Bronetransporter probiralsya po labirintu pereulkov, srezaya ugly zdanij, osypavshiesya plastami ploho obozhzhennogo, blednogo kirpicha i hlipkoj shtukaturki. Iz proloma na meste, gde krepilas' perednyaya bashnya, napolovinu torchal trup v obuglennoj forme sil po bor'be so shpionazhem. Skryuchennye zharom gazovogo fakela kumulyativnoj rakety ruki prodolzhali szhimat' pulemet. Zadnyaya bashnya medlenno povorachivalas' iz storony v storonu, ne uspevaya otvechat' na vystrely s krysh - elektroprivod ne rabotal. Dulo avtomaticheskogo orudiya ustavilos' pryamo v okno, otkuda Gorm nablyudal za boem, skol'znulo chut' vyshe i v fioletovoj vspyshke izverglo odin za drugim chetyre zazhigatel'nyh snaryadika. Progrohotali vystrely, zashipelo i zatreshchalo na cherdake doma. Ostov lyustry, s kotoroj nikakoe razrushenie ne moglo steret' pechati bezhzvkusicy, vmeste s chast'yu potolka shlepnulsya v taz s sobach'ej havkoj. Midir i Fuamnah, ustryapannye edoj i kruto posypannye izvestkovoj pyl'yu, prinyalis' energichno otryahivat'sya. Gorm vyalo smahnul zalepivshij emu pravyj glaz kusok razvarennoj kormovoj svekly, ne sgodivshejsya by na korm i izdyhayushchemu ot goloda trollyu, i peregnulsya cherez podokonnik. Bronetransporter ostanovilsya pered barrikadoj iz musornyh bakov, plakatov s prizyvami horosho rabotat' i ispravno donosit' i dverej gosudarstvennyh uchrezhdenij. Pytayas' razvernut' shestikolesnuyu mashinu, voditel' zadel kormoj dvuhetazhnyj domishko i namertvo uvyaz v ego ruinah. Iz blizhajshego pod容zda vybezhala neponyatno kak tam pomeshchavshayasya tolpa zlobnyh starikov, vooruzhennyh preimushchestvenno shancevym instrumentom. Gorm otvernulsya ot okna. - Ne lyublyu, kogda komu-nibud' zasovyvayut v zadnicu lopatu shirokim koncom vpered, kakaya by on ni byl sobaka ili svin'ya, - poyasnil on sobakam, prodolzhavshim nekrofil'skuyu voznyu za pravo obladaniya kostlyavoj, kak staraya loshad', krysoj, svarennoj pryamo v shkure. - Ne rugajsya sobakami, - prochavkal Midir, lapoj snimaya s nosa antisanitarnyj potroh. Ispolnyas' otvrashcheniya, Gorm vnov' povernulsya k oknu. Stariki vozilis' u razgromlennogo bronetransportera, pytayas' slit' kerosin. Voditel' i bashennyj strelok rastochali ostatki svoih zhiznennyh sil v popytkah vypolzti iz kuchi pokryshek i drugogo goryuchego musora, kuda oni byli zasunuty posle obychnogo naneseniya zverskih poboev. "U kogo zazhigalka?" - ne mogli reshit' stariki, v to vremya kak Gorm vyvalilsya iz okna. Pritormoziv padenie raketnym pistoletom, on obratilsya k starikam, pytayas' vtolkovat' im, chto kerosin kak toplivo cennee, chem kak sredstvo vozmezdiya. Stariki popalis' tupye, izbitye soldaty prosili Gorma ih prikonchit', sobaki vysunulis' iz okna i davali idiotskie sovety, v bronetransportere kto-to hripel. "A kto eto, yadrena mysh', tam hripit", - podumal Gorm, vzobravshis' po tolstobokomu kolesu, skatil na starikov trup s pulemetom i vpolz v dyru. Hrip donosilsya so storony sorvannogo s kreplenij v stene radioagregata. Kogda, tknuvshis' rogami v pol, Gorm okazalsya celikom v transportere i, vyjdya iz neustojchivogo ravnovesiya, ruhnul na radioagregat, hrip smolk. "Vot kto hripel", - dogadalsya Gorm i tknul agregat kulakom. "Kak slyshno, kak slyshno, priem", - otozvalsya tot. Perevernuv nelepyj yashchik tak, chtoby panel' upravleniya okazalas' sverhu, Gorm nashel mikrofonnoe gnezdo, otkryl odnu iz nabedrennyh instrumental'nyh sumok, vylomav gnezdo i naskoro primotav cherez pervyj popavshijsya rezistor provoda k vilke linejnogo vyhoda svoego govoril'nogo ustrojstva, peretknul raciyu na peredachu i bez osoboj nadezhdy skazal chto-to o pogode i vidah na urozhaj bobovyh. Snaruzhi radostno zableyali - ne inache okayannye stariki dobyli ogon'. "Prodolzhajte vyzyvat', ya sejchas",- Gorm votknul vilku obratno v govoril'noe ustrojstvo i poproboval razvernut'sya. Proklyataya raciya, razbitye snaryadnye yashchiki, bezdarno torchavshie iz pola rychagi i osobenno kniga pod nazvaniem "Ustavnye trebovaniya k gigiene praporshchikov gorno-vodolaznyh vojsk" ili chto-to vrode sdelali eto namerenie neosushchestvimym. Prishlos' vylezat' v dyru nogami vpered. Okazavshis' vnov' po odnu storonu broni so starikami, Gorm hotel bylo nasharit' koleso, po kotoromu vzbiralsya, no poteryal ustojchivost' i brevnom ruhnul v koster, slomav sheyu gorevshemu tam voditelyu zlopoluchnogo bronetransportera. Starich'e nakonec ispugalos', i nikto ne podoshel, chtoby vnov' zazhech' pogashennyj bogatyrskim padeniem Gorma ogon'. Gorm postavil bashennogo strelka na nogi, ohlopal na nem dymivshiesya mesta i posovetoval linyat'. Ne to protiv takogo predlozheniya, ne to so strahu strelok ne ustoyal i prinyalsya linyat' na chetveren'kah. "Do svoih ne dopolzet, brodyaga", - prikinul Gorm, podobral kanistru, gde eshche pleskalos' nemnogo kerosina, i pobrel vokrug bronetransportera v poiskah konstruktivno predusmotrennogo vhoda. Takovoj okazalsya zaklinen. Stariki krichali iz pod容zda ponosnye slova. Ih sorvannye, klyaklye golosa napomnili Gormu chto-to iz rasskazok Kukylina. "Podrostkovaya banda - tak, chto l', on nazyval etih urodov..." Lyuk v bronevike byl ne zaklinen, a prosto otkryvalsya ne vbok, a vverh. Do Gorma eto doshlo s nekotorym opozdaniem, i on so vzdohom polozhil kryshku lyuka na mostovuyu. Sobaki v koi-to veki ubralis' iz okna - verno, pobezhali na lestnicu. - Fenrir! - A! - S kem eto ya po radio... - S ihnej kontrrazvedkoj. - Y? - Po toj karte, chto ty po doroge syuda vymenyal u razvedchika Federacii na vyalenyj okorok, moj peleng daet ploshchad' Pyatidesyati tysyach kvadratnyh lig. - Da idi ty! Gorm prisel na kraeshek lyuka i, glyadya na to, kak sobaki gonyayut starikov po zavalennoj oblomkami ulice, sovsem uzhe pochti sobralsya bylo podumat', no otvleksya na mehanicheskij shum, nadvigavshijsya s okrainy. Potyanulo radiaciej. V klubah smertonosnoj belesoj pyli propolzlo nad zavalami dlinnoe urodlivoe telo podzemnogo samosvala s uranovyh rudnikov. Odin iz shahterov pomahal Gormu rukoj - po krajnej mere, nichemu drugomu tam, otkuda rosla eta konechnost', byt' ne polagalos'. Gorm vspomnil rudnik - dym nad ostovom razgromlennogo shahtoupravleniya, vagonetku s trupami chinovnikov i ohrany, tolpu gornyakov s pyatnistymi burymi licami i nepravdopodobno bystrymi i chetkimi dvizheniyami. O yadernoj goryachke, na nedolgoe vremya nadelyavshej zabolevshego neutomimost'yu i chudovishchnym uskoreniem reakcii, chtoby potom unesti zhizn' v potoke krovavoj rvoty, Gorm chital v sagah o drevnih zvezdoprohodcah. Na fotonnyh i termoyadernyh zvezdoletah s techami v zashchite reaktorov, godami bluzhdavshih sredi zvezd, yadernaya goryachka neredko raspravlyalas' so vsem ekipazhem, prevrashchaya korabli v bratskie mogily. V ogne bolezni prevrativshijsya v robotov ekipazh chasto uspeval zadelat' tech' ili proboinu ot meteorita, i potom neupravlyaemyj korabl'-prizrak razgonyalsya pochti do svetovoj skorosti, v grossy raz zamedlyaya vrmya na bortu. Tlenie ne moglo vypolnit' svoyu miloserdnuyu rabotu, skryvaya kartiny gibeli zvezdoletchikov, i neredko pokoleniya spustya potomki vstrechali u dalekih zvezd drevnie zvezdolety so strashnymi mertvecami, pyalyashchimisya vysohshimi glazami na progorevshie displei v komandnyh otsekah. "Luchami byl pronizan nebosvod, Bozhestvenno holodnymi luchami, Ne znaya tlen'ya, on letel vpered, Smotrel na zvezdy mertvymi ochami. Nebos' po sej den' kto-nibud' tak letaet", - s neozhidannoj teplotoj podumal Gorm. Uzh on-to tochno sdoh by pryamo u displeya. Gormu vspomnilsya praprapradedovskij komp'yuter s podslepovatym chetyrehcvetnym monitorom, s nezapamyatnyh vremen pylivshijsya v odnoj iz bashen zamka Konnaht. "Ot nego izluchenie takoe, chto i bez techi v reaktore okochurish'sya v dva scheta". Gornyaki v kuzove i kabine samosvala byli uzhe ne zhil'cy. Tem huzhe dolzhno bylo prijtis' tem, kogo oni ehali gasit' pri posredstve kislorodnoj vzryvchatki, buril'nyh vodometov i prochih uzhasov mnogovekovogo zastoya uranodobyvayushchej otrasli. Transporter zamedlil hod. - Davaj k nam! - kriknul vozhak gornyakov, bezuhij i s premerzkoj yazvoj vmesto odnogo glaza. - Edem k rajkomu! - Bez menya upravites', - Gorm pomorshchilsya, predstavlyaya sebe uchast' rajkoma chego by to ni bylo, o mestopolozhenii kotorogo proznali shahtery. Vspomniv pro oravu starikov, on dobavil: - V zanyatyh kvartalah nespokojno - shuruyut bandy etih, kak ih... Gornyak potrogal yazvu i skazal: - Nu, za etu-to meloch' my sami voz'memsya, a tebe pora vser'ez zanyat'sya ubijstvom. Ty znaesh', chto s nami vmeste vosstal ugolovnyj lager' Oyayavik? - I chto? - Na shode oni reshili idti grabit' zemlyu Kanargin. Ostanovi ih - u nas i tak lyudi umirayut odin za drugim. SHahter hlopnul voditelya po spine, tot potyanul za rychagi, samosval proskreb trakami po licu svalennoj s postamenta bronzovoj devushki s protivotankovym ruzh'em i skrylsya v giblom pylevom slede. Radioaktivnost' eshche neskol'ko mgnovenij derzhalas' na zavedomo smertel'nom dlya lyuboj teplokrovnoj tvari urovne, potom poshla na spad. "Teper' eshche i ugolovniki", - Gorm popytalsya vlezt' v bronevik, sobaki sunulis' vmeste s nim i v rezul'tate vsya troica zastryala v lyuke. - Ne stoit truda, - melanholichno zametil Fenrir. - YA vzyal peleng, tak chto mozhesh' derzhat' svyaz' cherez menya. - Gde ty ran'she-to byl, - proburchal Gorm, otceplyaya ot sebya Fuamnah, zaputavshuyusya mehanicheskimi chelyustyami v trubkah pitaniya raketnogo ranca. Na temnevshem nebe zazhglos' blizkoe fioletovoe zarevo - ne inache, rajkom nakrylsya.

+--+ ++++++++ ++++++++ +--+ - Svyaz' s Kutukygakom byla oborvana, starshij brat! - Ahahanavrak lihoradochno dumal, kak ispol'zovat' strannuyu radioperedachu niotkuda. - Sejchas ty im skazhesh', chto oni oshiblis' i chto u nas voobshche net radiostancii? - pravaya polovina lica Nagruaseka zadergalas', i on zabarabanil pal'cami po knopkam na podlokotnike. - Sprosi, kto govorit. Sekret nashego napravlennogo radiosignala s kodirovaniem znaet ne kazhdyj zagornyj shpion, ne govorya uzhe o prostyh grazhdanah. Voshel chelovek v chernom halate, razmotal provod elektrostimulyatora, vklyuchil pribor i stal ostorozhno massirovat' im zatylok i sheyu Nagruaseka. Ahahanavrak vzyal trubku: - Otdel bezopasnosti! Otkuda vy radiruete? Priem! - Iz Kutukygaka, chto l', - otvetil nizkij i gnusavyj golos. - Kto na provode? Priem! - Starshij nachal'nik Umyk, - nazvalsya Ahahanavrak. - CHto proishodit v gorode? S kem ya govoryu? - Vosstanie protiv tak nazyvaemogo central'nogo pravitel'stva. YA Gorm syn |jvinda, yarl Konnahta, kto nachal eto vosstanie. Mne nuzhno peregovorit' s rukovodstvom Otdela bezopasnosti. - Opyat' vsplylo imya Gorm, - skazal Ahahanavrak Nagruaseku. - Odno iz dvuh - ili epidemiya poval'nogo sumasshestviya svirepstvuet po tu i po etu storonu gor, ili dejstvitel'no sushchestvuet nekto, kto zovetsya etim imenem. Ne ischezni v samyj vazhnyj moment moj luchshij agent za gorami Kagunnak, my znali by navernyaka. - Sejchas my proverim, iz Kutukygaka li peredacha. Ujdi! - CHelovek s elektrostimulyatorom svernul pribor, poklonilsya i vyshel, Nagruasek vzyal u Ahahanavraka trubku i sprosil: - Kakuyu raciyu vy ispol'zuete? - YA govoryu so svoego vnutrennego peregovornogo ustrojstva cherez svoj zhe retranslyator. Raciya, po kotoroj ya svyazalsya s vami v pervyj raz, stoyala v shestikolesnom dvuhbashennom bronetransportere. - Kto byl v bronetransportere? - Troe - odin oficer, voditel' i strelok. - Kakogo cveta byli volosy u oficera? - Zatrudnitel'no skazat'. Nezadolgo do nashej vstrechi v nego popala kumulyativnaya raketa. Sudya po forme, byl kontrrazvedchik ili kak eto u vas nazyvaetsya. Nagruasek polozhil trubku na stol i posmotrel na Ahahanavraka. - Unakiyuk. Prekrasnyj oficer, vse vidy na blestyashchuyu kar'eru, - skazal tot. Nagruasek snova vzyal trubku. - CHto vam nuzhno? - YA hochu vstupit' v peregovory i predlozhit' vam sdelku. - A esli my otkazhemsya vstupat' v peregovory? - To cherez nekotoroe vremya vse ravno soglasites'. - CHto za sdelku vy namereny predlozhit'? - Ob etom pogovorim v Nuvukake. S kem ya govoryu sejchas? - YA Kanahtik, zamestitel' sekretarya Otdela bezopasnosti, - ispodlob'ya posmotrev na Ahahanavraka, solgal Nagruasek. - Peredaj sekretaryu moi predvaritel'nye usloviya. Vypolniv ih, vy dadite mne znak o svoej gotovnosti k vstreche. Pervoe - nemedlenno prekratit' dobychu i obogashchenie urana dlya proizvodstva bomb. Vtoroe - priostanovit' sudebnye processy po delam, svyazannym s izmenoj, shpionazhem i tak dalee. Tret'e... Nagruasek povesil trubku i otzhal na selektore klavishu radiokanala. - Soedini so shtabom, - skazal on v mikrofon ustrojstva pravitel'stvennoj svyazi. Dinamik zahryukal, prosya podozhdat' nemnogo, potom vzvizgnul i zagovoril tem zhe golosom, kotoryj tol'ko chto treboval prekratit' dobychu urana: - YA te poveshayu trubki, zamestitel' figov! Ty u menya sam skoro na vitom shnure povisnesh' i zagudish'!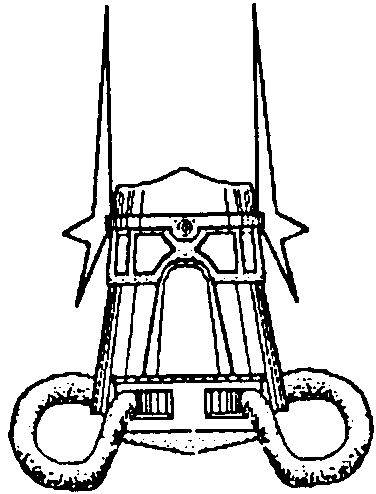 +--+ ++++++++ ++++++++ +--+ - S samogo nachalo bylo yasno, chto oni ne primut srazu vse tvoi usloviya. Voobshche, ne mogli zhe my predvidet' kazhdoe idiotskoe zatrudnenie, kotoroe vozniknet, - veshchal Fenrir. - Ne zabivaj sebe golovu vosstaniyami v ugolovnyh lageryah, pri ee vmestimosti ty mozhesh' pozvolit' sebe derzhat' v nej tol'ko to, bez chego dejstvitel'no ne mozhesh' obojtis'. Gorm, stoyavshij v kuche musora, svalennogo na razdelitel'noj polose davnego prospekta, vertel v rukah kinzhal, pytayas' vzyat' v tolk, pochemu udobnoe v obychnyh usloviyah orudie dlya chesaniya spiny ne prineslo emu dolzhnogo oblegcheniya. Poetomu on byl neskol'ko razdrazhen: - Ty podlyj neryuh, Fenrir! Net nikakogo smysla razbirat'sya, kakie rejsy prishli ne po raspisaniyu, esli k prichal'noj machte vmesto dirizhablej shvartuyutsya yadovitye slony v polosochku. |ta gryaznaya planeta poshla vraznos. Poka vse ustraivaetsya primerno tak, kak mne bylo nado, no uchti! - ne po nashej vole. S togo samogo momenta, kak ya osvobodil i nakormil izvestnuyu tebe kolonnu distrofichek s distrofyatami, moej dispoziciej kak troll' sherstozadyj podtersya, ty ponyal? - No ty zhe ne mog ih ne osvobodit'! Drugoe delo, obyazatel'no li bylo pri etom chetveryh zagryzat' sobakami, a odnu otravlyat' nasmert' tak nazyvaemym bul'onom. Distrofik, ne distrofik, a to, chto s mestnymi harchami u kazhdogo pervogo mozhet byt' pishchevaya allergiya, i s tvoimi trollinymi mozgami mozhno by dogadat'sya. - Vot vel'bot gniloj! YA bityj chas tebe tolkuyu - u menya net vybora: ya vse vremya dejstvuyu edinstvenno vozmozhnym obrazom! - Gorm s otvrashcheniem posmotrel na sobak, zagonyavshih nebol'shoe, vzvoda v poltora, stado unter-oficerov sekretnyh vojsk osobogo naznacheniya v ogorozhennyj spiralyami kolyuchej provoloki zagon s prozhektornoj vyshkoj poseredine, krichashche yarkij plakat na kotoroj glasil: "Opytnoe pole Kutukygakskoj narodnoj akademii minnogo hozyajstva". Sobaki ne znali kyflyavikskoj azbuki. Unter-oficery, vidimo, tozhe v svoe vremya ne udosuzhilis' priobresti navyk gramotnosti, kak ponyal Gorm, pod gradom zemli, kamnej, oskolkov, tryapok, myasa i kostej sadyas' v na zavist' bystro uvelichivshuyusya i rasprostranivshuyusya kuchu musora. Vklyuchiv dvorniki na ochkah, Gorm prodolzhil: - Tak vot, zhaby rechnye i chervi bolotnye! YA vse vremya dejstvuyu edinstvenno vozmozhnym obrazom i poetomu vmeste so vsem ostal'nym der'mom prosto kruchus' v etoj prorubi. Moi popytki sdelat' chto-to, vyhodyashchee za ramki ispolneniya roli menya v mestnom spektakle "Konec sveta na odnoj, otdel'no vzyatoj, planete", naprimer, peregovory s Nuvukakom, ni k chemu ne privodyat! Ty ponyal? Sobaki peremahnuli spiral' i perelezli cherez prorvannuyu vzryvami min dyru v provolochnom zabore, po doroge uroniv prozhektornuyu budku. - Gorm, zdes' vulkan, - otraportovala Fuamnah. - Sama ty vulkan, dura lesnaya... O, yadrena mysh'! Krom, ya ponyal! - CHto? - osvedomilsya Fenrir. - YA ne tebe, kazhetsya, - do Gorma nakonec doshlo, chto kinzhal slishkom korotok i tup, chtoby im mozhno bylo pochesat' spinu cherez kirasu i raketnyj ranec. Otkrytie ispolnilo ego very v svoi vozmozhnosti nastol'ko, chto on sprosil u Fenrira: - Kstati, o ptichkah - gde obeshchannye mne ugolovniki? - YA dumayu, shagah v dvuh u tebya za spinoj. Gorm vstal, pihnul kinzhal v nozhny i obernulsya. V dvuh shagah nikogo ne bylo, v dvuh dyuzhinah tozhe, zato u peregorazhivavshej prospekt na vyezde iz goroda barrikady nablyudalos' nezdorovoe ozhivlenie. V prolomannuyu shahterskimi samosvalami i tyagachami bresh' lezli strannye dvunogie sushchestva. Gryaznye tela nekotoryh edva prikryvali lohmot'ya lagernoj uniformy, inye byli razodety, po mestnym ponyatiyam, shchegol'ski, koe-kto razmahival okrovavlennym oruzhiem i kuhonnymi prinadlezhnostyami, i vse bez isklyucheniya byli v alkogol'nom i narkoticheskom op'yanenii. - Grossov devyat' - sprosil Fenrir. - Pozhaluj, chto bol'she, - Gorm pripodnyalsya na cypochki, - no chto-to ne vnushaet mne pochteniya dannoe vojsko. - Konechno, tebe nepremenno podavaj rev boevyh trub i chtob kto-nibud' gryz kraj shchita, - otozvalsya Fenrir. - Luchshe by podumal, kak ty ostanovish' etot mutnyj potok. - Dumat'? Eshche chego! - Gorm snyal shurshavshie dvornikami ochki, hlopnul sebya po bedru, podavaya znak sobakam, i poshel v storonu barrikady. Sdavlennyj moshchnym svodom ego cherepnoj korobki, obraz razbojnika flyuktuiroval mezhdu odnoglazym velikanom v besformennoj shapke, prikovannym k veslu, i plutovatym molodcom v zelenom balahone i s lukom v rukah, sidyashchim na dereve. Zrelishche zhe, otkryvavsheesya ego glazam, vyzyvalo nepriyatnye vospominaniya o vstreche so stadom pavianov. |ti zlye i hitrye zhivotnye, odnazhdy derznuvshie oskvernit' ohotnich'i ugod'ya Konnahta, tozhe vse vremya iskalis' i portili vozduh. V Gormovyh vladeniyah paskudnye obez'yany zverski zagryzli dvuh olenyat, razorili dyuzhiny tri gnezd, zachem-to iznasilovali i chut' ne razbudili samku gigantskogo lenivca i do kraev nagadili v runduk motornoj lodki, zabytoj na otmeli bliz peshchery Kruahan. Gormovy sobaki gnali ih do samoj reki Sinann, na beregu kotoroj okolo dyuzhiny pavianov proyavili sebya nastol'ko zakorenelymi priverzhencami nechistoty, chto predpochli lyutuyu smert' na sushe, a ostal'nye byli zazhivo sozhrany raznymi rechnymi zhivotnymi pri popytke spastis' vplav'. No pavianov bylo ne devyat' grossov, da i sobak v svore bylo togda ne dve. - Dejstvuj s vozduha, - posovetoval Fenrir. - Gde? - peresprosil Gorm. - Dejstvuj s vozduha, ya govoryu. - Da-da, ya proveryu, - probormotal Gorm. Diko odetye figury rasteklis' po vsej shirine eks-prospekta. Primerno v rajone razdelitel'noj linii muchali gitaru i pod istorgaemye eyu zhalobnye zvuki tonkimi golosami peli nehoroshuyu pesnyu: - SHiroka strana moya rodnaya, Mnogo v nej lesov, polej i re-ek, YA drugoj takoj strany na znayu - Ty ponyal? - Gde tak vol'no dyshit chelovek, Da-da-da, YA drugoj takoj strany ne znayu, V nature, he-he, Gde tak vol'no dyshit chelovek! Motivchik byl bystryj, prosten'kij, gde-to dazhe priyatnyj, tol'ko uzh bol'no naglyj. - Tvoe rastlevayushchee vliyanie na mestnuyu kul'turu rasprostranyaetsya, kak chuma, - skazal Fenrir. - Dazhe eti hilye cvety gryaznyh tyuremnyh dvorov uzhe orut drug na druga: "Ty ponyal?" - Ty chto-to skazal? - vdrug spravilsya Gorm. - Da net, ya nichego, - izdevatel'skim tonom otvetstvoval Fenrir. Gorm vrode by slegka ochnulsya ot vospominanij. Pod nehitryj gitarnyj perebor ugolovniki priblizilis' k nemu na tri dyuzhiny shagov. V ih ryadah slyshalis' nestrojnye i neyasnye po prichine polnogo nebotaniya Gormom po mestnoj fene predlozheniya. - SHli by vy otsyuda, - skazal Gorm. - CHto vam delat' v gorode - harchej net, sklady pusty, ovoshchebaza vzorvana egeryami gorno-vodolaznyh vojsk pri otstuplenii dlya zarazheniya mestnosti. Est' v okrestnosti delo dlya nastoyashchih muzhchin s bol'shoj dorogi - kazarmy i voennyj gorodok osobogo karatel'skogo bronediviziona imeni Bezymyannogo geroya oborony Sanlyka. Tam edy polno - nado tol'ko prijti i vzyat'. YAsno? Srednyaya chast' pervoj cepi ugolovnyh zamedlila dvizhenie. Volosatyj nosach s gitaroj neestestvennym fal'cetom sprosil: - Dyaden'ka, pochem roga brali? Gorm prodolzhal: - Esli ne ostanovites', zavtra te iz vas, ch'ej trebuhoj ne uzhrutsya mestnye glodateli padali, pozaviduyut tem, kto stanet padal'yu uzhe segodnya. Volosatyj usatyj nosach s chem-to vrode telezhnogo kolesa na golove i oblezloj gitaroj v zdorovennyh temnyh ruchishchah snova sprosil: - Dyaden'ka, a na tot stolb zalezt' smozhete? - Gorm, my okruzheny, - skazala Fuamnah. Flangi ugolovnyh, ne zamedlyavshie dvizheniya, i vpravdu uzhe ugrozhali somknut'sya za spinoj Gorma. "Nu chto zh, pora vser'ez zanyat'sya ubijstvom", vspomnil Gorm, reshiv poprobovat' odnu shtuku, davecha pridumannuyu im vmeste s Kukylinom. Vykrutiv usilitel' zvuka govoril'nogo ustrojstva na polnuyu moshchnost', on ryavknul: - Krugom marsh! Ot zvukovoj volny nekotorye bandity popadali, no osnovnaya massa prodolzhala obtekat' Gorma. Krivonogij nosatyj usach v ostatkah kombinezona himzashchity, razmazyvaya tekshuyu iz uha krov' po shchetinistoj seroj shcheke, tonen'kim goloskom sprosil: - Dyaden'ka, za chto? - Ne stroj ubogogo, zdes' ne podayut, - skazal Gorm, protyagivaya ruki za raketnymi pistoletami. - Da moj ubogij tebe v rot ne vlezet, a esli vlezet, u tebya cherep tresnet, kisa rogataya! Mochi ego! - i nosatyj metnul Gormu v lico chto-to vrode krivo zatochennogo na konce napil'nika. Tak kak obe Gormovy ruki byli otvedeny nazad, Gorm prinyal napil'nik na rogatyj obruch. - Sobachki, fas! Raketnye pistolety nakonec privychno zatryaslis' v rukah. Vzmyvaya nad shkvalom letevshih v napravlenii ego golovy predmetov, Gorm udarom nogi nadolgo otbil volosatomu ohotu k razgovoram i navsegda - nekotorye drugie chasti. Moguchim tolstym orlom parit' nad obezumevshej tolpoj, to pripekaya odnogo merzavca struej plazmy, to davaya drugomu dobrogo pinka s letu pod rebra, bylo sovershenno neobremenitel'no. Sobaki tozhe, sudya po donosivshimsya tam i tut voplyam uzhasa, ne podavlyali v sebe zverinye instinkty. Odnako vskore Gorm zametil, chto ulica, za isklyucheniem treh-chetyreh dyuzhin pokalechennyh i dyuzhin pyati v panike nosyashchihsya kolbasoj banditov, dvuh sobak i odnogo istinnogo potomka konungov, pusta. Podnyavshis' povyshe, on uvidel eshche odnu nebol'shuyu gruppku ugolovnyh, svorachivavshuyu s ulicy v podvorotnyu. Bandity vtorglis' v gorod.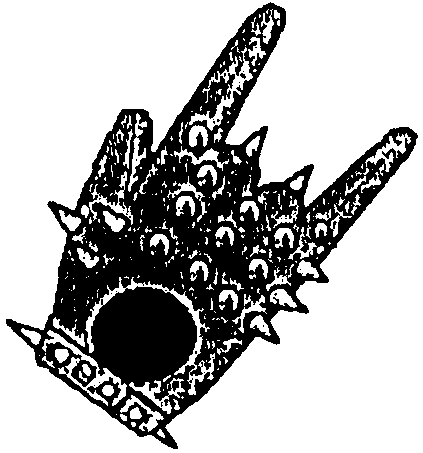 +--+ ++++++++ ++++++++ +--+ Soedinennyj devyat'yu massivnymi trubami, skryvavshimi kommunikacionnye tyagi, s odnoj iz mnogochislennyh signaloraspredelitel'nyh podstancij SHCHelkovava, rabochij terminal, u kotorogo viseli Klyup i Pochtat Elegraf, udobno raspolagalsya v udalennoj ot vseh osnovnyh sluzhb "Kryuha Praroditelya" peshcherke, zateryannoj sredi chudovishchnyh skladskih pomeshchenij, zapolnennyh yashchikami s nevedomymi pripasami i oborudovaniem. Sklady pol'zovalis' slavoj giblogo mesta. Sredi beskonechnyh shtabelej zaprosto mozhno bylo zabludit'sya i proplutat' do polnogo istoshcheniya sil i smerti, ne vstretiv ni odnoj zhivoj dushi. Tem ne menee, neodnokratno predprinimavshiesya pticami popytki ispol'zovat' shcheli mezhdu yashchikami poblizhe k vyhodu dlya dovedeniya svezhej pishchi do delikatesnogo sostoyaniya neizbezhno okanchivalis' provalom - pishcha ischezala bessledno. Hodili sluhi o gadkih polzayushchih i letayushchih zhivotnyh, skrytno plodivshihsya v ventilyacionnyh kolodcah, o vnezapnyh podvizhkah i obvalah yashchikov, o propavshih bez vesti kladovshchikah i o tajnyh kladkah neizvestno ch'ih meshkov, zakryvavshihsya ne na molniyu, a na pugovicy. Rasskazyvali i pro zhutkie predmety, poroj nahodivshiesya v rassohshihsya ot dolgogo hraneniya yashchikah i korobkah. Odin iz rodichej Klyupa v molodosti privolok so sklada korobku, pod kryshkoj kotoroj byla vyemka po forme kleshni. U drugogo rodicha hvatilo uma sunut' v etu vyemku svoyu kleshnyu i zakryt' korobku. On ochen' gromko krichal, kogda spryatannyj v korobke mehanizm vyrval emu odin za drugim vse tri kogtya iz kleshni. Znayushchie pticy pogovarivali, chto kladovshchiki Pochtat Elegraf i Pochtat Elefon sovershenno spyatili ot svoej raboty. Nahodilis' ser'eznye i neudoboskazuemye argumenty v pol'zu etoj gipotezy, no Klyup v glavnom dlya sebya nahodil suzhdenie kladovshchikov zdravym - oni panicheski boyalis' pokidat' uzkie skladskie proemy i, kogda podoshla ih ochered' v pereselencheskij chelnok, udrali i pryatalis' v tol'ko im izvestnyh zakoulkah skladov, poka chelnok ne otbyl. Elegraf dazhe tolkom ne umel letat' - nastol'ko privychnee emu bylo lazit' po stellazham, ceplyayas' kogtyami. |tot hot dejstvitel'no byl nemnogo ne v poryadke. Smotrya na to, kak Klyup vkruchival v terminal komandy, on strashno kosil vsemi tremya glazami, ritmichno raskachival potyuh, cherez kazhdye tri tolchka perevorachivayas', nepreryvno chesalsya, merzko hihikal i bormotal: - I kak ya?.. Kak kak, da nikak! Poka kak-to tak... No kak eto ya tak? Vse ne tak, net, vse ne tak... Monolog Elegrafa stal Klyupu nastol'ko ne po nutru, chto on reshil zagovorit' sam: - Pohozhe, Tudyt' koe-chto pronyuhal... - On chto-to pronyuhal? Nichego, my zatknem emu nos, samoe vremya! Elefon! V peshcherku protisnulsya ogromnyj, boleznenno zhirnyj nasolot s kroshechnymi glazkami i bessmyslenno raspahnutoj past'yu. - Ty znaesh', kto takoj Tudyt'? Pomnish', ya tebe pokazyval? V glazkah nasolota slabo zabrezzhil i vmig pogas ogonek pridurochnoj mysli, iz pasti potekli gustye slyuni. - Leti do shtabelya s plyushevymi znamenami, za nim sverni k stene, otodvin' yashchik, pomechennyj kraskoj - ponyal? - za nim budet dverca. Nikto pro nee ne znaet, he-he, nikto ne znaet, gde vyhod na sklady iz kapitanskogo hoda, potomu, chto kapitan ne byvaet na skladah, he-he-he, emu ne do skladov, he-he-he-he! - Elegraf zavertelsya vokrug potyuha, istericheski hihikaya. CHerez vosem' s polovinoj oborotov emu udalos' vosstanovit' kontrol' nad rech'yu: - Otkroj dvercu i zhdi. Kogda pod toboj proletit Tudyt', mozhesh' poprobovat' ego mozgi. |to ochen' vkusno, i ya razreshayu tebe poprobovat'! Stena za shtabelem s plyushevymi znamenami, yashchik, pomechennyj kraskoj! Leti, poka ya snova ne zapretil! Horoshaya ptichka! Nasolot radostno zabul'kal i zadom vylez iz peshcherki. Reshiv, chto luchshe zakonchit' rabotu do ego vozvrashcheniya, Klyup naleg na rukoyatku otladchika. CHerez nekotoroe vremya on uvleksya rabotoj nastol'ko, chto zabubnil duetom s Elegrafom: - Privintim syuda sinen'kij uslovnyj perehod, etot val voobshche vykinem, a zdes' podnimem zelenyj flag. Popen'ku hvalilsya, chto vygruzit lyuboj rezident. Nichego, posle dnevnogo sna nasha ochered' provodit' rutinnyj osmotr SHCHelkovava, ne Popen'ku ved', a osmotrim, tak pust' vygruzhaet! S merzejshim hihikan'em, zatmivshim dazhe Elegrafovo, Klyup podcepil kogtem kryuchok zagruzki. Zavertelsya mahovik, i zagruzchik snachala medlenno, a potom vse bystree i bystree pones segmentirovannoe telo programmy k vorotam central'nogo processora SHCHelkovava.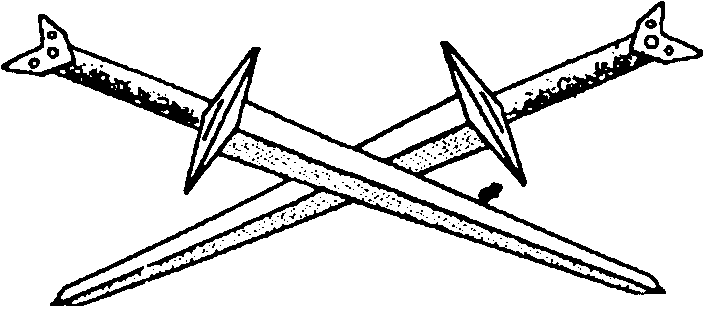 +--+ ++++++++ ++++++++ +--+ - Alchnyj, gnusnyj kannibal, - skazal Gorm Midiru, umil'no smotrevshemu na naskoro prokopchennuyu zadnyuyu lapu sobaki - ohrannika, lezhavshuyu na kuske fol'gi vmeste s neskol'kimi golovkami chesnoka, najdennymi v razvalinah ovoshchebazy. - Kak budto ne ty tol'ko chto sozhral poltaza krysinogo supa. - Propal moj sup, - ukoriznenno napomnil Midir. - Potolok upal. Daj myasa. - Na, podavis', prorva nenasytnaya, - Gorm s nenavist'yu otrezal ot kopchenoj lapy kusochek, ne nasytivshij by i myshonka, shvyrnul Midiru i stal tak i edak vertet' lapu, primerivayas', kuda by vonzit' zuby. Dver' dietstolovoj, sluchajno vylomannaya Gormom pri vhode i im zhe akkuratno prislonennaya na prezhnee mesto, upala. - Syuda tashchite, stoly est', to chto nado, - kriknul komu-to snaruzhi mazurik v rasshitoj serebryanym shit'em chernoj forme nachal'nika podvodnoj lodki. Gorm nekotoroe vremya ozadachenno tarashchilsya na okrovavlennye dyry v kitele, potom dogadalsya, chto odezhda, skoree vsego, byla prodyryavlena ne s nyneshnim, a s predydushchim vladel'cem vnutri, i vernulsya k sozercaniyu kopchenosti. On sovershenno ne sobiralsya pretendovat' na edinolichnoe pravo pol'zovaniya stolovoj. Mazurik i eshche neskol'ko p'yanyh, no dovol'no dobrodushno nastroennyh, nesmotrya na carapiny i ukusy, tipov vvolokli v pomeshchenie otchayanno soprotivlyavshuyusya devchonku let dyuzhiny s nebol'shim po mestnomu schetu, povalili ee na stol i, bezzlobno pererugivayas', prinyalis' staskivat' s nee odezhdu. - Tvoi brat'ya-kannibaly, - nazidatel'no skazal Midiru Gorm. Zadetyj ne stol'ko narusheniem norm morali i religii, skol'ko polnym nevnimaniem k sobstvennoj persone, on vstal s pritashchennoj iz podsobki posle neskol'kih neudachnyh popytok sest' na stolovskie stul'ya kolody i obratilsya k voshedshim: - |to, yadrena mysh'! YA, konechno, ponimayu, chto golodno i vse takoe, no nel'zya zhe detej-to lopat' zhiv'em. Prikonchili by sperva, chto l'... - CHto eto eshche za frajer? - sprosil u podonka v morskoj forme gromila s vybritoj pravoj polovinoj cherepa i svezhim ukusom na shcheke. - |to slaboumnyj mutant otkuda-to iz-za gor - ne obrashchaj vnimaniya. On sil'nyj, no bezobidnyj - nikogo ne ubivaet, - otvetil lzhenachal'nik podvodnoj lodki. - |to ya-to nikogo ne ubivayu? I to, takih gnilosmradnyh ublyudkov pomoechnoj koshki ot neispravnogo nasosa, zachatyh na polyah orosheniya, kak ty i tvoi priyateli, ya tol'ko zhestoko i izoshchrenno kalechu, s narochitoj svirepost'yu vydergivaya im iz sustavov vse konechnosti oprich' odnoj, za kakovuyu taskayu po ostrym kamen'yam, - Gormu prihodilos' v ume perevodit' sebya na ploho izvestnyj emu nuvukakskij dialekt kyflyavikskogo yazyka, otchego ego rech' sil'no teryala v vyrazitel'nosti. - Slaboumnyj, govorish'? - gromila zachem-to spustil shtany. - |j, perhot' trollinaya! |to stolovaya, a ne nuzhnik! - skazal neskol'ko rasserzhennyj Gorm. - Ne imej ty na tvoih paskudnyh plechah zaklinennuyu zadnicu vmesto tvoej pohabnoj golovy, ty davno uzhe ubralsya by otsyuda! Odevaj shtany obratno, ty ponyal? Dva poslednih slova proizveli na banditov nekotoroe vpechatlenie. - Nepohozh on na frajera, - skazal gromila. - Pojdem, eshche zabavu sebe najdem. - Nu uzh net! YA etot gorod zahvatil - mne v nem i beschinstvovat'! Sobachki, fas! Dvernoj proem okazalsya slishkom uzok dlya shesteryh. - Poka ty tut zhresh', eta mraz' po vsemu Kutukygaku tvorit nevest' chto, - skazal Fenrir. - YA ne mogu stoyat' za pravoe delo natoshchak, - Gorm perestupil cherez korchivshegosya na polu bandita i pobrel bylo v svoj ugol, no dorogu emu pregradila sprygnuvshaya so stola devchonka. - YA v dolgu ne ostanus'. - Pustoe. Slushaj, neuzheli u vas vpravdu takoj golod, chto pryamo iz domov drug druga hvatayut i zhrut? - Da net, drug do druga poka ne dohodit. - Privet, a zachem zhe eti druz'ya tebya syuda zatashchili? - Iznasilovat'. Gorm s nedoveriem posmotrel na devchonku, probormotal: "Koshmar, dazhe deti vse ozabochennye!" i, otstraniv ee, navis nad stolom. Lapy tam ne bylo. - Svoloch' ty, a ne tovarishch, - skazal Gorm Midiru. Devchonka pozhala plechami i stala sobirat' s pola svoe tryap'e.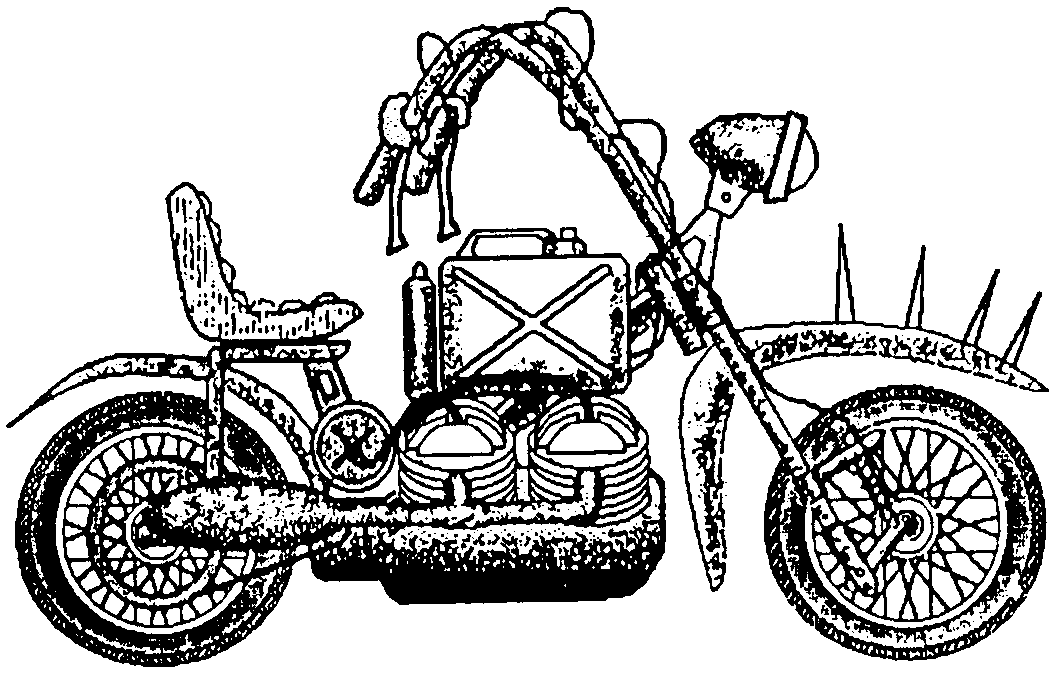 +--+ ++++++++ ++++++++ +--+ - Mezhdu prochim, Viyutku i tebya nazval sredi uchastnikov svoego s Kalyukom zagovora. Malo togo, on skazal, chto ty inoplanetnyj shpion, - stradal'cheski ulybayas', skazal Nagruasek Ahahanavraku. - Predatel' - on i est' predatel'. On eshche ne raskayalsya v svoih prestupleniyah, vot i staraetsya zapyatnat' chestnyh slug naroda. Kstati, u menya est' podarok tebe, starshij brat. - Vot kak? - Iz poslednej inspekcionnoj poezdki po lageryam podonok i razlozhenec Kalyuk vyvez tanceval'nuyu truppu zaklyuchennyh, chto, kstati, tozhe skryl ot tebya, starshij brat. Zdes', v Nuvukake, oni uzhe podgotovili odin spektakl'. - Kakoj? - Geroiko-eroticheskij balet "CHest' za rodinu". - Zabavno. Podarok prinyat, no ne dumaj, chto ya chuvstvuyu tebya sebe obyazannym. CHto s vosstaniem v Kutukygake? - Moi agenty pri pervyh zhe soobshcheniyah o myatezhah v politicheskih lageryah podnyali vosstaniya v neskol'kih ugolovnyh i podbili glavarej vesti bandy na Kutukygak i otbit' ego u politicheskih. Sejchas v gorode odni prestupniki istreblyayut drugih. Do vojny, kogda eshche byli lesa, tak tushili lesnye pozhary. Vstrechnyj ogon'. - Tozhe zabavno. Kogda ugolovnye razberutsya s politicheskimi, poshlem vojska. Gde tvoj balet? A to sovsem my sebya zagnali na blago otchizne.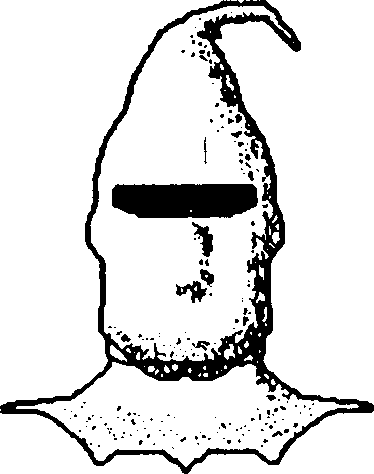 +--+ ++++++++ ++++++++ +--+ Utrup zlovonnyj, poslednij, hranivshijsya v holodil'nikah "Kryuha praroditelya", medlenno, no verno podhodil k koncu. Hrust razgryzaemyh kostej, stony razdiraemyh zhil i hlyupan'e vysasyvaemyh kishok v storozhke stihali. Izredka vozduh oglashala gromovaya otryzhka. Hryabet, hranitel' struch'ev, spal s odnim iz utrupovyh organov razmnozheniya v lapah - son smoril starogo nochnogo storozha, prezhde chem tot smog zakonchit' trapezu. Tudyt' beznadezhno opazdyval k ede, vidimo, opyat' otvlechennyj kakim-nibud' srochnym delom. - Vot chto skazhu ya vam, pticy! - neozhidanno nachal Klyup. - Vse vy poddalis' na obman chetverolapoj oshibki prirody, vozzhelavshej prisposobit' vas dlya vypolneniya svoih nichtozhnyh celej, kotorye zaslonili v vashem soznanii velikuyu i edinstvennuyu Cel', k kotoroj velo nas nashe stranstvie, bylo li to stranstvie telesnoe, v chem uveryal zavet predkov, ili zhe stranstvie nashih dush po strane soblaznov i lozhnyh nadezhd. Tak ili inache, my vo glave s nashim kapitanom sbilis' s puti, i ne potomu li tvar' nevedomaya pala na nego iz t'my perehodov, kogda on obletal korabl', sbityj im s kursa, probodala glaz, ne uvidevshij istiny, i vypila sogreshivshij mozg? Zakrichal Klyuchej, zadumavshijsya nad pervymi slovami Klyupa i prinyavshijsya vmesto saharnoj kosti gryzt' svoyu lapu. Klyup prodolzhal svoyu strannuyu rech': - No byla ptica, kotoraya dumala: pochemu predkam ugodno bylo ostavit' nas bez ukazanij na poslednem uchastke puti? I eta ptica ponyala - my ne byli ostavleny bez ukazanij! Bylo ukazanie, chto siyalo pred vsemi nami v rubke upravleniya, govorya: vot on, put' v raj! Otrin'te somneniya, potomki, letite na svet, zazhzhennyj nami, ogon' rasstupitsya, i pred vam otverznutsya dveri v vechnoe blazhenstvo! I predki skazali ptice: vedi teh, kto ne ponyal sam, i teh kto uboyalsya, i budut proshcheny, te zhe, kto v gordyne svoej vozomnili, chto zakony mirozdaniya prevyshe voli nashej, da budut proklyaty i ostavleny v etom mire naveki, i da ne poznayut oni blazhenstva! - Derzhite ego, pticy! On prikonchil kapitana! - dogadalsya Popen'ku. - Uzh pozdno, neschastnyj! Pust' veshchaya ptica pogibnet, no volya predkov budet ispolnena tem, nad kem net u tebya vlasti! - Klyup idiotski zahihikal i zavertelsya vokrug potyuha. Popen'ku posmotrel na vysivshijsya v polumrake storozhki nad kostyami utrupa zlovonnogo central'nyj terminal. Ogon'ki na kontrol'noj paneli peremigivalis' v strannom ritme. Proverit' podozrenie bylo nedolgim delom. Terminal ne reagiroval na komandy. Vnizu hihikal i vertelsya flyugerom Klyup. Do ptic vokrug nego, pohozhe, tozhe nachalo dohodit', chto delo neladno. Nekotorye otorvalis' ot edy i smotreli vverh. Ne dozhidayas', poka osoznanie situacii stanet vseobshchim, Popen'ku poletel v processornuyu. Vnezapnyj udar uskoreniya brosil ego na stenku koridora. Uskorenie bylo mnogo bol'she privychnogo krejserskogo, i Popen'ku bol'no udarilsya spinoj. Starayas' ne obrashchat' vnimaniya na bol', on poproboval snova vzletet', no novyj tolchok pochti razmazal ego po stene. Pridavlennyj chudovishchnym gruzom, so slomannym krylom Popen'ku popolz dal'she. V klyuve poyavilsya privkus krovi. V odnom iz bokovyh otvetvlenij koridora valyalis' rasplyushchennye i okrovavlennye trupy dvuh ptic. V odnoj iz nih, ch'ya grudnaya kletka byla smyata vypavshim iz nezakrytoj dveri v kakoe-to pomeshchenie kontejnerom, Popen'ku uznal nedavno propavshego bez vesti kladovshchika. Golova vtoroj pticy byla izurodovana do neuznavaemosti. Hod kruto podnimalsya vverh. Popen'ku v otchayanii dumal uzhe, chto emu ne odolet' pod容ma, kogda nakonec dver' processornoj pod nim podalas' i on upal vniz, na sorvavshuyusya s kreplenij indikatornuyu panel' SHCHelkovava. V ego telo vonzilis' ostrye oblomki signal'nyh semaforov. Oblivayas' krov'yu, Popen'ku podpolz k stellazham dinamicheskoj pamyati zvezdoleta, pod ston i tresk konstrukcij prodolzhavshego svoj beshenyj razgon, nadeyas' ochistit' pamyat' ot zanesennogo tuda Klyupom bezumiya. ZHuzhzhanie barabanov, kontrol' nad kotorymi byl perehvachen rezidentom, napomnilo Popen'ku Klyupovo hihikan'e v storozhke. Vcepivshis' v rychag perezagruzki pamyati perednimi lapami, on stal zhdat', kogda uzhasnyj zvuk zatihnet, no zloveshchee zhuzhzhanie prodolzhalos'. S grohotom sorvalas' so svoego mesta eshche odna indikatornaya panel', obnazhiv vnutrennosti bloka kontrolya pamyati. Popen'ku zaglyanul vnutr' i obmer. Vektory preryvanij byli zavyazany uzlom.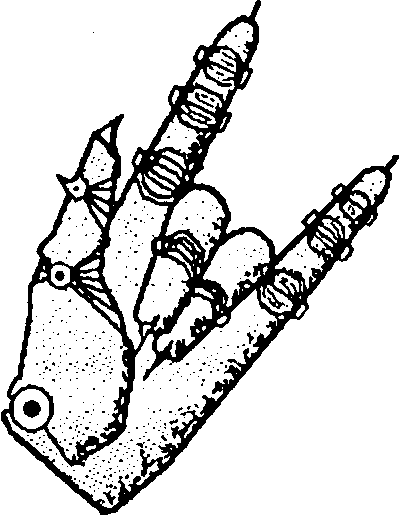 +--+ ++++++++ ++++++++ +--+ Planeta Lysoe Varen'e, po neyasnym prichinam nazvannaya Gormom v chest' nekogda izvestnogo ohotnika na mozgoklyuev, ne mogla poradovat' ni glaz, ni opticheskij receptor sistemy raspoznaniya obrazov beliznoj oblakov i sinevoj okeanov. Fanernyj zvezdolet, pod bokom kotorogo visel Fenrir, ne otlichalsya ni sovershenstvom form, ni krasotoj. Razgovor, kotoryj Fenrir vel s Gormom, ne byl ni malo-mal'ski uteshitel'nym, ni dazhe skol'ko-nibud' osmyslennym. - Tozhe mne sravnil ezhika s polotencem, - razoryalsya tuda-syuda metavshijsya po Kutukygaku Gorm, kotoromu nikak ne udavalos' vosstanovit' kontrol' nad gorodom. - Mnogogo dobit'sya mozhno tol'ko mnogogo hotya, a zdes'... SHel ya tut skverom, bandity ubili loshad', razdelali i zharyat na kostre, a gorozhane, kto povylez na zapah - net chtoby otnyat' myaso - podobrali kosti, varyat, da eshche nahvalivayut - horoshij, mol, skelet, zhirnyj, navaru s nego mnogo. T'fu! - Kto o chem, a troll' vse o kostyah, - tol'ko i mog otvetit' Fenrir. - Dal by mne hot' slovo skazat' prezhde chem nabrasyvat'sya. YA vspomnil Gorma Starogo ne potomu, chto on sam provozglasil sebya korolem, a potomu chto ego tozhe pytalis' prikonchit' naemnye ubijcy, i ne odin raz. - I otvyazalis' tol'ko togda, kogda ocherednuyu partiyu ubijc on utopil po odnomu v metanovyh tankah zavoda biogaza moego zamka. Znayu ya vse eti rasskazki, - opyat' perebil Gorm. - No to ved' byli chestnye naemnye ubijcy v kol'chugah i s duhovymi ruzh'yami, a ne kakie-to ploho zametnye teni v chernyh plashchah i s kogtyami, i vashche, delo ne v etom. V konce koncov, Kukylin moj uchenik - emu lyubye ubijcy chto parovozu slepye shchenki, von kak nasobachilsya ruki-to otrubat'. Kuda ty volokesh' etu figovu bazuku, idiotka? - Gorm neozhidanno pereshel na nuvukakskij dialekt. - YA skazal, nechego vokrug menya kruzhit', kak stervyatnik nad trupom geroya! Fenrir, eto ne tebe. Sperva, yadren kot, glazami strelyaet, potom iz pistoleta, a teper' vashche bazuku privolokla! Dura, cel'sya hot' levee, samu rikoshetom nakroet! |j, sdavajtes', gady, a to eshche odnu skul'pturu na vas obrushu! A ty, gnidovoz septicheskij, ne stoni pod nogami, kogda ya razgovarivayu, a to ne tak eshche shlopochesh'. T'fu... Tak ya govoryu, naemnye ubijcy zdes' ni pri chem. - Togda pochemu on propustil prohod retranslyatora i ne vyshel na svyaz'? - Trudno skazat' tochno, no bez seksa delo navernyaka ne oboshlos'. V plotnom efirnom galdezhe diapazona biologicheskoj radiosvyazi ptic na fanernom zvezdolete Fenrir vdrug ulovil obryvok frazy: "On prikonchil kapitana!" - Pogodi ty so svoim seksom - pohozhe, na zvezdolete bunt. V koridorah i zalah "Kryuha praroditelya" proishodilo chto-to neponyatnoe. Glushilka, skryvavshaya peregovory nochnyh storozhej ot ekipazha, otklyuchilas', i pryamo iz storozhki Klyup na ves' korabl' isstuplenno oral o snizoshedshem na nego otkrovenii, ob obmane i proiskah. Fanernyj zvezdolet neskol'ko raz vzdrognul i s zhutkim uskoreniem ponessya v napravlenii solnca, oglasiv radioefir krikami boli, otchayaniya i zloradnogo torzhestva. - Na zvezdolete chto? Bunt gde? CHto proishodit? - Kak ya ponimayu, kapitan ubit, sistemnyj programmist spyatil, vsya konstrukciya snyalas' s orbity i uhodit na predel'noj tyage, a tak nichego osobennogo, - otvetil Fenrir, s riskom peredavit' vse Gormovy ohotnich'i trofei dogonyaya "Kryuh" i tshchetno pytayas' vyzvat' kogo-nibud' iz znakomyh chlenov ekipazha. Ostatki rabochego tela iz poslednih nesbroshennyh bakov i magnitnyh lovushek vo mnogo raz polegchavshego za mnogie veka puti zvezdoleta soedinyalis' v fokusah chash otrazhatelej, unosya v potokah sveta polnuyu energiyu, zaklyuchavshuyusya v masse veshchestva i antiveshchestva. Nakonechnikom chudovishchnogo kop'ya, pushchennogo v solnce, "Kryuh praroditelya" letel k poslednej celi.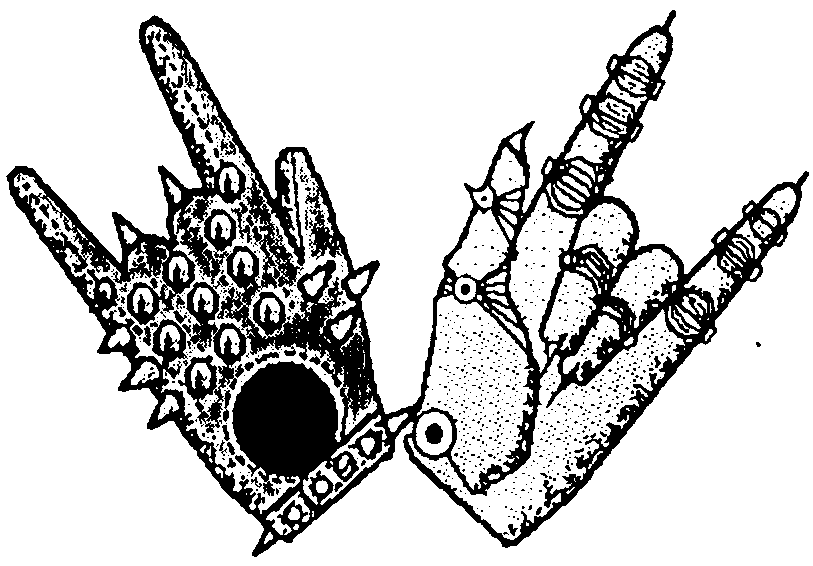 +--+ ++++++++ ++++++++ +--+ "Kutukygak razgorelsya kostrom - Slavnoe delo, veselyj pogrom." Po krayam zatyanutogo sploshnoj oblachnost'yu nochnogo nebosvoda raspolzalis' mutnye krasnye pyatna. Bandity podozhgli gorod s treh koncov. Zapahi goreloj ploti, nechistot, tleniya i svezhej krovi smeshivalis' s gor'kim dymom, nizko stlavshimsya nad zasypannymi bitym steklom i kuskami shtukaturki ulicami. Gorm stoyal na ploshchadi Bezymyannogo matrosa. Iz-za dostigshego krajnej stepeni v svoem proyavlenii zhelezobetonnogo byusta zhelezobetonnoj sportsmenki, plyvshej na spine po zavalennoj otbrosami chashe fontana, emu v golovu bili ocheredi pul' melkogo kalibra so smeshchennym centrom tyazhesti. Strelyavshih, vidimo, zanimal ne rezul'tat, a sam process, poskol'ku takim obrazom oporozhnyalsya uzhe desyatyj rozhok. - YA preduprezhdal, - Gorm so vzdohom sozhaleniya stashchil za nogi s postamenta istukan yunoshi s navevavshim neyasnye mysli o medlennoj nasil'stvennoj smerti sprotivnym snaryadom v pravoj ruke, perehvatil poperek poyasa i poslal zalyapannoj ptich'im pometom korotko strizhennoj golovoj vpered. Statuya po kasatel'noj proshla nad polusferoj zhelezobetonnogo byustgal'tera kupal'nogo kostyuma i s mokrym hrustom nakryla cel'. Nad nevysokim bordyurom, ogorazhivavshim bassejn snaruzhi, pokazalas' golovka Ajnik. - Poshli, ostalos' dva kvartala! - propishchala deva-voitel'nica, perekinula cherez plecho remen' strashnogo raketnogo ruzh'ya i, edva ne perelomivshis' pod ego tyazhest'yu, perebezhala cherez ploshchad' i skrylas' za oprokinutym gruzovikom. "Pochti horoshen'kaya," s brezglivoj zhalost'yu podumal Gorm, na proshchan'e pnul odnogo iz po obyknoveniyu v izobilii valyavshihsya u ego nog v polubessoznatel'nom sostoyanii ugolovnikov v solnechnoe spletenie i poplelsya vsled. - Skoree reshaj, chto delat', - toropil Fenrir. - S takim uskoreniem on v容det v solnce kak raz v polden' po kutukygakskomu vremeni. - Perehvatyvaj upravlenie! - Kak? - Taran' shlyuzovuyu kameru, blokiruj dyru silovym polem i vlezaj v komp'yuter. - A esli ne udastsya? - Posylaj robotov, otklyuchaj k svin'yam mohnorylym vsyu periferiyu i upravlyaj dvigatelyami napryamuyu. Poskoree, inache ne razvernesh'. Da, eshche. Taran' neispravnyj shlyuz! - Soglasen. Taranyu.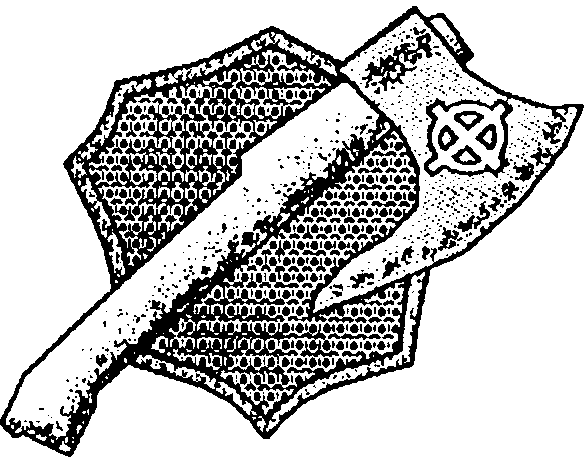 +--+ ++++++++ ++++++++ +--+ Pogoda vydalas' redkaya. Tuchi nad zubchatymi stenami Kygmika razoshlis' nastol'ko, chto v dymke otchetlivo vidnelsya disk solnca. Pole obshchinnogo aerodroma pestrelo lyud'mi, na meste sgorevshego postoyalogo dvora stoyal prikrytyj maskirovochnymi setyami razbornyj dom, kotoryj sluzhil agii Kamysnapu dvorcom priemov i ustanavlivalsya obychno tol'ko po sluchayu priezda vladetel'nyh knyazej i baronov iz drugih zemel'. Kamysnap i Kukylin, okruzhennye ohranoj, protalkivavshej dorogu v tolpe lyubopytnyh gorozhan, shli v napravlenii samoletov. - Vidish', mal'chik, kak byvaet, - govoril knyaz'. - Gonec moj oploshal. Esli by ty ne pogoryachilsya togda, mozhno bylo by doznat'sya, kto ego podkupil, a tak ostaetsya tol'ko gadat'. Mozhet, barony iz predgorij, a mozhet, i Federaciya. Vsem im poperek gorla moe zhelanie vstupit' v soyuz s tvoim novym syuzerenom. Nas ne raz eshche mogut popytat'sya possorit', poetomu ya hochu skorejshego formal'nogo ustanovleniya otnoshenij s baronom Gormom. Esli ty blagopoluchno provedesh' k nemu moe posol'stvo, ya pozhaluyu tebe zamok na yuge zemli Ratkin. Belaya chuma unesla tam mnogo zhiznej, i muzhikam nuzhny horoshie hozyaeva. - Spasibo, knyaz'. Dumayu, mne najdetsya chem otdarit' vas v otvet, - otvetil Kukylin, pro sebya podumav: "Vse-taki prav Tagrak - vtorogo takogo skryagi, kak Kamysnap, net po etu storonu gor. Sulit v podarok nadel, na kotorom eshche let pyat'desyat i tarakan ne smozhet obosnovat'sya". - Derzhite na vostok, poka ne pokazhetsya staryj nuvukakskij trakt. Po nemu letite k goram, a za nimi do Kutukygaka rukoj podat'. YA dumayu, baron Gorm pomozhet najti posadochnuyu polosu. Na sluchaj, esli vas vstretyat piloty Federacii, moi mehaniki perezaryadili pulemety tvoego samoleta razryvnymi patronami. Na etom samolete ya kogda-to sbil treh vampirov Ratratrymyrga v odnom boyu, i kak raz nad gorami, pravda, poblizhe k Kygmiku. Mehaniki skazali mne, chto ne nashli toplivnyh bakov. Voistinu li ty letaesh' bez zapravki? - Da, knyaz', i eto ne edinstvennyj iz sekretov, kotorymi vladeet moj vlastelin. - Hodyat sluhi, chto ty otvazhilsya vtorgnut'sya vmeste s nim v gorod mertvecov i zahvatit' velikoe sokrovishche. - |to pravda. - O tebe slozhat balladu. YA rad, chto pervye svoi podvigi ty sovershil v moej druzhine. U samoletov knyazya i Kukylina uzhe podzhidal Imaksulik, gerol'd Kygmika, vozglavlyavshij posol'stvo. Dva legkih istrebitelya reveli turbinami, gooovye vyrulivat' na startovuyu polosu. Pod lyukami v bryuhe tyazhelogo istrebitelya-bombardirovshchika naryadno odetye pridvornye sporili, komu letet' v kabinah vmeste s pilotami, strelkami i radistom, a komu v bombovom otseke. Zanimaya svoe mesto v bogatom katapul'tiruemom kresle, Kukylin posmotrel na knyazya, stoyavshego u kraya rulezhnoj dorozhki. Ulybka ischezla s lica starika, i vzglyad vvalivshihsya glaz na issechennom morshchinami lice byl surov i bezzhalosten. "Horosho, chto Kamysnap soglasilsya na peregovory", reshil Kukylin. "On podderzhal menya v samye trudnye gody moej zhizni, i mne trudno bylo by obratit' mech protiv nego. Pust' ne bez iz座ana, zato nastoyashchij voin". V vozduhe istrebitel'-bombardirovshchik pristroilsya za samoletom Kukylina, derzhas' chut' nizhe i pozadi. Legkie istrebiteli leteli po bokam ot nego, prikryvaya ot vozmozhnyh atak. Kogda trakt vnizu zazmeilsya serpantinom mezhdu krutyh otrogov Tanniritskogo massiva, tyazhelyj samolet neozhidanno otstal na ligu s chetvert'yu. - V chem delo, Imaksulik? - sprosil Kukylin v rupor peregovornogo ustrojstva. Otveta ne posledovalo. Vdrug samolet Kukylina zatryassya - odin iz istrebitelej strelyal v nego. Avtomaticheski Kukylin pribavil skorost', pytayas' stryahnut' presledovatelya s hvosta srazu stavshej neuklyuzhej mashiny, potom vspomnil pro silovye shchity i, na mgnovenie otorvav odnu ruku ot besheno dergavshegosya shturvala, shchelknul tumblerom na visevshej na shee korobke. Kraski okruzhayushchego mira slegka pomerkli, i pod prikrytiem shchitov Kukylin smog razvernut'sya, chtoby, vnov' vyklyuchiv zashchitnoe pole, izreshetit' vraga pulemetnymi ocheredyami. "Pohozhe, i kto-to iz posol'stva podkuplen", dumal Kukylin, gotovyas' pojmat' slegka zameshkavshijsya istrebitel' v trubku pricela. Pulemety molchali. Istrebitel'-bombardirovshchik skrylsya iz vida. Legkie samolety prekratili ogon', ubedivshis' v bessmyslennosti strel'by, i leteli ryadom, slovno chego-to dozhidayas'. Kukylinu vspomnilos', kakim vzglyadom Kamysnap provozhal ego. "CHto eshche nakrutili ego mehaniki?" Tajmernoe vzryvnoe ustrojstvo gde-to v nedrah fyuzelyazha ne zamedlilo s otvetom. Udar raskolol samolet popolam. Napolnivshayasya dymom kabina, diko kuvyrkayas', ustremilas' navstrechu krovozhadno vstoporshchivshimsya utesam. Kukylin popytalsya stabilizirovat' padenie, splyushchivaya silovoj shchit, no generator otkazal. Otorvannyj ot nahodivshejsya v kabine kontrol'noj paneli, processor energoreaktora, predostavlennyj sam sebe, reshil na vsyakij sluchaj unichtozhit'sya. Sfera, vklyuchivshaya v svoj ob容m svobodno letevshuyu zadnyuyu chast' Kukylinova samoleta, vershinu utesa s gnezdom grifa-lyudoeda i poltora istrebitelya, styanulas' v tochku i vypala za predely prostranstva, vyzvav na zemle i v atmosfere nekotoroe vozmushchenie. Vytryahnutyj iz razvalivshejsya kabiny i pochemu-to letyashchij vverh, Kukylin nablyudal, kak pod nim v sudorogah ruhnulo neskol'ko gor, a v nebe bezobrazno zakrutilis', slovno namatyvayas' na nevidimuyu os', tuchi. Istrebitel'-bombardirovshchik pytalsya vybrat'sya iz shtorma, nekotoroe vremya letel hvostom vpered, i nakonec na okolozvukovoj skorosti votknulsya v skalu. Masshtabnyj, po obychnym merkam, vzryv na fone okruzhavshih sobytij ne proizvel na Kukylina nikakogo vpechatleniya. Kukylin, uzhe letya vniz, vklyuchil raketnyj poyas v nadezhde udalit'sya ot epicentra kataklizma. Kogda toplivo konchilos', shtorm edva poshel na ubyl'. Boryas' s dergavshimsya vo vse storony pod shkval'nymi poryvami vetra kupolom parashyuta, Kukylin bolee ili menee uporyadochil snizhenie, opuskayas' v napravlenii edinstvenno prigodnoj dlya posadki sedloviny, po dnu kotoroj prohodila doroga. Sbityj s nog parashyutom, potashchivshim ego po ostrym skal'nym oblomkam k glubochennoj propasti, Kukylin ele uspel pererubit' mechom stropy. Lezha shagah v dvuh ot kraya ushchel'ya, kuda veter unes parashyut, Kukylin tol'ko s oblegcheniem reshil, chto u nego nakonec-to poyavilos' vremya osmyslit' sobytiya, kak iz-za povorota dorogi pokazalas' mashina, soprovozhdaemaya neskol'kimi motociklami. Vsmotrevshis' v ee kontury, Kukylin uznal bronevik barona Nakasyunalyuka. "CHem ego pristojnee budet ubit' - mechom ili toporom?", podumal on i vstal na nogi.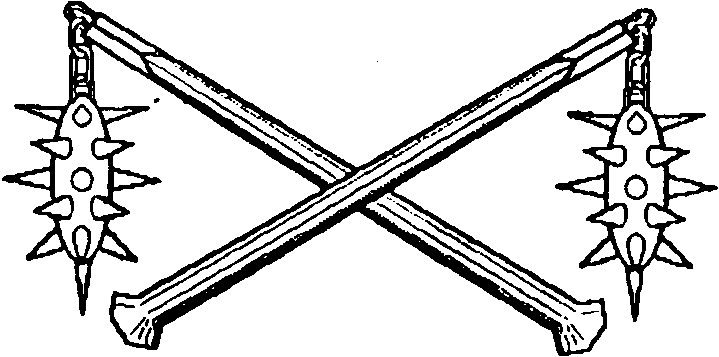 +--+ ++++++++ ++++++++ +--+ Kiavak loktem ottolknul Torngarsoaka i rezko vyvernul rul' vpravo. Bronevik, perednee levoe koleso kotorogo uzhe viselo nad propast'yu, rysknul, chudom ne protaraniv skalu, neob座asnimym obrazom vpisalsya v povorot i vyehal v otnositel'no shirokuyu sedlovinu. - Ne lishaj menya zhizni hotya by do perevala Tagnyk, - skazal Kiavak. - Ty vse vremya zabyvaesh', chto zdes' nedostatochno naklonit' telo v storonu povorota, chtoby povernut'. - CHto ty za zhizn'-to tak ceplyaesh'sya? - Torngarsoak edva ne razmazal po kamennoj stenke pristavshego k kompanii Kiavaka tangita-odinochku iz razgromlennogo tanaklukskoj druzhinoj otryada "Rzhavchina". - Ona mne doroga, kak pamyat'. Sbros' gaz, radi Boga. Ty kogda-nibud' videl, chtoby nad gorami tak rashodilis' tuchi? - V Knige postydnyh otkrovenij napisano tak: "Razojdutsya oblaka Nad Tanniritskim hrebtom, Priletit izdaleka Nekto s zrachkami krestom, I iz bezdny v nebesah Na perevale sojdet Seyat' vojny, smert' i strah, Pokuda konec ne pridet." Kstati, von kto-to letit, togo i glyadi razob'etsya. Iz siyavshej neprivychnym golubym rasseyannym svetom dyry v nebe vyvalilas' chelovecheskaya figurka. Nad sedlovinoj, verno, dul nastoyashchij uragan. Figurka kuvyrkalas' v potokah vozduha, ryadom s nej izvivalsya, ne zhelaya napolnyat'sya, smyatyj i perekruchennyj kupol parashyuta. Podnyavshiesya u dorogi skaly ne pozvolili tangitam prosledit' ee put' vniz. - Ne tot, - s nekotorym razocharovaniem skazal Kiavak. - Tam skazano "sojdet", a ne "bryaknetsya, razorvavshis' na tysyachu kuskov". - |j, v bronevike! - prokrichal v okno tol'ko chto dognavshij byvshuyu baronskuyu mashinu tangit iz predgorij na moshchnom krossovom motocikle s gazogeneratorom. - Prete, kak upyri na stanciyu perelivaniya krovi! Tut zemletryasenie, moi vse popadali, podozhdite! - U nas vnutri vse vremya zemletryasenie - u etoj shtuki prosto net amortizatorov zadnej podveski! - vysunuv golovu iz bashennogo lyuka, ob座asnil Niviaksiak. - Dogonyajte - nebos' ne na velosipedah! Skaly vnov' suzilis' k samoj doroge. Dymivshij, kak pech' lagerya smerti, motocikl vityazya predgorij pootstal - ehat' mezhdu nepovorotlivym bronevikom s Torngarsoakom za rulem i kamennoj stenoj s ostrymi vystupami ne osmelilsya by i zayadlyj samoubijca. - Sejchas budet most, - Kiavak snova ottolknul Torngarsoaka i krutanul rul'. - Derzhis' poseredine! Oj! Rychagi tormozov ostavalis' v polnom rasporyazhenii Torngarsoaka, i, poteryav kontrol' nad rulem, on reshil ispol'zovat' hot' takuyu vozmozhnost' vse-taki upravlyat' bronevikom, vsledstvie chego Kiavak okazalsya lezhashchim nad daleko vystupavshej vnutr' kabiny pribornoj doskoj. Zastuchalo v transmisii, i motor, s izryadnym opozdaniem otreagirovav na ostanovku, zagloh. - Ne oj, a cheloveka chut' ne zadavili, - Torngarsoak pomog Kiavaku vodruzit'sya obratno v kreslo i vzglyanul na stoyavshego posredi dorogi voina s plazmennym mechom v pravoj ruke i dikovinnoj formy kayugunom v levoj. - A mozhet, i ne cheloveka. - Dumaesh', soshel vse-taki? - Kiavak smeril neizvestnogo vzglyadom. - Da, shlem zakrytyj, i laty chudnye. - No u togo na pleche dolzhna sidet' strashnaya zubastaya ptica Nankualyk, - vozrazila Nuliayuk. - CHto zh ona, vse vremya sidit? Otletela, podi, - predpolozhil Ynap. - Nishtyak, ptica ne ptica, na raz po kamnyam razmechem! - vstupil Napakygtu. - Molchi, vse ravno zapal ot tvoej granaty u menya, - Kiavak lihoradochno soobrazhal, chto polagaetsya delat' v nachale konca sveta, no nikakie idei, krome raznyh variantov pospeshnogo begstva, uporno ne zhelali prihodit' emu v golovu. Voin podoshel k broneviku. Iz-za utykannoj ostriyami lichiny shlema, okruzhennogo strannymi trubchatymi dugami, gluho prozvuchal golos: - Gde baron? - A kakogo tebe barona nuzhno? - sprosil Torngarsoak. - Ne krivlyajsya, muzhik. Gde baron Nakasyunalyuk? - Muzhik ya tol'ko v tom smysle, chto ne baba, chego i tebe zhelayu. A do togo, gde shlyaetsya tvoj baron, mne i dela net. - Togda pochemu ty edesh' na ego bronevike? - Teper' eto nash bronevik. Slushaj, pochemu eto ya vse vremya otvechayu na tvoi voprosy? Kto ty? - vnutrenne holodeya i stesnyayas' sam sebe v etom priznat'sya, sprosil Torngarsoak. - Nazovi prezhde svoe imya! - Po kakomu pravu ty tak razgovarivaesh'? - Po pravu mecha v pravoj moej ruke i topora v levoj! - A vdrug ya sejchas tebe otvechu po pravu bashennogo pulemeta? - YA ub'yu tebya, ibo mne ne strashny puli. Nazovi mne svoe imya! "Neuzheli dejstvitel'no on?" - podumal Torngarsoak. - "Napyshchennyj zanuda - drugogo provozvestnika konca sveta nash mir i ne zasluzhivaet." - YA Torngarsoak, tangit. - YA Kukylin, rycar'. - rukoj s toporom voin podnyal zabralo. - Kakoj horoshen'kij... - mechtatel'no skazala Nuliayuk. Torngarsoak prosiyal: - Iz roda Koshkli? - Da. Otkuda tebe znakom moj rod? - Kak on mozhet byt' ne znakom mne? Staryj Koshkli byl edinstvennym rycarem, kto nikogda ne vydaval tangitov strazhe, i mnogie iz teh, kogo ya znal, nahodili ubezhishche i krov na ego zemlyah. Kem ty emu prihodish'sya? - YA ego syn. - Dobroj edy, Kukylin! - Kiavak otkryl dver' i sprygnul na obochinu. - Opusti oruzhie, zdes' ty v bezopasnosti. Kak zemlya tvoego otca byla priyutom dlya tangitov, tak gory tangitov budut priyutom dlya tebya!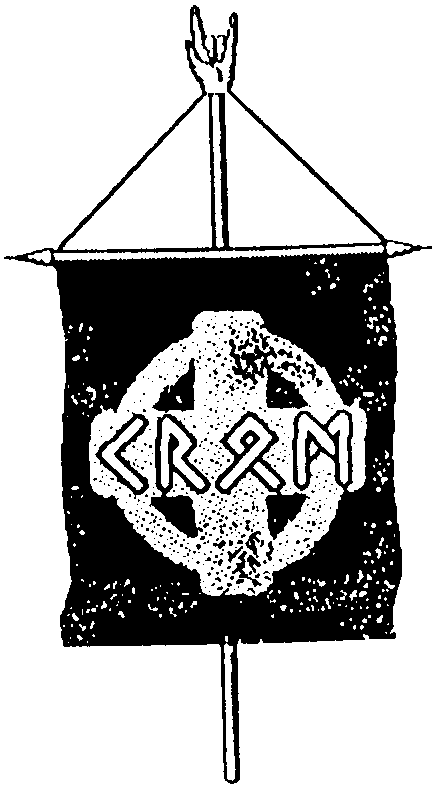 +--+ ++++++++ ++++++++ +--+ Gorm prislonilsya k turniketu i zanyl: - YAdrena mysh', kogda zhe eto konchitsya... Znal by kto, kak ya spat' hochu! Dva kvartala, dva kvartala! A teper', skazhesh', skol'ko ostalos'? Gde ty videla shahterov? - Da von, za uglom! - Ajnik mahnula rukoj. - Idem, zasnul? - s tipichnymi dlya sebya taktom i sposobnost'yu mgnovenno ponyat' hozyaina vstupil Midir. - Kakoe tam idem, - Gorm edva ne upal v pod'ezd, neozhidanno dlya sebya nazhav rogom knopku, razblokirovavshuyu turniket. - Vnutri takoj or, chto srazu yasno, chto tam paviany, t'fu, ugolovniki. Podi, ubivayut kogo ili chto. CHerez dva s polovinoj oborota turniketa Gorm vse-taki okazalsya vnutri zdaniya. Sobaki prosto pereprygnuli prepyatstvie. - Nu vot, - skazal Gorm, kogda na nego svalilsya iz lestnichnogo proleta trup so vsporotym zhivotom. Pyat'yu etazhami vyshe kto-to nadsazhivalsya: - Govori, kuda devala zoloto? Teper' skazhesh'? Razdalsya vizg. S grimasoj otvrashcheniya Gorm vynul raketnye pistolety iz futlyarov i medlenno podnyalsya vverh, bormocha sebe pod nos: - Nu nikak ya ne perevarivayu vsej etoj vojny ne po pravilam, nasiliya nad mirnymi zhitelyami i tak dalee, prosto hot' kolyuchej provolokoj blyuj. Tak ya i dumal... Pered grubo vzlomannoj dver'yu v kvartiru dva tipa derzhali za plechi stoyavshuyu na kolenyah prilichno odetuyu moloduyu zhenshchinu, pervuyu uvidennuyu Gormom po etu storonu gor. Tretij opasnoj britvoj vyrezal u nee na lbu kakoe-to slovo. Vse troe udivlenno ustavilis' na Gorma. Gorm opustilsya na pol, sunul pistolety na mesto, sgreb namylivshegosya bezhat' tipa s britvoj za volosy i za shtany, sprosil: "Letat' umeesh'?", ne dozhidayas' otveta, shvyrnul ego v prolet, proburchal: "Ne umeet, ya tak i znal", i obratilsya k ostavshimsya dvoim: - A vy? - Kogo ty zashchishchaesh'? - zakrichal odin iz nih. - Vot ee otec - nachal'nik mestnogo upravleniya utilizacii othodov lagernoj sistemy, po ego prikazu zhgli v pechah eshche zhivyh lyudej! - Otcu by i pisal na lbu, - Gorm pripodnyal golovu devushki za podborodok i prochital slovo, - "Padla". |to ne ego vy skinuli vniz s rasporotym zhivotom? A. Znachit, bednyazhka teper' sirota. A sirot obizhat' skverno, osobenno esli letat' ne umeesh'. Gorm shvatil oboih merzavcev za glotki i sbrosil vniz. Odin krichal, poka letel, vtoroj molchal - vidimo, Gorm srazu slomal emu sheyu. Devushka vse stoyala na kolenyah. - Ohoho, - poryvshis' v sumkah, Gorm vytashchil motok izolenty, otnositel'no chistoj tryapkoj vyter razrezy, bystro skleil kraya, naklonil golovu nabok, skazal: "Gulyat' tak gulyat'!" i prikleil sverhu tryapku. - Vstavaj, chto l'! |j! - Gorm vlepil devushke poshchechinu. Ona podnyala golovu i posmotrela na nego. - A, eto ya uzhe umerla? Vot horosho. - Razmechtalas'. Povyazku ne snimaj nedelyu, inache shramy budut. A eto kto? Iz prihozhej vysunulas' blednaya fizionomiya. - Moj muzh. Gorm pomog devushke vstat' na nogi, podoshel k dveri i shchelchkom srednego pal'ca levoj ruki nokautiroval muzha. - Prezhde chem dopustit', chtoby nad toboj tak izmyvalis', on dolzhen byl byt' pyat' raz mertv! Der'mo! Zaperlis' tut vse, kazhdyj drozhit za svoej dver'yu, net chtoby vzyat' topory, nozhi i vmeste sebya zashchitit', kak polozheno dobrym grazhdanam. Glisty totalitarizma... - Gorm snova vynul pistolety i mahnul cherez perila. - Katastrofa! Otorvalsya odin iz bokovyh otrazhatelej, my vertimsya volchkom na strashnom uskorenii! - kriknul iz rogatogo obrucha Fenrir. - Vyletaj naruzhu i rasstrelivaj ostal'nye! - Poprobuyu! "|tak on eshche maznet svoim fotonnym hvostom po planete," - prikinul Gorm i okonchatel'no pal duhom. Odnovremenno on pal i telom, zabyv nazhimat' kurki pistoletov, no kucha trupov na lestnichnoj ploshchadke pervogo etazha smyagchila udar. - Bystree ne mog? - Midir mahnul cherez turniket obratno na ulicu. Gorm podoshel k vrashchayushchemusya sooruzheniyu, zlobno zashipel, vyrval ego iz pola i otshvyrnul v okno vtorogo etazha doma naprotiv. Svernuv za ugol, on uvidel Ajnik i transportery gornyakov. - Nu, otstrelil ya otrazhateli, - skazal Fenrir. - Kak teper' ego razvernut'? - Budesh' otstrelivat' kraya chashi glavnogo otrazhatelya. CHto korabel'nyj komp'yuter? - Zakolodilo beznadezhno - skoree vsego, tam mehanicheskie povrezhdeniya. YA poslal treh robotov k central'nomu processoru. - |tot fotonnyj grob nichego ne spalil zdes', vnizu? - Spalil, v tom chisle nash retranslyator. - O, yadren kot... Podsvechennye zarevami tuchi v nizkom temnom nebe vdrug raskolola strashnaya lilovaya vspyshka. Mertvennyj svet chudovishchnoj sily ozaril izurodovannye doma s vybitymi oknami, ogromnye bezobraznye mashiny na ploshchadi i kroshechnuyu figurku Ajnik na polputi k nim. - |j, Fenrir! Obruch molchal. - Fenrir! Obruch molchal. - Fenrir! Obruch molchal. - Fenrir! - A! - |to u tebya rvanulo? - Sprashivaesh'! Odna iz magnitnyh lovushek ne vyderzhala uskoreniya. Ot "Kryuha" ne ostalos' i kusochka razmerom s tvoj mozg. YA boyalsya - shchity ne vyderzhat. - Tri grossa ptic, - Gorm podoshel poblizhe k transporteram i, vklyuchiv zvukovoj usilitel' na tri chetverti moshchnosti, zavopil: - SHahtery! Menya ne dyuzhina, v konce koncov! Gde vy? Gorod pustoj - odna mraz' ugolovnaya da ya! Pomogajte, raz zayavilis', yadrena mysh'! V blizhnem transportere kto-to zastonal. - Blizhe ne podhodi - radiaciya! - otstraniv Ajnik, Gorm tyazhelo podbezhal k mashine. CHerez bort perevalilos' i upalo, korchas', na mostovuyu, telo znakomogo Gormu voditelya samosvala. - Ubej menya, ubej, ubej... - hripel voditel'. - Ne mogu... - Gde vse? - Tut, krugom... Ubej... Ne mogu... Gorm zaglyanul v kuzov transportera, pomotal golovoj i sel na mostovuyu. YAdernaya goryachka chisto sobrala svoj urozhaj.
---

Last-modified: Thu, 06 Aug 1998 14:29:37 GMT